Table of Contents
Superpave Advances with Opening of Western Regional Center and WesTrack
Latest Winter Road Maintenance Technologies to be Showcased
Policy Office Continues Congestion Pricing Workshop Series
Pontis Wins Second Prize in International Competition
Scour Monitoring and Instrumentation Demo Project Held
NDE News: New Crack Detection Method Tested
International Seminar on Road and Traffic T2 Held in Helsinki
FHWA Summarizes Its Arctic Research
ISTEA Section 6005 Annual Report Approved
Last Updated: 8/20/96
---
Federico F. Peña
Secretary,
U.S. Department of Transportation
Rodney E. Slater
Administrator,
Federal Highway Administration
Jane F. Garvey
Deputy Administrator,
Federal Highway Administration
---
RTCG CHAIRPERSONS
Bud Wright--Safety
Stan Gordon--Structures
Jim Scapellato--Motor Carriers
Paul Teng--Pavements
Gary Euler--ITS
Bob Ford--International
Barna Juhasz--Policy, Planning, Environment,
Information Management & Right-of-Way
---
Anne Barsanti, Managing Editor
Jon Schans, Editor
Zac Ellis, Editor
PAVEMENTS
---
Superpave Advances with Opening of Western Regional Center and WesTrack
On June 5, 1996, the effort to improve pavement performance using the Superpave system took two giant steps forward with the official opening of the Western Regional Superpave Center in Reno, Nevada, and the WesTrack Kickoff Celebration at the Nevada Automotive Test Center.
In the morning, FHWA officials joined representatives from the American Association of State Highway and Transportation Officials (AASHTO), Nevada DOT (NDOT), industry groups, construction companies, and academia for a program of speakers and a facility tour to mark the opening of the Western Regional Superpave Center at the University of Nevada, Reno (UNR). The center, which will be operated jointly by UNR, the University of California at Berkeley, and NDOT, will provide training on Superpave mix design and Superpave test equipment to 12 western States and 2 Canadian provinces.
In the afternoon, the group traveled to the WesTrack pavement test site at the Nevada Automotive Test Center. WesTrack is an FHWA-sponsored research project, collecting data to develop performance-related specifications for hot-mix asphalt pavements and to validate the Superpave performance prediction models.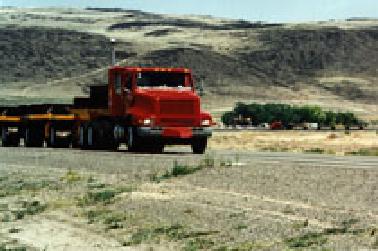 Driverless vehicle cruises WesTrack as part of a two-year project measuring the performance of 26 sections of hot-mix asphalt pavements
Performance data will be collected on a specially built 2.9-km track that contains 26 experimental hot-mix asphalt pavement sections. Four driverless, computer-controlled triple-trailer combination vehicles will circle the track at a speed of 65 km/h for up to 21 hours a day, 7 days a week, for 2 years. The test is designed to simulate 10 or more years of heavy Interstate-level traffic loading by applying 10 million 80-kN Equivalent Single Axle Loads during the 2-year program. Rutting and fatigue cracking are the two primary distresses that will be examined. Vehicle loading and performance monitoring are scheduled to run through mid-1998. Research and data analysis will follow, with project completion targeted for early 1999.
The WesTrack Kickoff Celebration included a program of speakers, tours of the facility, and observation of WesTrack's driverless vehicle operations. FHWA Executive Director Tony Kane noted that WesTrack represents the final building block of the Superpave system, providing the essential data necessary to make improved pavement performance a reality.
-- Margie Sheriff (202) 366-1747 and Terry Mitchell
Latest Winter Road Maintenance Technologies to be Showcased
Snow and ice season may seem far away, but road managers know that early planning and preparation are needed to beat back the winter elements. Consequently, FHWA is hosting the Eastern Winter Road Maintenance Symposium and Equipment Expo on September 11, 1996, in Washington, DC. This free, 1-day event will showcase the latest technologies and practices available to combat winter's wrath, from anti-icing strategies to innovative pavement rehabilitation techniques. The equipment expo will feature some of the newest machines and equipment, including imaginative snow plow designs, available to today's winter maintenance practitioners.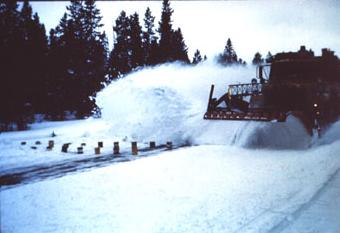 The latest snowplow designs are presented at the Winter Road Maintenance Symposium and Equipment Expo
The symposium and equipment expo will give winter maintenance specialists, from road crew members to management officials, a chance to network and share experiences. Participants will learn about the latest techniques available for snow and ice control, materials storage facilities, and maintaining an appropriate winter maintenance fleet. The latest anti-icing techniques will be a central feature of the symposium.
This event is scheduled to be held one day after another winter road maintenance event in the Washington area, giving interested participants a chance to attend both events in one trip. On September 10, the Metropolitan Washington Council of Governments will host the Eastern Snow-Belt Cities Conference in Rosslyn, Virginia. This 1-day conference for city highway management officials will feature presentations on small-city and large-city snow operations, fleet mobilization, snow removal and dumping, contracting out snow handling services, and more. For more information regarding registration or vendor booths for the expo, call Deborah Vocke at FHWA on (202)366-4855. For more information regarding the Metropolitan Washington Council of Governments' Snow-Belt Cities Conference, contact Joe Zelinka at (202) 962-3270.
-- Deborah Vocke
POLICY
---
Policy Office Continues Congestion Pricing Workshop Series
On May 17, 1996, FHWA's Congestion Pricing Team and the Hubert H. Humphrey Institute of Public Affairs at the University of Minnesota conducted a one-day regional workshop in Chicago, Illinois, to highlight recent Congestion Pricing Pilot Program activities and stimulate discussion of key implementation issues. The Congestion Pricing Pilot Program, authorized by the Intermodal Surface Transportation Efficiency Act (ISTEA) of 1991, now has 10 active projects throughout the United States. Two are implementation projects, seven are pre-implementation efforts designed to lay the groundwork for future applications of congestion pricing, and one is a monitoring and evaluation study of the privately funded automated Express Lanes on State Route 91 (SR91) in Orange County, California.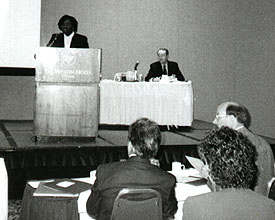 Gloria Jeff (at podium) kicks off the Midwestern Regional Congestion Pricing Workshop in Chicago
FHWA's Associate Administrator for Policy Gloria Jeff opened the workshop with an overview of the Pilot Program. She was followed by Lee Munnich, Senior Fellow and Director of the Humphrey Institute's State and Local Policy Program. Mr. Munnich reported on the critical elements for implementing congestion pricing around the country. Mr. Munnich's discussion led directly into presentations by FHWA's project partners. Representatives from the California Private Transportation Company, owners and operators of the SR91 project, were on hand to discuss the initial success of the automated Express Lanes, the first privately funded and operated toll facility in the United States to use an electronic variable toll system to manage traffic flow.
The workshop also included an extended discussion of methods for developing political and public support to successfully implement congestion pricing as a travel demand measure. Another session featured reports from around the region to gauge the interest in congestion pricing applications within the Midwest. There were close to 100 participants representing State DOT's, Metropolitan Planning Organizations, Federal agencies, toll authorities, environmental organizations, transit agencies, highway interest groups, and elected officials. Attendees indicated that the workshop was highly successful in disseminating information and providing updates of congestion pricing research and applications around the country. For a copy of the workshop proceedings, contact the Congestion Pricing Team. Additional regional workshops are being planned for the South and Northwest later in 1996 and 1997.
-- Tom Keane (202) 366-9242
STRUCTURES
---
Pontis Wins Second Prize in International Competition
A comprehensive computer software program, Pontis, is now being implemented by 40 States as a tool for managing bridge preservation and replacement activities. Pontis represents an innovative application of operations research/management science (OR/MS) to bridge management. This year, an international OR/MS association, INFORMS, recognized the quality, uniqueness, and potential impact of Pontis by nominating it to compete for the prestigious Franz Edelman Award for OR/MS.
On May 5, 1996, representatives of FHWA and the California DOT (CALTRANS) joined Dr. Kamal Golabi, President of Optima, Inc., who developed many of the key deterioration models, to describe Pontis to a four-judge panel of experts in OR/MS at the 25th Annual Franz Edelman Competition. Dr. Golabi explained the unique and innovative concepts used to develop Pontis. The implementation and impact of Pontis on public agency bridge programs was explained by Stan Gordon, Chief of FHWA Bridge Division; James Roberts, Director of CALTRANS Engineering Services Division; and Richard Shepard, Chief of CALTRANS Structures Maintenance. An eclectic group of agencies and companies presented applications of OR/MS that have been developed and implemented as part of public programs or company business practices.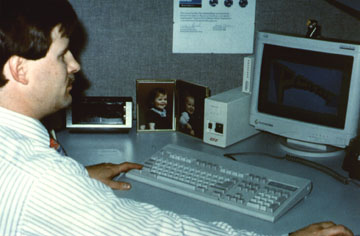 Pontis is an innovative bridge management system now being implemented by 40 States
Second prize for the achievement in OR/MS was awarded to Pontis for its development and implementation. This honor is convincing evidence that the efforts to develop an innovative approach to bridge management using state-of-the-art scientific principles were successful. The bridge community already recognizes the potential impact of Pontis on preservation of critical infrastructure and maximization of limited preservation dollars. This second place award indicates that an unbiased panel of experts agrees.
-- George Romack and John M. Hooks
Scour Monitoring and Instrumentation Demo Project Held
Scour Monitoring and Instrumentation, DP 97, is underway with presentations having been held in Pembroke, N.H., Indianapolis and a special presentation for the International Bridge Conference in Pittsburgh. The project is presented by Dr. James P. Schall (Ayres Associates) and Abigail Ginsberg (FHWA Bridge Division).
The Bridge Division and Office of Technology Applications (OTA) developed DP 97 to promote the use of new and innovative equipment to measure and monitor scour at bridges. This demonstration project (DP) implements the findings of the National Cooperative Highway Research Program study 21-3, "Instruments for Measuring Scour at Bridge Piers and Abutments," and various research projects conducted by FHWA, U.S. Geological Survey, and State highway agencies. The scour monitoring instrumentation falls into three broad categories: (1) fixed instruments; (2) portable instruments; and (3) positioning instruments.
The classroom portion of DP 97 covers the types of equipment available, selection and deployment considerations, and the use of scour monitoring instruments as part of an effective scour monitoring program. During workshop sessions, several of the instruments are demonstrated and available for DP 97 participants to try themselves.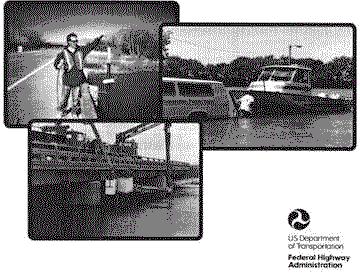 Some of the new and innovative equipment used to measure and monitor scour at bridges
-- Abbi Ginsberg
NDE News: New Crack Detection Method Tested
The Special Project team in nondestructive testing has been testing a new crack detection instrument developed in England. This new instrument uses a method known as Alternating Current Field Measurement (ACFM) to detect and measure fatigue cracks in steel. The instrument, known simply as the U9, was developed by Technical Software Consultants, Inc. (TSC), an English company with close affiliations with the University College, London. Trials on piping applications conducted in England have suggested that this new method is highly effective in not only detecting cracks, but making accurate measurements of crack length and depth. It has not been previously available in the United States.
From May 28 to 30, 1996, David Parramore of TSC visited TFHRC's Nondestructive Evaluation (NDE) Laboratory to demonstrate the instrument to the FHWA NDE team. Team members were trained in the theory, use, and application of the instrument. The team members included in the training were Dennis Richards, NDE lab technician; and Glenn Washer, NDE Lab Director. Also attending the demonstration was Victor Kelly of NDT International.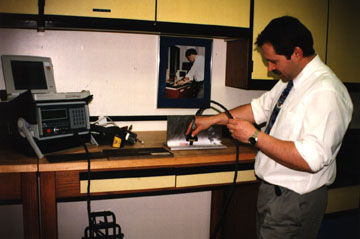 Dave Parramore from TSC scans a fillet weld with the newly developed U9 ACFM instrument
The ACFM technique is an electromagnetic non-contact method developed for detecting and sizing cracks that break through the surface of a variety of materials. The basis of the technique is the induction of an electrical current in a thin skin at the inspection surface. This current in turn induces a magnetic field just above the surface of the material. Changes in the vector components of that magnetic field caused by surface breaking cracks can be measured and used to define the length and depth of the crack.
After Mr. Parramore's visit, the U9 ACFM instrument was tested in the NDE Laboratory on a variety of fatigue cracks in typical weld details. The results of these trials indicated that the U9 was effective and reliable in detecting and measuring fatigue cracks. The trials also indicated that the probe geometry employed in the trials was best suited to detect and measure longitudinal cracks at the toe of a fillet weld, rather than a transverse crack. Other probe geometries are available but were not part of the laboratory trials. The trials showed that the method was effective when cracks were covered by non-conductive coatings.
-- Glenn Washer (202) 493-3082
INTERNATIONAL
---
International Seminar on Road and Traffic T2 Held in Helsinki
From May 30 to June 1, FHWA was well represented at the International Seminar on Road and Traffic Technology Transfer (T2) held in Helsinki, Finland. The seminar was organized by the World Interchange Network, World Road Association, Organisation for Economic Co-operation and Development, and the Finnish National Road Administration. The U.S. delegation included Joe Toole and Ray Griffith from FHWA's Office of Technology Applications, King Gee from FHWA's Office of International Programs, Bill Williams and Hana Maier from FHWA's National Highway Institute (NHI), Tom Brahms from the Institute of Transportation Engineers, Gene Wilson from the National Association of Transportation Technology Transfer Centers, and Charlie Wallace from McTrans. The seminar was attended by more than 100 participants from 30 countries and 6 continents.
The seminar focused on the use of T2 tools. Among the presentations made by the U.S. delegation were Toole's discussion of the Priority Technologies Program and bridging the technology gap, Gee's comments on the availability of the Internet and videoconferencing as T2 tools, Williams' explanation of the various training and technology programs provided by NHI to the international community, Wilson's discussion of the Tel8 system and distance learning, and Brahms' challenge to participants to "catch a vision" and use the variety of available tools for better T2.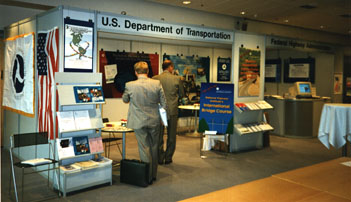 Participants view FHWA's exhibit in Helsinki
Topics of discussion at the seminar included the World Interchange Network, a global information exchange network; circuit rider programs, traveling road shows that bring the technologies to the users; a proposal for a new Union of Central and East European (CEE) Transportation Centers, modeled after the successful U.S. network of Local Technical Assistance Program's T2 Centers and the Pan American Institute of Highways' network of centers. The United States also had an exhibit, which included sections on T2, NHI, and McTrans; the exhibit proved to be a significant attraction that was repeatedly visited by the participants and the general public.
Participants consistently reflected enthusiasm for the ideas expressed at the seminar and anticipation of bringing those ideas home and applying them. Of note at the conference was the number of former Iron Curtain countries represented, countries that at the beginning of this decade would not have been as free to mingle with the West in such a sharing of ideas.
-- Marketta Kopinski and Ray G. Griffith
FHWA Summarizes Its Arctic Research
To make its Arctic research more readily available, FHWA has prepared a summary report of all of its research efforts that it conducted or monitored in or for the Arctic area, now broadly defined to include most of Alaska. This report, which was submitted to the National Science Foundation (NSF), coupled with the Coast Guard's research in the Arctic, largely represents the U.S. DOT in reviews of Arctic research being done by all parts of the Federal Government. NSF coordinates the overall effort and publishes a biennial journal, Arctic Research of the United States, on behalf of the Inter-Agency Arctic Research Policy Committee. The committee helps determine policy on Arctic concerns and reports to the President.
The work reported includes efforts being monitored or sponsored by FHWA for the Alaska DOT, Alaska universities, the Cold Regions Research and Engineering Laboratory, U.S. Geological Survey, and the National Academy of Sciences' Transportation Research Board. Included in the types of problems being investigated are stream flow problems peculiar to highly variable discharge and silt laden streams with added problems caused by ice blockages and debris flows. Permafrost and soil stability problems for roads peculiar to the Arctic regions are being addressed through research. Studies of pavements emphasize the effects of high thermal stresses in asphalt concretes such as low temperature cracking and rutting. Anti-icing technology to reduce the costs of snow and ice control are being applied to Alaska roads. Improved snow fences developed primarily in Wyoming are finding widespread applications in Alaska.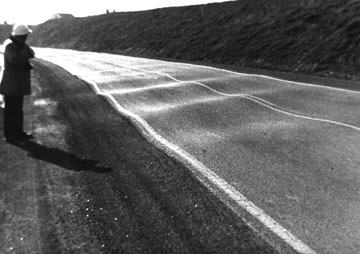 Frost has a detrimental effect on highway pavements in cold regions, such as Alaska
Environmental problems for highways in the Arctic are being addressed by the development of alternate deicers for highway maintenance, such as Calcium Magnesium Acetate (CMA) and current efforts to reduce the price of CMA. The effects of Alaska's air and water quality on the use of sand abrasives and studded tires and the deposition of dirty snow are being studied as well.
-- Howard Jongedyk
TECHNOLOGY TRANSFER
---
ISTEA Section 6005 Annual Report Approved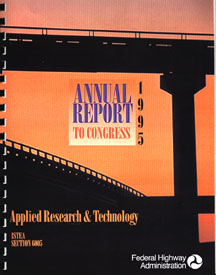 Annual report highlights the accomplishments of the Applied Research and Technology Program
On June 5, Secretary Peña approved the fourth annual report to Congress on the Applied Research and Technology Program. The report contains information about the program as well as activities that were funded during FY 95. The Applied Research and Technology Program is funded under Section 6005 of ISTEA and encompasses almost the full range of FHWA's technology activities. Highlights of the program for FY 95 include:
Implementation of the National Priority Technologies Program.
Construction of 19 thin bonded overlay projects in 11 States.
Several new product evaluations by the Highway Innovative Technology Evaluation Center under the Civil Engineering Research Foundation.
Continued evaluation of All-Weather Pavement Markings at 43 sites.
Acquisition of six mobile pavement marking retroreflectometer vans.
Field testing of SuperPave high performance asphalt designs and opening of the WesTrack test track in Nevada.
Establishment of the Niagara International Transportation Technology Coalition, a coalition of 14 transportation agencies in the Niagara regions of western New York and Ontario.
Initial testing of the Atlanta Traveler Information Showcase.
FHWA sponsorship of a highly successful international seismic bridge design symposium.
Copies of the report are available upon request from OTA.
-- Richard A. McComb (202) 366-2792