Table of Contents
Retroreflective Sign Requirements Workshops Answer Important Questions
Anti-Icing Strategies Being Implemented in the States
HITEC-FHWA-AASHTO Develop Earth Retaining Structure Evaluation Process
Human Factors Handbook Available for Designing Advanced TMC's
Congestion Pricing Conference Includes Report on State Route 91 Project
International Bridge Maintenance Course Proves Successful
FHWA Associate Administrator for Policy Ventures to Australia for APEC Meeting
R&T Expert Harvey Phlegar Retires
Highway Capacity Support Team Established
---
The Research & Technology Transporter was a Federal Highway Administration (FHWA) research and technology publication issued under FHWA's Research and Technology Program. The 8-page newsletter transmitted research and technology-based developments from FHWA program offices to engineers in the field and professionals in the industry. Publication of the Research & Technology Transporter ended with the September 2006 issue.
Last Updated: 6/11/96
Federico F. Peña
Secretary,
U.S. Department of Transportation
Rodney E. Slater
Administrator,
Federal Highway Administration
Jane F. Garvey
Deputy Administrator,
Federal Highway Administration
---
RTCG CHAIRPERSONS
Bud Wright--Safety
Stan Gordon--Structures
Jim Scapellato--Motor Carriers
Paul Teng--Pavements
Gary Euler--ITS
Bob Ford--International
Barna Juhasz--Policy, Planning, Environment,
Information Management & Right-of-Way
---
Anne Barsanti, Managing Editor
Jon Schans, Editor
Zac Ellis, Editor
SAFETY
---
Retroreflective Sign Requirements Workshops Answer Important Questions
During October and November, FHWA sponsored three workshops to review the minimum sign retroreflective requirements that were developed in FHWA's research program over the past 6 years. The workshops were held in Hanover, Maryland; Kansas City, Missouri; and Denver, Colorado. They helped answer the questions: (1) how were minimum values developed and tested; (2) what are the expected effects of replacing current signs; (3) and how can highway departments monitor their signs for replacement?

The Intermodal Surface Transportation Efficiency Act (ISTEA) of 1991 required FHWA to develop these guidelines. FHWA's Office of Highway Safety will soon issue a notice of proposed rulemaking presenting these guidelines. The workshops were conducted to get early reactions from State and local traffic sign department staff on the proposed minimum sign values and how they can be implemented. The workshops were presented by Jeff Paniati, Sam Tignor, and Howie Bissell of FHWA, and Hugh McGee of Bellomo-McGee, Inc.

- Howard Bissell
Top
PAVEMENTS
---
Anti-Icing Strategies Being Implemented in the States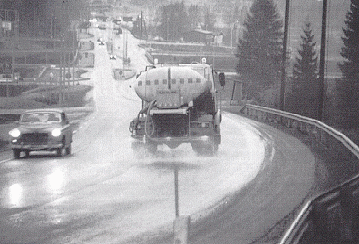 Liquid application being applied to prevent road from becoming icy.
On Oct. 10, 1995, FHWA hosted a symposium on Test and Evaluation Project No. 28, "Anti-Icing Technology", in Estes Park, Colorado. The symposium culminated in a 2-year field test and evalua tion of various anti-icing technologies that were identified under the Strategic Highway Research Program. It provided a dynamic forum for winter maintenance managers and specialists to exchange information across State lines and gain insights into this critical area of highway maintenance.
Over 200 interested participants representing a comprehensive cross-section of the highway commu nity attended the symposium. They included 27 State highway agencies as well as many counties and towns, academic institutions, consultants, product suppliers, and equipment manufacturers. Discussions with the audience indicated that the implementation of anti-icing technologies and practices have advanced throughout the Nation. Many of the maintenance managers and field per sonnel had expressed concerns that information and strategies on winter maintenance control be presented at the symposium to help them implement effective anti-icing programs. Details on anti -icing can be found in FHWA's Manual of Practice for Effective Anti-Icing , FHWA-SA-95-XXX.
- Salim Nassif, (202) 366-1557.
STRUCTURES
---
HITEC-FHWA-AASHTO Develop Earth Retaining Structure Evaluation Process
The Highway Innovative Technology Evaluation Center (HITEC) panel on Earth Retaining Structures (ERS) met on Nov. 6 and 7, 1995, in Washington, D.C. The panel's objective is to develop and implement a national evaluation program for ERS. It is estimated that over 50 unique ERS are currently marketed in this country. Many of these systems have been developed over the past 15 years. Before 1980, virtually all new structures were conventional cast-in-place concrete.

The driving force towards optimum implementation of these newer systems is the significant economy that has been demonstrated by their use to date. In many cases, these newer systems repre sent savings of over 50 percent as compared with conventional reinforced concrete systems. The disadvantages of these newer systems are they require changes to traditional specifications and contracting approaches, require considerable time to perform a comprehensive design and constructability evaluation, and require a national training effort to familiarize highway professionals with the newer design approaches upon which many of these systems are based.

The results of a national survey conducted by HITEC and FHWA during three regional retaining wall conferences indicated that the majority of highway agencies are experiencing problems in developing and implementing State level review and approval procedures for ERS. A similar per centage of States expressed support for a national ERS evaluation program to eliminate redundant review activities and improve the quality of reviews. FHWA members on the HITEC panel include Jerry A. DiMaggio, Headquarters Bridge Division; Chris Dumas, Region 3; and Jim Keeley, Central Federal Lands. Other panel members include several structural and geotechnical engineers from State DOT's, Ontario, and academia. The present schedule is to develop a comprehensive evaluation plan with industry input within the next few months and to begin evaluation of individual systems this spring.

- Jerry DiMaggio (202) 366-1569, and Jack Crouteau (813) 540-4170.
Top
ITS
---
Human Factors Handbook Available for Designing Advanced TMC's
The Intelligent Transportation System (ITS) era is bringing advanced technology to Traffic Manage ment Centers (TMC's). New and existing TMC's, for example, are expanding their roles and updat ing their capabilities with an increase in automation. The introduction of automation and complex information display and control systems could create unexpected problems for system operators and increase the likelihood of error. The impact of automated systems and the level of system complexity on operator performance should be addressed to increase operator efficiency.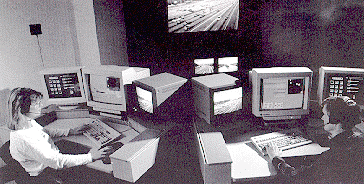 To investigate TMC design objectives from a human factors perspective, researchers at the Georgia Tech Research Institute (GTRI) are exploring the roles of computers and humans within ITS traffic management systems. The project is for an FHWA research program entitled "Human Factors in Advanced Traffic Management Systems (ATMS)." This comprehensive program of human factors research was started in 1993.
A primary product of this ATMS project will be a comprehensive design handbook of recommenda tions and human factors guidelines for designers and users of future TMC's. The handbook is being developed in two phases. In the first phase, GTRI obtained analytic data for a first-edition handbook.
Information in the first-edition is based on lessons learned from (1) top-down system analysis; and (2) analytic data obtained from visits to about 24 TMC's as well as interviews with TMC experts in the United States, Canada, and Europe. The handbook will be modified based on inputs from the study's second phase. During this phase, GTRI will obtain empirical data by testing technologies and conducting comprehensive human factors experiments on a TMC research simulator. The resulting final handbook of design standards and guidelines will be available during the spring of 1997.
- Nazy Sobhi ((202) 493-3369.
POLICY
---
Congestion Pricing Conference Includes Report on State Route 91 Project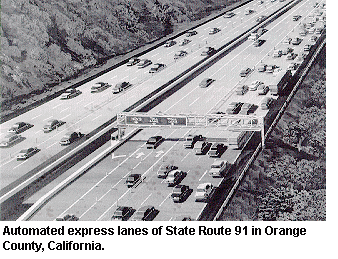 On October 17, 1995, FHWA's Congestion Pricing Team conducted a 1-day workshop in Philadelphia, Pennsylvania. The workshop was held to highlight recent activities of the Congestion Pricing Pilot Program and stimulate discussion of key implementation issues. The program, authorized by ISTEA, now has 10 active projects throughout the United States.
Two are pilot implementation projects, seven are pre-implementation efforts designed to lay the groundwork for potential future applica tions of congestion pricing, and one is a privately-funded implementation project for the automated express lanes on State Route 91 (SR91) in Orange County, California. FHWA is committing funds for post-implementation monitoring and evaluation of the SR91 project.
Reports on the progress of these projects were a key feature of the workshop. Participation by FHWA's project partners generated lively discussion. The report on the SR91 project was of great interest since this privately-funded and operated toll facility will be the first one in the United States to use an electronic variable toll system to manage traffic flow. The facility, which was built in the median strip of SR91, was opened in December 1995.
Other features of the workshop included breakout sessions on building partnerships, public outreach research, advanced technology, and evaluation. Time was also devoted to open discussion of poten tial new congestion pricing applications in the northeastern United States. Response from the 75 workshop participants was extremely positive. Several activities, including additional regional workshops, are being planned for later in 1996 and 1997. More information on these activities, the Philadelphia workshop, and other congestion pricing issues, is available from the Congestion Pricing Team, (202) 366-0570.
- Tom Keane (202) 366-9242
INTERNATIONAL
---
International Bridge Maintenance Course Proves Successful
Sponsored by the U.S. DOT, FHWA, and the National Highway Institute (NHI), the International Bridge Maintenance Training Course was a big success. It provided practical training for maintain ing, repairing, and rehabilitating highway bridges under a range of conditions. It included 5 days of classroom instruction and 4 days of on-site field visits to demonstrate concepts learned in the class room.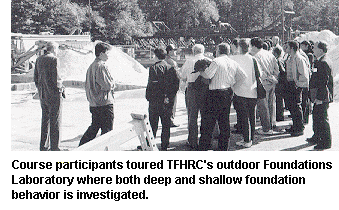 At the end of the course, the international participants were fully prepared to apply their knowledge to actual bridge maintenance operations in their home countries. A total of 25 people, representing 12 countries, took part in the course.
The course was conducted from September 18 to 28 at the Double Tree Tysons Corner Hotel in Falls Church, Virginia. The lead instructor and developer of the course was Ron Purvis from Wilbur Smith Associates. Mr. Purvis is a leading specialist in highway bridge technology. The course covered such bridge maintenance topics as structural mechanics, condition assessments, traffic maintenance, environmental issues, and worker safety. As part of the field visits, the participants reviewed operations at the Virginia Research Council, TFHRC, Chesapeake Bay Bridge, and the Virginia DOT. The course is the first in a series of courses designed for an international audience.
- Hana Maie
FHWA Associate Administrator for Policy Ventures to Australia for APEC Meeting
The coastal city of Sydney was the host venue for the Asia-Pacific Economic Cooperation's (APEC) Eighth Transportation Working Group Meeting in September. The Transportation Working Group is 1 of 10 topic groups formed within this coalition of 18 international economies. In Sydney, Gloria J. Jeff, FHWA's Associate Administrator for Policy, chaired the Transportation Working Group's steering committee meeting for the Congestion Points Study. This intermodal study will identify major transportation bottlenecks at airports, seaports, and land access points in the Pacific Rim, and devise strategies to mitigate them. The scope of the study includes institutional, regulatory, and operational barriers, as well as physical infrastructure deficiencies that impede the flow of passengers and cargo.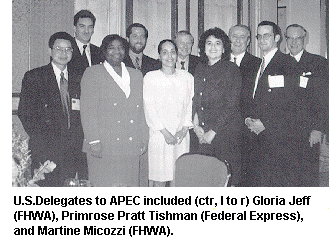 The proceedings of the steering committee meeting featured progress reports on transportation industry focus groups conducted throughout the Pacific Rim in the second phase of this three-phase study. The outcome of U.S. meetings conducted with State, local, and private transportation provid ers and customers in Los Angeles, San Francisco, and Seattle will be incorporated into a phase II final report. The final phase of the study will culminate in late 1996 with a report featuring a best practices manual and innovative congestion mitigation strategies.
Associate Administrator Jeff also presented a paper on the "National Freight Partnership," an effort initiated by FHWA and the U.S. DOT's Office of Intermodalism to enhance communication and interaction between Government and the transportation industry. This innovative public/private collaboration is designed to address cargo movement issues, remove obstacles to efficient freight transport, and enhance communication among private sector transportation freight users and provid ers and public transportation agencies.
Ms. Jeff's contribution to the Transportation Working Group highlighted FHWA's accomplishments in an international arena and created a dialogue and an information-sharing network with other Pacific Rim countries. For copies of the APEC reports or the "National Freight Partnership" paper, please contact FHWA's Office of Policy, (202) 366-0585.
- Martine Micozzi (202) 366-9249.
TECHNOLOGY TRANSFER
---
R&T Expert Harvey Phlegar Retires
After more than 31 years with FHWA, Harvey Phlegar, nationally known in technology transfer (T2), research, and Local Technical Assistance Program (LTAP) circles, retired in November 1995. Harvey got his start in T2 in FHWA's Implementation Division in Washington, DC. He moved to Region 4 in 1978, where he was involved in regional T 2 activities. In fact, he reviewed proposals for the first RTAP (now LTAP) Centers. There, he was the regional research engineer and managed LTAP activities, demonstration projects, and technology application efforts and funding.
In addition, he was Secretary of the AASHTO Region II Research Advisory Council and assisted with the first attempt to revise what are now the State Planning and Research (SP&R) regulations. He served on many national task forces and steering committees for T 2 activities, including the "Vision, Mission, and Goals" committee for Technology Transfer and Research. Before 1978, he was Area Engineer in the Kentucky Division and a highway engineer trainee in various locations. Harvey Phlegar is recognized as one of FHWA's finest. In 1992, he received the Regional Administrator's Award and the Peer Award all in the same year. Harvey's co-workers, as well as many others in FHWA and the T2 community, will miss him for many thingsthe computerized regional library, bridge inspection improvement, effective T2 agent, and not to mention regional birthday song leader and all around nice guy.
- Ann Walls (202) 366-6836.
Highway Capacity Support Team Established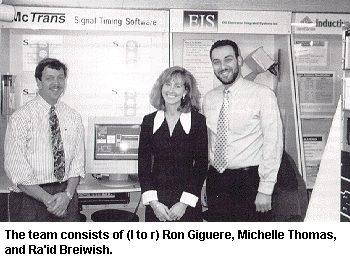 FHWA is sponsoring efforts to provide technical support for the Highway Capacity Manual (HCM). The HCM contains procedures for determining the capacity and levels of service for a variety of highway facilities. The procedures are widely used to design and evaluate facilities throughout the Nation. The HCM is the product of the Transportation Research Board's Committee on Highway Capacity and Quality of Service (HCQS). The committee has developed three editions of the HCM since 1950 and most recently released the 1994 edition which contains major updates to the 1985 edition. Over 10,000 copies of the 1994 HCM, which was actually released in January 1995, have been sold to date.
---
U.S. Department of Transportation
Federal Highway Administration
Research, Development, and Technology
Turner-Fairbank Highway Research Center
6300 Georgetown Pike
McLean, Virginia 22101-2296