Table of Contents
FHWA and AMS Advance the State of the Art in Accident Data Collection
Vehicle Travel Information System Data Base Released to States
State Commercial Vehicle Safety Inspectors Compete for Top Honor
Motor Carriers Web Site Is Up and Running
Planning and Environmental Resources Catalog Being Published
TFHRC Participates in Vehicle-Infrastructure Interaction Conference
Communications Handbook Is Back By Popular Demand
Advanced Rural Transportation Systems Being Planned
Underwater Evaluation and Repair of Bridge Components: Training Developed
Research Added to the 1997 Environmental Excellence Awards Program
NHI Reinforces Its Partnerships with Industry
Public/Private Partnership Develops Hi-Tech Winter Maintenance Vehicle
Innovative Construction Contracting is Subject of Workshop
---
Last Updated: 11/1/96
Federico F. Peña
Secretary,
U.S. Department of Transportation
Rodney E. Slater
Administrator,
Federal Highway Administration
Jane F. Garvey
Deputy Administrator,
Federal Highway Administration
---
RTCG CHAIRPERSONS
Bud Wright--Safety
Stan Gordon--Structures
Jim Scapellato--Motor Carriers
Paul Teng--Pavements
Gary Euler--ITS
Bob Ford--International
Barna Juhasz--Policy, Planning, Environment,
Information Management & Right-of-Way
---
Anne Barsanti, Managing Editor
Jon Schans, Editor
Zac Ellis, Editor
SAFETY
---
FHWA and AMS Advance the State of the Art in Accident Data Collection
FHWA is conducting research on developing an expert system for crash data collection. Enhanced accident data collection techniques that employ an expert systems approach are being developed. The purpose of the effort is to demonstrate how the quality and utility of police reported accident data can be improved by using the knowledge of experts (accident reconstructionists, safety analysts, etc.) to guide users through selected parts of the on-scene data collection process. The American Management Systems (AMS) has entered into an agreement with FHWA to link the expert system modules being developed into AMS' existing accident data collection software. The joint effort between the two organizations will advance the state of the art in police accident data collection.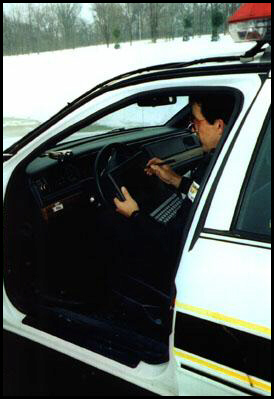 Police officer uses OIM software to collect accident data.
AMS' software, called Officer Information Manager (OIM), is currently being used in several State and local police jurisdictions to capture data at the scene of traffic accidents. In another FHWA effort, advanced data collection technologies (pen-based computers, global positioning systems, and geographical information systems) used in Iowa, New Jersey, Washington, and Wisconsin have been evaluated from a benefit/cost perspective. At these test locations, police officers are using AMS' OIM software on pen-based computers to capture accident data.
A combined FHWA and National Highway Traffic Safety Administration (NHTSA) effort, the ALERT (Advanced Law Enforcement Response Technology) project, incorporates both hand-held and in-vehicle computers to store and transmit crash data more quickly to State records, databases, or officer's base stations. For more information on the ALERT project contact Dave Smith at (202) 366-6614.
-- Michael Griffith
POLICY
---
Vehicle Travel Information System Data Base Released to States
A computer data base management system for vehicle classification and truck weight data has been disseminated to States. The Vehicle Travel Information System (VTRIS) is a Windows-based system for managing data from automatic vehicle classifiers (AVC) and weigh-in-motion (WIM) systems in accordance with the procedures of the Traffic Monitoring Guide. In addition to data management capabilities, VTRIS validates and summarizes AVC and WIM data. Several printed reports are available, including summaries of loads by vehicle type and roadway functional class. Additional reports are planned for future releases of VTRIS.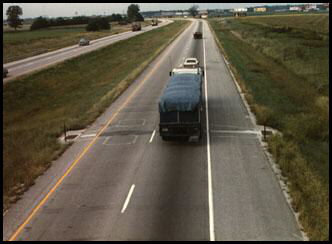 The VTRIS can manage information from weigh-in-motion systems such as this one.
With the increasing use of permanent AVC and WIM systems, States are struggling with the large amounts of data now available. One WIM station can generate over 100 megabytes of data in a year. An advantage of VTRIS is that many reports can be produced from a one-time summary process.
FHWA's Travel Monitoring Division conducted VTRIS workshops in Springfield, Massachusetts, in December 1995, and in Washington, DC, in June 1996. Another workshop is planned for November 1996, in Washington, DC, in conjunction with the annual Highway Information Seminar.
-- Ralph Gillmann (202) 366-5042
Motor Carriers
---
State Commercial Vehicle Safety Inspectors Compete for Top Honor
Demonstrating what they and their colleagues do two million times a year at random roadside safety checks throughout the country, several State commercial vehicle safety inspectors took part in FHWA's fourth annual international inspectors' competition. Assembled in Columbus, Ohio, in August were 53 of them from the United States, Canada, and Mexico, representing the best their States or provinces had. For 5 days, they combed vehicles for planted defects, interviewed "drivers" with doctored paperwork, and took a battery of knowledge tests.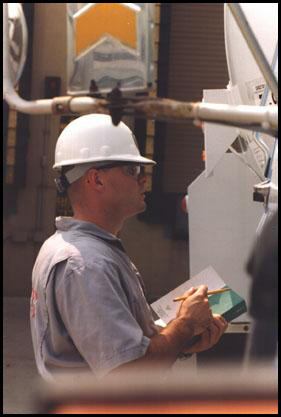 Participants vie for best truck inspector at competition in Ohio.
Perhaps best of all in the opinion of many of them, they shared their knowledge and techniques with each other. At the end, they crowned a grand champion: South Carolina Trooper Alonzo Hutto (center in awards photo). Coupled with many of the other Federal and State safety programs, the inspectors' competition is paying off in decreasing fatality rates for crashes involving heavy commercial vehicles as well as promoting uniformity of inspections throughout North America.
-- Stan Hamilton
Motor Carriers Web Site Is Up and Running
The Office of Motor Carriers (OMC) Home Page is being maintained at Headquarters with links to various OMC sites around the country. The site contains information about special programs, the latest issue of the Motor Carrier Safety Newsletter, and a downloadable Application for a DOT Number (Form MCS-150). Current and maintained regulations with interpretations will be posted in the future with a search engine as well as other features. You can reach the web site at http://cti1.volpe.dot.gov/fhwa/omchome.html
-- Steven Erlitz
PLANNING
---
Planning and Environmental Resources Catalog Being Published
FHWA's Office of Environment and Planning, working with its FTA counterparts, has just completed production of a Planning and Environmental Resources Catalog. Jointly prepared as a service to our planning and environment customers, the catalog is a guide to the vast array of resources, both human and informational, that we have developed in support of transportation planning and environment enhancement. It is part of a multi-faceted strategy to ease the difficulty our customers have in obtaining assistance on technical issues, as well as matters of policy and guidance.
Included in the catalog are the many products and services developed by FHWA and FTA since the Intermodal Surface Transportation Efficiency Act (ISTEA) of 1991 and the Clean Air Act Amendments significantly changed the business practices of transportation planning and the environment. Specifically, customers will find information on the availability of reports, videos, course handbooks, training, on-line data bases and statistics, conference proceedings, and Federal personnel. Users will find information sorted by air quality; environmental, social, and resource impacts; transportation financing; and general, statewide, and metropolitan planning.
The catalog is now being printed, and hard copies will be distributed this fall to FHWA and FTA field staff, State DOT's, Metropolitan Planning Organizations, transit operators, and State and local air quality professionals. The catalog's data base will also be available on-line along with an electronically accessible version of many of the documents it references. This on-line data base will be used to produce future catalogs, newsletters, and other real-time information resources for the transportation planning and environment community nationwide.
-- Kim Fisher (202) 366-4054
PAVEMENTS
---
TFHRC Participates in Vehicle-Infrastructure Interaction Conference
Last summer, the Engineering Foundation Conference on Vehicle-Infrastructure Interaction was held at the Bahia Hotel and Conference Centre in San Diego, California. Some of the participants there were Professor Bohdan Kulakowski, Director of the Pennsylvania Transportation Institute; Dr. Wei-jun Wang, Truck-Pavement Interaction (TPI) research team member; Jamel Hammouda, TPI research team member; Dr. M. El-Gindy, senior research officer of the National Research Council of Canada, loan staff at TFHRC, and Executive Editor of the International Journal of Heavy Vehicle Systems; Dr. Edward Fekpe, research scientist at Bettelle Memorial Institute; Dr. John de Pont, senior research scientist at New Zealand Industrial Research; and Professor Y. Sato of Japan. Byron Lord of FHWA was a key note speaker and presented the results of FHWA's truck size and weight scanning study tour of North America and Europe.
The conference co-chairs were Professor Kulakowski and Dr. de Pont. The conference brought together research experts in the areas of vehicles, railways, pavements, and bridges to exchange views on the state of the art and future needs for vehicle-infrastructure interaction. Dr. El-Gindy was also invited to chair a session on Transportation Economy. Nine non-concurrent technical sessions formed this conference. The presented papers will be submitted for review to Dr. de Pont, Guest Editor of Heavy Vehicle Systems, and the accepted papers will be published in a special issue of the journal.
-- Moustafa El-Gindy
ITS
---
Communications Handbook Is Back By Popular Demand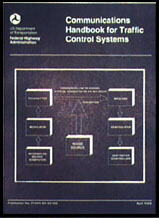 FHWA has reprinted its April 1993 Communications Handbook for Traffic Control Systems, Publication No. FHWA-SA-93-052. The handbook provides practicing transportation professionals with invaluable resources on the state of the practice in communication technologies, system architectures, and emerging advanced technologies. The handbook also provides guidance in planning, selecting, evaluating, designing, implementing, operating, and maintaining communications systems. Copies of the reprinted handbook may be obtained from the R&T Report Center by phone (301-577-0906) or fax (301-577-1421).
-- John McCracken (202) 366-2219
Advanced Rural Transportation Systems Being Planned
Efforts to study and deploy Intelligent Transportation Systems (ITS) along the rural transportation system were accelerated this past year. From a broad perspective, a crosscutting team of U.S. DOT staff are developing a Strategic Plan for Advanced Rural Transportation Systems (ARTS). This team, affectionately known as the Rural Action Team, includes representatives from FHWA (R&D, ITS Joint Program Office, and Safety and System Applications), National Highway Traffic Safety Administration (NHTSA), and the Federal Transit Administration (FTA). The Strategic Plan, which will provide a foundation for all future ARTS activities, is scheduled to be published in the Federal Register this fall so the transportation community can have an opportunity to provide comments.
Several specific rural ITS projects are also taking place, including two field tests: one to assess the use of satellite communications for mayday systems and the other to develop a portable surveillance and delay advisory system for work zones. Additional projects include a technology scan to identify successful, low-cost rural technology and a study of the use of enhanced radar detectors as a means of displaying warning messages inside a vehicle that were transmitted from the roadside or another vehicle.
-- Paul Pisano (202) 493-3366
STRUCTURES
---
Underwater Evaluation and Repair of Bridge Components: Training Developed
Since 1988 when the National Bridge Inspection Standards (NBIS) were modified to require underwater inspections as part of comprehensive bridge inspection programs, serious conditions have been found at many structures. Today, substructure repairs in water are routinely being made by many bridge owners. To assist State DOT's in planning, designing, and accomplishing underwater repairs in the most effective manner, FHWA's Office of Technology Applications (OTA) has developed Demonstration Project 98, "Underwater Evaluation and Repair of Bridge Components," and is now accepting requests for presentations.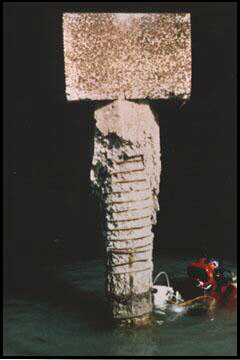 Diver conducts a video inspection of a badly deteriorated concrete pile.
This year, the 2-day DP98 program has been presented to State highway agencies from Maine to Louisiana to Alaska, and a special session was held this past June at the International Bridge Conference in Pittsburgh. In conjunction with DP98, a special shortened version of DP80, "Underwater Inspection of Bridges," was presented to some States to demonstrate new techniques and equipment and train inspection personnel hired since the original DP80 sessions were offered in 1989 to 1990.
DP98 is intended for inspectors and engineers involved with bridge evaluation, bridge repair, and design of repairs. The training includes a review of mechanisms of deterioration, underwater condition surveys, evaluation of underwater deterioration, and underwater repairs. Samples of various underwater construction materials are available for examination. Demonstrations of underwater non-destructive testing techniques and the effects of using concrete admixtures are included. Project personnel are also available to assist States in special investigations and projects. Contact OTA to schedule DP98 or DP80.
-- Tom Krylowski (202) 366-6771
ENVIRONMENT
---
Research Added to the 1997 Environmental Excellence Awards Program
With entries received by September 15. 1996, FHWA is getting ready for its 1997 Environmental Excellence Awards Program. The program was established as a way of recognizing and thanking our partners. The projects, processes, and people nominated for these awards are examples of some of the outstanding work being done to build an efficient, effective intermodal transportation network that fits harmoniously with our natural environment, our neighborhoods, and our communities. For 1997, the Environmental Excellence Awards Program has two categories.
The Distinguished Environmental Achievement category is designed to honor the human element, our partners who demonstrate a commitment to incorporating environmental stewardship into the planning and project development process. This award recognizes people in three specific areas: leadership, process (efforts that result in time or money savings), and research (efforts that address environmental concerns in developing transportation solutions). This is the first time the award program will recognize creative research efforts being done in the area of transportation and the natural environment.
The Environmental Enhancements category recognizes the outstanding transportation projects and processes that use FHWA funding sources in non-motorized transportation, habitat, water quality, wetland preservation, historic and archeological preservation, roadside vegetation management, noise abatement, air quality improvement, and community cohesion. The winners will be announced at the 1997 Earth Day Celebration in Washington, DC.
-- Pat Cazenas (202) 366-4085
Technology Transfer
---
NHI Reinforces Its Partnerships with Industry
The National Highway Institute (NHI) took another important step towards strengthening its partnership with U.S. industry on June 26, when NHI met with the board of directors of the Asphalt Recycling and Reclaiming Association (ARRA) to discuss new ways of cooperation. The board members were welcomed by William F. Brown, Chief of NHI's University, Industry, and International Programs Division. William L. Williams, NHI's Coordinator for International Activities, discussed NHI's programs with the group.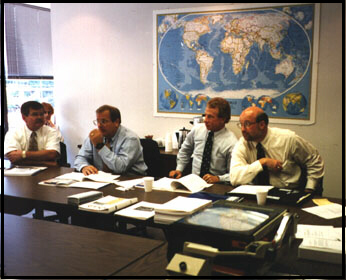 ARRA board members (l to r) Jim Halverson, Michael Brown, Michael Krissoff, and John Rathbun discuss partnering endeavors with NHI staff.
The presentation was followed by a vigorous discussion on different possibilities of enhancing cooperation between ARRA and NHI. Some of the ideas discussed were cost sharing for future training courses and greater involvement of ARRA in selecting instructors and experts for relevant courses. It was also suggested that NHI review ARRA's research papers to explore topics for new training courses of potential interest to the U.S. industry.
The guests were also very interested in hearing about a recent partnering endeavor between NHI and Hoffman International, resulting in a pioneering hot mix asphalt training course in Russia. It was based on already existing NHI/National Asphalt Pavement Association training courses and materials that were translated into Russian and adapted to Russian conditions. The participants felt that this highly successful experience could serve as a model for further partnering efforts between NHI and the U.S. industry.
-- Marketta Kopinski (703) 235-0534
Public/Private Partnership Develops Hi-Tech Winter Maintenance Vehicle
Iowa, Michigan, and Minnesota have formed a consortium to develop an advanced vehicle for winter highway maintenance. The vehicle will battle the elements of winter by performing complex snow and ice control operations using a navigation system, on-board computer and data recorders, sensors and automatic attachment controls, an automatic vehicle location system, and an advanced communications system.
The project used a unique method of involving private industry. First, focus groups were held in each State with field maintenance personnel (mechanics, vehicle operators, supervisors, etc.) and other customers who rely on snow removal equipment (State highway patrol and emergency responders). The focus groups identified problems and concepts, defined functional requirements, and developed the levels of design for the vehicle. From these meetings, 640 items were identified. They were gathered into a list of six major categories. The three States then went to their private sector suppliers and other interested developers, provided the list to them, and invited them to propose solutions. Products from the Strategic Highway Research Program and other research sources were also examined for technologies beneficial to the project.
Next, a meeting was held at which 14 private companies presented proposals to the three States. The technologies were reviewed for field readiness, and each State picked the technologies and vendors of interest to them. The States selected such unique technologies as an incremental power booster, surface temperature sensor, vehicle weight sensor, and a continuous friction measuring device. The last phase was budget development. Vendors were asked to contribute personnel and loaned or donated equipment. Each State donated a truck equipped with underbody and wing mount plows, a v-box, and a spreader. The vendors agreed to donate over $276,000 worth of loaned equipment and staff time to equip the vehicles.
The trucks were to be equipped by November 1 and will be tested by experienced snow plow operators over the winter snow and ice season. An evaluation team has been formed and includes representatives from the private sector companies and the States. After the initial tests and feasibility studies are conducted, either another prototype will be developed or the States may choose to equip 10 trucks each for further evaluation. The Center for Transportation Research and Education at Iowa State University is the principal investigator and facilitator for the meetings and the project.
-- Lee Smithson (515) 239-1519 and Roger Port (816) 276-2744
Innovative Construction Contracting is Subject of Workshop
The use of alternative or innovative contracting procedures is becoming more widespread in highway construction contracting. In a climate of shrinking public funds and smaller government, public owners are being asked to do more with less. State highway agencies are increasingly turning to contracting methods designed to reduce project delivery time and shift more responsibility for workmanship and quality to the contractor.
As part of an FHWA research contract to investigate innovative contracting practices that are currently being used or developed, FHWA held a 2-day workshop last summer in Philadelphia, Pennsylvania. The workshop brought together 40 recognized experts and interested parties from State highway agencies, highway consulting firms, associations, suppliers, academia, and law firms. The objectives of the workshop were to present case studies of alternative or innovative contracting methods, obtain feedback from the participants concerning each method, generate discussion regarding ways to improve these methods, and develop new contracting approaches. Among the contracting methods covered in the workshop were design-build, lane rental, multi-parameter bidding, indefinite delivery, construction warranties, performance-related specifications, value engineering, and partnering.
Under the FHWA research contract, the research contractor for this project will prepare instructional users guides for those methods or combinations of methods identified as having the greatest potential for improving construction quality. A final report will also be available shortly after completion of the contract in February 1997.
-- Peter A. Kopac (202) 493-3151