Table of Contents
ROSAN CRADA: A Joint Effort to Improve the Nation's Highways
Load Transfer Restoration - Savings and Service
Showcase in New Hampshire is High Performer
New Deck Bridges Past with the Future
PIARC To Hold test Sessions
Research Helps Secure Truck Loads Throughout North America
LTAP CD-I Modules Train and Win
Europe Offers Solutions for U.S. Rail Crossing Safety
Elementary Ways of Improving Child Pedestrian Safety
---
The Research & Technology Transporter was a Federal Highway Administration (FHWA) research and technology publication issued under FHWA's Research and Technology Program. The 8-page newsletter transmitted research and technology-based developments from FHWA program offices to engineers in the field and professionals in the industry. Publication of the Research & Technology Transporter ended with the September 2006 issue.
Rodney E. Slater
Secretary,
U.S. Department of Transportation
Jane F. Garvey
Acting Administrator,
Federal Highway Administration
Anthony R. Kane
Executive Director
Federal Highway Administration
---
RTCG CHAIRPERSONS
Michael Trentacoste - Safety
Stan Gordon - Structures
Paul L. Brennan - Motor Carriers
Don Steinke - Highway Operations
Paul Teng - Pavements
Jeff Lindley - ITS
King Gee - International
Barna Juhasz - Planning, Environment, and Right-of-Way
Gary Maring - Policy & Information Management
---
Anne Barsanti, Managing Editor
Jon Schans, Editor
Zac Ellis, Editor
PAVEMENTS
---
ROSAN CRADA: A Joint Effort to Improve the Nation's Highways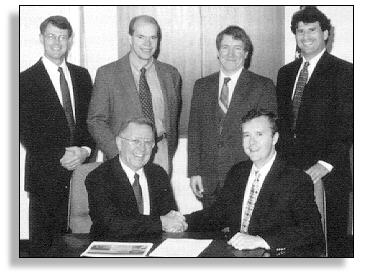 At the CRADA signing are (seated) R&D Associate Administrator Bob Betsold, SES President Scott Clements, (standing) FHWA's Dennis Sixbey, Roy Trent, SES's James Mekemson, and Nicholas Gagarin.
When it comes to improving our Nation's highways, joining forces with the private sector is a clever way to go, and that is exactly what the Pavement Surface Analysis Lab did. On October 20, the Offices of R&D and Surfan Engineering and Software, Inc. (SES) signed a cooperative research and development agreement (CRADA) to commercialize the Road Surface Analyzer (ROSAN).
The purpose of this particular CRADA is to provide the highway industry with a product that can characterize pavement surfaces in a safe, efficient, and cost-effective manner. Through the CRADA, FHWA and SES will not only demonstrate that laser technology can successfully measure the quality of paved surfaces but will also provide construction contractors with a valuable tool with which to improve the quality of our Nation's highways.
ROSAN is a laser-based system that was originally developed to record texture characteristics of pavement surface at normal highway speeds along a linear path. With the integration of appropriate pattern recognition algorithms, SES will soon enhance ROSAN's capabilities to measure other surface characteristics such as cracks, joints, grooves, and faulting. ROSAN will also process data in a comprehensible format that can later be incorporated into Pavement Management Systems (PMS) for further analysis. The lightweight, portable ROSAN system will be able to record at least 2 hours of continuous information (approximately 160 km,) before the data buffer has to be downloaded for analysis, and its user-friendly software interface will be easily operated in a point-and-click fashion.
ROSAN results are fast, accurate, and easy to obtain, thus promoting safety while eliminating subjectivity in data, lane closures, and costly traffic control. Automated systems like ROSAN could reduce highway maintenance costs, such as engineering consulting and surveying related support, which amounted to $2.6 billion in 1995. ROSAN's applications can go beyond the highway industry as it d be used to characterize surfaces in airport runways and auto race tracks. For more information or technical notes please contact the following. -
-- Dennis Sixbey, (202) 493-3078.
Load Transfer Restoration - Savings and Service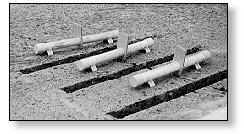 These dowel bars are ready for installation in jointed concrete pavement for load transfer restoration.
States have found that load transfer restoration is a cost-effective alternative to full-depth patches and asphalt overlays on pavements that are structurally sound but have poor load transfer across transverse joints and cracks. Using a method for load transfer restoration with dowel bars, Washington State DOT estimates that the cost of load transfer restoration is $40,000 less per two-lane kilometer of roadway than a conventional 90-mm asphalt overlay and will last 10 to 15 years. Their estimate includes load transfer restoration in the truck lane, diamond grinding, and joint and crack resealing. In Washington State, the 300 km of two-lane roadways expected to be retrofitted by the end of 1997 will save an estimated $12 million.
Research has shown that effective load transfer minimizes joint and pavement distresses such as pumping, faulting, and transverse and corner cracking. Load transfer may be measured in terms of the differential deflection of adjacent slabs when subject to a moving load.
Before the mid-1970's, some pavements, and traffic load increases. Several devices have been evaluated to restore the load transfer capacity across joints and transverse cracks of jointed concrete pavements. Of the devices tested, smooth round steel dowels proved to provide the desired load transfer with a cost-effective design. The device consists of a 32- to 38-mm diameter steel bar, 460 mm long, epoxy coated and completely covered with a bond-breaking material. The dowels should be installed approximately mid-depth of the concrete slab and mounted on plastic chairs. Plastic end caps with a 6-mm gap should be installed at each end of the dowels to provide room for thermal expansion of the concrete. Foam core board is used as a weak plane to re-establish the joint at the slot location.
Publication FHWA-SA-97-103 entitled Guide for Load Transfer Restoration will be available next year. The publication will provide guidance on project selection, design, materials, construction and performance information for this technique. -
-- Angel L. Correa, (202) 366-0224.
STRUCTURES
---
Showcase in New Hampshire is High Performer
New Hampshire's Waterville Valley Conference Center was setting for the latest in a series of showcases featuring high-performance concrete (HPC) bridges. The New Hampshire showcase was jointly sponsored by FHWA's Office of Technology Applications (OTA), the University of New Hampshire Technology Transfer Center, and the New Hampshire Department of Transportation.
High-performance concrete showcases have been held in Texas, Nebraska, Virginia, Washington, and now New Nampshire. In addition, mini-showcases have been held in Louisiana and Georgia. During each showcase, participants get to share in the latest high-performance concrete research findings and lessons. People from States that have completed HPC projects share their experiences and learn from others. At least one showcase is already scheduled for next year. It will be held on February 18-20, 1998, in Colorado.
-- Terry Halkyard, (202) 366-6765.
New Deck Bridges Past with the Future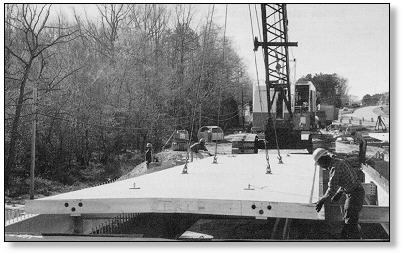 The new Alumadeck is durable, corrosion resistant, and is being installed in bridges like this one in Clarkville, VA.
Armed with information obtained from examining a bridge built in 1934 and data from further testing completed by FHWA, Reynolds Metal Company and Hi-Steel Structures, Inc., are reintroducing aluminum as an important material for the bridge-building industry. Reynolds' research has culminated with the AlumadeckTM modular bridge deck system which features panels made from Reynolds extrusions that are shop-welded at Hi-Steel. The light-weight panels are produced with a two-part epoxy and a broadcast aggregate wearing surface which has been tested by Reynolds and by the bridge projects in the United States Oak Ridge National Laboratories.
Alumadeck can produce weight two bridges in Virginia. From these savings of up to 80 percent over a beginnings, Reynolds and FHWA conventional concrete deck while hope that aluminum will become a still supporting the same HS-20 live more competitive bridge-building loading. Aluminum structures also provide superior resistance to corrosion and require no painting or protective coating.
Corrosion resistance is evident in the Smithfield Street bridge in Pittsburgh. When the structure was rebuilt 60 years after its creation in 1934, Reynolds bought a 500-m section of the bridge to study the effects of corrosion and fatigue. Testing and forensic analysis showed minimal corrosion except for some galvanic action, especially where the superstructure met the abutment. Reynolds redesigned the new system using improved welding techniques, an improved aluminum alloy, and a state-of-the-art wearing surface.
In the last 10 years about 40 aluminum deck bridges have been built in Nordic countries; aluminum bridge projects in the United States include the Corbin Bridge in Huntington, Pennsylvania, and two bridges in Virginia. From these beginnings, Reynolds and FHWA hope that aluminum will become a more competitive bridge-building material.
-- Steve Ernst, (202) 366-4619.
PIARC To Hold test Sessions
Road roughness is one of the most important road surface characteristics. It indicates functional performance and structural condition. The World Road Association (PIARC) is undertaking a project to compare devices that measure transverse and/or longitudinal profile -- road roughness. The data collection phase of the "Second International Experiment to Harmonize Longitudinal and Transverse Profile Measurements" will take place during 1998 in three locations: Arizona, Japan, and Europe.
Data will be obtained in Arizona on 20 road and airfield sites during the period from April 20 to May 1. The profiles of the sites will be manually measured to obtain continuous profile records. Immediately after the manual profiles are obtained, the mobile devices will measure the sites. The purpose is to compare the results of different equipment and different methods.
Suppliers of profiling devices are encouraged to participate in the Arizona tests. (It is not necessary to participate in more than one.) Those interested in participating should send a request to John J. Henry, P.O. Box 84, Huntingdon, PA 16652; jjhenry@aol.com.
-- Roger Larson.
MOTOR CARRIERS
---
Research Helps Secure Truck Loads Throughout North America
In response to several incidents involving loss of metal coils from trucks operating in Canada and the United States, particularly in New York, FHWA's Office of Motor Carriers and Transport Canada recently completed a research project on commercial motor vehicle load securement. The project was a joint effort between various public agencies and private organizations in the United States and Canada.
The research program involved the testing of trailer anchor points (i.e., stake pockets, D-rings, tensioning ratchets, etc.); the effect of binder type, chain size, and chain length on the tension of the tiedown assembly; equalization of tension in the spans of chain and webbing tiedowns; lateral and longitudinal movement of the cargo on tiedown tension; and blocking and bracing, friction between the load and the vehicle or between individual articles being transported (e.g., concrete pipe, lumber products, etc.). The research program also examined securement practices for transporting metal coils and intermodal cargo containers.
Results of the research are being expected that all of the jurisdictions used to develop and implement the throughout the United States, North American Cargo Securement Canada, and Mexico will adopt the Standard. Mexico, Canada, and the new standard as a replacement to United States will incorporate the their current cargo securement standard into their commercial regulations so that a vehicle carrying any type of cargo will be able to travel through all three countries without having to stop at borders to resecure the load to meet the different standards that now exist.
Draft versions of the North American standard are available from the Canadian Council of Motor Transport Administrators at www.ab.org/ccmta, (613) 736-1003. A series of research reports is also available from the same source. The final version should be published before the middle of 1998, and it is expected that all of the jurisdictions throughout the United States, Canada, and Mexico will adopt the new standard as a replacement to their current cargo securement regulations.
-- Milt Schmidt, (518) 431-4239.
LTAP CD-I Modules Train and Win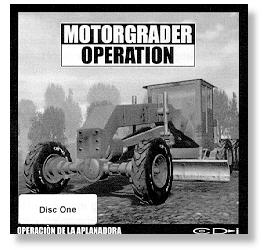 The CD-I training module is available in English and Spanish.
The Local Technical Assistance Program (LTAP) released for distribution two compact disc interactive (CD-I) training modules on Motor Grader Operations for local transportation agencies. Each module is 40-minutes long and features full-motion video and animation sequences, and are available in English and Spanish. The modules provide all relevant measurements in metric units.
The two modules won the Silver Award at the 1996 International CD-I Association held in Orlando, Florida, last year. The award was given "for outstanding achievement in the production of the best title for use in vocational or skill training using CD-I."
Copies of the CD-I's are available to each of the 57 LTAP centers. Additional copies are available from the LTAP Technology Transfer Clearinghouse. The clearinghouse may be reached at the American Public Works Association, 1301 pennsylvania Avenue, NW, Suite 501, Washington, DC 20004, patriot.net/~ltap/ltap.html, (202) 347-7267.
-- Bob Kelly, (202) 366-1565.
SAFETY
---
Europe Offers Solutions for U.S. Rail Crossing Safety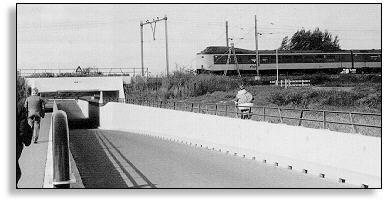 A grade-separated crossings in the Netherlands accommodates vehicles, cyclists, and pedestrians.
In 1996, 488 people were killed and 1,610 seriously injured in 4,257 highway-rail grade crossing collisions across the United States. There are approximately 268,000 at-grade highway-rail grade crossing throughout the country with varying levels of safety installations. The increase in rail and highwa traffic along with the advent of high-speed rail in the next few years is heightening concerns over safety, as well as efficient rail and road operations.
To learn how other countries with high-speed rail operations and large numbers of grade crossings addressed those issues, FHWA sponsored an international technology reconnaissance tour to Denmark, the Netherlands, Germany, Italy and Spain. Representatives from FHWA's Office of Highway Safety, Federal Railroad Administration (FRA), and the Texas Transportation Institute participated in the September 1997 tour.
The scan team found several innovative approaches that could provide solutions to highway-rail grade crossing issues in the United States. They recommended that further investigation of several European technologies and practices is warranted.
In the policy area, Spain, Italy, and Germany each have an active program underway to eliminate high-way-rail grade crossings. Crossing closure is a national policy and warrants have been developed for grade crossing improvements.
With the exception of a few grade crossings in Italy, all high speed rail crossings are grade separated. Even so, Italy recorded only 10 crossing fatalities in 1996.
Both Denmark and Germany are testing solid state electronic warning and signaling equipment that is proving reliable and durable over 30-month testing cycles. Solid state equipment has already been deployed in Spain. Train detection by magnetic induction wheel sensors in lieu of track circuits was used in a number of the countries visited. Magnetic induction system applications in the United States could provide cost saving and safety benefits over the track circuits currently being used.
Video monitoring of crossings was found to be in use to provide information on crossings being clear of obstructions. This technology is currently part of an ITS project on the Long Island Railroad.
Spain demonstrated a location where a sign is illuminated at the crossing when another train is approaching on another track. On multiple track locations the approach of a second train presents serious safety problems. The Los Angeles Blue Line reports that this is one of their major safety issues, and have a project underway to develop a warning system.
On the construction side, grade separation projects are performed by fabricating the tunnel structure outside the railroad in an excavation and then hydraulically inserting it under the tracks. This technique speeds construction and allows the railroad to continue operations.
Grade-separated crossings in the Netherlands accommodated vehicles, pedestrians, and bicycles. Demonstrated crossing provide headroom and reduce unnecessary down-and up-hill for non-motorized travel.
-- Fred Small,(202) 366-9212.
Elementary Ways of Improving Child Pedestrian Safety
The safety of children is always a sensitive issue, particularly when our kids get old enough to walk to school by themselves. The Office of Highway Safety has developed a colorful new brochure that can help parents and local officials join forces to improve roadside safety hardware and pavement markings. This new brochure contains tips on simple and inexpensive child pedestrian safety measures. The brochure has helpful hints about what can be done to initiate the safety measures, along with a list of publications that can brochure that can help. This new product will extend outreach to the youngest walkers of all.
-- Brian F. Gilleran, (202) 366-0915.
ARE THRANSPORTATION AGENCIES USING THE INFORMATION SUPER HIGHWAY?
---
In a 1994 workshop, the Transportation Research Board's Committee on the Conduct of Research (A5001) concluded that the most significant problems facing transportation agencies in the area of technology transfer are the low value placed upon information and the lack of access to information. To examine this issue in greater depth, the Federal Highway Administration's Office of Technology Applications has contracted an interagency agreement with the Volpe National Transportation Systems Center in Cambridge, Massachusetts, to undertake a study on the value of information for transportation agencies. The following summarizes the literature review for the project.
Three approaches to proving the value of information were identified: measuring time saved; determining actual monetary savings/gains; and providing qualitative, anecdotal evidence of value.
A survey of vice-president level corporate decisionmakers from over 150 corporations found that none of them could identify the library service that added the most value to their corporation.
In a survey of corporate decision-makers from five Toronto financial institutions, 84 percent of the 299 respondents reported better informed decision-making when asked to use information provided by their library to assist in an important decision.
The study report, addressing the value of information, library services, and information professionals, will be available next spring. The report will include case studies of agencies that have attempted to measure the value of information in transportation and related areas, and anecdotal information from private and public sector organizations.
-- Nelda Bravo, (202) 366-9633.
THE ePEG DAILY DIARY WAS A USEFUL TOOL FOR THE CYPRESS REBUILDING PROJECT IN CALIFORNIA
---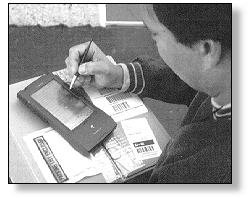 The ePeg Daily Diary was a useful tool for the Cypress rebuilding project in California.
In the past, highway engineers collecting field data used traditional paper forms -- often in voluminous quantities to record construction data. This method is time consuming and created inefficiencies in completing, storing, and retrieving documents. Desktop or laptop computers were only marginally helpful in addressing the problem.
Now, mobile (handheld) inspection systems are beginning to change how highway field data is gathered, processed, and used. Mobile systems such as the MessagePad 2000 from Newton, Inc. and the ePeg Daily Diary developed by Bear River Associates, Inc., facilitate timely and accurate data entry. These new mobile inspection systems help eliminate inconsistencies in the reporting of data, present a clearer picture of day-to-day project status, and make it possible to integrate data with engineering, accounting, and other project information. The systems proved very successful in 1996 when the California Department of Transportation (Caltrans) began using the ePeg Daily Diary on the Cypress Project, which involved rebuilding a portion of the earthquake-damaged 1-880 freeway.
Caltrans is now embarking on a multi-year program to retrofit seven California toll bridges. Because of its success with the new mobile computer systems on the Cypress Project, Caltrans has current plans to use them again on the bridge retrofit program. They will be used to make daily data collections that are then integrated with other information, creating a system that will manage costs and provide timely project status updates to agency management.
-- Bob Tally, (916) 498-5020.
COLLABORATIVE RESEARCH WINS CERF AWARD
---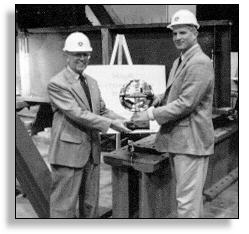 R&D Associate Administrator Bob Betsold and Research Engineer Bill Wright pose with the CERF award in the lab where the high-performance steel is being tested.
A FHWA research effort on high-performance steels for highway bridge applications won the Civil Engineering Research Foundation (CERF) 1997 Pankow Innovative Applications Award. Partners receiving the award with FHWA are the Department of the Navy and the American Iron and Steel Institute. FHWA also was honored as a collaborator on a new simplified monitoring system for which Strain Monitor Systems won the 1997 Pankow Innovative Concept Award.
The high-performance steel project, led by Research Engineer Bill Wright, developed new steel compositions that have high strengths, significantly higher toughness, and greater corrosion resistance. Use of these steels, with yield strengths of 485 to 690 MPa, will reduce cost and improve the safety and performance of our highway bridges. Development and research on the 485 MPa steel has reached the stage where it is already being fabricated into girders for use on major steel bridges in Tennessee and Nebraska.
The new simplified monitoring system for civil structures developed by Strain Monitoring Systems won the 1997 CERF Pankow Innovative Concept Award. FHWA collaborated on the system by contracting for its development through the contract research program. Research Engineers Dr. Steve Chase and Dr. Hamid Ghasemi led FHWA's interest in creating a monitoring system that uses "smart" metal alloys that can track and report damage done to various structures. This technology combines a series of metal alloys trademarked as the "IntelliSense" device that, when strained or stretched, becomes magnetized. The resulting ferromagnetism is directly relational to the amount of strain, allowing its creators to make the claim that this monitor can detect strain from as little as 20 micro-strains.
The Innovative Applications Award recognizes the contribution of an organization or collaborative team that demonstrates innovative approaches to design, materials use, or the construction process that has been transferred into practice. The Innovative Concept Award was designed to stimulate original and creative concepts with real potential for application in practice. Applications for these awards were accepted from public and private industry, academia, and Government agencies from around the world.
-- Jim Cooper, (202) 493-3023.