Table of Contents
Staying in the Loop with Vehicle Detector Maintenance
R&D Readies Peer Exchange
NHI COURSE SCHEDULE (February-March, 1997)
Pedestrian Safety Roadshow - A Good Place to Start
New Public-Private Partnership Focuses on Pedestrian Issues
Taking a Shot at Remote Video Control
Accident Models for Intersections are a Smashing Start for IHSDM
Congestion Workshop Features Houston Pricing Project
Customer's Guide Helps Get the Most Out of Reports
Bridge Decks Heat Up
A Bridge to the Future?
FRP Conference is On Its Way
Talking Turkey in Thailand
---
The Research & Technology Transporter was a Federal Highway Administration (FHWA) research and technology publication issued under FHWA's Research and Technology Program. The 8-page newsletter transmitted research and technology-based developments from FHWA program offices to engineers in the field and professionals in the industry. Publication of the Research & Technology Transporter ended with the September 2006 issue.
Rodney E. Slater
Secretary,
U.S. Department of Transportation
Jane F. Garvey
Deputy Administrator,
Federal Highway Administration
Anthony R. Kane
Executive Director
Federal Highway Administration
---
RTCG CHAIRPERSONS
Michael Trentacoste -
Safety
Stan Gordon -
Structures
Paul L. Brennan -
Motor Carriers
Don Steinke -
Highway Operations
Paul Teng -
Pavements
Jeff Lindley -
ITS
King Gee -
International
Barna Juhasz -
Planning, Environment, and Right-of-Way
Gary Maring -
Policy & Information Management
---
Anne Barsanti, Managing Editor
Jon Schans, Editor
Zac Ellis, Editor
TECHNOLOGY TRANSFER
---
Staying in the Loop with Vehicle Detector Maintenance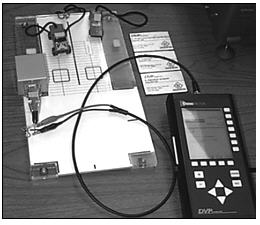 Developed under FHWA programs, this ILT is
one of the most reliable ever created.
FHWA R&D has used two programs -- The Small Business Innovation Research (SBIR) and the Innovations Deserving Exploratory Analysis (IDEA) programs -- to develop an inductive loop detector test device for maintenance and troubleshooting.
Sensors developed under these programs now have the capability of doing vehicle and speed classification studies with high degrees of accuracy from a single loop. Loop detector-based systems are still the most prevalent sensor because of their overall performance, reliability, and cost. However, up to 25 percent of these sensors are either malfunctioning or functioning less than optimal.
The Inductive Loop test (ILT) device was originally developed for FHWA R&D under SBIR program. Field testing was performed by the FHWA Office of Technology Applications. Its recommendations were incorporated into the subsequent improvements and enhancements under the IDEA program. The ILT performs the functions of a frequency meter, Quality (Q)-meter (variable frequency & voltage), high voltage resistance device (megger), resistance meter (open/short), inductance meter, and oscilloscope. All these features are incorporated in one instrument with one-user interface.
-- David Gibson, (202) 366-0160
R&D Readies Peer Exchange
The Office of Research and Development under contract with SNI International Resources created and offered a 1-day peer exchange training course. The course was developed to ensure that there would be a sufficient number of trained people for the FHWA peer review list and to clarify for all parties involved in the process what a peer exchange is and is not.
The revised State Planning and Research program regulations require States to conduct a peer review of their Research, Development, and Technology Transfer (RD&T) management process once every three years. Since all States were required to be operating under the new regulations by January 1, 1996, they should have their initial peer review (exchange) by the end of 1998.
The regulations also require that FHWA establish and maintain a list of qualified peer reviewers. When the States are selecting their peer exchange team members, they must select two from the FHWA list.
During the past three months, the course has been presented in each of the nine FHWA regions. Approximately 200 people, including State highway agency, FHWA, and private sector personnel, atended the course.
-- Chuck Niessner, (202) 366-0160
NHI COURSE SCHEDULE (February-March, 1997)
Contact: Lynn Carr, (703) 235-0528
No.

COURSE TITLE

CITY

COURSE DATE

13038
Bridge Painting Inspection
Columbia, SC
02/25 - 02/27/97
12301
Introduction to Metrics for Highway Agencies
Montgomery, AL
02/26 - 02/26/97
02/27 - 02/27/97
13133
Construction of Portland Cement Concrete Pavements
Madison, WI
02/26 - 02/28/97
35005
Highway Program Financing
Springfield, IL
02/26 - 02/27/97
38003
Design and Operation of Work Zone Traffic Control
Indianapolis, IN
02/27 - 02/27/97
13065
Introduction to Highway Hydraulics
Montgomery, AL
02/28 - 02/28/97
38003
Design and Operation of Work Zone Traffic Control
Bismarck, ND
03/03 - 03/05/97
13010
Highways in the River Environment
Austin, TX
03/03 - 03/07/97
13442
Materials Control and Acceptance -- Quality Assurance
Shoshone, ID
03/03 - 03/07/97
14126
FHWA Appraisal and Appraisal Review
Dover, DE
03/03 - 03/06/97
13222
Driven Pile Foundations -- Construction Monitoring
Schaumburg, IL
03/04 - 03/05/97
14130
Advanced Relocation Workshop
Aurora, CO
03/04 - 03/06/97
35005
Highway Program Financing and The Executive Level Course
New Brighton, MN
03/04 - 03/05/97
13046
Stream Stability & Scour at Highway Bridges
Albany, NY
03/04 - 03/07/97
15130
Corridor Preservation for Technical Staff
Madison, WI
03/04 - 03/05/97
38032
AASHTO Roadside Design Guide
Ames, IA
03/05 - 03/06/97
38003
Design and Operation of Work Zone Traffic Control
Minot, ND
03/06 - 03/07/97
38003
Design and Operation of Work Zone Traffic Control
Fargo, ND
03/06 - 03/07/97
14213
Improving the Effectiveness of Public Meetings and Hearings
Dallas, TX
03/06 - 03/07/97
13061
Load and Resistance Factor Design for Highway Bridges
Boise, ID
03/10 - 03/14/97
13041
Water Surface Profile Computer Program Workshop (HEC2)
Ames, IA
03/10 - 03/14/97
13064
Bridge Engineering
Talahassee, FL
03/10 - 03/07/97
15130
Corridor Preservation for Technical Staff
Madison, WI
03/04 - 03/14/97
13055
Safety Inspection of In-Service Bridges
Frankfort, KY
03/10 - 03/14/97
13429
Bridge Maintenance Training
Houston, TX
03/10 - 03/14/97
13305
Highway Capacity and Quality of Flow
Fargo, ND
03/11 - 03/13/97
13132
Hot-Mix Asphalt Construction
Topeka, KS
03/11 - 03/13/97
13134
Pavement Distress Identification
Houston, TX
03/11 - 03/14/97
13071
WMS - Hydrologic Watershed Modeling
Baltimore, MD
03/11 - 03/13/97
13027
Urban Drainage Design
Albany, NY
03/11 - 03/13/97
38032
AASHTO Roadside Design Guide
Nashville, TN
03/12 - 03/13/97
13442
Materials Control and Acceptance -- Quality Assurance
Anchorage, AK
03/17 - 03/21/97
13055
Safety Inspection of In-Service Bridges
Phoenix, AZ
03/17 - 03/28/97
14205
Project Development and Environmental Documentation
Springfield, IL
03/18 - 03/20/97
13222
Driven Pile Foundations -- Construction Monitoring
Hutchinson, KS
03/18 - 03/19/97
14128
Highway/Utility Joint Use Issues
Austin, TX
03/18 - 03/20/97
13213
Geosynthetic Engineering Workshop
Yuba City, CA
03/18 - 03/18/97
35005
Highway Program Financing
Frankfort, KY
03/19 - 03/20/97
13133
Construction of Portland Cement Concrete Pavement
Indianapolis, IN
03/19 - 03/21/97
38032
AASHTO Roadside Design Guide
Columbia, SC
03/20 - 03/21/97
13108
Techniques for Pavement Rehabilitation
Houston, TX
03/24 - 03/27/97
14131
Business Relocation
Lansing, MI
03/25 - 03/27/97
13214
Drilled Shafts
Frankfort, KY
03/25 - 03/27/97
38032
AASHTO Roadside Design Guide
Schaumburg, IL
03/25 - 03/26/97
38003
Design and Operation of Work Zone Traffic Control
Ames, IA
04/01 - 04/01/97
13047
Stream Stability and Scour at Highway Bridges for Bridge Inspectors
Sacramento, CA
04/01 - 04/01/97
38032
AASHTO Roadside Design Guide
New Brighton, MN
04/02 - 04/03/97
13429
Bridge Maintenance Training
Orlando, FL
04/07 - 04/11/97
14213
Improving the Effectiveness of Public Meetings and Hearings
Columbus, OH
04/08 - 04/09/97
SAFETY
---
Pedestrian Safety Roadshow - A Good Place to Start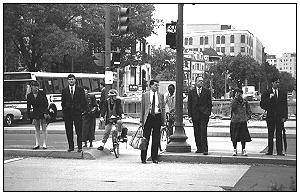 Presentations of FHWA's Pedestrian Safety Roadshow are making commuting safer for pedestrians and bicyclists.
Every year over 6,000 pedestrians are killed and at least 90,000 injured in accidents with automobile traffic. Recognizing this, FHWA has joined forces with NHTSA and completed a series of pilot presentations of a new pedestrian program titled "Pedestrian Safety Roadshow." The purpose of the roadshow is to assist communities in developing their own approach to identifying and solving the problems that affect pedestrian safety and walkability. The roadshow is a 4-hour presentation to community officials, concerned citizens, and local business leaders. It will increase awareness of pedestrian safety and walkability problems, provide participants with information about the elements that make a community safe and walkable, channel their concern into a commitment to examine their community and "do something about it," and formulate that commitment into a plan of action for addressing the community pedestrian issues.
All of the pilot sessions for the roadshow were very well received in Grand Folks, North Dakota; Ithaca, New York; Highland Park, Michigan; Olathe, Kansas; and Phoenix, Arizona. In Olathe, the Kansas City Star not only covered the event as a news item, but its lead editorial called for broad community support, saying "More Olathe residents should be encouraged to contact City Hall on this issue so that many more ideas will surface."
This pedestrian program is not just a four-hour Roadshow. It combines other resources that have been developed to help communities identify and address their pedestrian safety problems. These resources include: WALK!, a 12-minute video that addresses these issues; Pedestrian Safety Resource Catalog, an overview of the process involved in a community pedestrian program and an annotated listing of the technical resources that are available from the Department of Transportation; and the Pedestrian Safety Tool Box, which is being developed as a comprehensive manual on implementing a community pedestrian program.
The roadshows will start in early 1997, and are expected to comprise 20 to 30 presentations. If you know of a community that has pedestrian problems and enthusiastic and supportive leaders willing to host this program, please have them contact us.
--Leverson S. Boodlal, (202) 366-8044
New Public-Private Partnership Focuses on Pedestrian Issues
FHWA has joined forces with the National Highway Traffic Safety Administration (NHTSA) to create a coalition of Federal, State, and private organizations called the Partnership for a Walkable America. The new Partnership was announced earlier this year by then Secretary of Transportation Federico Peña during his opening remarks at the Moving Kids Safely conference.
The Partnership is working closely with the U.S. DOT Secretarial Initiative for Pedestrian and Bicycle Safety, a national effort to promote walking and bicycling as safe, efficient, and healthy ways to travel, and with FHWA's Pedestrian and Bicyclists Safety Research Program. The goals of the Secretarial Initiative are to reduce by 10 percent the number of injuries and fatalities occurring to bicyclists and pedestrians and to double the national percentage of transportation trips made by bicycling and walking by the year 2000. Concurrently, FHWA's Pedestrian and Bicyclists Safety Research Program's goal of improving pedestrian and bicyclist safety, operations, and mobility support the goals of the Secretarial Initiative.
The Partnership aims to create a greater awareness of the safety problems faced by people who walk and to increase citizen demand for solutions to these problems. Other goals are to create a demand for greater and easier access to places for people who want to walk and to encourage walking as one of the easiest ways for Americans to improve their health.
-- Carol Tan Esse, carol.tan.esse@fhwa.dot.gov
Taking a Shot at Remote Video Control
Traffic Management Center (TMC) operators rely on remote video cameras to detect incidents, verify incident reports received from cellular phone calls or automated incident detection systems, monitor incident clearance, and maintain general surveillance of existing traffic conditions. Reliance on remote cameras is expected to continue throughout the Intelligent Transportation Systems (ITS) era, and operators working in ITS-level TMC's may have access to dozens -- perhaps hundreds -- of remote cameras. Thus, TMC operators will likely spend a considerable amount of time selecting cameras and controlling their respective views.
An experiment was conducted within Georgia Tech's Traffic Management Center Simulator addressing camera selection and control issues. For the experiment, 24 simulated video cameras were implemented -- 12 operating as preset cameras and 12 operating as manual cameras -- and 4 camera selection and control interfaces were implemented -- mouse, touch screen, joystick with keypad, and keyboard.
The objectives of the experiment were (1) to compare the effectiveness of mouse, touch screen, joystick with keypad, and keyboard interfaces for camera selection and control and (2) to assess the effects of preset versus manual cameras on human performance of incident detection and surveillance tasks.
Major findings of the study are:
Avoid using a touch screen interface for camera selection.
Use a mouse for map-based camera selection.
Use logical and meaningful camera identifier strings for keyboard-based camera selection designs. Avoid meaningless, arbitrary identifier strings.
A keypad containing all keys required for entering established camera identifiers is an acceptable camera selection device.
Keyboard and mouse interfaces are good camera control interfaces.
Preset cameras operate more efficiently than manual cameras.
Preset camera controls should facilitate a quick, 180-degree camera turn to allow inspection of the opposite direction.
Control over preset camera views should be implemented such that left (right) control movements cause the view to shift to the next left (right) preset view.
--Nazy Sobhi, nazi.sobhi@fhwa.dot.gov
Accident Models for Intersections are a Smashing Start for IHSDM
Preliminary development of accident models for intersections is complete and available as the report Statistical Models of At-Grade Intersection Accidents. The report is a preliminary effort to relate multi-vehicle accidents of at-grade intersections to highway design elements. The models are an important step in developing the Accident Analysis Module within the Interactive Highway Safety Design Model (IHSDM).
The IHSDM is an interactive tool that interfaces with a Computer-Aided Design (CAD) package. It is composed of six modules related to various areas of safety: Consistency, Policy Review, Traffic, Driver-Vehicle Dynamics, and Accident Analysis -- which this report covers.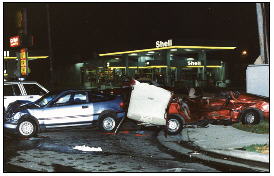 With the IHSDM, modelling accidents at inter-sections like this will improve future safety.
The design elements considered include functional class, traffic flow, channelization, traffic control type, median, access control, terrain type, number of lanes, lane width, shoulder width, and lighting. Based on retrospective analysis, several statistical modeling techniques were used including Poisson and negative binomial regression models, discriminant, and cluster analysis. Hard copy accident reports were also reviewed to learn the impact of design elements on accidents. Five preliminary accident models were developed for at-grade intersections: (1) Rural, four-leg, STOP-controlled; (2) Rural, three-leg, STOP-controlled; (3) Urban, four-leg, STOP-controlled; (4) Urban, three-leg, STOP-controlled; and (5) Urban, four-leg, signalized.
Results of this research are useful to researchers who will eventually improve, validate, and finalize these intersection accident models. The Safety Design Division recently initiated a complementary contract to establish final accident models for most types of intersection on two-lane rural highways. Expected models from this research will be incorporated into IHSDM.
A limited number of copies of the report were printed because this research is exploratory in nature. To acquire a copy, contact the R&T Report Center (301) 577-0906.
-- Joe Bared
POLICY
---
Congestion Workshop Features Houston Pricing Project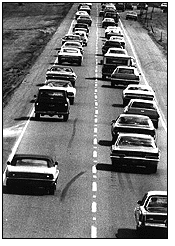 In November, FHWA's Congestion Pricing Team conducted a 1-day regional workshop in Houston to highlight recent Congestion Pricing Pilot Program activities and to focus attention on Houston's recent decision to implement an innovative road pricing strategy. The Congestion Pricing Pilot Program, authorized by ISTEA, now has ten active projects throughout the United States. Two are implementation projects, seven are pre-implementation efforts designed to lay the groundwork for potential future applications of congestion pricing, and one is a monitoring and evaluation study of the privately-funded automated Express Lanes on State Route 91 (SR91) in Orange County, California.
Representatives from the California Private Transportation Company (CPTC), owners and operators of the SR91 project, were on hand to discuss the initial success of the Automated Express Lanes, the first privately-funded and operated toll facility in the United States to use a electronic variable toll system to manage traffic flow. Other reports from around the region were presented focusing on Houston, where officials recently approved an HOV Buy-In strategy for the I-10 Katy Freeway. Under the arrangement, HOV-2 vehicles would be allowed to "buy into" the under-utilized HOV-3 facility during peak-periods.
The workshop attracted 130 participants representing State DOTs, Metropolitan Planning Organizations, Federal agencies, toll authorities, environmental organizations, transit agencies, highway interest groups, and elected officials. A fifth regional workshop is currently being planned for the Southeast region in April 1997. Please call for more information.
-- Janet Hanley, (202) 366-0570
---
Customer's Guide Helps Get the Most Out of Reports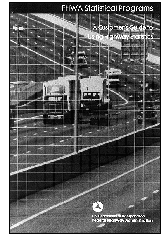 How can transportation decision makers, the general public, and others make the best possible use of the information provided in FHWA's annual Highway Statistics and other FHWA reports? By using FHWA's Statistical Programs - A Customer's Guide to Using Highway Statistics, a practical new publication which presents an overview of FHWA's process for assembling statistical information and describes some of the important uses of that information.
The brochure, which is a companion to a 1994 publication on the Highway Performance Monitoring System, provides information on what types of highway information FHWA collects and how the information is used. For example, FHWA statistical programs provide data essential in the Secretary of Transportation's biennial report to Congress on the Status of the Nation's Surface Transportation System (commonly referred to as the Highway Needs Report) and in the apportionment of ISTEA funds among the States for several programs.
The brochure also describes how decision-makers and others use various highway statistics information such as motor-fuel data, vehicle registration and driver licensing data, and highway finance data. The brochure also discusses future statistical programs and what information will be required to address emerging transportation issues. For additional copies, call FHWA's Office of Highway Information Management (202) 366-0170. The Brochure number is PL-96-028.
-- Ed Kasuba, (202) 366-0160
STRUCTURES
---
Bridge Decks Heat Up
In November, a ceremony was held to officially dedicate a heated bridge deck project located over the Buffalo River in Amherst County, Virginia. Section 6005 of the Intermodal Surface Transportation Efficiency Act (ISTEA) of 1991 established a program to evaluate innovative highway technology including the feasibility of heating the decks of bridges. The Virginia project is one of nine projects funded under the heated bridge deck program.
The heating system for this bridge project consists of 241 steel heat pipes embedded in the concrete deck and approach slabs. The pipes are about 2.5 cm thick and are spaced 18 to 23 cm apart. They are filled with Freon HCFC 123. The system contains about 1.2 km of piping.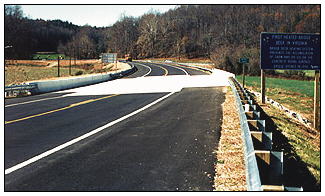 The heated bridge deck project on U.S. Route 60 over the Buffalo River is part of an ISTEA program to evaluate innovative technologies.
A propane gas-fired furnace heats a mixture of propylene glycol and water. The antifreeze mixture circulates through a separate piping loop to evaporators, which heat the Freon HCFC 123 in the pipes. The boiling Freon vapor rises in the heat pipes from the lower end to the higher, and warms the bridge deck. As the vapor cools, it condenses and trickles back to the evaporators where it is re-heated.
A computerized control system continuously receives information from various sensors and automatically activates the heating cycle when conditions are right. The sensors measure air temperature, bridge deck surface temperature, precipitation, ice, wind speed, solar radiation and relative humidity. More than 1 km of cable connect the components of the system.
An infrared camera on the site monitors the temperature profile and heat distribution across the deck surface. Data from all the system's sensors and monitors are sent automatically through phone lines to the Research Council in Charlottesville.
Researchers will study the bridge for at least 2 years. They will collect information on operating and maintenance costs, traffic volumes and accident reports, along with system performance data. The findings, along with those from other States, will help the VDOT evaluate the use of heated bridge deck systems.
-- George Romack, (202) 366-4606
A Bridge to the Future?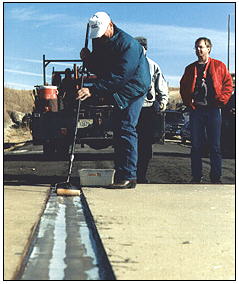 The fiberglass composite bridge in Russell County, Kansas, was installed in a day.
What will a highway bridge of the future look like? Perhaps it will look like the one in Russell County, Kansas. Recently, a bridge made of fiberglass, plastic, and resins was opened to traffic. It is known as a fiberglass composite bridge.
The bridge deck is 7-m long, 8.2-m wide and 56-cm thick. Since it had to be manufactured off-site it was built in three 3-m longitudinal sections that were trucked to the site and glued together. Each section weighs under 4,082 kg, so all sections could be hauled on one truck. The driving surface, made of polymer concrete, is already attached.
How strong is it you ask? Surprisingly, strength may not be the biggest issue. The bridge is estimated to handle a vehicle weighing almost 500,000 kg. However, the bridgestiffness may be a big issue.
To get the necessary stiffness, a corrugated fiberglass section (known as a honeycomb configuration) was designed to fill the interior of the 56 cm depth deck section. Much air is entrapped within the enclosed section. Because of its buoyancy, it must be anchored to the substructure or it would float away.
The advantages of this bridge over conventional concrete and steel deck bridges are that it can be installed in one day (the manufacturer believes it can be done in 3 hours), it is resistant to deicing and other chemicals, it weighs one third of the weight of concrete and steel allowing heavier loads on existing beams and substructures.
Kansas State University is instrumenting the performance of the bridge. The manufacturer hopes to use data collected from this bridge to develop standard design sections. Standard sizes could be made and stockpiled for common sized bridges and emergencies. Full scale production is necessary to bring the price to a competitive level. Some of the material's inherent advantages may make it competitive with concrete and steel even at a higher price.
-- Roger Port, (816) 276-2744
FRP Conference is On Its Way
FHWA is sponsoring the National Seminar on Advanced Composite Materials Bridges, May 5 - 7 at the Double Tree Hotel in Arlington, Virginia. The development of fiber reinforced polymer (FRP) composites has made significant technological advancement in the last few years. Retrofit techniques have been developed including damage repair for concrete superstructures and column wrappings in high seismic activity areas. FHWA and its' partners believe FRP composite materials hold great potential for expansion, repairs, and preservation of our nation's infrastructure. Please call to register or for more information.
-- Barbara Murdock, (202) 289-8100
Second Seismic Conference Set for Summer
FHWA and the California Department of Transportation are sponsoring the second National Seismic Conference on Highways and Bridges. The conference is scheduled for July 8 - 11 in Sacramento at the Red Lion Hotel. The objective of the conference is to provide a forum for the exchange of information on current practices and research for seismic design and retrofit of new and existing bridges. Please call to register or for more information.
-- Barbara Murdock, (202) 289-8100
INTERNATIONAL
---
Talking Turkey in Thailand
On Thanksgiving Day, in lieu of the traditional turkey and cranberry sauce, curry and coconut soup were on the menu for U.S. delegates attending the Asia-Pacific Economic Cooperation's (APEC) Transportation Working Group Meeting in Phuket, Thailand. The American delegation was led by Charles Hunnicutt, Assistant Secretary for Aviation and International Affairs, and Florizelle Liser of the Office of Transportation and Trade in the Office of the Secretary of Transportation, and Russell Lamantia of the Department of State. Together, they joined nearly 200 delegates from 18 Pacific Rim countries in a week-long discussion of transportation challenges and exploration of solutions for this decade and beyond.
The Congestion Points Study is one of the APEC Transportation Working Group's key efforts underway to improve cargo and passenger movement in the Pacific Rim. Overseen by an international steering committee chaired by Gloria J. Jeff, FHWA Associate Administrator for Policy, this three-phase study is designed to identify the location and nature of transportation barriers to the efficient flow of international transport and trade in the APEC region, and offer innovative solutions to resolving them. The study identifies specific bottlenecks occurring at seaports, airports, and land access points, and categorizes the nature of these barriers as being due to infrastructure deficiencies, regulatory issues, environmental conditions, or institutional constraints. The study offers innovative solutions and case studies to resolve these problems.
Martine Micozzi led the steering committee meeting in Thailand on behalf of Gloria Jeff who was unable to attend. The agenda for the steering committee meeting included discussions and deliberations on the third and final phase of the study, which will culminate with the publication of a best practices manual and technical report. This spring, the final report will be presented to the Ministers of Transportation of the 18 APEC member economies as a resource for initiating improvements to the transport system in the Pacific Rim.
-- Martine Micozzi, (202) 366-9249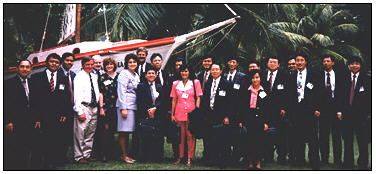 Participants in the APEC Working Group pose for a photo at their meeting site in Thailand.