Table of Contents
ROSAN Makes Manual Pavement Testing Obsolete
Truck-Pavement Interaction Team Helps Complete International Study
Mobile Pavement Retroreflectometer Tested
ARMM Promises a Helping Hand
Laser Based Deflection Measurements for Bridge Structures
Materials Research Begins on Aging Steel
To Reduce Fatalities in Work Zones, FHWA Expands Training
National Conference on Women's Travel Issues
Water Quality Synthesis Report
"I Can Do (Just About) All Things"
Geotech Group Keeps Up with Customers
---
Last Updated: 1/1/97
Federico F. Peña
Secretary,
U.S. Department of Transportation
Rodney E. Slater
Administrator,
Federal Highway Administration
Jane F. Garvey
Deputy Administrator,
Federal Highway Administration
---
RTCG CHAIRPERSONS
Bud Wright--Safety
Stan Gordon--Structures
Jim Scapellato--Motor Carriers
Paul Teng--Pavements
Gary Euler--ITS
Bob Ford--International
Barna Juhasz--Policy, Planning, Environment,
Information Management & Right-of-Way
---
Anne Barsanti, Managing Editor
Jon Schans, Editor
Zac Ellis, Editor
PAVEMENTS
---
ROSAN Makes Manual Pavement Testing Obsolete
In 1997, the FHWA's Pavement Surface Analysis (PSA) Laboratory at the Turner-Fairbank Highway Research Center (TFHRC) will debute their series of Road Surface Analyser (ROSAN) devices. The ROSAN series includes ROSANbp, ROSANv, ROSANvm, and ROSANvm(P).
Each device electronically records the surface macrotexture depth of any transportation surface, some at highway speeds up to 120 k/ph. ROSAN results are fast, accurate, and easy to obtain, thus promoting safety while eliminating costly traffic control and the operators influence on the test procedure and site selection. Besides macrotexture, ROSAN can measure faulting, grooving/tining, rutting, slope, and road profile. ROSAN can be used on grooved/tined pavement, roads, bridge decks, airport runways, and sidewalks.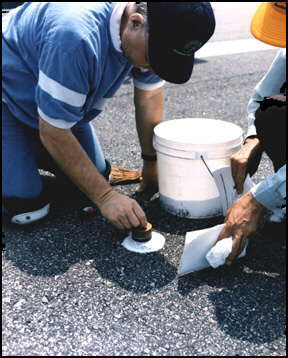 Using ROSAN, manual pavement testing like this is now obsolete.
The ROSAN devices incorporate the following hardware in various combinations: laser sensors, accelerometers, distance pulsers, bumper-mounting hardware, a vehicle-mounted beam, and a motorized trolley. The hardware are controlled by a TFHRC-written, Windows-based program, and is very user friendly. Depending on the selected device, data collection can be initiated manually or optically triggered and can be collected at 1 mm intervals for distances of 1 to 800 m.
ROSAN calculates the Estimated Texture Depth (ETD) and is useful as a tool in characterizing pavement surface texture. This value is comparable to the Mean Texture Depth arrived at by ASTM E 965, Standard Test Method for Measuring Surface Macrotexture Depth Using a Volumetric Technique, also referred to as the Sand Patch Test. The ETD may be used along with other physical tests such as skid resistance (i.e. skid numbers) to obtain the International Friction Index (IFI.)
Currently ROSANbp, ROSANv, and the accompaning software are available for loan as they undergo the patent application process.
-- Dennis Sixbe (202) 493-3078
Truck-Pavement Interaction Team Helps Complete International Study
The Organization for Economic Cooperation and Development (OECD) DIVINE (Dynamic Interaction Vehicle Infrastructure Experiment) program, is an ambitious international cooperative research project focusing on how roads and bridge structures are affected by heavy vehicle vertical dynamics. Bill Kenis, who is the Vice-Chairman of OECD scientific expert group IR6, led an FHWA Truck Pavement Interaction team which contributed to the project. Other major participants to the DIVINE project include Australia, Canada, Finland, France, Germany, Great Britain, Japan, the Netherlands, New Zealand, Sweden, and Switzerland.
Extensive technical work in the area of pavement variability, response, and vertical dynamics have been completed by FHWA's team. There are six elements of this study. Element Two, involving testing of flexible pavements, was completed at TFHRC. The Truck-Pavement Interaction team has also completed and is validating an extensive computer simulation model to calculate wheel forces of heavy vehicles for Element Four of the study.
The Truck-Pavement Interaction team will participate in the DIVINE Concluding Conference, which will be held in Ottawa, Canada, June 1997. The National Research Council of Canada will host the concluding conference. To receive more information about the conference contact:Conference Secretarial Pierre Lamoureux, Conference Manager, DIVINE Concluding Conference National Research Council Canada Ottawa, Ontario, Canada K1A OR6.
-- Bill Kenis (202) 493-3194
Mobile Pavement Retroreflectometer Tested
FHWA has sponsored the development of a mobile pavement marking retroreflectometer that measures retroreflectivity in daylight at highway speeds. This equipment is a powerful tool for collecting retroreflectivity information, providing more than 300 readings per kilometer when measuring solid lines.
A series of static and dynamic test runs with three retroreflectometer units were carried out near Minneapolis in September. The objective was to assess the relationship between retroreflective values measured under the European Committee of Normalization (CEN) and the mobile retroreflectometer geometries, the repeatability and reproducibility of the measurements, and the influence of the roadway segment length on the precision of the determinations.
The dynamic tests consisted of repeated measurements of four pavement marking lines in two different highway segments performed with the three retroreflectometer units in sequence. The results show that good levels of repeatability can be achieved with the mobile retroreflectometer when operational procedures are set and strictly applied. Precision of the measurements increased with segment length. Station lengths of 0.8 km for solid lines and 1.6 km for skip lines measurement were found to maintain measurement tolerances within reasonable limits.
A report on these tests has been prepared. The publication number is FHWA-SA-97-016. Copies of the report are available upon request from the Office of Technology Applications.
-- Jose M. Pardillo (202) 366-2094
ARMM Promises a Helping Hand
Pavement crack sealing is a widespread, dangerous, costly, and labor intensive operation. Labor turnover and training are increasing problems related to crack sealing crews, and as traffic volumes increase, crack sealing operations become increasingly disruptive to the general public. Automating crack sealing can reduce labor and road user costs, improve work quality and decrease worker exposure to roadway hazards.
Automated pavement crack sealing technology has been developed through a series of government and industry funded projects, culminating in a very promising prototype being tested at the University of Texas at Austin. The Automated Road Maintenance Machine (ARMM) follows like a trailer attached to a maintenance vehicle. The ARMM will scan the pavement area beneath the trailer and map any cracks on a computer in the maintenance vehicle. The operator, seated safely in the vehicle, can then use keyboard commands to initiate the automated crack sealing process.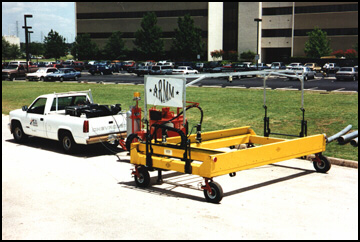 The ARMM can lend a helping hand by saving time and money on crack sealing operations.
Test results indicate that the ARMM can be twice as productive as the conventional, labor-intensive crack sealing method. Adoption of this new technology could produce significant savings in the $200 million spent annually on crack sealing operations nationwide.
Field trials of the equipment began in the fall of 96. The latest work is being funded through the Priority Technology Program (PTP) utilizing a public-private partnership between Crafco, the Texas DOT, and FHWA.
-- Michael M. Moravec (202) 366-6626
STRUCTURES
---
Laser Based Deflection Measurements for Bridge Structures
A laser based precision range measurement device is currently undergoing testing and evaluation at TFHRC. The Coherent Laser Radar (CLR) system, developed by Coleman Research, can accurately measure distances with a resolution of better than 0.5 mm out of a maximum range of 30 m. The system measures the distance from the laser measurement device to an ordinary object (steel girder, concrete wall, etc.) without requiring any special surface preparation. Also, the device uses a mechanical scanner to allow for rapid distance measurements at multiple targets from a single instrument location.
The instrument will be used in field tests as well as laboratory tests. One of the main application areas will be for deflection measurement on bridge girders. Conventional deflection measurement devices require time consuming preparation to properly install and often require access under the bridge structure, which in many cases means costly and inconvenient traffic control. The laser system will have the ability to measure these bridge deflections quickly and with minimal setup time. A greater number of measurement locations can be obtained with the laser system as compared with conventional systems and, where needed, the laser system can make reliable measurements from a location which would not require altering traffic.
Initial field testing has been successful and more structures will be examined with the laser system in the future. The system will also be used for many applications in laboratory tests at TFHRC.
-- Paul Fuchs (202) 493-3095
Materials Research Begins on Aging Steel
In September, work began on a collaborative research program between TFHRC and the Materials Science and Engineering Laboratory of the National Institute of Standards and Technology (NIST) on measuring the changes that occur in steel properties as a function of time in service, or aging. A number of nondestructive test methods for aging steel have been proposed based on magnetism (Barkhausen Effect), sound propagation, and nuclear radiation (positron annihilation). However, to determine if these methods will work, it is necessary to have information on the amount that the materials properties change as fatigue cycles accumulate.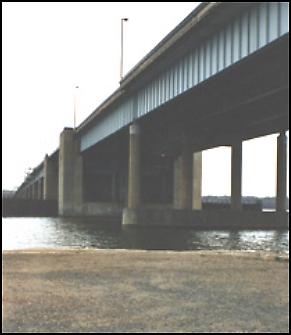 Steel used to construct bridges such as the Woodrow Wilson Bridge is aging. Non-destructive testing can help evaluate its integrity without compromising the structure.
Under the FHWA/NIST collaboration, TFHRC has supplied NIST with pieces of aged steel from bridges that have been taken out of service. The NIST laboratory in Boulder, CO, will make test specimens from this steel which have a special design that makes it possible to use a newly patented NIST technique for continuous monitoring of the steel's physical properties. The specimens will be fatigued until failure. During the course of the fatigue testing, some specimens will be removed at intervals for further testing of elastic constants and magnetic properties. In addition, changes in microstructure will be measured using both neutron diffraction at the NIST laboratory at Gaithersburg, MD, and positron annihilation at TFHRC.
The outcome of this research will be correlations between changes in the steel properties and degree of fatigue. This information will be used to develop nondestructive test methods for detecting incipient fatigue cracking. It will also be applied to improve calculations of fatigue life of steel members.
-- Richard A. Livingston (202) 493-3063
SAFETY
---
To Reduce Fatalities in Work Zones, FHWA Expands Training
To help reduce fatalities in work zones, FHWA is offering a href = "train-the-trainer" course to expand work zone safety inspection training. The National Highway Institute (NHI) currently offers a course, Work Zone Safety Inspection (Course No. 38063). However, due to high turnover of work zone inspectors and changing technology and training demands, trainers at the State and local jurisdictions need access to meaningful and timely training.
The Office of Highway Safety presented a pilot work zone inspectors' course to 16 Eastern Federal Lands Highway Division engineers and inspectors at the Sterling, VA, training facility in October. Prospective trainers from the Maryland Local Technology Assistance Program (LTAP) Center, FHWA, partners from commercial businesses (American Transportation Safety Services Association and the International Municipal Signal Association), and representatives from the National Traffic Safety Board attended.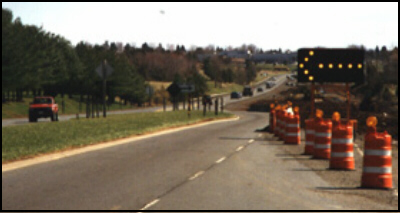 Timely and effective inspection of work zone traffic control devices is essential to providing a safe environment.
The "train-the-trainer" course will be administered through the LTAP Centers, with support from FHWA headquarters and field offices. It will be offered to State and local inspectors, as well as FHWA safety specialists. The course will provide trainers with the most current information on traffic control device technology and the latest in training aids.
-- John Hibbs (202) 366-4675
POLICY
---
National Conference on Women's Travel Issues
Women's continuing role as the primary care giver for children and for aging parents, women's economic position, women's mobility, women's accessibility to jobs, and the impact of welfare reform on women were among the topics discussed at the second National Conference on Women's Travel Issues held in Baltimore this past fall. The conference was sponsored by the FHWA Office of Policy and the Women and Planning Division of the American Planning Association. The first conference was held in 1978.
During the conference, safety and security came up repeatedly. Women rate security as their highest travel concern, compared to men who say that congestion is the most problematic travel issue. Concerns about security affects private vehicle, public transit, and pedestrian modes of travel. How can women's concerns about security be addressed in the design and development of Intelligent Transportation Systems (ITS)? Can transit systems attract more riders by developing flexible route systems that permit people to get to and from their activities without waiting at bus stops or walking several blocks in undesirable locations? Can transit or paratransit systems be modified to make it safer for women who work evening and late night shifts, such as those in nursing services?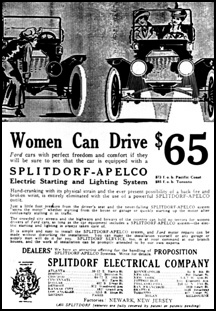 Car advertisement directed toward women.
Another topic of major concern was women and the economy. Women are nearing the peak of labor force participation, yet women's wages still are only 75% that of men. Women, on average, have shorter travel times to work than men, but Census data show that minority women making "reverse commutes," tend to have longer commutes, despite low incomes and many needing to combine work with child care responsibilities. Topics included the discussion of how information technology may impact women differently than men, for example, telecommuting jobs for women may be more like "piece work," rather than highly professional or technical jobs for men. Also, if people are working at home, will there be air quality benefits, or will trips to child care result in the same number of automobile engine "cold starts"?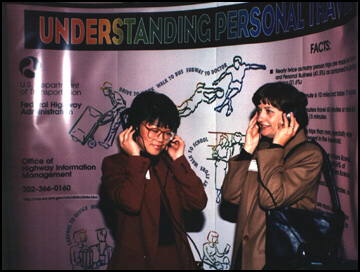 Patricia Hu, Oak Ridge National Labs, and Dr. Linda Zemotel, Minnesota Department of Transportation
There was consensus that for these needs and concerns to be addressed, women must be part of the transportation policy decision making process. These issues must be discussed in the public participation/community involvement process in transportation planning.
Proceedings, which will include the papers and research agenda, are anticipated to be available by Spring 1997 from FHWA.
-- Elaine Murakami (202) 366-6971
ENVIRONMENT
---
New Report Focuses on Water Quality Protection
FHWA has released a research manual titled, "Evaluation and Management of Highway Runoff Water Quality." This research report combines the results of past water quality research on highway runoff and water resources. This single volume publication will be useful to highway designers and environmental professionals because it presents the appropriate impact prediction and mitigation tools for use in highway runoff project planning and development activities.
In the early 70's the growing awareness of the potential threat to water resources by highway construction, operation, and maintenance emphasized a need to identify and quantify water quality impacts. Much research has been done in the past 20 years which helps identify and measure the various pollutants, along with their impacts. A national conference in 1991 on environmental research and transportation issues sponsored by the Transportation Research Board and FHWA identified the fact that water quality information and water resource information was scattered through numerous multi-volume research papers and reports and needed to be consolidated into a single source manual that was useful to practitioners.
This manual is a self-contained desk reference. It has five sections summarizing existing methods and knowledge in the area of water quality. A substantial portion of the manual is devoted to Best Management Practices (BMPs) and measures to reduce flooding and pollutant loadings, which are important management practices in State water quality programs. This report is a guidance tool in the selection, screening, and implementation of various BMP measures. The manual contains points of contact in each State for more information on non-point discharge elimination system programs, stormwater management, and non-point source programs.
-- Patricia Cazenas (202) 366-4085
TECHNOLOGY TRANSFER
---
"I Can Do (Just About) All Things"
After 20 years as a highway engineer with FHWA, Vince Nowakowski of the Office of Technology Applications is learning a new way to "commute." Vince has a protracted illness which does not allow him to return to the DOT headquarters building until after its air quality issues have been resolved. Wanting to maintain his high productivity during this period, he has been telecommuting from the Waldorf, Maryland, satellite telecommuting center since July, coming into headquarters only for brief visits and meetings.
Vince manages projects ranging from Integrated Transportation Information Systems and an experimental project on breakaway utility poles to the development of case studies for safety management systems. Vince has fulfilled his managerial duties using PC communications, telephone calls, and facsimile transmissions, just as if he were in his traditional office.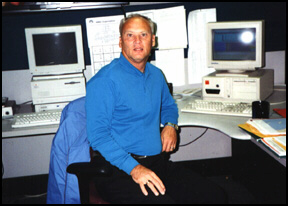 Vince Nowakowski is able to be productive in his job even though his office is in Waldorf, MD.
"When I learned that Vince would be telecommuting, I knew that the way I managed his work would have to change," says Mike Burk, team leader for the Safety Technology team. "Things that were once routine ways of doing business (i.e. face-to-face discussions, brainstorming sessions, and convenience of immediate access) had to be adjusted. When Vince now comes into the office, our meetings are more focused. We now have more of a results-oriented relationship."
The benefits of telecommuting have also affected the upper management within the Office of Technology Applications. Bill Baker, Chief of the Safety and Advanced Transportation Division, has been very supportive of Vince's telecommuting. Bill, who has also telecommuted, feels that Vince is doing the best work of his career. "Vince has taken more ownership in his work and the quality of his work has even increased."
Despite his success in telecommuting, Vince notices one drawback--personal interaction. He finds that he still needs time to get in the office once or twice a week to maintain personal contact with his peers and to access hard copy files such as travel orders and contracts.
Vince has been excited about his opportunity to telecommute and plans to telecommute a day or two a week after the building cleanup. "You will be surprised by what you can do while telecommuting," says Vince. "There's not much that you can't do!"
-- Morris Oliver (202) 366-2251
Geotech Group Keeps Up with Customers
FHWA's Geotechnical group has focused on national customer feedback to provide the basis for national improvement plans in geotechnical engineering since the 1970's. The 1996 report, National Geotechnical Improvement Program, uses the results of the most recent survey (1989-1995) to: assess the impact of the 1983 geotechnical improvement plan; identify successes and performance gap findings; refocus our mission and goals to improve future performance; and estimate the resources needed for program accomplishment during the next 5 years.
The results of the 1989-1995 survey showed varying degrees of national improvement in areas encompassed by the 1983 program. Particularly impressive gains were observed in foundation design and construction techniques due to the commitment of extensive FHWA resources in multi-year research, demonstration projects, and training initiatives. Less improvement was observed in the areas of site investigation and geotechnical laboratory testing.
This 1996 report contains 18 findings in the geotechnical related areas of organization, site investigation, laboratory testing, design practice, construction, and earth retaining structures. The geotechnical group plans to address those findings with a 5-year program containing 24 major action items The program focuses on customer needs and the current environment in which the geotechnical group functions. Mission, values, vision, and goals have been established to define the role of the FHWA geotechnical group in strengthening our customers.
The success of the national geotechnical group will continue to be measured by techniques such as tracking achievement in major initiatives, documenting T2 implementation, conducting periodic customer surveys, tracking overall geotechnical input to customers, and in-house FHWA surveying of program effectiveness.
-- Richard Cheney (202) 366-1568