Table of Contents
Scour Team Helps Avert Catastrophe
Eddy Currents Keep It Together
Safety Research for Cars of the Future
Time for New Dummies
LTPP Team Approves Materials Characterization Procedures
Superpave Finds a Home in Charm City
Cold Weather Research for Chile
---
The Research & Technology Transporter was a Federal Highway Administration (FHWA) research and technology publication issued under FHWA's Research and Technology Program. The 8-page newsletter transmitted research and technology-based developments from FHWA program offices to engineers in the field and professionals in the industry. Publication of the Research & Technology Transporter ended with the September 2006 issue.
Rodney E. Slater
Secretary,
U.S. Department of Transportation
Jane F. Garvey
Deputy Administrator,
Federal Highway Administration
Anthony R. Kane
Executive Director
Federal Highway Administration
---
RTCG CHAIRPERSONS
Michael Trentacoste - Safety
Stan Gordon - Structures
Paul L. Brennan - Motor Carriers
Don Steinke - Highway Operations
Paul Teng - Pavements
Jeff Lindley - ITS
King Gee - International
Barna Juhasz - Planning, Environment, and Right-of-Way
Gary Maring - Policy & Information Management
---
Anne Barsanti, Managing Editor
Jon Schans, Editor
Zac Ellis, Editor
---
Scour Team Helps Avert Catastrophe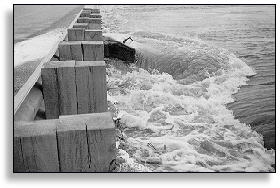 Record flooding on the Minnesota River undercut this bridge abutment on a U.S. Highway 212 bridge. Two hours after this photo was taken, the abutment collapsed.
Early spring flooding threatened the stability of bridges in Minnesota and North Dakota, endangering the lives of anyone using them. In response to these potential catastrophes, the FHWA-sponsored bridge scour research team was deployed on April 1 from the U.S. Geological Survey (USGS) District in Louisville to the upper Midwest.
Two hours after the inspection found scour under the abutment foundation, the approach span of the Highway 212 bridge over the Minnesota River collapsed. Another inspection found the Swift County highway bridge over the Pome de Terre Creek in similar danger of collapsing. It was immediately closed.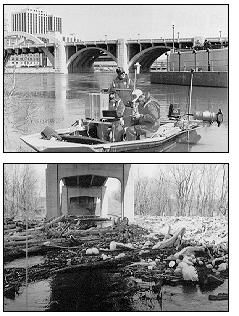 (Top) Harry Hitchcock, Dave Mueller, and Steve Darnell of the USGS scour inspection team prepare to take measurements at a bridge over the Mississippi River in St. Paul, MN.
(Bottom) Wood and debris gather in the flood plain of a bridge over the Mississippi River. The unseen damage at the river bottom is far worse.
Using state-of-the-art instrumentation, the team helped local researchers in North Dakota collect bridge scour data, Minnesota DOT bridge inspectors make underwater inspections, and USGS and Army Corps of Engineers offices complete evaluations. They were able to measure discharges that would have been extremely difficult or impossible to measure with conventional equipment. This particular flood made the equipment even more necessary because of the intense cold combined with record flooding.
The team was equipped with a high-tech Acoustic Doppler Current Profiler capable of measuring three dimensional velocities along an entire water column and flow depths, a digital echo sounder, an OmniStar Global Positioning System (GPS) capable of constantly tracking boat locations with 1-m accuracy, a remote controlled boat for monitoring under bridges with low clearance, a scour board for quick and easy visually positioned measurements, a boom truck with 50 k sounding weight and Price AA velocity meter, and a hand-held laser range finder capable of calculating horizontal distance and vertical displacement of objects within sight.
Even with this equipment, the elements ruled the research. On one occasion the ropes that were used to deploy some of the instrumentation froze in such a solid loop that they had to be thawed in a warehouse before they could be used.
This flood survey trip was especially productive because catastrophes were averted. It also brought FHWA-sponsored researchers together with State DOT bridge inspectors. The bridge inspectors benefited from the well-equipped research team's capability to make underwater measurements, and the research team benefited immensely from the State DOT's direction of bridges to select for scour measurements.
-- Sterling Jones.
Eddy Currents Keep It Together
Can cracks in welded steel structures be detected with out taking the structure apart? The Nondestructive Evaluation (NDE) team has been developing a new method for using eddy currents to detect cracks in welded steel structures without taking anything apart. The eddy current method is a traditional NDE technique that is typically used on non-ferromagnetic materials in the aerospace and power industries. The method involves inducing a magnetic field in the surface of a metal, and measuring perturbations in the field caused by cracks or other defects.
Research to date examines use of a bi-directional differential probe specially designed for use on ferromagnetic weld metal. The probe has been tested to determine its effectiveness for detecting surface breaking cracks in the weld metal and heat affected zones. Research has also been done on the effects of conductive and nonconductive coatings used on bridges. It has been shown that the eddy current method can detect transverse cracks in weld crowns and longitudinal cracks at the toe, as well as other defects.
The method has been field tested on a welded steel box girder. The field tests showed that the method could effectively penetrate a three component bridge coating (primer, intermediate, and top coat) and detect defects in the weld metal, with no surface preparation required. Further tests to determine if the method can be used to measure crack depth are planned for this summer. Findings to date are available in the book, Nondestructive Evaluation of Infrastructure, published by the American Society for Nondestructive Testing.
-- Glenn Washer.
SAFETY
---
Safety Research for Cars of the Future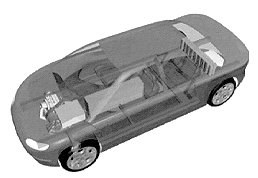 New hybrid and PNGV cars may not look different on the outside, but inside they operate in a whole new way.
The FHWA/NHTSA National Crash Analysis Center (NCAC) will examine potential safety issues arising from the development of new automobiles being designed by the Partnership for a New Generation of Vehicles (PNGV). This arrangement is the result of an interagency agreement between FHWA and the Department of Energy's (DOE) Office of Advanced Automotive Technologies (OAAT).
PNGV is a cooperative, collaborative research and development program between the U.S. Government and the U.S. Council for Automotive Research, which was formed by the three auto manufacturers, Chrysler, Ford, and General Motors. The partnership was established by President Clinton on September 29, 1993. The program plan calls for development of production prototype cars that can achieve three times the fuel efficiency of the current class of vehicles (defined as comparable to Chrysler Concorde, Ford Taurus, and Chevrolet Lumina). At the same time, this new generation of vehicles should maintain the performance, passenger capacity, and utility standards of today's vehicles while meeting or exceeding safety and emission requirements.
The OAAT is currently the lead unit at DOE involved in the most promising programs in automotive research, which includes improving vehicle fuel efficiency within the Hybrid Vehicle program and the PNGV program. NCAC will review the safety issues facing the concept technologies of the PNGV and hybrid vehicles and will advise DOE on the future needs for evaluating crashworthiness of lightweight and composite-based automobiles.
-- Leonard Meczkowski, (202) 493-3317.
Time for New Dummies
A finite element model of the Hybrid III dummy used in U.S. DOT crash tests has been developed at the NCAC at the George Washington University Virginia Campus. The model is comprised of 15,000 elements. This LS-DYNA3D model is validated for frontal impacts and has been used with airbags and seatbelts to assess injury levels in various frontal crash modes. A version of the dummy that features a detailed human leg model has also been developed. These models are available to researchers in the areas of automotive safety and biomechanics.
-- Ahmed Noureddine, (703) 729-8368.
PLANNING
---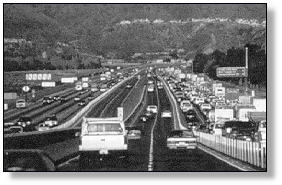 HOV lanes like this will be used in a new, exciting way.
The exciting first 4 months of pricing on a 13-k stretch of I-15's two reversible peak High Occupancy Vehicle (HOV) lanes is what Kim Kawada of the San Diego Association of Governments told participants about at the fifth regional congestion pricing workshop. Beginning in December 1996, Single Occupant Vehicles (SOVs) were allowed to purchase monthly permits (in the form of visual windshield stickers) to use the priced lanes, while HOVs continue to ride for free. The project will begin using electronic toll collection procedures within the year. Initial observations show continued strong demand for permits, increased HOV use in the HOV lanes, and high customer satisfaction. Data indicates that HOV usage has increased by 21 percent since the lanes opened in December.
Victoria Brox of United Infrastructure talked at the 1-day meeting held in Tampa about the world's first fully automated toll road -- a 16-k stretch of SR-91 in Orange County, CA, which opened in December 1995. The four new privately built and operated lanes, two in each direction, allow free travel to HOVs with three or more occupants, and variable priced travel to other vehicles, with prices ranging from $0.50 to $2.75 depending on time of day and day of the week. Overhead antennas and small windshield-mounted transponders allow automatic vehicle identification and toll collection from registered customers. SR-91 allows motorists to save 20 minutes or more each way during peak hours. Results continue to be evaluated.
John Berg, Leader of the Highway Revenue and Pricing Team at FHWA, concluded the session with an overview of the Administration's proposal for reauthorization of the program. The proposal would increase the Federal share of project funding to 100 percent (from 80) and the proposal would increase the number of pilot programs eligible for funding from 5 to 15. The program proposal expands allowable uses of toll revenues collected through the pilot projects to be used for any surface transportation purpose. Currently, the Congestion Pricing Pilot Program supports two implementation efforts, seven pre-project studies, and one study and evaluation project.
-- Theresa Smith, (703) 366-2425.
PAVEMENT
---
LTPP Team Approves Materials Characterization Procedures
Getting more accurate and repeatable resilient modulus data is becoming increasingly important because under Superpave guidelines, resilient modulus is used for evaluating pavements. Experts in the Long Term Pavement Performance (LTPP) program developed some procedures to obtain better quality data for resilient modulus using either laboratory testing or back calculation from nondestructive deflection testing with a falling weight deflectometer (FWD).
To improve laboratory resilient modulus testing, the LTPP program developed and documented LTPP Materials Characterization Program: Resilient Modulus of Unbound Materials (LTPP Protocol P46) Laboratory Startup and Quality Control Procedure. This procedure allows LTPP contractors to produce repeatable test results using a check of the electronic and mechanical components of the test equipment as well as the technicians' proficiency. The Alabama and Kansas DOTs are now implementing these procedures. In addition, FHWA will develop technical videos and a pictorial manual to aid users in implementing and continuing to use these procedures.
To improve the back calculation method, the FWD must be properly operated and calibrated to produce accurate results that can be used with confidence. For FWD use, the LTPP program developed calibration procedures, centers, and software. The program also developed an LTPP FWD testing manual, temperature adjustment procedure, and software for data quality control. These products will be further modified to read the AASHTO DDX file format which can be used to collect deflection data. The modifications of the software and procedures as well as calibration procedure videos will be presented in a workshop format to train the user in their application.
-- Max Grogg, (518) 431-4224.
Superpave Finds a Home in Charm City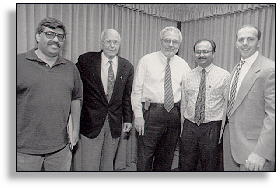 Albert Hinojosa, FHWA MD Division, Bill Flanigan, more. Bill Flanigan, contractor, George Balog, Baltimore Department of Public Vice Chairman of Works, Jitesh Parikh, FHWA MD Division, and Thomas Baltimore-based Harmen, FHWA OTA, got together to talk about Superpave.
Word is spreading fast about the benefits of Superpave asphalt mix technology. FHWA and State DOTs are promoting the Superpave system for asphalt binder selection and mix design, which was developed by the Strategic Highway Research Program (SHRP). But when contractors start singing the praises of the new technology to their local customers, you know that Superpave is well on its way to becoming the new standard.
Those praises were sung recently by a contractor in Baltimore. Bill Flanigan, Vice Chairman of Baltimore-based general contractor P. Flanigan & Sons, set up a meeting with George Balog, Director of Public Works for Baltimore, to talk about this "Superpave." On Friday, April 18, Bill Flanigan, along with representatives from FHWA, Maryland State Highway Administration, and the Maryland Asphalt Association, presented Superpave to George Balog and his staff at the City of Baltimore's Public Works. Questions were asked. And discussions were held. In the end, Bill asked George what he thought about this Superpave. George responded, "Superpave looks like it could be an improvement over present asphalt specifications. Its use could address citizen's concerns with 'rough surfaces' and may reduce vibrations on adjacent properties caused by truck traffic."
The Maryland State Highway Administration is a national leader in the implementation of this new technology and plans to be fully implementing Superpave by the year 1999. And now through this meeting, the City of Baltimore is also a leader. They will be one of the first cities in the country to utilize this new technology.
-- Thomas Harman, (202) 366-0859.
INTERNATIONAL
---
Cold Weather Research for Chile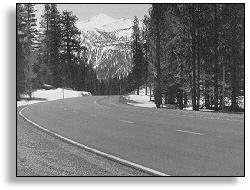 Keeping mountain passes like this open throughout the received a winter is very important in Chile.
In Chile, the National Highway Agency faces the challenge of maintaining the International Pass with Argentina, an important road for trade and commerce which lies high in the Andes mountains.
To learn more about winter maintenance and how to keep passes such as this open, a group of engineers from Chile visited the United States for 2 weeks. The visit was a result of the High-Mountain and Winter Engineering Conference held in Chile in January, which was sponsored by FHWA's Pan American Institute of Highways.
In collaboration with the States and the Office of International Programs, the group visited the highway departments in Colorado, Idaho, and Minnesota. The Chilean delegation was well received; they were able to get some hands-on experience with the latest technologies used in each of the States. While in Minnesota, the team visited with the 3M company and received a day and night presentation on traffic control devices.
The group ended their visit with a 1-day tour of TFHRC. This provided a wonderful opportunity to complete a visit that was focused on state-of-the-practice technology with a quick view of state-of-the-art and futuristic technologies.
-- Greg Speier, (703) 235-0549.
IOWA FIELD TESTS SNOWPLOW OF THE FUTURE
---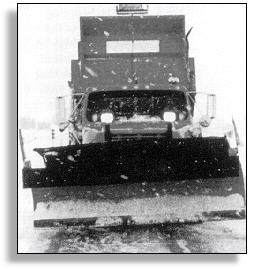 The prototype Iowa snow plow can tell you the temperature of pavement.
Iowa Department of Transportation's state-of-the-art snowplow can beam its location, air and pavement temperatures, and road traction data instantly to State road operations centers. The instant information will improve road condition forecasts and make it easier to manage plow operations for maximum efficiency and safety.
Equipped with a GPS receiver, temperature sensors, and a friction meter, this plow is so sophisticated that it's not even called a snowplow. It's a "Prototype Concept Highway Maintenance Vehicle." Other advanced technologies on the vehicle include rear-mounted sensors to detect obstacles behind the plow and an engine power booster system fueled by alcohol.
The field evaluation of the vehicle is being funded under FHWA's Priority Technologies Program. Michigan and Minnesota are partners in the project and will also be getting prototype vehicles soon.
The prototype vehicle looks like a typical snowplow, but it is loaded with equipment donated by companies in the United States, Canada, and Norway. If the initial field tests (scheduled for 1997-1998) prove promising, 10 more prototypes will be built for each of the three partnering States.
-- Richard McComb, (202) 366-2792.
NHI ENTERS INFORMATION HIGHWAY
---
The National Highway Institute (NHI) has opened its own home page on the World Wide Web so that it can serve its customers better and make it easier for them to find all the necessary information about NHI training courses.
"This is a small step for mankind but a big leap for the NHI," said Al Santiago, Chief of NHI's State Programs Division. "It will truly revolutionize the way we serve our customers, not only by giving them all the information they need on-line, but also by letting them get the necessary application forms and register for the courses of their choice electronically."
Internet surfers can get regularly updated information about the more than one hundred courses offered by NHI, sorted by course number, title, date, or State. There is also a listing for courses deemed especially suitable for international audiences, information about the Dwight David Eisenhower Transportation Fellowship Program, the International Highway Fellowship Program, and the Pan American Institute of Highways (information to be available in English, Spanish, and Portuguese), as well as the NHI telephone list.
The address of the NHI Home page is: www.nhi.fhwa.dot.gov.
-- Marketta Kopinski, (703) 235-0534.
HIGHWAY INFORMATION ON THE INFORMATION HIGHWAY
---
The mission of the Office of Highway Information Management (OHIM) is to provide effective highway information, expertise, and resources to continually improve the quality of our Nation's highway system and its intermodal connections, and to support transportation decisionmaking. In supporting this goal, OHIM has established a web site (cti1.volpe.dot.gov/ohim) to provide resources and data, and other related information on a timely basis to the public and to agencies that supply data to OHIM. The site contains all OHIM products, publications, upcoming events, and more.
Items found in the OHIM web site include monthly reports on fuel usage and travel, OHIM's Highway Information Quarterly, and special reports such as Our Nation's Highways.
Beginning with the 1994 edition, the full annual report Highway Statistics has been made available for viewing and for downloading in spreadsheet formats. Upcoming in mid-summer 1997 will be the Highway Statistics Summary to 1995. The NPTS Data Volume Books 1 & 2 are found on-line. Data collected during 1995 will be made available later this year and will include full reports.
OHIM feels that the web offers the ability to provide timely information that can be used immediately. The site has a gatekeeper ready to answer questions about the site and transportation data needs.
-- Bryant Gross, (202) 366-5026.
PUBLIC ROADS GOES BIMONTHLY
---
Starting with the next issue -- July-August 1997 -- Public Roads, the magazine of the Federal Highway Administration, will be published six times per year. Over the course of its 79 years, Public Roads has been a monthly, bimonthly, and quarterly publication. For the past 25 years, the magazine was published quarterly. The increase in publication frequency came about because the contributing authors wanted their articles published more timely and because, although 90.5 percent of surveyed respondents said Public Roads meets their needs well or very well, 14.6 percent of the respondents wanted the magazine to cover more information and/or topics. Now, by increasing the number of issues per year from four to six, the magazine will present 50 percent more information on developments in Federal highway policies, programs, and research and technology. Public Roads is continually reshaping itself to ensure that it is an effective communication tool of FHWA and is meeting the needs of its readership.
-- Bob Bryant