Table of Contents
Spray Technology Has Binding Applications
Gauging Bridge Fatigue
High Performance Concrete Highlighted at ACI Conference
Pavement Training -- Back By Popular Demand
LTPP Data Analysis Paves the Way
An Improving Sign
Universal Guidelines Help Highway Safety
U.S. Delegation Work with OECD at Research Seminar
Its Time for More ISTEA
Asset Management Report Carries On Success
TRB Exposition: How We've Grown
---
The Research & Technology Transporter was a Federal Highway Administration (FHWA) research and technology publication issued under FHWA's Research and Technology Program. The 8-page newsletter transmitted research and technology-based developments from FHWA program offices to engineers in the field and professionals in the industry. Publication of the Research & Technology Transporter ended with the September 2006 issue.
Rodney E. Slater
Secretary,
U.S. Department of Transportation
Jane F. Garvey
Deputy Administrator,
Federal Highway Administration
Anthony R. Kane
Executive Director
Federal Highway Administration
---
RTCG CHAIRPERSONS
Michael Trentacoste - Safety
Stan Gordon - Structures
Paul L. Brennan - Motor Carriers
Don Steinke - Highway Operations
Paul Teng - Pavements
Jeff Lindley - ITS
King Gee - International
Barna Juhasz - Planning, Environment, and Right-of-Way
Gary Maring - Policy & Information Management
---
Anne Barsanti, Managing Editor
Jon Schans, Editor
Zac Ellis, Editor
STRUCTURES
---
Spray Technology Has Binding Applications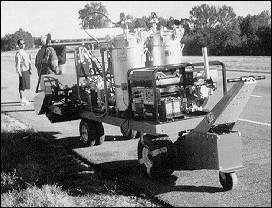 Convergent Spray technology is applied in 4 hours as an anti-skid overlay on a bridge deck on Interstate 65 south of Huntsville.
A new spray technology makes it possible to install skid-resistant coatings to bridge decks in just one pass, rather than the three or more passes usually required to apply thin layers of binder and aggregate. Preliminary tests of the new Convergent Spray Technology indicate it creates more skid resistance than most conventional methods. There is an environmental bonus too: the new equipment can use recycled filler materials and solvent-free sprays.
With funding from FHWA's Priority Technologies Program, the Alabama Department of Transportation (ALDOT) is partnering with United Technologies/United States Booster, Inc., and the National Aeronautics and Space Administration's (NASA) Marshall Space Flight Center to adopt a process and equipment originally developed to apply heat-resistant coatings to the Space Shuttle's solid rocket boosters. The Alabama Division Administrator, Joe Wilkerson, initiated contacts with NASA in order to find technologies that could be developed for highway use. The spray technology is a result of his efforts.
ALDOT began testing the system last October on a bridge on Interstate 65 near Huntsville. The bridge was re-opened just 4 hours after the coating, a mixture of ground flint and resin, was applied. Testing will continue for 2 years. ALDOT and is very excited about this preliminary use of Convergent Spray Technology. If you have any questions about its use, please contact ALDOT's Bill Van Luchene at FHWA's Alabama Division Office, (334) 223-7379.
For more information about the field-based Priority Technologies Program which supports implementation of new technologies, particularly those that involve partnerships with the private sector to leverage Federal funds, contact your FHWA regional office, or the Office of Technology Applications (OTA).
Dick McComb, (202) 366-2792.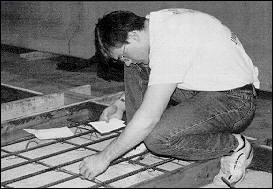 Strain gauges were first tested in the lab but are now being installed in active bridges.
Gauging Bridge Fatigue
In May, Bragg grating sensors, developed by the Naval Research Laboratory, will be applied for the first time in a real field situation. They will be installed on a bridge on Interstate 10 in Las Cruces, NM, which has developed significant fatigue cracks. This is the first time these experimental sensors will be used outside the laboratory.
The Bragg grating sensors have been used up to now in laboratory research on the performance of reinforced concrete beams and bridge decks. This has culminated in the installation of 48 sensors in a full-scale section of a reinforced concrete bridge deck in the Civil Engineering Laboratory at New Mexico State University. The sensors monitored the loads during the casting of the concrete and the strains due to the subsequent curing and shrinkage of the concrete. The sensors are now being used to measure strains under static and dynamic loadings.
The Naval Research Laboratory has developed an innovative system based on Bragg gratings which permits many gauges (up to at least 64) to be put on the same fiber. This greatly simplifies the installation of the gauges and reduces the cabling requirement, as well as reducing the cost per sensor. Since the Bragg grating system senses the shift in the wavelength of light reflected down the fiber, it offers more reliable and repeatable results than other types of fiber optic strain gauges that use different measurement methods.
Other candidates for using these new, cost-effective, accurate monitors include the Woodrow Wilson Bridge near Washington, DC, and the North Halawa Valley Viaduct on H3 in Hawaii.
-- Dick Livingston, dick.livingston@fhwa.dot.gov
High Performance Concrete Highlighted at ACI Conference
High performance concrete is not just for buildings anymore. At an upcoming session during the American Concrete Institute Spring Conference in Seattle, April 6 - 11, you can hear about how this stronger and more durable concrete has progressed over the last 20 years from buildings to bridges. Within the last 3 years, FHWA has encouraged the use of high performance concrete in bridges and 10 States have initiated 11 high performance concrete bridge projects.
During this special session, presentations from 6 of the 10 States which are designing and constructing high performance concrete bridges will provide a general overview of the projects and highlight the details of design (material and structural design) and construction processes. Other topics covered during the session will include brief overviews of the FHWA overall program and the definition of high performance concrete.
-- Sue Lane, sue.lane@fhwa.dot.gov.
PAVEMENTS
---
Pavement Training -- Back By Popular Demand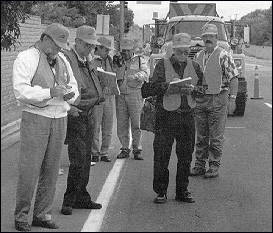 The pavement course offers participants the chance to go on-site to learn more about current practices.
Given its success last September and the widespread interest expressed in repeating the training, the National Highway Institute (NHI) is again offering the course Pavement Distress Identification & Techniques for Rehabilitation and Design during April 28-May 8 at the University of Nevada, Reno.
This 8-day program, taught by a team of leading U.S. pavement engineers, is designed to provide national and international highway engineers with practical training for the new design, quality control, distress identification, and pavement rehabilitation of highway facilities. In addition to classroom training, the course includes field visits to FHWA's state-of-the-art experimental road facility, WesTrack, and the University of Nevada, Reno's Superpave Regional Laboratory Center, where students have a chance to review new technologies and conduct hands-on experiments. Throughout the course, participants have the opportunity to discuss pavement related topics with their counterparts.
The course registration fee is $1,200 and covers all training materials, a certificate of completion, and transportation to and from field visits. NHI organizers are expecting this course to match the success of the last one, which included 52 participants representing 20 countries and 10 U.S. State DOTs. "The course exactly covers my job responsibilities" and "The course is of great value to me as an instructor in pavement design and as a professional engineer," were typical comments offered on the first course.
-- Hana Maier, (703) 235-0540.
LTPP Data Analysis Paves the Way
A proposed supplement to the 1993 American Association of State Highway and Transportation Officials (AASHTO) Guide for Design of Pavement Structures (the AASHTO Guide) has been forwarded to the AASHTO Subcommittee on Design for possible adoption. The proposal was submitted after it received a positive reception by the AASHTO Joint Task Force on Pavements.
Analysis of the Long-Term Pavement Performance (LTPP) data has played a critical role in the process by demonstrating that the National Cooperative Highway Research Program 1-30 procedures recommended in the supplement can be used with confidence. The new procedures will help agencies design more cost-effective pavements by giving them the design tools needed to: (1) more correctly consider subgrade support in the design process; and (2) tailor the pavement details that control performance to site conditions. The evaluation and field verification of the procedures are documented in report number FHWA-RD-96-198, which will be available in March.
-- Cheryl Richter, cheryl.richter@fhwa.dot.gov.
ITS
---
An Improving Sign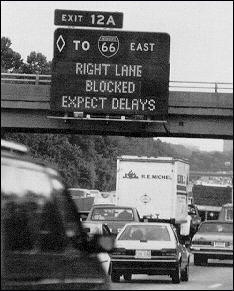 Variable message signs will be improved by new open architecture networks.
A new system in Houston is making dynamic lane assignment variable message signs more efficient and reliable. The system is based on an open architecture network that controls traffic devices such as variable message signs and traffic control cabinets.
The system is an electrical interface between a controller (typically a microprocessor-based unit), its sensors, and its actuators (such as variable message sign lamps). The signals from the controller are carried over the normal power lines which supply power to both the controller and its actuators. The actuators have local control modules which decode the signals and determine which commands apply to them. Similarly, control modules at the sensors encode information gathered by the sensor and transmit it to the controller.
One benefit of the system is that in a sign with four rows of two characters each 2,800 conductors (4x20 by 5x7) can be replaced by 80 control modules and one two-conductor wire. It can also significantly reduce the wiring requirements for the sign and thus the number of elements that can malfunction. Another benefit is that when one of the two bulbs powering an indication burns out, the system logs the failure to provide a mechanism for dispatching a maintenance crew. During the night it switches to use of an alternate bulb rather than having a dark segment.
This system was developed under FHWA's and the Transportation Research Board's (TRB) Innovations Deserving Exploratory Analysis (IDEA) program which has successfully developed a number of proposals on new and unique concepts and technologies in Intelligent Transportation Systems (ITS).
-- David Gibson, dave.gibson@fhwa.dot.gov
Universal Guidelines Help Highway Safety
How will we interact with the roadway environment in the future? To answer this an international study team met after TRB's annual meeting. They began making plans for developing a set of international supporting guidelines and recommendations for driver and pedestrian needs for highway design, traffic control, and vehicle control for safe highway travel.
International human factor and highway engineering professionals with technical expertise, empirical data, theoretical analysis, and experience will pool their knowledge to develop the guidelines. Within 6 years they will create a useful human factor and driver behavior guideline or handbook to enhance highway travel and safety.
At this first meeting, a review and discussion ensued of guideline structures that had been used by others. Included were reviews of the Hardie guidelines developed for Telematics in Europe, the guidelines for older drivers, and the preliminary guidelines developed for ITS by the University of Michigan and Battelle. While these examples are different they served as a good starting place for discussion. The group will meet again after a May conference in Minneapolis of human factors experts.
-- Sam Tignor, sam.tignor@fhwa.dot.gov.
INTERNATIONAL
---
U.S. Delegation Work with OECD at Research Seminar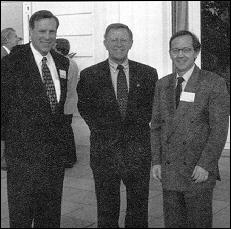 Robert Skinner, Jr., TRB, Robert Betsold, FHWA, and Jean-Francois Coste, French Road Research Center, discuss future plans at the OECD Seminar.
As transportation sys-tems evolve to meet increasingly complex social and economic demands, well-planned, cost-effective road transportation research programs are more critical than ever before. As part of the ongoing effort to foster integrated research programs within the international highway community, four U.S. representatives attended the Organization for Economic Cooperation and Development (OECD) Seminar on the Development and Evaluation of Road Transport Research Programs held in Lyon and Annecy, France, last fall.
The seminar brought together more than 50 researchers, administrators, and managers from both the public and private sectors of 16 countries to discuss the practices, standards, and cooperative planning necessary to develop effective road research programs at both the national and international levels. Participants received a first-hand look at road research in action during technical tours of the French Tunnel Design Center and two traffic management centers for toll highways. The U.S. delegation included FHWA representatives Robert Betsold, Associate Administrator for Research and Development; and Ray Griffith, Chief of the Technology Management Division; as well as Robert Skinner, Jr., Executive Director of the Transportation Research Board; and Sam Abd Elrahman of the New York Department of Transportation.
Mr. Betsold is a member of the OECD Road Transport Research Steering Committee, one of the organizations responsible for planning the seminar. He also served as Vice-Chairman of the closing session of the seminar, which included a panel discussion and the development of recommendations. Mr. Skinner was Chairman of a session on implementation of research programs and also made a presentation entitled "A Framework for Developing a Balanced Highway Research Program" as part of a session on long-term evaluation of road research programs.
-- Ray Griffith, (202) 366-9210.
POLICY
---
Its Time for More ISTEA
The 1991 Intermodal Surface Transportation Efficiency Act (ISTEA) expires September 30, 1997. The U.S. Department of Transportation (U.S. DOT) reauthorization process is underway and has been, from the start, a multi-modal, multi-agency effort. FHWA is working with the Office of the Secretary of Transportation (OST) and the other U.S. DOT agencies to develop an ISTEA reauthorization bill that builds on the original flexibility and sound aspects of ISTEA that will help our customers, partners, and stakeholders achieve their goals. The U.S. DOT's ISTEA reauthorization process includes three phases: (1) Outreach, Focus Groups, and Analysis; (2) Decisionmaking and Legislative Drafting; and (3) Transmittal to Congress.
The first phase of the reauthorization process began in the spring of 1996. Under this phase, U.S. DOT gathered valuable input from our customers, partners, and stakeholders on the different elements of ISTEA administration and policy and their effectiveness. The goal of the outreach and focus group initiative was to obtain recommendations for reauthorization, not to resolve issues or draft legislation. This process will ensure that the reauthorization bill reflects the best thinking of our customers, partners, and stakeholders, as well as the expertise of the employees who implement Federal programs. It will help us propose an efficient and effective legislation that is responsive to the country's needs. We have just completed the second phase. This phase began in October and continued through January 1997. FHWA played a major role in coordinating to make decisions regarding each area of ISTEA and drafting the reauthorization bill. In this way, the final bill benefits from the collaborative best efforts of all the modal agencies within U.S. DOT.
The third and final phase of the reauthorization process has also recently been completed. The Administration's bill, assembled by U.S. DOT, was forwarded to Congress in February along with the FY98 President's Budget. After transmittal, each of the modal agencies will participate in the ongoing legislative process which will continue through the end of FY97.
-- Cheryle Tucker, (202) 366-4072.
Asset Management Report Carries On Success
The final report on the Executive Seminar on Asset Management cosponsored by AASHTO and FHWA carries on the public/private partnership success of the seminar. Published by FHWA, the Asset Management Report (FHWA-RD-97-046) has been widely distributed through FHWA and AASHTO. It was a hugely sought after publication at the TRB annual meeting and has since generated a lot of requests for the report.
The final report is highly informative as an introduction to asset management for transportation officials. It serves as a baseline showing where we are and where we hope to be in regards to preserving and managing the existing transportation network.
The seminar, which was held in September in Washington, DC, attracted outstanding leaders from government and private industry who are concerned about the process for maintaining, upgrading, and operating physical assets cost effectively. For a copy of the report, please call.
-- Frank Botelho, (202) 366-1336.
TECHNOLOGY TRANSFER
---
TRB Exposition: How We've Grown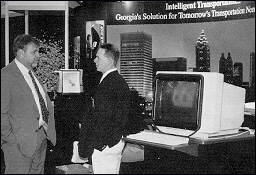 The ITS Pavilion at TRB included the Atlanta showcase, used during the '96 Summer Olympics.
You are an engineer who has met with your professional cohorts in technical sessions all day and are looking for a place to meet and continue the dialogue. You are a transportation specialist looking for technical resources on a specialized subject. You all wind up in the same place: the TRB annual meeting exhibit hall.
The TRB exhibit effort has grown to serve the diverse needs of transportation professionals, evolving into a recognized program event on the annual meeting agenda. In a short 5 years, exhibits have grown from a humble display in the registration lobby to an impressive 1951 m2 exposition.
FHWA participated in grand style at this year's TRB 76th Annual Meeting Exhibit Hall and Exposition. FHWA joined other modal agencies of the U.S. DOT in providing exhibits and demonstrations that illustrated a dynamic cross-section of ongoing activity at the agency. Several operational vehicles were present on the show floor. OTA sponsored the Advanced Law Enforcement Response Technology vehicle, which demonstrated state-of-the-art automated traffic safety data collection. OTA also displayed the Sign Management and Retroreflectivity Tracking System, a mobile system used to measure the nighttime brightness of traffic signs. TFHRC presented the Road Surface Analyzer van, a mobile Laboratory demonstrating hardware and software for measuring and identifying pavement characteristics.
-- Martha Soneira, (202) 366-8029.
R&D Provides New Patents And Products
---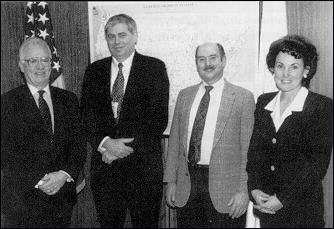 Tony Kane and Jane garvey flank two of TFHRC's recent inventors Dick Livingston and Brian Chollar.
The past year has been a very creative period for our staff in the Office of Engineering R&D. Several patent applications have been issued, and many new products and concepts developed. Three Federal employees at TFHRC responsible for these inventions are:
Dr. Richard Livingston, Leader of the Office of Engineering R&D's Exploratory Research Team, has developed a nondestructive method for measuring the curing of concrete by analyzing the energy spectrum and scattering of neutrons. The concrete is exposed to a portable low strength neutron source. Neutrons escaping from the structure have an energy distribution that depends on the amount of unreacted water remaining in the concrete. To measure this energy distribution, a special type of neutron detector was invented. This technology is important for our development of high performance concrete mixes and the measurement and understanding of their performance.
Mr. Mike Adams, Research Geologist in the Structures Division, has patented a new type of bridge pier. His piers consist of layers of compacted soil confined and reinforced by geotextile fabric, and prestrained using hydraulic jacks. These piers show very little movement or distress when subjected to loads that would fail conventional piers. These piers and abutments have many advantages over conventional bridge supports, especially regarding speed and ease of construction. They can be built rapidly without specialized foundation preparation, without concrete or time for concrete to cure, without specialized construction equipment, and without training. All materials required are readily available nationwide. This technology is compatible with many highway designs and is ideally suited to haul roads or rush projects that must be completed early. Piers have been built at TFHRC and in Colorado.
Dr. Brian Chollar, Research Chemist in the Special Projects and Engineering Division, has been working with the Strategic Highway Redsearch Program's (SHRP) new set of performance graded (PG) specifications for asphalt binders. The virgin or unmodified asphalt binders available in the United States rarely meet these specifications. Higher performing pavements demand higher performing asphalts. Three different modifiers were invented in the labs at TFHRC:
(1) Furfural Modified Asphalt: When furfural (a biodegradable chemical produced from agricultural wastes like corn cobs, oat and rice husks, and sugar cane bagasse) reacts with virgin asphalt, the product has improved performance properties. For a small increase in cost (about 10 percent) the PG rating of most virgin asphalts can be increased significantly for low temperature performance. Potential partnerships in the oil industry have been established.
(2) Reactive Compatibilizers for Crumb Rubber Modified Asphalt (CRMA): Crumb rubber can improve the high temperature performance of most asphalts. Yet, there has been a general reluctance to adopt CRMA for operational, performance and economic reasons. Some of those barriers have been overcome by using the reactive compatibilizer glycidal, which improves the CRMA by linking the two polymers and retaining the better properties of both.
(3) Asphalt Modified with Fine Mesh Material: By reacting hydrogen peroxide with fine mesh crumb rubber (a very select material) the resultant product could dramatically improve modified asphalt binders. It meets both the low and high temperature performance grade specifications, unlike conventional CRMA which typically meets only the high temperature specifications. When chemically modified, finely ground rubber is mixed with asphalt, the product is homogeneous and well below the 10 percent separation threshold, unlike conventional CRMA which shows about 25 percent separation. This asphalt is expected to cost 25 to 35 percent less than the best asphalt or modified asphalt available today.
-- Charles Nemmers, charles.nemmers@fhwa.dot.gov.