Table of Contents
Coming Your Way Soon: A Single Source for Crash Data
Reverse T2 from Highways to the Next Generation Space Shuttle
Harder Drivers See Better at Night
GRF Students and Faculty Make Big Presence at TRB
Listening for the 21st Century: A DOT Challenge
Concrete PRS Gets Good Initial Marks from Field
Hydraulic Designing Goes CD-ROM
Retroreflectivity Van Shines for International Visitors
Bridge Engineering Seminar Serves as a T2 Bridge to Asian Countries
Staying in the Loop with Vehicle Detector Maintenance
---
The Research & Technology Transporter was a Federal Highway Administration (FHWA) research and technology publication issued under FHWA's Research and Technology Program. The 8-page newsletter transmitted research and technology-based developments from FHWA program offices to engineers in the field and professionals in the industry. Publication of the Research & Technology Transporter ended with the September 2006 issue.
Rodney E. Slater
Secretary,
U.S. Department of Transportation
Jane F. Garvey
Deputy Administrator,
Federal Highway Administration
Anthony R. Kane
Executive Director
Federal Highway Administration
---
RTCG CHAIRPERSONS
Michael Trentacoste - Safety
Stan Gordon - Structures
Paul L. Brennan - Motor Carriers
Don Steinke - Highway Operations
Paul Teng - Pavements
Jeff Lindley - ITS
King Gee - International
Barna Juhasz - Planning, Environment, and Right-of-Way
Gary Maring - Policy & Information Management
---
Anne Barsanti, Managing Editor
Jon Schans, Editor
Zac Ellis, Editor
SAFETY
---
Coming Your Way Soon: A Single Source for Crash Data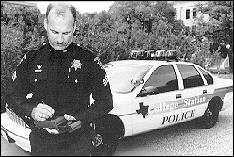 The pen-based computer is one of the new products to be documented by the Crash Data Collection Technology Clearinghouse.
Photo courtesy of Texas A&M University
Sound decisions based on good information can save time, money, and often lives. The effectiveness of any department of transportation, emergency service, law enforcement, or any other public service agency is increasingly reliant on the ability of managers to make informed operational decisions based on the collection of accurate and timely data. To facilitate sound decisionmaking by public agencies concerned with roadway safety, FHWA and several of its partners are creating a national clearinghouse of innovative projects using new technologies for the automated collection of crash data.
The partners involved in establishing the clearinghouse are FHWA's Office of Technology Applications (OTA) and Office of Research and Development (R&D), the National Highway Traffic Safety Administration (NHTSA), and the International Association of Chiefs of Police (IACP). The IACP, which will oversee the operation and maintenance of the clearinghouse, has hired a program manager for the task.
The clearinghouse will make information available to agencies at the Federal, State, and local levels. For each innovative project, the clearinghouse will provide an explanation of how the particular technology helped agency managers make better informed decisions at the local level.
Methods, such as surveys and direct contacts by the clearinghouse program manager, will be developed to identify computer applications used by law enforcement or other highway safety and transportation agencies. These methods will be tailored to elicit information on an agency's experience with system development and implementation.
Other methods of gathering and disseminating information being considered are a computer bulletin board service, Internet, newsletters, papers, and conference presentations. The Crash Data Collection Technology Clearinghouse should be in full operation by this fall.
- Dave Smith,(202) 366-6614
Reverse T2 from Highways to the Next Generation Space Shuttle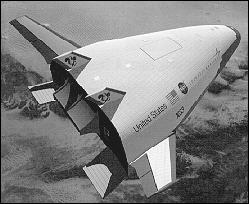 Transportation technology is to be used on this X-33 space shuttle to detect the impact of micrometerorites on the shuttle.
Photo courtesy of NASA
The aerospace industry is often mentioned as a source of innovative technology that could be transferred to highway research. However, recently the transfer went in the other direction. The Exploratory Research Team at the Turner-Fairbank Highway Research Center (TFHRC) has been collaborating with the National Institute of Standards and Technology (NIST) on developing very sensitive, broad frequency range sensors for detecting acoustic emissions, which are bursts of sound produced as cracks grow. The acoustic emission sensor can serve as a nondestructive method for locating active cracks in bridge members and other structures.
In January, Lockheed Martin, the prime contractor for the X-33, the future replacement for the Space Shuttle, asked Dr. Marvin Hamstad, one of the NIST researchers working on the acoustic emission systems, to test the NIST/FHWA sensor for possible use on the space vehicle. In this application, the sensors would be embedded in the thick insulation around the X-33 fuel tanks. They would be used to detect impacts of micrometeorites during spaceflight and detect cracking during refueling of the tanks on the ground. Dr. Hamstad spent a week at a Lockheed Martin facility in Lincoln, Nebraska, testing the sensors on the tanks during simulated refueling operations. They operated very successfully so the potential is there for transferring this highway technology.
- Richard Livingston, (202) 493-3063
Harder Drivers See Better at Night
Over half of all highway fatalities, including pedestrians, occur at night. Unless good fixed lighting is present, drivers greatly depend on the combination of headlights and traffic control devices for guidance and situational information. Research by FHWA and others has shown that ultraviolet (UV) headlights on vehicles, fluorescent pigments in traffic control devices, and clothing washed with phosphate detergents, can greatly enhance the night visibility of both highways and pedestrians. To help further this research program into national adoption, FHWA's Office of R&D is looking for a team of partners.
Since UV light is invisible to the human eye, UV headlights can be aimed horizontally as are high-beam headlights. As a result, a driver can see farther down the roadway when used in combination with the low-beam headlights without causing glare to on-coming drivers. Special fluorescent pigments are available that convert invisible UV radiation into visible light. When these fluorescent pigments are embedded into traffic control devices, such as pavement markings and delineators, the night visibility of a driver using UV headlights is significantly extended.
The detergents, used in washing clothes, also fluoresce under UV light which makes pedestrians much more visible to motorists at night, increasing safety for the pedestrians. In combination with fluorescent targets, this type of headlight will provide visible distances similar to high-beam headlamps.
Before deployment is possible much work needs to be done. Consumers must be convinced that the UV/fluorescent technology is safe to the road user and the pedestrians and there are benefits that offset additional costs. Government agencies must be convinced that the technology will help meet the Nation's transportation and societal needs and improve the efficiency and safety of transportation systems in a cost-effective manner. U.S. industry must see market potential, including near-term products that may evolve into the adoption of the UV/fluorescent system nationwide or even worldwide. R&D is looking forward to joining forces with its industry and international partners to gain acceptance of this technology for our streets and highways.
- Sam Tignor, 3363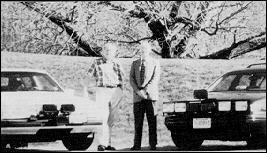 To help improve nighttime visibility for motorists, John Arens (I) and Sam Tignor (r) are testing UV headlight technology on two new cars.
GRF Students and Faculty Make Big Presence at TRB
Recipients from the Dwight David Eisenhower Transportation Fellowship Program (DDETFP) as well as faculty and transportation professionals attended one of the largest meetings in TRB's history. FHWA Executive Director Anthony Kane, Associate Administrator Dennis Judycki, and Director of Special Strategic National Highway Institute (NHI) Initiatives Moges Ayele, spoke to students regarding transportation opportunities. Dr. Ilene D. Payne, Director of NHI's Universities and Grants Programs, made the introductions and welcomed the participants.
Eisenhower Grants for Research Fellowships (GRF) recipient Dominic Spaethling was recognized at TRB's Seventy-Sixth Annual Meeting for his contribution as GRF Liaison in the GRF Program. On January 15 at the Third Annual Recipient Activity Day, Mr. Spaethling was presented a Certificate of Appreciation. Earlier that day, he presented his research paper on "Sustainable Transportation: A New Paradigm." Many of the current DDETFP recipients gave presentations on an array of topics that are available on video.
- Ilene D. Payne, (703) 235-0538
POLICY
---
Listening for the 21st Century: A DOT Challenge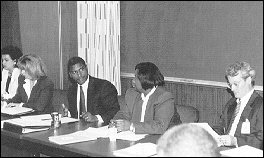 Secretary Slater (ctr) listens as stakeholders share their vision of transportation for the 21st century.
Transportation Secretary Rodney E. Slater is hosting a series of open forums with leaders of community organizations, transportation constituency groups, labor and management groups, academic and research institutions, and businesses. This unique series of transportation listening sessions invites stakeholders to share their vision of transportation for the 21st century with the Secretary.
The second listening session was held in March 1997. Secretary Slater met with leaders of over a dozen organizations, including: the National Association of Neighborhoods, Leadership Conference on Civil Rights, National Congress of American Indians, Women's Legal Defense Fund, United Transportation Union, International Association of Machinists and Aerospace Workers, National Urban League, and the Center for Neighborhood Technology. Secretary Slater was also joined by a cadre of Departmental officials. The three main themes discussed by the participants focused on access to jobs, safety, and public involvement in the transportation decisionmaking process.
During his introductory remarks, Secretary Slater provided a summary of the key tenets of the Department's "NEXTEA" legislative proposal. The participants were receptive to the notion that NEXTEA offers great potential for creating jobs, improving communities, and enhancing the quality of life for the American people. Toward that end, many expressed their support for transportation programs and services designed to improve access to jobs, particularly for those who are making a transition from Welfare to work.
Robert McAlpine of the National Urban League stated that he believes that access to jobs can revitalize cities and help local officials. Jackie Grimshaw of the Center for Neighborhood Technology in Chicago advocated funding innovative shuttle van programs to transport people to employment centers. Jocelyn Frye of the Women's Legal Defense Fund suggested providing transit vouchers to people seeking employment to aid their job searches. Ricardo Byrd of the National Association of Neighborhoods highlighted the U.S. DOT's opportunities to share transportation resources with other governmental agencies, such as the Department of Health and Human Services, by allowing buses used to transport children to Head Start programs to also be used to transport adults to jobs. Contingent on Congressional approval of the access-to-jobs component proposed in NEXTEA, it is hoped that these opportunities can be further explored and flourished.
Regarding transportation safety, William Scheri of the International Association of Machinists and Aerospace Workers expressed some concerns about aircraft repair being done in foreign countries. James Brunkehoefer of the United Transportation Union discussed concerns over differing truck safety requirements in the context of the North American Free Trade Agreement (NAFTA). Deputy Secretary Mortimer Downey had recently met with Mr. Scheri to discuss the issue and vowed to resolve it soon. Meanwhile, there are ongoing Departmental efforts to coordinate and resolve transportation issues related to NAFTA among the United States, Canada, and Mexico.
In terms of public involvement in transportation, Carmen Joge of the National Council of La Raza called for increased public educational programs for Hispanic communities. The Intermodal Surface Transportation Efficiency Act (ISTEA) was a catalyst for change, and it is hoped that increased connections to the community can be initiated with the advent of NEXTEA. The listening sessions have proven to be fruitful in providing input from a diverse group of transportation stakeholders and providing insight on ways to deliver the most efficient transportation to Americans in the 21st century.
- Martine Micozzi, (202) 366-9249
PAVEMENTS
---
Concrete PRS Gets Good Initial Marks from Field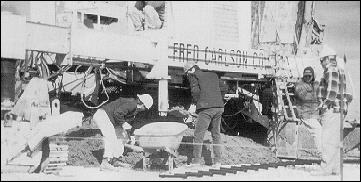 In-place concrete testing with PRS enables better predictions of pavement performance.
Motorists want a smooth, enjoyable ride on pavement. States want quality, long-lasting pavement. FHWA believes that one of the ways all of this can be achieved is with performance-related specification (PRS) for concrete pavement. So, FHWA's Office of Technology Applications (OTA) is evaluating PRS by simulating its use under field conditions. The prototype PRS, a product of a research contract, was developed for use in either jointed-plain or jointed-reinforced concrete pavement construction.
The PRS is an improved quality assurance specification containing an acceptance sampling plan with rationally-derived performance-related price adjustments. It is based on quantified relationships (i.e., mathematical models) between pavement performance and certain key materials and construction quality characteristics (e.g., strength, thickness, air content, and rideability).
The models predict when and to what extent the constructed pavement will exhibit distresses and thus predict the pavement's life-cycle costs (LCC). Price adjustments, either positive or negative, are based on the difference between the design LCC and the constructed pavement LCC prediction.
The purpose of OTA's field simulation of PRS is to evaluate whether the specification is effective, practical, and reasonable, and to identify any potential problems. To do this, OTA's Mobile Concrete Laboratory is performing tests as called for under PRS on concrete paving construction projects that are governed by the State highway agency's standard specifications. Price adjustments that would be assessed under PRS are also being compared with those actually applied under the States' standard specifications.
So far, a PRS field simulation has been done in Iowa and New Mexico. Projects in at least three additional States are planned for this construction season.
- Peter Kopac, (202) 493-3151, and Gary Crawford, (202) 366-1286
STRUCTURES
---
Hydraulic Designing Goes CD-ROM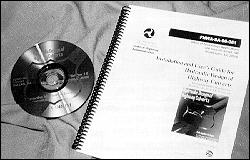 These two products change hydraulic designing to an easy-to-use interactive format.
Since its initial printing in 1985, FHWA's Hydraulic Design Series Number 5 publication, Hydraulic Design of Highway Culverts, has gained widespread use throughout the highway community. Through the efforts of OTA and the Bridge Division, the publication is now available on compact disk (CD) in an interactive format with the following features:
Electronic design forms.
Equation boxes for obtaining culvert design nomograph solutions in either English or metric units.
Metric nomographs.
Editorial corrections to text and figures.
Full-text search capability.
The 1975 FHWA videotape Improved Inlets at Highway Culverts.
Hypertext links to figures, tables, design forms, and many other features.
The CD is titled Hydraulic Design of Highway Culverts (CD-ROM) Version 1, Publication Number FHWA-SA-96-080. The companion publication, Installation and User's Guide for Hydraulic Design of Highway Culverts (CD-ROM), Publication Number FHWA-SA-96-081, which describes the CD's installation and features, can also be found on the CD.
Microsoft WindowsTM version 3.1 or higher is needed to run the CD. Copies of the CD and user's guide can be obtained by calling Pallas, Inc., (801) 755-0002. The CD and manual will also be available from McTrans, (352) 392-0378.
Work has also begun on a second interactive CD which will link three FHWA publications (HEC-11, Design of Riprap Revetment; HEC-14, Hydraulic Design of Energy Dissipators for Culverts and Channels; and HEC-15, Design of Roadside Channels with Flexible Linings) with their associated videotapes and design software.
- Abbi Ginsberg, (202) 366-8080
INTERNATIONAL
---
Retroreflectivity Van Shines for International Visitors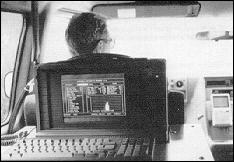 A computer inside the vehicle collects, formats, outputs, and stores the retroreflectivity data.
Swedish, Norwegian, and Brazilian transportation specialists, in the United States to attend the annual convention of the American Transportation Safety Services Association, received an up-close demonstration of a mobile pavement marking retroreflectometer in February at TFHRC in McLean, Virginia. This relatively new mobile technology, which measures the nighttime visibility of pavement markings, has been showcased nationwide by OTA.
The international visitors were able to witness the device being mounted on the van, the device as it collects data, and the output of retroreflectivity data collected during a demonstration from highways around the Washington, DC area. The demonstration addressed questions concerning metric conversion, speed of data collection, and the width of the laser sweep across the pavement markings. The visitors discussed retroreflectivity data collection procedures of their respective countries and the possibilities of future T2.
Technological advances in highway safety, such as the mobile pavement marking retroreflectometer, have given highway officials new tools for objective, repeatable measuring of existing pavement markings. This mobile technology enables maintenance officials to determine which roadway sections have unsatisfactory markings and need to be restriped. Identification of satisfactory markings saves resources by not wasting limited striping materials. Future technological advances include a mobile traffic sign retroreflectometer anticipated to be debuted to State and local highway agencies this summer.
-Peter Hatzi, (202) 366-8036
Bridge Engineering Seminar Serves as a T2 Bridge to Asian Countries
Because there is much diversity in the economy, the quality and quantity of road networks in Asian countries vary considerably. While some have excellent road systems, others are just at the developmental stage. In many countries, the road network is insufficiently developed. Thus, strategies for effective bridge management was the focus of the World Road Congress' bridge engineering seminar held last September in Jakarta, Indonesia. The seminar presented an opportunity to transfer technology from North America that may be applicable to many countries in Asia.
Since then, the committee has prepared a final set of conclusions and recommendations based on the seminar. One of the broad conclusions is that the seminar provided a valuable exchange of technical information, experience, and productive policy discussions beneficial to the bridge engineering community in both Asian and non-Asian countries. To continue the exchange, the committee is recommending a second seminar to be conducted soon.
George Romack from the Office of Engineering and Sheila Duwadi from the Office of Engineering R&D presented papers, chaired a session, and conducted two workshops presenting U.S. technology to the 654 participants from 33 countries who attended the seminar. The Orga nizing Committee was repre sented by eight countries: Japan, Australia, Denmark, France, Indonesia, Malaysia, Singapore, and the United States.
- Sheila Rimal Duwadi, (202) 493-3038, and George Romack, (202) 366-4606
TECHNOLOGY TRANSFER
---
Staying in the Loop with Vehicle Detector Maintenance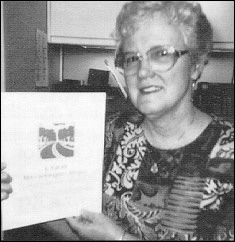 Anna Bennett is eager to work with LTAP Centers.
In mid-February, FHWA boosted its T2 efforts at the local level as Anna Bennett, Director of the California Local Technical Assistance Program (LTAP) Center, began a year-long special assignment with OTA. She will be assisting other centers in implementing the new national LTAP Strategic Plan. The plan was distributed to all 57 LTAP Centers and their partners in late March. Anna is available to receive input concerning the plan from anyone interested. She can be reached on (415) 744-2616 or at anna.bennett@fhwa.dot.gov.
The mission of the LTAP, developed as part of the plan, is "to foster a safe, efficient, environmentally sound transportation system by improving skills and knowledge of local transportation providers through training, technical assistance, and technology transfer."
The plan describes performance measures that involve documenting the needs of local governments and then demonstrating how the LTAP Centers are meeting those needs. The plan describes both output and outcome (or impact) measures that indicate progress towards achieving program goals.
Anna will be inviting LTAP and Tribal TAP staff to serve on a panel during her assignment to advise her about ideas for helping individual centers implement the plan. One of Anna's objectives is to have centers develop their own strategic plans, incorporating appropriate elements of the national plan.
Anna also plans to attend each of the regional LTAP meetings this spring to talk with participants about their strategic planning process. She would like to set up a mechanism to allow personnel from centers that have experience in strategic planning to provide one-on-one technical assistance to help others get started. The program for this year's national LTAP meeting on July 27-30 in Duluth, Minnesota, will also include topics related to strategic planning.
-- William R. Gary White, (202) 366-4675.