Table of Contents
Road Safety Auditing Promises a Forgiving Roadway
Secretary Slater Concerned About Moving Kids Safely
W-beam Guardrail with Stronger Steel Blockout Retested
Superpave Implementation Effort Adds Field Engineers
International Conferences Shed Light on Concrete Durability
Japan's Snowbreak Forestry Technique Eases Winter Foes
Let It Snow... Let It Snow... Let It Snow...
Exploring Our Nation's Travel
Washington State Showcases High Performance Concrete
---
The Research & Technology Transporter was a Federal Highway Administration (FHWA) research and technology publication issued under FHWA's Research and Technology Program. The 8-page newsletter transmitted research and technology-based developments from FHWA program offices to engineers in the field and professionals in the industry. Publication of the Research & Technology Transporter ended with the September 2006 issue.
Rodney E. Slater
Secretary,
U.S. Department of Transportation
Jane F. Garvey
Deputy Administrator,
Federal Highway Administration
Anthony R. Kane
Executive Director
Federal Highway Administration
---
RTCG CHAIRPERSONS
Michael Trentacoste - Safety
Stan Gordon - Structures
Paul L. Brennan - Motor Carriers
Don Steinke - Highway Operations
Paul Teng - Pavements
Jeff Lindley - ITS
King Gee - International
Barna Juhasz - Planning, Environment, and Right-of-Way
Gary Maring - Policy & Information Management
---
Anne Barsanti, Managing Editor
Jon Schans, Editor
Zac Ellis, Editor
SAFETY
---
Road Safety Auditing Promises a Forgiving Roadway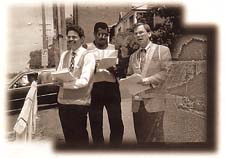 FHWA's Office of Highway Safety is promoting a new safety initiative known as the Road Safety Audit. The road safety audit may be the forerunner to research underway at the Turner-Fairbank Highway Research Center (TFHRC) involving the Interactive Highway Safety Design Model. Road safety auditing originated in the United Kingdom in the 1980's. It is widely used in Australia and New Zealand and was recently evaluated by a multidisciplinary delegation of U.S. highway engineers, safety specialists, and educators.
The safety audits address the safe operation of a roadway and involve the formal examination of an existing or future road or traffic project by an independent team of trained specialists. The team assesses the crash potential and safety performance of a roadway project and prepares a report of potential safety problems. Project officials or managers can then evaluate, select, and justify appropriate project changes.
The underlying objectives of the safety audits are to minimize the risk of a traffic crash and ensure that measures to eliminate or reduce identified roadway problems are fully considered. In addition, the audits promote the safety of all roadway users, establish the importance of incorporating safety in all roadway design work, and reduce the whole-life costs of a project. The safety audits are an efficient and cost-effective approach to improving safety. They can identify deficiencies before they are built into a project and build in safety from the beginning.
FHWA is working with States and local jurisdictions to determine the feasibility of integrating road safety audits into the process of woadway project development, construction, and operation. Several States have begun or will soon begin pilot testing safety audits in select locations. A report on these pilots will be issued in 1999. Interested State and local transportation apartments are invited to participate in this effort. Contact Paul Harker or your local FHWA division office.
-- Paul Harker, (202) 366-2195.
Secretary Slater Concerned About Moving Kids Safely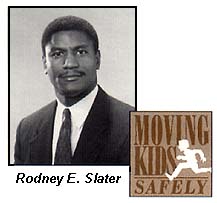 Transportation related crashes and incidents continue to be the leading cause of death for children ages 5 to 15. To foster national and local efforts to reduce these injuries and fatalities across all modes of transportation, Transportation Secretary Rodney E. Slater sponsors the Moving Kids Safely Conference. It is an annual transportation safety conference that focuses on children under 16 years old. It provides a forum for individuals from a variety of disciplines to collaborate and create strong partnerships to enhance nationwide and community-wide efforts. The third national conference, Moving Kids Safely '97: Strengthening Safe Communities, will be held on November 16 to 19 at the Sheraton Premiere at Tysons Corner in Vienna, Virginia. Additional information can be obtained through the Internet at www.ohsfhwa.dot.govl outreach.index.html. The event is expected to unite injury control professionals from around the country, thereby stimulating and strengthening partnerships to promote child safety.
Regional conferences will be held during the week of February 9 to 13, 1998, at various locations throughout the country. For more information, contact the nearest office of the National Highway Traffic Safety Administration (NHTSA).
-- Shirley Yhompson, (202) 366-2154.
W-beam Guardrail with Stronger Steel Blockout Retested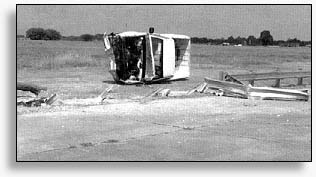 W-beam on strong steel post guardrail after crash test with a pickup truck.
Last year, the standard W-beam on strong steel post guardrail was crash tested with a pickup truck to see if this commonly used guardrail could meet the requirements for Test Level Three (TL-3) of the National Cooperativc Highway Research Program (NCHRP) Report No. 350. The guardrail failed the crash test because the webs of the steel blackouts buckled and bent, allowing the test vehicle to snag on a post and then roll over in the roadway.
To improve the performance of the guardrail system, heavier W6 x 12 steel blackouts were substituted for the W6 x 8.5 steel blackouts and the crash test was repeated. The 2,000-kg pickup truck impacted the guardrail at 100 km/ h and 25 degrees. The front wheel of the vehicle got under the W-beam rail and snagged so hard on a steel post that the W-beam rail was torn apart. The vehicle penetrated the guardrail and rolled over as shown in the photo. The heavier steel blackouts performed as intended. No bending or buckling of the blockout webs was observed.
To provide data for validating finite element models, the guardrail was heavily instrumented with strain gauges and displacement transducers. The electronic and photographic test data will be studied, and guardrail models will be made to see what caused the failure.
-- Charles F. McDevitt, (202) 493-3313.
PAVEMENTS
---
Superpave Implementation Effort
Adds Field Engineers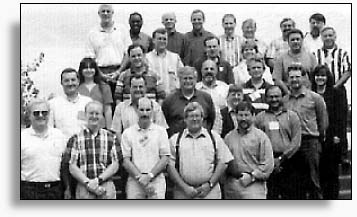 Twenty recently trained FHWA field engineers will provide hands-on assistance in the effort to implement Superpave technology at the local level.
The creation of an extended Superpave Technology Delivery Team (extended STDT) marks a significant expansion of agency resources devoted to Superpave field implementation. Twenty FHWA engineers from the Regions, Divisions, and Federal Lands completed technical and communications training at the Asphalt Institute the week of September 8th for their new assignment as members of the extended STDT.
"The extended team will be in the best position to respond, on a daily basis, to project concerns and other local issues," said Gary Henderson, Team Leader for the STDT, which continues to provide overall Superpave program coordination and oversight. "There will be 'hands on' and involved with the regional asphalt user/producer groups, Regional Superpave Centers, and other State and regional groups."
The extended STDT members are being asked to report on the status of Superpave projects and conduct targeted outreach, liaison, training, and other activities to address priority implementation needs in their areas of the country. The team members were upbeat about their new functions after they had completed their training.
Jitesh Parikh (Maryland Division) said working with local governments will soon be an emphasis area in Maryland. Maryland's local governments need to come up to speed on Superpave quickly because the State is going to be specifying Superpave exclusively. Many localities reference State specifications, but the local engineers may not be aware that the State specifications have changed radically. They will need to quickly acquire the technical background necessary to supervise a Superpave project.
Others noted how the extended STDT will improve communications. "The appointment of the team will help achieve an implementation program that reflects what's really going on out in the field," said Greg Doyle (Massachusett Division). Cathy Nicholas (Washington Division) said, "The training has provided a good opportunity to hear what's been going on around the country. I hope we can have a positive impact and be able to reach out to get everybody more familiar with Superpave concepts."
-- Gary Henderson, (202) 366-0121.
INTERNATIONAL
---
International Conferences Shed Light on Concrete Durability

HPC is being used to construct the Olympic facilities which will host the 2000 Olympic games to be held in Sydney.
To exchange information concerning concrete pavement durability with the international highway community, Dr. Stephen W. Forster, Special Projects and Engineering Division, recently participated in conferences in Australia and New Zealand. Their themes were concrete durability and advances in concrete technology, respectively."
At the first conference, held in Sydney, Dr. Forster made a presentation on the use of high strength and high performance concrete (HPC) to enhance pavement performance. He also demonstrated a computer program for predicting and preventing cracking in concrete pavements. The program is currently being developed by FHWA. As a part of the conference, a tour was provided of the Olympic facilities, currently under construction near Sydney.
At the New Zealand conference, held in Auckland, Dr. Forster again demonstrated the computer program. It was well received at both conferences, and many comments and questions were noted which will be used in finalizing the program. At this conference, further insight was gained as to the mechanisms and occurrence of various types of concrete distress in both ordinary and HPC pavements.
-- Stephen Forster, (202) 493-3070.
Japan's Snowbreak Forestry Technique Eases Winter Foes
To mitigate snow from blowing and drifting on roads as well as avalanche abatement, snowbreaks of trees are extensively used in Hokkaido, Japan. A forest zone created on the windward side of a road or on both sides causes the wind speed to decrease and the snow to pile up inside the forest instead of on roads. Aside from being a snowblocking utility, snowforests are favored in Japan for their endurance and roadside aesthetics.
Promoting this technique, FHWA's Office of International Programs has just released a new highway snowstorm countermeasure manual translated into English from the original Japanese. The Snowbreak Forest Book, authored by japan's Hokkaido Development Engineering Center, explains the fundamental approaches to planning, designing, developing, maintaining, and managing snowbreak forests.
Translation of the manual was made possible after the Office of International Programs sponsored a winter road maintenance international technology scanning tour that included Japan. In addition to being a practical result of FHWA's international cooperative efforts, translation of selected foreign documents is part of a broad program to make international road technologies and information accessible to the U.S. highway transportation community.
The detailed confluence of meteorology, horticulture, landscaping, engineering, and management make the manual a valuable re source for delivering environmentally sound and effective winter road maintenance programs. Free copies of the manual (FHWA-PL-97-010) are available by contacting the Office of International Programs by phone (202-366-2155), fax (202-366-9626), or E-mail international@ffiwa.dot.gov.
-- Sherif S. Gamal, (202) 366-2155.
HIGHWAY OPERATIONS
---
Let It Snow...Let It Snow... Let It Snow...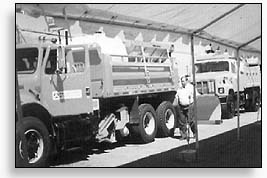 Many hi-tech vehicles were on display at the winter road maintenance expo in Maryland.
On September 4, the 2nd Annual Eastern Winter Road Maintenance Symposium and Equipment Expo was held in Hagerstown, MD. It was co-hosted by FHWA and the Maryland DOT. The purpose of the annual symposium is to showcase and transfer information on the latest winter maintenance technologies, eqiupment, and materials to practitioners and managers in the States east of the Mississippi River to improve operations and ultimately cut costs.
The 1997 symposium turned out to be a true example of the partnership that exists between FHWA and the Maryland DOT. The symposium planning committee was comprised of individuals from various FHWA offices (i.e., HQ, Region 3, and the Maryland Division), Maryland DOT, Many hi-tech vehicles were on display at the Maryland Transportation winter road maintenance expo in Maryland. Authority, and the University of Maryland Transportation Technology Transfer Center. Also fully participating in the event were industry; township, city, and county governments; and additional Local Technical Assistance Program Centers located east of the Mississippi River.
The event was a huge success, drawing nearly 1,300 participants and 71 exhibitors. In addition, some 35 vehicles (snowplows, spreaders, pothol patchers, etc.) were on display, including an array of state-of-the-art equipment furnished by many public agencies and equipment manufacturers. The majority of the participants came from locations all along the east coast with representatives coming from as far west as Utah. In addition to roadway maintenance specialists from agencies in 23 States, participants included representatives from the National Park and National Weather Services, military agencies, and Maryland's aviation agencies.
The overall attendance was nearly double the attendance of the first symposium held in 1996 at the D.C. Armory in Washington, DC. Next s symposium and equipment expo will be co-hosted y FHWA and PennDOT. To add your name to the mail-list for advance notice in ril, contact Ron Doemland at PennDOT on (717) 787-4299.
-- Deborah Vocke, (202) 366-4855.
POLICY
---
Exploring Our Nation's Travel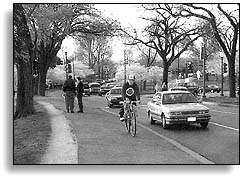 The NPTS covers all household trips, including the 86 percent by private vehicle to the 1 percent by bicycle..
On September 15, a press conference was held in conjunction with the issuance of the first report based on the recently completed 1995 Nationwide Personal Transportation Survey (NPTS). The report, Our Nation's Travel, describes the travel choices we make in meeting our business and perrsonal obligations. Moderated by Gary Maring, Director of the Office of Highway Information Management, the session had 50 attendees and was highlighted by a videotaped presentation of the major survey findings by Acting Federal Highway Administrator Gloria J. Jeff.
Ms. Jeff noted that the findings of the survey re-affirm that the United States remains the most mobile society in history but also demonstrate that there is still much to be done to assure that all people have the mobility needed to achieve a desirable quality of life.
The NPTS found that of the billion trips made each day by the Nation's 100 million households, 900 million are by private vehicles and 9 million are by transit. This cts the Nation's dependence on highway travel to meet economic and personal needs.
Following the videotape presentations, Ms. Jeff joined the conference from Little Rock via teleconference. She provided further discussion on our need to remain mindful of how travel is intertwined with our business and personal needs. The Survey's other modal sponsors (NHTSA, Bureau of Transportation Statistics (BTS), and the Federal Transit Administration) gave short discussions on how they will make use of the survey data.
The Internationally known transportation consultant Alan Pisarkski provided commentary on the unique informational needs met by the NPTS and how it relates to other national surveys by BTS and the Bureau of the Census. The conference attendees also had an opportunity to see an Internet-enabled analysis system that allows users to obtain answers to their specific questions using the survey's data base. The program was broadcasted on C-Span, and several newspaper articles and radio spots have followed.
Our Nation's Travel may be obtained from FHWA's R&T Report Center by phone (301-577-0906) or fax (301-577-1421). Futher information on the Internet products from the survey, including the report, are available at www-cta.ornl.gov/npts.
-- Bryant Gross, (202) 366-5026.
STRUCTURES
---
Washington State Showcases High Performance Concrete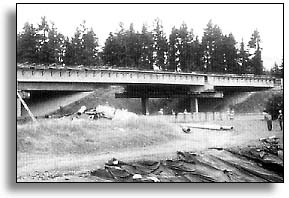 Several bridges that were being constructed with HPC were visited during the HPC showcase in Washington State.
State and local highway agencies seeking to build strong, durable, and cost-effective concrete structures are turning to high performance concrete (HPC) technology for help.
The Washington State DOT hosted a strategic Highway Research Program HPC Showcase workshop on August 18 to 20. Over 150 people, representing State Departments of Transportation, academia, consultants, fabricators, ready-mix concrete suppliers, and FHWA, took part in this educational forum focusing on HPC projects in Washington.
Though the focus was on the Washington projects, the showcase included presentations from the Nebraska and Virginia departments of Transportation, FHWA, and universities. Also part of the showcase were contractor and fabricator presentations and a field trip to the Lacy V. Murrow floating bridge, and the Route 512 HPC project. For more information, visit our HPC Web site: http://hpc.fhwa.dot.gov.
-- Terry Halkyard, (202) 366-6765.
FHWA JOINS CONFERENCE ON MINORITY ENGINEERING EDUCATORS
---
FHWA Joins Conference on Minority Engineering Educators
On September 24, Charles J. Nemmers, Director of FHWA's Office of Engineering R&D, addressed the "Civil and Mechanical Systems Workshop for the Advancement and Retention of Underrepresented Minority Engineering Educators" in Arlington, Virginia. This National Science Foundation-sponsored workshop had three goals:
Foster technical and intellectual exchange among Ph.D.-level women and underrepresented minority engineers who work in the area of civil and mechanical systems.
Instill in its participants the sense of a technical community from which they thrive, contribute, and draw support.
Increase participant awareness of research and funding opportunities.
Since these goals are consistent with the outreach initiatives of FHWA's Office of Research and Development, we were pleased to be able to share our vision with the nearly 100 outstanding women and minority engineering educators who are entering tenure-track positions at leading universities across the country. Mr. Nemmers discussed the opportunities available in working with FHWA-sponsored R&D programs, technical exchange positions at TFHRC, the Garret A. Morgan initiatives aimed at increasing transportation as a career choice, and other scholarship and post-doctorate opportunities.
-- Charles Nemmers , (703)285-2001.