Table of Contents
A Milestone in Making IHSDM Available
Crash Testing the MELT - II Terminal
Demo '97 A Glimpse Into the Future
Universal Guidelines Help Highway Safety
Participants at the Region 7 PTP Workshop See New Technologies
Brazilian Gain Knowledge of ITS
European Traffic Monitoring Scan Study Released
Bridge Division Rides the Surf
DP 113 Workshops Tackle Information Management Issues
Revised Freeway Management Handbook Available in November
Releasing STEAM
---
The Research & Technology Transporter was a Federal Highway Administration (FHWA) research and technology publication issued under FHWA's Research and Technology Program. The 8-page newsletter transmitted research and technology-based developments from FHWA program offices to engineers in the field and professionals in the industry. Publication of the Research & Technology Transporter ended with the September 2006 issue.
Rodney E. Slater
Secretary,
U.S. Department of Transportation
Jane F. Garvey
Deputy Administrator,
Federal Highway Administration
Anthony R. Kane
Executive Director
Federal Highway Administration
---
RTCG CHAIRPERSONS
Michael Trentacoste - Safety
Stan Gordon - Structures
Paul L. Brennan - Motor Carriers
Don Steinke - Highway Operations
Paul Teng - Pavements
Jeff Lindley - ITS
King Gee - International
Barna Juhasz - Planning, Environment, and Right-of-Way
Gary Maring - Policy & Information Management
---
Anne Barsanti, Managing Editor
Jon Schans, Editor
Zac Ellis, Editor
SAFETY
---
A Milestone in Making IHSDM Available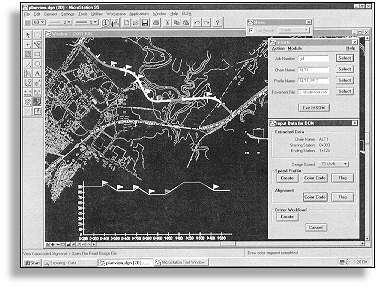 The unique Interactive Highway Safety Design Model view shown here is evaluating a proposed road design.
Reaching a critical milestone in the development of the Interactive Highway Safety Design Model (IHSDM), FHWA and GEOPAK Corporation signed a Cooperative Research and Development Agreement (CRADA). Under the agreement, GEOPAK, collaborating with FHWA, will integrate IHSDM into its civil design software package, making GEOPAK the first vendor to do so. GEOPAK is a leading developer of civil engineering software. Many State DOT's and FHWA currently use GEOPAK Corporation's civil design package as their standard roadway design software.
When completed, IHSDM will give highway planners and designers the opportunity, within a CAD (Computer-Aided Design) environment, to evaluate the safety implications of alternative highway designs from the planning through the final design stage.
Now in the prototype development, IHSDM currently has applications for two-lane rural roads. Ultimately IHSDM, which is designed for new and reconstruction road projects, will expand its applications to the Nation's entire highway system.
As stated in the CRADA: "Widespread distribution of IHSDM is critical to improving the safety of highway design. Since CAD/roadway design software will be the core of the model, FHWA believes that the best way to disseminate IHSDM is through the CAD/roadway design products."
The CRADA calls for the North Miami Beach corporation to provide a variety of services to facilitate IHSDM's advancement, with the chief aim of accelerating the transition of IHSDM from research and development into actual use by roadway planners and designers.
GEOPAK Corporation's CEO Gabriel F. Norona said of the CRADA with FHWA, "This agreement provides for the technical collaboration between GEOPAK and the FHWA to further expand the transportation needs of the future."
To ensure IHSDM's user-friendliness, a Technical Working Group has been established, consisting of members from the State DOT's of Arkansas, California, Illinois, Minnesota, North Carolina, Washington, and West Virginia, and from FHWA's Region 8 Office and the Indiana Division Office.
The recently signed CRADA between FHWA and GEOPAK signals the beginning of meeting an important goal of IHSDM: to be available to roadway planners and designers in an easy-to-learn, and easy-to-use format in all commonly used CAD/civil design software. The FHWA will pursue similar CRADA's with other roadway design software companies.
-- Justin True.
Crash Testing the MELT-II Terminal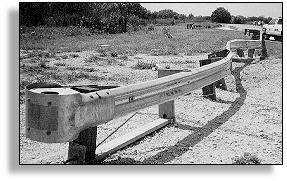 This shows the MELT-II terminal after a crash test with a Chevrolet C2500 pickup truck. The pickup truck was successfully redirected and remained upright.
To date, 17 full-scale tests have been conducted to develop a Modified Eccentric Loader Terminal (MELT) design that can meet the recommendations for Test Level Three (TL-3) in the Nationally Coordinated Highway Research Program (NCHRP) Report No. 350. The photo shows the latest version of the MELT-II terminal after it was impacted with a 2000-kg pickup truck at 100 km/h at an impact angle of 20 degrees. The test vehicle impacted the terminal at the third post and was redirected upright. A finite element model of the MELT-II terminal is under development at the University of Iowa.
-- Charles F. McDevitt, (202) 493-3313.
ITS
---
Demo '97 A Glimpse Into the Future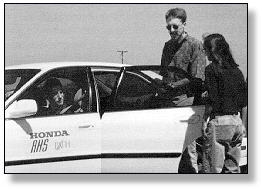 Demo '97 featured fully automated cars like this one which allowed FHWA's AHS Project Coordinator Dick Bishop to drive hands-free.
The Automated Highway System (AHS), FHWA's largest single research project, passed a significant milestone in San Diego on August 7 through 11 at Demo '97.
As a technical feasability demonstration, Demo '97 provided the proof of technical feasibility resulting from the efforts of the National Automated Highway System Consortium, a public/private collaboration conducting the AHS research project in partnership with the FHWA. Demo '97 displayed advanced vehicle control technology on cars, trucks, and buses. Specific technologies included in the demo ranged from simple warning systems designed to audibly alert drivers when vehicles strayed out of their lanes to total automated control of throttle, steering, and braking systems in closely spaced platoons. Seven different scenarios involving a total of 26 vehicles operated on a 12-km section of I-15 North of San Diego.
The scenarios ranged from two vehicles to eight vehicles operating individually or in platoons. They utilized vehicle control technologies, control based on vision systems, magnetic nails in the pavement, radar reflective pavement marking tape, radar, and laser ranging. Autonomous vehicles (those operating individually with only onboard technology) were complimented by vehicles utilizing cooperative technology that required infrastructure support and on-board systems.
The demonstration was a complete success. Over 3,000 people from all over the world participated in the event and related activities. Nearly 20,000 km of successful operations were logged. Secretary Slater and Deputy Secretary Downey were both able to visit Demo '97 and experience the technology first hand. The demo was covered by over 120 media outlets including national TV networks CBS, ABC, and PBS. The future of smart vehicles operating on smart highways was successfully displayed in San Diego as part of FHWA's automated highway system research.
-- George Ostensen.
Universal Guidelines Help Highway Safety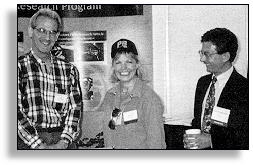 Lee Levitan, Honeywell, and Gary Golembiewski, SAIC, meet Christine Johnson, director of FHWA's ITS Joint Program Office, at the exhibit.
Demo '97 featured an exhibit of the Traffic and Driver Information Systems Division's AHS human factors research. Through their research, the Human Factors Team assesses human capabilities and limitations in automated driving modes. On display were the results of their investigations and information on their research in four main areas: human/system function, driver performance in AHS, methods of control transfer, and guideline development. Future research includes guidelines for the human role in emergencies on the AHS and design guidelines for AHS in mixed traffic. Research will determine the most effective design considerations to ensure safe design, operation.
-- Bernadette Gregorian.
Participants at the Region 7 PTP Workshop See New Technologies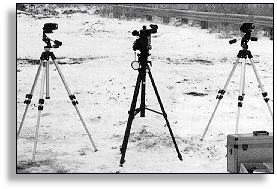 Digital measurement equipment like these developed under the PTP can save and alleviate congestion.
A high-tech maintenance vehicle, automated traveler information systems, and advanced traffic control systems were among more than a dozen new technologies that participants heard about at the Priority Technology Program (PTP) workshop August 21 and 22 in St. Joseph, Missouri.
The 2-day workshop, attended by representatives of the lowa, Missouri, Kansas, and Nebraska DOTs, universities, and FHWA regional and division offices, included status reports on all of the new technology projects currently under way in Region 7 funded through PTP. FHWA field offices currently receive $250,000 a year through the PTP to fund projects that will hasten the implementation of promising new technologies in their regions. Emphasis is given to projects that involve underutilized but promising, off-the-shelf technologies, and that involve leveraging of Federal funds and partnering with industry and universities.
Most PTP projects are 2-year efforts. The first ones -- those funded in 1995 -- are now publishing their final reports. But the most important work still lies ahead. The benefits of the PTP technologies will be fully realized through a nationwide marketing program. The Region 7 workshop is a first step in that direction.
Other projects displayed include: Anti-Icing, Kiosk Traveler Information, Video Traffic Accident Investigation (Nebraska); Construction Zone Traveler Information, GIS Planning Software for Small Cities, Maintenance Concept Vehicle, Rural Interstate Safety Traveler Information System, Paver Vibrator Monitor, European Snow Technologies (lowa); Fiber Composite Beam to Repair Asphalt Thermal Cracking, Traffic Calming Techniques, Water-Cement Ratio Meter (Kansas); Remote Sensing Cathodic Protection, Ground-Penetrating Radar, and LED Signals (Missouri).
-- Roger Port, (816) 276-2744.
INTERNATIONAL
---
Brazilian Gain Knowledge of ITS
Two high-ranking Brazilian transportation officials spent a week in Washington hosted by the National Highway Institute (NHI) to learn new ways to introduce Intelligent Transportation Systems (ITS) technology in Brazil. This "train-the-trainer" seminar was a result of an agreement between FHWA and the Brazilian federal agency for transportation planning, GEIPOT.
Lycurgo Almeida, Executive Assistant to the President of GEIPOT, and Josino Cordeiro, Project Manager for GEIPOT, spent 3 days at NHI learning about ITS in an awareness seminar given by NHI's Chief of State Programs, Alberto J. Santiago. They were also given a lecture on modern training and presentation skills by NHI's Mary Susan Sparlin. This was aimed at enabling them to introduce an element of ITS in a GEIPOT course on Urban Transportation Management, which is to be given in 10 different cities throughout Brazil starting this fall.
"This seminar was a wonderful opportunity for us to learn about ITS technology and its most advanced applications in the United States," Mr. Almeida said. "It has been extremely helpful to us, and we want to duplicate the seminar given to us by NHI in our own country."
-- Liana Montero, (703) 235-0550.
European Traffic Monitoring Scan Study Released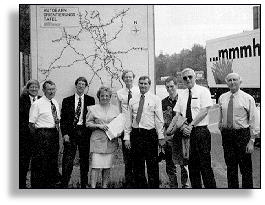 Prior to a tour, the scan team was briefed on the German Autobahn system.
FHWA's Office of International Programs has just issued a new study report of European Traffic Monitoring Programs and Technologies. The report highlights innovations in traffic data collection equipment and methodologies that may be applicable to the United States.
In many areas in the United States, congestion continues to increase while government expenditures on transportation and public acceptance of new roadway construction have decreased. The Federal Government and the States are always looking for new and better ways to cost-effectively and accurately collect the data necessary to better manage the Nation's highway system.
In Europe, many countries face similar constraints. To learn how European countries peform traffic monitoring, FHWA sponsored an international technology scanning tour of Europe. Representatives from FHWA's Office of Highway Information Management and State Departments of Transportation of New York, Minnesota, South Dakota, Florida, and Washington State Transport Center participated in the June 1996 tour organized by the Office of International Programs with facilitation support from American Trade Initiatives of Alexandria, VA.
The scan team found several innovative approaches and practices that provided solutions to some of the traffic monitoring issues faced in the United States. They recommended that specifications, procurement systems and operating environments of some of the best European technologies and practices be further analyzed for applicability in the United States.
One of the most significant findings was the high level of reliability of data collection equipment. Failure rates of European inductance loop systems were much lower than in the United States. Common to all the European systems were high quality components for data collection equipment which performed with fewer failures and had lower long-term operation and maintenance costs.
European countries incur cost efficiencies and data improvements by having Intelligent Transportation Systems (ITS) traffic control systems and ITS driver information systems collect, store, and supply traffic information for general opera tional decisions, planning, and engineering functions. The traffic control systems that the scanning team observed included a data collection and storage component. These data are used for non-real time analysis and are made available outside the operations divisions of individual highway agencies. In most cases, approval for the creation of ITS traffic control systems is contingent upon the system supplying these data.
In several countries, national standards for data collection equipment have been developed. This process appears to reduce maintenance costs, increase reliability of field equipment, increase the quality and accuracy of data collected, and decrease the effort needed to transfer data between the agencies.
Other significant practices included simplification of vehicle classifications systems which offered substantial cost savings. Monitoring of weigh-in-motion research initiatives were observed and warrant further attention.
-- Frank Jarema, (202) 366-9242.
STRUCTURES
---
Bridge Division Rides the Surf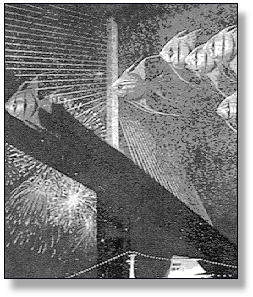 A view of the homepage.
The Bridge Division in the Office of Engineering has been maintaining a home page on the Internet since last year. The site contains information about the Technical Groups of the Bridge Division (Bridge Specialists, Tunnel, Hydraulics, Geotechnical, Bridge Management, Bridge Program, and Support Groups). It also allows a reader to link to other excellent sites like the FHWA, DOT, TRB Committee A2CO4 -Tunnels and Underground Structures, and SCOOPS (Region 9 Newsletter) web sites.
-- Jesús M. Rohena, (202) 366-4343.
PLANNING
---
DP 113 Workshops Tackle Information Management Issues
Transportation agencies are being asked to do more with less, deal with continually changing technologies and environments, and take a more enterprising approach to accomplish their goals and missions. They have expanding roles as service providers in areas such as data sharing and communications. FHWA is sponsoring a series of free workshops under Demonstration Project #113 (DP113) to introduce professionals from State and local transportation agencies to the basic concepts of developing, implementing, and maintaining an Integrated Transportation Information System (ITIS).
ITIS is the fusion of all transportation information into a simple and comprehensive information architecture to best support transportation agency needs. Essentially ITIS strives to integrate four areas common to all transportation agencies: (1) the organization -- staff, structure, responsibilities; (2) business processes -- functions, data flow, operations; (3) data -- access, standards, ownership; and (4) technology -- software, hardware, architecture. The DP113 workshops explain the benefits of integrating information and the practical aspects of building and maintaining an ITIS.
What makes DP113 unique is the approach taken to reach its target audiences. Transportation executives and mid-level managers are targeted in the first session of DP113 workshops, consisting of a 30-minute executive briefing and a half-day workshop for mid-level managers. Based on comments and recommendations from the managers' workshop, a second session can be set up for the staff of the mid-level managers. Thus each implementation workshop is customized to the host agency's particular desires. The first session of DP113 is scheduled for early October in Boise, Idaho.
-- Vince Nowakowski, (202) 366-8037.
Revised Freeway Management Handbook Available in November
The 1997 edition of the Freeway Management Handbook (Publication No. FHWA-SA-97-064) is a major revision of the previous four-volume document that was published in 1983. The handbook is directed at mid-level administrators or engineers for State and local agencies who are responsible for planning, designing, and operating all or portions of a freeway management system. It is structured such that individual modules can be updated as needed in this rapidly changing arena.
In addition to the traditional topics covered in the previous edition such as ramp metering, high occupancy vehicle facilities, incident management, and surveillance, the revised handbook also covers control centers, communications, economic analysis, and the decision process for implementing the proper freeway management system. The handbook is designed to be practical in nature, providing an overview of all areas of a freeway management system while referring to other handbooks such as the Freeway Incident Management Handbook (FHWA-SA-91-056) and the Human Factors Handbook for Advanced Traffic Management Center Design (First Edition) (Georgia Tech) which have more detailed information for the specific modules.
The report will also be electronically published via the Internet and CD-ROM.
-- Morris Oliver, (202) 366-2251.
Releasing STEAM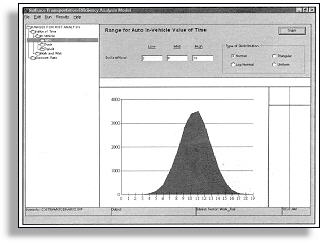 The unique Interactive Highway Design Model view shown here is evaluating a proposed road design.
This fall FHWA is releasing a new software package called STEAM or "Surface Transportation Efficiency Analysis Model." STEAM focuses on analysis of costs, benefits, and economic and environmental impacts of multimodal investment and demand management alternatives in urban areas. The innovative and timely analysis techniques embodied in the software are applicable to evaluation of cross-modal alternatives for long-range planning, evaluation of alternatives for major investment studies, congestion management systems, transportation control measures, travel demand management analysis, and estimation of emissions impacts of projects proposed for funding through congestion mitigation and air quality funds.
The software accepts input directly from the four-step travel demand modeling process or from off-model software such as FHWA's TDM software. At the user's option, it post-processes traffic assignment outputs from conventional four-step planning models to get more accurate highway travel speeds, especially under congested conditions. Optionally it performs risk analysis to describe the level of uncertainty in the results of the analysis.
The software is based on the principles of economic analysis and allows development of monetized impact estimates for a wide range of transportation investments and policies, including major capital projects, pricing, and travel demand management. Impact measures are monetized to the extent feasible, but quantitative estimates of natural resource are also provided. Net monetary benefits of alternatives can then be used to evaluate trade-offs against non monetizable benefits. The techniques embodied in STEAM are presented in FHWA's course "Estimating the Impacts of Urban Transportation Alternatives" offered through the National Highway Institute (NHI Course No.15257).
-- James Hunt, (202) 366-4056.
WORKING ON WASTE
---
To achieve the goals of the 1997 DOT Appropriations Bill for identifying "specific secondary wastes and specific applications in which significant volumes of waste can be properly used while ensuring long-term effectiveness without increasing construction costs," FHWA entered into a series of cooperative agreements with the University of New Hampshire to conduct research studies in systematic approaches to expanded waste utilization in highway construction.
The University of New Hampshire is leading a consortium of other institutions and partners including the University of Rhode Island, Cornell University, Rutgers University, the U. S. Army Corps of Engineers Cold Regions Research and Engineering Laboratory, and Chesner Engineering, P.C.
There is also international technical participation from Europe and Asia.
Expert technical groups comprised of private industry, associations, State, and Federal officials have been established within the individual waste utilization agreements.
The study periods range from 24 to 27 months. Outputs are expected both in published and electronic form including Internet-based guidance documents.
The University of New Hampshire consortium is being led by Dr. Taylor Eighmy, director of the Environmental Research Group. FHWA technical representatives on the studies are Marcia Simon, Stephen Forster, and Lou Colucci of the Office of Engineering R&D, and Jason Harrington of the Pavement Division, Office of Engineering.
Under the agreements, the University of New Hampshire will conduct research studies in the following areas:
Residual alkali silicia reaction in existing portland cement concrete and the potential for recycling;
Performance-based mix design for cold in-place recycling of bituminous pavements based on fundamental properties;
Development of consensus framework for waste utilization evaluation procedures; and
Predictive approach for long-term environmental performance of waste utilization in pavement using aging tests.
-- Lou Colucci