Table of Contents
OECD's Ottawa Conference was Mostly DIVINE
Prague Conference Enhances Transportation Information Exchange
Testing Recycled Waste Materials Protects the Environment
Waste Not What You Can Recycle
How to Reduce Work Zone Injuries?
Browse Our Highway Safety Web Site
Using Non-Intrusive Technologies to Collect Traffic Data
Overpass Height Measuring Goes High Tech
---
The Research & Technology Transporter was a Federal Highway Administration (FHWA) research and technology publication issued under FHWA's Research and Technology Program. The 8-page newsletter transmitted research and technology-based developments from FHWA program offices to engineers in the field and professionals in the industry. Publication of the Research & Technology Transporter ended with the September 2006 issue.
Rodney E. Slater
Secretary,
U.S. Department of Transportation
Jane F. Garvey
Deputy Administrator,
Federal Highway Administration
Anthony R. Kane
Executive Director
Federal Highway Administration
---
RTCG CHAIRPERSONS
Michael Trentacoste - Safety
Stan Gordon - Structures
Paul L. Brennan - Motor Carriers
Don Steinke - Highway Operations
Paul Teng - Pavements
Jeff Lindley - ITS
King Gee - International
Barna Juhasz - Planning, Environment, and Right-of-Way
Gary Maring - Policy & Information Management
---
Anne Barsanti, Managing Editor
Jon Schans, Editor
Zac Ellis, Editor
INTERNATIONAL
---
OECD's Ottawa Conference was Mostly DIVINE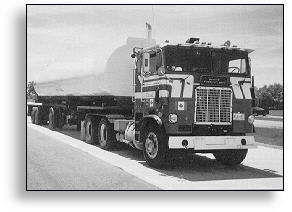 The DIVINE truck, with its unique design features and accurate dynamic load measurement system, was instrumental to the DIVINE project.
The Organisation for Economic Co-operation and Development's (OECD) Dynamic Interaction Vehicle Infrastructure Experiment (DIVINE) is an ambitious international cooperative research program focusing on how roads and bridge structures are affected by heavy vehicle vertical dynamics. From June 23 to 25, the organization held its first of three DIVINE concluding conferences in Ottawa, Canada. This first conference was cosponsored by the National Research Council of Canada, Transport Canada, Transport Association of Canada, and FHWA.
The program benefited from research conducted by many of the participating countries which were Australia, Canada, Finland, France, Germany, Great Britain, Japan, the Netherlands, New Zealand, Sweden, Switzerland, and the United States. The United States' contributions to DIVINE included both financial and technical support.
Bob Betsold, FHWA's Associate Administrator for R&D and a member of the DIVINE executive committee, was a keynote speaker. Jim March from FHWA's Office of Policy spoke on policy issues in the United States. Bill Kenis from FHWA and vice chairperson of DIVINE presented the results of the DIVINE element 1 research project conducted on accelerated load testing at the CAPTIF test facility in New Zealand.
FHWA's Truck-Pavement Interaction (TPI) Team led by Bill Kenis completed an extensive study for DIVINE. The second element involving flexible pavement primary response testing was headed by FHWA at the Turner-Fairbank Highway Research Center (TFHRC) and at Finland under the direction of Matti Hutala. The findings from the second element were presented at the Ottawa conference by Rod Addis, program manager of DIVINE from the British Transportation Research Laboratories. The TPI team has also completed and validated an extensive computer simulation model to calculate wheel forces of heavy vehicles for the fourth element. The European and Asia-Pacific concluding conferences will be held in the Netherlands in September 1997 and in Australia in November 1997, respectively.
-- William Kenis, (202) 493-3149.
Prague Conference Enhances Transportation Information Exchange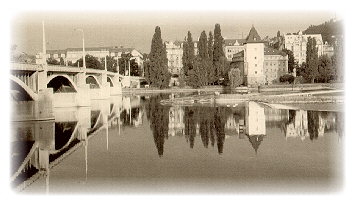 The Czech capital, Prague and its famous bridges, was the site of an international information exchange with Central and East European countries.
While folks at home were enjoying their Fourth of July holiday, several FHWA staff and other U.S. representatives were wrapping up a 3-day meeting in the Czech Republic's capital, Prague. The OECD Information and Documentation Seminar was laying the groundwork for increasing transportation information exchange with Central and Eastern European countries. Transportation and information practitioners in those countries met with their counterparts from the United States and Western Europe to determine the state of bibliographic and statistical information systems in Central and Eastern Europe.
While the meeting largely focused on what needs to be done for transportation information in this region, many of the issues and challenges of those countries carried resonance for the U.S. delegation. Sources and collections of transportation information are fragmented and diffused. Knowledge gaps exist in several technical areas and in some that have yet to be identified. Existing information sources are underutilized and undervalued by transportation practitioners like road engineers or commercial product development businesses because they don't know the data exists or how to get it. A lack of uniformity on a national level in current information systems creates incompatibilities and impediments to accessibility. The international nature of information adds the dimension of language barriers to those problems.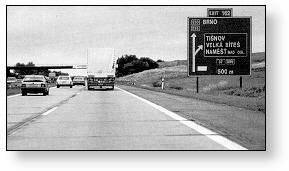 The Prague-Brno Motorway is one of several modern highways crossing the Czech republic.
Several recommendations emerged from the seminar to support improved information exchange. Key among them was the need to educate and gain top management support for the value of information and documentation resources in improving the design, construction, maintenance, and operation of road and transport systems. Training for transportation information professionals and users was deemed crucial for realizing the full benefits of technology exchange. Direct networking with professional counterparts, institutional twinning arrangements, and other appropriate professional development opportunities will be promoted. There was consensus that more information needs to be made available in English for broader accessibility and dissemination around the world.
All of the participating countries agreed that creating complete national and international inventories was a long overdue necessity for handling the large volume of existing and future information needed by the transportation sector. While these recommendations were aimed at Central and Eastern Europe, their importance and relevance were shared by the OECD members, including the U.S. delegation.
ENVIRONMENT
---
Testing Recycled Waste Materials Protects the Environment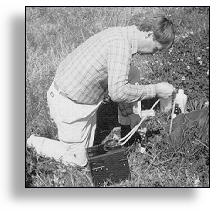 To check for water contamination,
an investigator takes samples of the ground water from a well near the highway fill section where waste rubber tire scrap was used.
Protecting the environment is a big concern to the highway industry. In fact, FHWA is sponsoring studies on the impacts of waste, construction, and repair materials on surface and ground waters. One study, which is being conducted at Oregon State University through the National Cooperative Highway Research Program (NCHRP), involves a panel of representatives from FHWA, Ontario, and eight States to advise the investigators. FHWA is taking a more active role then usual because of the sensitivity of waste materials.
Significant waste materials which are candidates for use in either pavements, subbases, fills, or embankments are being examined for possible impacts on the quality of nearby ground and surface water. The materials being examined are coal ash, foundry sands, rubber tire materials, municipal solid waste ash, phosphogypsum, recycled asphalt, recycled concrete, mine tailings, blast furnace slag, steel slag, roofing shingle scrap, and non-ferrous slag.
So far, some substances have been found to be toxic by bioassays. However, after short distances through typical soils, the toxicities are largely eliminated. Field tests of the effects of including the waste materials in highways have been done and others are underway. It has been found that scrap rubber in a fill section (Virginia), coal ash in a fill section (Indiana), and municipal solid waste ash in a pavement (New Hampshire) have not impacted the ground water quality. Field tests of phospho-gypsum (Florida) and blast furnace slag (Indiana) are underway.
Other tests of leachates from recycled asphalt concrete and recycled PCC have indicated no impacts for the former and potential pavement drainage problems when the latter was used as a sub-base material. Investigations are still underway to understand the physical processes involved in the overall impacts of using the waste materials.
Results of the project will be disseminated by reports to NCHRP and State Department of Transportations.
-- Howard Jongedyk.
Waste Not What You Can Recycle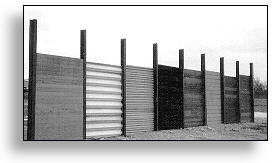 Noise wall made with various recycled plastic panels.
The Intermodal Surface Transportation Efficiency Act (ISTEA) directs the Environmental Protection Agency (EPA) and the U.S. DOT to conduct studies on the use of recycled materials in highway construction. Consequently, FHWA sponsored a pooled-fund study to investigate the feasibility of using recycled materials in such roadside appurtenances as guardrail posts, noise barriers, and posts for right-of-way fences. This State Planning and Research (SP&R) pooled-fund study is being funded by 14 States.
The contractor, Southwest Research Institute, conducted a series of pendulum tests on prototype guardrail posts made by various manufacturers of recycled plastic products. It was found that none of the prototype recycled posts had the fracture energy characteristics necessary for use in strong post guardrail systems.
Some problems were encountered when the recycled plastic fence posts were driven into the ground. A minimum of twice as much energy was required to drive the recycled plastic posts as compared to driving wood posts. Several posts fractured or broke during the driving process which created a safety hazard for the operating personnel. After the posts had been driven, they were so out of line and out of plumb that it was impossible to attach chain link fence fabric to the posts. However, when the posts were installed in augered holes and the chain link fence fabric was stapled to the recycled posts, the fence performed satisfactorily.
Highway noise barriers have traditionally been constructed from materials that reflect sound waves such as concrete, steel, or wood. Many recycled plastics also tend to be reflective materials. However, it was found that some recycled plastics also absorb sound and have better noise reduction coefficients than wood or concrete. Eight sections of a noise wall made of various recycled plastic products were erected in 2 days by a three-man crew without any special equipment. The evaluation of these roadside appurtenances under various environmental conditions is continuing.
-- Charles F. McDevitt.
SAFETY
---
How to Reduce Work Zone Injuries?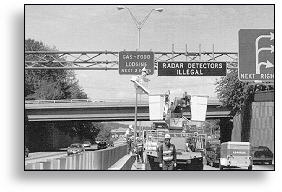 As a safety measure, highway workers close a traffic lane to repair an overhead sign.
To answer this important question, FHWA awarded a $1 million research grant to Laborers' Health and Safety Fund of North America to perform a "Work Zone Injury Evaluation." This 4-year grant, which started in September 1993, is developing a comprehensive understanding of the magnitude of work-related injuries and fatalities among construction laborers employed on highway projects, the causes of such injuries and fatalities, and the solutions for reducing these injuries and fatalities.
Information has been gathered on work-related accidents as well as traffic-related accidents from State, local, union, public, and private sources. An extensive analysis was conducted on close on the information obtained from the Bureau of Labor Statistics which showed highway construction workers experience more than twice the number of fatal occupational injuries compared to all construction workers and more than eight times that which would otherwise be expected among all workers. The data indicated highway construction workers account for about 12 percent of all serious construction accidents, but only consist of 4 percent of the work force.
A $25,000 competition was conducted by the researchers to get ideas for improving work zone safety procedures and reducing worker injuries. They received 33 proposals that were evaluated by a panel of experts in August 1996. Three ideas, which are being further developed, were given cash awards. The researchers are now further developing and testing identified interventions to reduce worker injuries, training to identify dangerous worker activities for police who are involved in work zone traffic control, internal work zone traffic control plans, tailgate worker training courses, and ergonomic improvements for equipment used in work zones.
An international road construction safety and health conference is scheduled for October 28 and 29 in Washington, DC. The conference will present the results of the research.
-- Howie Bissell.
Browse Our Highway Safety Web Site

Perhaps you need to know why STOP signs have an octogonal shape or you need information on speed management. Come visit us at www.ohs.fhwa.dot.gov. Our web site houses national standards and issues related to signs, pavement markings, and traffic signals on public roads; issues dealing with railroad-highway crossing safety; outreach efforts, such as the Read Your Road brochure; workzone safety news; and access to accident and other data bases for analyzing safety issues.
FHWA's Office of Highway Safety is responsible for administering highway safety programs related to the roadway and road users. Our safety standards and guidelines are used by highway authorities to improve safety on Federal-aid highways and other roadways. They provide basic information on highway design, construction, and maintenance, as well as assisting in identifying and analyzing high crash locations. FHWA also provides highway safety guidance and funding for traffic engineering services, speed management, safety outreach programs, pedestrian and bicycle safety, and safety management systems.
-- Danyell C. Beard, (202) 366-9629.
INFORMATION MANAGEMENT
---
Using Non-Intrusive Technologies to Collect Traffic Data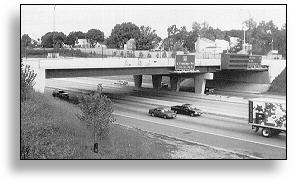 Site of the non-intrusive traffic data collection test on I-394 in Minneapolis.
Why is it so difficult to collect traffic data on highvolume urban roads? The traditional practice of installing detection devices in pavement or placing road tubes across a highway presents a serious safety hazard and increases congestion. To test new and innovative traffic detection technologies, FHWA's Office of Highway Information Management (OHIM) and Office of Technology Applications (OTA) initiated research on "Field Test of Monitoring Urban Vehicle Operations Using Non-Intrusive Technologies."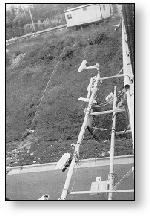 Close up view of several non-intrusive data collection devices mounted overhead with the project engineer's trailer in the background where the computer devices are located and monitored.
The research was conducted by the Minnesota DOT and SRF Consulting Group, Inc. The types of technologies evaluated were passive infrared, active infrared, passive magnetic, radar, Doppler microwave, pulse ultrasonic, passive acoustic, and video. The goal of the research was to provide traffic engineers with information about the performance of non-in-trusive traffic data collection devices that can be safely installed above or adjacent to a highway and cause minimal disruption to normal traffic operations.
The devices were tested for short periods and for longer continuous operation. Test conditions are detailed in a report that has just been issued. The conditions in clude device location with respect to the roadway, temperature, and precipitation. The test site was located on an east-west corridor, thus providing information on the performance of the device during sunrise and sunset. The test site in Minneapolis provided information on device operation in harsh winter conditions. The devices were also tested on a variety of intersection configurations. The results indicate which types of tech nology are better suited to a particular data collection need.
The report will assist State and local traffic engineers in determining the appropriate technologies to deploy for traffic data collection efforts. Copies of the report will be available on CD-ROM and through the OHIM web site at ctil.volpe.dot.gov/ohim.
-- William Grush, (202) 366-5052.
STRUCTURES
---
Overpass Height Measuring Goes High Tech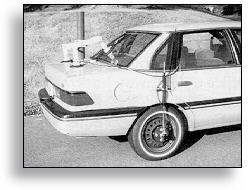 This laser-based system can be easily mounted on any vehicle to measure an overpass' height and profile at maximum highway speeds.
How do you measure over pass height and profile while traveling at 105 km/h? FHWA's Saxton Highway Electronics Laboratory has designed and fabricated a system that provides for high-speed, accurate measurement of the height and profile of overpasses. This laser-based system can be easily mounted on any vehicle and can measure a maximum distance of 15 m with a resolution of 0.254 cm. A wheel sensor provides continuous timing signals to synchronize the laser scanner output with the vehicle distance traveled, thereby producing a precise profile of the underside of an overpass. The Structures Division requested this system to provide them with an accurate, fast, and safe method for measuring the height and providing a profile of the underside of bridge overpasses.
The system consists of a laser sensor, a microprocessor-based data acquisition unit, a wheel sensor, and a portable laptop computer for data retrieval and storage. The microprocessor combines height measurement from the laser scanner with distance measurement from the wheel sensor and processes these two parameters in real time. This technique results in immediate height and profile measurements of bridge overpasses at maximum highway speeds. Future plans include designing the system to be self-contained with the addition of an internal user interface and removable memory storage, thereby eliminating the need for a laptop computer.
-- Ken Moore, (202) 493-3277.
ALERT PROJECT TEAM HONORED AS INNOVATORS
---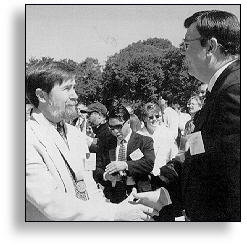 Joe Toole (l), Director of OTA, re-
ceives award from David Allison (r), Chairman, Division of Information Technology and Society, National Museum of American History, Smithsonian Institution.
The ALERT (Advanced Law Enforcement and Response Technology) project team recently were honored during the Computerworld Smithsonian Awards Program. The ALERT program is developing a computer-based system for controlling vehicle functions, communications, and digital information system management for numerous public safety vehicle operations.
The project team is composed of representatives of FHWA's Office of Technology Applications (OTA), Texas Transportation Institute (System Developers), Texas Department of Public Safety, and College Station Police Department.
The awards program is a public/private partnership established by leaders of the information technology industry to further the goals of the Smithsonian Institution, and to seek out, honor, and promote the achievements of those who have used information technology for the benefit of humankind. Innovators in the use of information technology are nominated to the Smithsonian Institution by representatives from leading technology companies for both their worthiness for inclusion in the Smithsonian's permanent research collection and for the quality and impact of their work.
The ALERT team was nominated by Epson America, Inc. The ALERT project will now become part of the Permanent Research Collection on Information Technology in the Smithsonian Institution's National Museum of American History.
-- Dave Smith, (202) 366-6614.