Table of Contents
IHSDM-Technology Sharing Sessions
Safety of Interchange Ramps
LTPP's Next Decade Challenge
Looking for Tiny Bubbles
What's New with PONTIS
Bridge Load Testing in Alaska Sets Technology in Motion
FHWA Releasing Highway Finance Publication.
Highway Performance Monitoring System and TEA-21: Quality of Highway Data Now More Important Than Ever
Groundbraking Technology
Highway Community Gathers to Examine Innovative Contracting
FHWA Sponsors International Transportation Essay Competition
Eisenhower Fellowships Help Upgrade the Transportation Community
SAFETY
---
IHSDM-Technology Sharing Sessions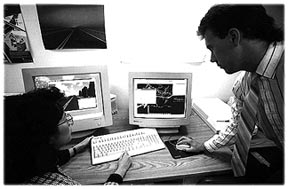 On May 15, Ray Krammes and Greg Giering from FHWA's Safety Design Division demonstrated FHWA's Interactive Highway Safety Design Module (IHSDM) to over 30 New York State DOT employees in Albany, NY. The IHSDM, a software program developed to assist engineers in evaluating the safety of new or existing roadway designs, is currently in a prototype-stage with additional modules being developed. Beta testing for the software will start in 1999, the full module is scheduled for release in 2002.
"We're at a point where we want to talk with the potential user in order to ensure that it meets the user's needs," says Krammes. The software identifies safety-related problems in roadway design and provides possible solutions for safety decisions faced by the designer. The demonstration shows the potential user how the program works and solicits input on application and user-friendliness. As Krammes puts it, "We want to know: Are we answering the right questions? Are there other questions to answer?"
Since October 1997, Krammes has led four similar demonstrations in Oregon, Washington, Maryland, and Pennsylvania. Future demonstrations are planned in Illinois, North Carolina, and Georgia.
The New York event was sponsored and coordinated by FHWA's New York Division. Attendees included transportation safety engineers, highway design engineers, and transportation planners. In addition to the State demonstrations, FHWA's Office of Safety and Traffic Operations R&D has distributed an IHSDM CD-ROM to FHWA field offices to share with their State and industry partners.
- Ray Krammes, (202) 493-3312, ray.krammes@fhwa.dot.gov
Safety of Interchange Ramps
During the 1970s, research showed that interchange ramp crashes could be reduced if geometric and other ramp improvements were made. A new FHWA report updates these findings and gives highway engineers statistical models they can use to assess the benefits and determine optimum lengths of acceleration and deceleration lanes. The new findings also enhance the state-of-the-art and will expand the Interactive Highway Safety Design Model (IHSDM).
The new report Statistical Models of Accidents on Interchange Ramps and Speed-Change Lanes (FHWA-RD-98-106) explores relationships between traffic accidents, interchange ramp geometric design, and traffic volumes. Relationships in the form of statistical regression models are useful in evaluating the impact of various design elements and determining beneficial ramp improvements. Several accident models were developed for total accidents and injury accidents of various ramp categories: ramp proper segments; ramp proper segments-off-ramps only; entire ramps; entire ramps-off-ramps only; speed-change lanes; entire ramps and adjacent speed-change lanes combined; and selected urban off-ramps
Prior findings are confirmed in this new research.The best models obtained for predicting accident frequencies are for entire ramps and adjacent speed-change lanes combined.To order the report, please fax your request to the R&T Report Center at (301) 577-1421.
- Joe Bared, (202) 493-3314, joe.bared@fhwa.dot.gov
PAVEMENTS
---
LTPP's Next Decade Challenge
Helping highway engineers and managers make decisions that lead to more durable, user-responsive, and cost-effective roadways has been the goal of the Long-Term Pavement Performance (LTPP) program since it was initiated in 1987. It has done so by collecting, processing, and analyzing data from over 2400 test sections throughout North America. The data provides the highway community with the most comprehensive source of information on pavement performance in the world.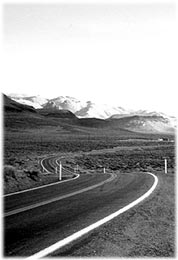 Today, as it enters its second decade, LTPP is challenged to build on this formidable knowledge base to provide the next set of informational tools the highway community needs to leverage and protect the investments it has made over the past decade.
To keep the highway community apprised of the efforts currently underway, LTPP recently published a document entitled, LTPP: The Next Decade. The new 12-page document provides a concise overview of where the program is at today, where it is going, and how it plans to get there. Published in May, 1998, the publication is available from FHWA's TFHRC's web site at http://www.tfhrc.gov/pavement/decade/decade.htm.
- Charlie Churilla, (202) 493-3142, charlie.churilla@fhwa.dot.gov
STRUCTURES
---
What's New with PONTIS
The District of Columbia, Puerto Rico, Los Angeles County, New Jersey Turnpike, Sacramento County, and 38 States are currently using the Pontis bridge management software program to prepare budgets and programs for maintaining and improving their inventory of structures. The new release of Pontis, version 3.4, is available in both 32- and 16-bit versions for Windows NT 4.0, which is the officially supported platform, and Windows 95. They can be ordered from the American Association of State Highway Transportation Officials (AASHTO) at (202) 624-5821.
Using an FHWA-developed module written in Visual Basic, version 3.4 better integrates the National Bridge Inventory (NBI) translator program which converts Pontis bridge element data to NBI condition data. The translator process operates smoother than the existing DOS implementation, which does not work properly in a 32-bit environment.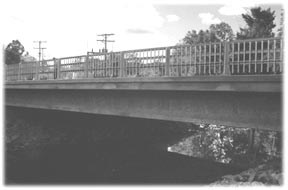 A health index report developed by the Caltrans Office of Structures Maintenance is included with version 3.4. The health index provides a convenient measure of present and future bridge value based directly on element condition data. The index provides a shorthand indicator of the effectiveness of a proposed bridge program at the network level and a consolidated indicator of an individual bridge's condition.
A Technical Advisory Group has been formed by AASHTO to prepare a work plan for the development of Pontis 2000. This release, planned for 1999, will upgrade the entire project planning and tracking system. The primary objective of the new Pontis project module will be to simplify the initiation, tracking, and data collection procedures so that the simulations, project lists, and data required are more realistic and usable.
- George Romack, (202) 366-4606, george.romack@fhwa.dot.gov
FHWA Releasing Highway Finance Publication.
To provide valuable information on State and Federal laws regarding the taxation of motor fuel, motor vehicles, motor carriers, and drivers' licenses, and the distribution of these taxes and fees, FHWA recently released Highways Taxes and Fees-1998. This biennial publication also shows the use of other State taxes for highways and the involvement of Federal agencies and Federal funds in highway activities. The information presented is based on data obtained from State authorities and the laws of the various States. The publication is being shared with States and other transportation agencies through FHWA field offices, and should reach readers later this month. It may be ordered through the Office of Highway Information Management or via www.fhwa.dot.gov/ohim/ under "what's new."
- Mike Neathery, (202) 366-0170, mike.neathery@fhwa.dot.gov
Bridge Load Testing in Alaska Sets Technology in Motion
Determining the load capacity of a bridge is an expensive and time-consuming operation. It requires installing conventional instrumentation to monitor the status of a bridge under a test. Using state-of-the-art technology such as the laser radar and wireless data acquisition systems currently being developed and tested by FHWA, this task can be performed much faster.
These technologies were field-tested last month in Juneua, Alaska, by FHWA's Nondestructive Evaluation (NDE) team and the Alaska Department of Transportation & Public Facilities (AKDOT & PF). The laser radar and the wireless data acquisition systems were used to determine the load distribution factors of the Sheep Creek Bridge. The laser was able to measure bridge deflection for 11 different points on each of the five bulb-T prestressed concrete girders. This was done from a maximum distance of 30 m without the use of any type of target on the structure. The wireless data acquisition system was used to collect strain gage data during the test. The team also field tested two fatigue crack detection systems on the Fish Creek Bridge.
These field tests not only set technology in motion but also provided valuable information on field operations. State engineers gave important feedback on how these new technologies can be used to solve real world problems. This also gave the AKDOT & PF an opportunity to compare the results obtained by using current instrumentation to those obtained by using FHWA's latest NDE technology.
- Glenn Washer, (202) 493-3082, glenn.washer@fhwa.dot.gov
Looking for Tiny Bubbles
Can bubbles make concrete stronger? If they can, how can you tell if you have enough bubbles in your mix before your concrete hardens? Indeed, the ability of concrete to survive cycles of freezing caused by deicer salts is improved by creating a system of tiny air bubbles in the freshly mixed concrete. In the hardened concrete, the voids left behind by the air act as "shock absorbers" to protect the hardened concrete when water freezes and expands in the mortar. The effectiveness of the protection is a function of the size and spacing of the original air bubbles.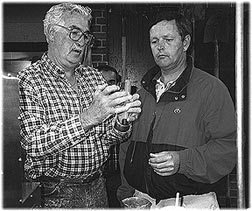 Traditional quality control methods use a pressure meter to measure the total amount of air in fresh concrete, but the critical information on bubble size and spacing can not be determined until the concrete hardens and can be examined under a microscope. By the time this examination can be done it is too late to correct any problem in the pavement or bridge deck. A device, known as the Air Void Analyzer (AVA), is being evaluated by FHWA's Office of Technology Applications (OTA) and other organizations to determine if it can be used effectively as a field quality control tool. The AVA not only measures the amount of air in the fresh concrete, but also provides information about the bubble size and spacing.
How does the AVA work? Air, developed in the fresh concrete by air entraining agents, is released into a viscous liquid in the AVA. The air bubbles retain their original size, and neither coalesce nor disintegrate in the liquid. The bubbles rise through the liquid at a rate dependent on their size. After rising through a water column over the viscous liquid, the air bubbles are collected under a buoyancy recorder. The AVA's computer keeps track of time and the amount of air trapped in the chamber. This information is used to prepare a test report detailing air content, size distribution, and spacing.
As part of the ongoing evaluation, FHWA's AVA device is on loan to the Maine Department of Transportation (MDOT). Their technicians will use the AVA on several construction projects this summer and prepare an evaluation report for FHWA. The effort began on April 14 when the FHWA device was delivered to the Maine DOT concrete laboratory in Bangor. OTA personnel conducted a two-day, hands-on, familiarization session for MDOT personnel at the laboratory. Several batches of concrete were mixed in the laboratory. MDOT personnel obtained air content measurements using a conventional pressure meter, then used the AVA to obtain air content and air bubble data. Since this session, MDOT has used the AVA at a bridge construction site near Bath, Maine.
- Jon Mullarky, (202) 366-6606, jon.mullarky@fhwa.dot.gov
POLICY
---
Highway Performance Monitoring System and TEA-21: Quality of Highway Data Now More Important Than Ever
With the passage of TEA-21, data from the Highway Performance Monitoring System (HPMS) has become an even more important indicator of the condition and performance of our Nation's roadways. HPMS data is already incorporated in products such as the Biennial Conditions and Performance Report. Under TEA-21, HPMS and motor fuel data will now be used to calculate funding for the National Highway System (NHS), Interstate Maintenance (IM), Surface Transportation Program (STP), and Highway Safety 402 Program categories. HPMS will provide data regarding lane miles and vehicle miles travel (VMT). Accurate data thus becomes a more critical component for the States in determining their respective potential share of Federal highway funds to be apportioned annually as a result of passage of TEA-21.
FHWA's 1999 Performance Plan also outlines the importance of indicating hours of delay as a measure of congestion and the International Roughness Index (IRI) as a measure of pavement condition. The need for more accurate and timely HPMS data to estimate delay and measure IRI will broaden FHWA involvement with the State DOTs to ensure that quality data for these important indicators are being produced. Increased coordination between FHWA and the State DOTs will be critical for ensuring that our enhanced data needs and agency responsibilities to Congress and the public are being performed well. Additional emphasis on HPMS by FHWA Division staff and increased scrutiny of the accuracy of HPMS data will be needed as part of our agency role of being stewards to an increasingly important HPMS data program.
- Rick Backlund, (202) 366-5035, richard.backlund@fhwa.dot.gov
MOTOR CARRIERS
---
Groundbraking Technology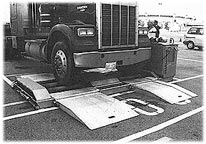 Identifying weak or defective brakes on commercial motor vehicles needs to be done efficiently, objectively, and consistently in order to provide the greatest degree of safety. FHWA's Office of Motor Carriers recently completed field testing of performance-based brake testers (PBBTs) and developed criteria that help provide an objective, consistent, and standard measure of the as-is braking performance of a vehicle. The research report, Development, Evaluation, and Application of Performance-Based Brake Testing Technologies, is now available from the National Technical Information Service.
Current inspection procedures for commercial motor vehicles require an inspector to get underneath a vehicle to perform a sensory inspection of the vehicle's brakes. PBBTs can measure safe stopping capability at the roadside and in the shop, and are conducted without requiring an inspector to crawl beneath a vehicle.
Researchers evaluated several PBBTs in this study, including roller dynamometers, flat plate testers, and breakaway torque testers. Inspectors performed a visual inspection and a PBBT assessment on 2,865 vehicles in 10 different states. Researchers developed performance-based brake evaluation criteria based on the results of this field test data. The results were compared to determine the difference in brake defect rates between visual and performance-based inspection techniques. The overall agreement for defective brakes ranged from 52 to 88 percent, primarily because visual inspection is qualitative and subjective, and the PBBT assessment is quantitative and objective.
Further research on the benefits and uses for PBBT technology is underway. While PBBTs will not replace the visual inspection process, they do provide an additional tool for assessing braking capability. The research suggests that simultaneous use of both technologies will help drivers, inspectors, and maintenance personnel maintain and operate a safer vehicle.
- Steve Keppler, (202) 366-2978, stephen.keppler@fhwa.dot.gov
INTERNATIONAL
---
FHWA Sponsors International Transportation Essay Competition
FHWA is proud to be the United States sponsor of the World Road Association's International Essay Competition: Infrastructure and Transportation for the 21st Century. the competition's purpose is to stimulate new ideas in response to the challenge of the world's transportation demands in the 21st century. This essay competition will test the skills and imagination of today's upcoming transportation graduate students and young professionals and place them among their peers from around the world.
The contest is a component of the U.S. Department of Transportation's Garrett A. Morgan Technology and Transportation Futures Program.
The worldwide sponsor of the competition, the World Road Association (formerly Permanent International Association of Road Congresses--PIARC) is a global organization of member countries and regional transportation authorities. It facilitates the communication of experiences and best practices for the future of roads in transportation.
Graduate university students and non-Federal transportation professionals with no more than 10 years working experience are invited to submit essays in this international contest. The winner of the competition in the United States will be awarded a trip to attend the World Road Association Congress in Kuala Lumpur, Malaysia in October, 1999. The essay will be published in a future issue of Public Roads magazine.
Essays should present multimodal, multidisciplinary approaches to transportation and infrastructure challenges that can be applied around the world. The deadline for essay submission is October 31, 1998. For complete information about this competition see www.international.fhwa.dot.gov.
- Sherif Gamal, (202) 366-2155, international@fhwa.dot.gov
TECHNOLOGY TRANSFER
---
Eisenhower Fellowships Help Upgrade the Transportation Community
Under a Graduate Research Fellowship, Eyad Masad was able to quantify aggregate structure, aggregate orientation, and void distribution of asphalt mixes at different stages of compaction in TFHRC's Superpave Gyratory Compactor. Masad's research involved the use of digital image analysis to evaluate the internal structure of asphalt concrete specimens. His work included comparison of cores made in the laboratory with those compacted in the field. The Simulation, Imaging, and Mechanics of Asphalt Pavement (SIMAP) team will continue his research in developing the scientific basis underlying the mix design process and establishing criteria to predict pavement performance.
Masad's research is just one contribution from the 120 Eisenhower Fellowships to students and faculty across the country that were made as part of a congressionally mandated program that began in 1992. The purpose of these grants is to attract the Nation's greatest thinkers to careers in transportation.
- Harayo Nakashima, harayo.nakashima@fhwa.dot.gov
Highway Community Gathers to Examine Innovative Contracting
The first national symposium on innovative contracting was held on April 14 and 15 in Orlando, Florida. FHWA and AASHTO sponsored the 1998 Symposium on Innovative Contracting which was a tremendous success, attracting more than 200 professionals from 28 different State transportation agencies, FHWA, consultants, contractors, and highway industry associations.
The symposium provided a national forum for highway industry representatives to express their opinions concerning the advantages, limitations, and potential disadvantages of innovative contracting techniques. FHWA, State DOTs, and industry presented examples of how well they cooperated to implement non-traditional contracting techniques. Participants discussed past successes and failures, present trends, and future directions for innovative contracting.
A summary of the Symposium presentations and individual copies of presentations are available on the Internet at www.technautics.com/Orlando98.
- Gerald Yakowenko, (202) 366-1562, gerald.yakowenko@fhwa.dot.gov