Table of Contents
Tired of Waiting at Red Lights
A Meeting Worth Its Salt In Utah
The Revised Monograph On Traffic Flow Theory
Keeping Customers Informed
Are Structures Gone With The Wind?
Initiative Underway on Long-Term Durability Modeling
High Durability Of Moisture-Cured Urethanes On Steel Bridges
FHWA/NHTSA Team Is Awarded For Being Up To Speed
ACI Honors FHWA's Dr. Forster
Assessing Pavement Management Software
What Pavement Management Software Will Work For You
Colorado Scores First TERP
Information On Estimating Local Government Highway
ITS
---
Tired of Waiting at Red Lights?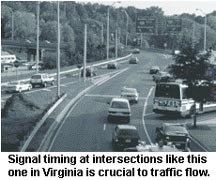 Waiting at red lights is a fact of life for most Americans. Being delayed at a red light can be the result of unusual traffic demand due to an incident or event. However, the delay is most likely the result of outdated signal timing plans. Regardless of the reason, this wasted time costs the traveling public money in lost wages, fuel use, and environmental degradation.
To help, there are now available a multitude of cost effective signal timing optimization programs with the most common being PASSER II and TRANSYT-7F, developed by the Texas Transportation Institute (TTI) and the University of Florida, respectively. The programs assist transportation professionals in creating and updating more efficient, coordinated signal timing plans.
Traditionally there are a variety of ways to coordinate traffic signals along an arterial or in a grid pattern. The simplest form is a time clock, which will match a timing plan with appropriate time of the day, e.g., a.m., p.m. or off peak conditions. With the advent of microcomputers, time clocks as supervisory equipment are considered less effective, since such devices are unable to adjust the system operation to fluctuating traffic demands. Regardless of the hardware, any system is highly dependent on the timing plans it contains. Therefore, timing plans need to be reviewed periodically to ascertain their validity. Updating signal timing plans can be expensive. However, when considering the cost incurred by the motorists in the form of stops and delay, updating timing plans provide very high benefit to cost (B/C) ratios. Studies around the Nation have demonstrated that B/C ratios as high as 30 to 1 are common. TTI estimates that it costs between $500 and $1,000 to update a timing plan. These updates require data collection of volume and turning movements for each condition (a.m. peak, off-peak, p.m. peak, special event, etc.) and analysis of the data to determine the optimum cycle length, splits, and off-sets for each signal. Doing these updates manually, particularly in an optimized closed loop system, is tedious and time consuming.
PASSER II works to make the "green band" as wide as possible to get as many vehicles through the mainline as possible, thus, minimizing the stops and delays for the traffic on the mainline. TRANSYT-7F attempts to balance the number of stops and delays on both the mainline and the surface street, thereby minimizing overall stops and delays. Both programs are available through McTrans, (904) 392-0378, for under $500, the annual cost of maintenance for one signal.
- Debbie Curtis, (202) 493-3180, deborah.curtis@fhwa.dot.gov
A Meeting Worth Its Salt in Utah
Salt Lake City, Utah, provided a scenic backdrop to a week of spirited meetings and gatherings. The FHWA Annual Meeting, AASHTO Annual Meeting, Technology Transfer Fair, and the National Quality Initiative (NQI) Conference all dovetailed the week of November 13-18. The theme of the gathering, Pioneers at the Crossroads, reflected anticipation of dynamic discussions related to the reauthorization of ISTEA. FHWA's Utah Division, the Region 8 office, and Utah DOT coordinated the many activities orchestrated for the 1,700 participants - the largest attendance at this meeting to date.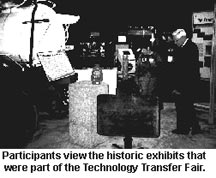 The Technology Transfer Fair has been a regular component of this event since 1991, directing displays of innovative technologies, services and systems toward decision makers in State highway and transportation agencies. An impressive tie to this year's historic theme used antique memorabilia to link today's innovations to yesterday's energy and vision. The Utah Historical Society provided a walk-through presentation called "Trails Through Time," interspersed with FHWA's miniature models of vintage transportation vehicles and equipment. Full-size antique machines on display included a horse-drawn water wagon, road grader, and belly dump, providing an informative glimpse into Western transportation history.
Among the exhibiting companies and State offices were several U.S. DOT agencies including Federal Transit Administration, Federal Railroad Administration, National Highway Traffic Safety Administration, Bureau of Transportation Statistics, and FHWA. FHWA's Pavilion featured displays of innovative construction materials and test methods, dynamic outreach programs, training opportunities, and access to Web site databases. FHWA field offices presented software modeling system demonstrations and discussions about ongoing projects. Staff was on hand to discuss the Intelligent Transportation Initiatives, the Priority Technologies Program, which displayed examples of field-based technology transfer, and the completed NQI meeting on quality practices in the organization.
Rodney Slater, Secretary Transportation, met with a group of students touring the FHWA Pavilion. They were brought through the Technology Transfer Fair as part of the circuit of activities planned within the Garrett Morgan Futures Program and were eager to see career opportunities in the transportation field presented in such an exciting venue.
- Martha M. Soneira, (202) 366-8029, martha.soneira@fhwa.dot.gov
The Revised Monograph on Traffic Flow Theory
The most up to date and unique compilation of knowledge in the field of traffic flow theories makes up the Monograph on Traffic Flow Theory. This report is an update and expansion of the Transportation Research Board (TRB) Special Report 165, Traffic Flow Theory, published in 1975. The new version can now be viewed online at www.tfhrc.gov/safety/safehome.htm/.
While the general philosophy and organization of the previous report has been retained, text for the new Monograph has been completely rewritten and two new chapters have been added. The primary reasons for doing such a major revision were to bring the material up-to-date, include new developments in traffic flow theories (e.g., network models), ensure consistency among chapters and topics, and emphasize the applications or practical aspects of the theory.
To ensure the highest degree of reliability, accuracy, and quality in the content of this report, the collaboration of a large number of specialists was enlisted.
Updating the earlier manual was undertaken on recommendation of the Transportation Research Board's (TRB) Committee on Traffic Flow Theory and Characteristics. FHWA funded the project to write this report via an Interagency Agreement with the Oak Ridge National Laboratory (ORNL). The project was carried out and edited by Dr. Nathan H. Gartner, Dr. Carroll J. Messer, and Dr. Ajay Rathi under supervision of an Advisory Committee consisting of Mr. Richard Cunard from TRB, Dr. Henry Lieu from FHWA, and Dr. Hani Mahmassani from the University of Texas at Austin.

This report presents their cooperative efforts. We believe that a serious and commendable effort has been made by the contributing authors and reviewers to present the fundamental traffic flow theories and information that will have enduring value. The report should be useful to the intelligent transportation community, graduate students, researchers and practitioners, and others in the transportation profession.
- Henry C. Lieu, (202) 493-3273, henry.lieu@fhwa.dot.gov
INTERNATIONAL
---
Keeping Customers Informed
FHWA's Office of International Programs started the new year with the launch of a Web site to keep its customers informed about international road technology and policy issues. The Web site (www.international.fhwa.dot.gov) highlights FHWA's international activities and how they support road transportation in the United States and abroad.
Access to international road transportation information has generally been fragmented, and this site consolidates many of those resources in one place for transportation professionals interested in what's happening beyond our borders.
Among the key features of the site are extensive, geographically-organized links to road transportation Web sites around the world. A search engine allows browsers to search by topic or key word. The site has a database calendar of international road-related meetings and conferences. Both of these features allow browsers to submit links or meeting information to the Web site. Publications issued by the Office of International Programs can be ordered on-line, and eventually viewers will be available for full-text downloading.
- Sherif Gamal, (202) 366-2155, international@fhwa.dot.gov
STRUCTURES
---
Are Structures Gone with the Wind?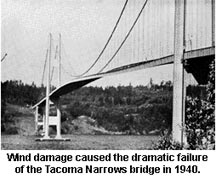 A total of more than $30 billion in all physical losses, including indirect losses from storm surge, were reported for Hurricane Andrew. Of this, $15 billion in structural losses were recorded. Annual structural losses due to other high-wind events, such as tornadoes, thunderstorms, hurricanes, etc., exhibit an alarming upward trend. This combined with a significant annual loss of lives and a possibility for an increased wind activity due to climate change point toward the need for better understanding of wind and its effects on structures, and development of more effective wind mitigation practices.
Recent technological advances in instrumentation, data processing, simulation, and computer modeling provide new tools for civil engineering research and development (R&D). An effort has been initiated in TFHRC's Aerodynamics Laboratory to incorporate these new technologies in addressing wind effects on long-span bridges and other highway structures. The initial phase of this effort has been focused on processing field and laboratory data using novel tools of analysis, numerical modeling of the aerodynamic forces on generic geometries of decks of long-span bridges, and a pilot study of the application of active control to mitigate the wind-induced response of bridges.
Novel tools employed in data processing include local filtering and extreme structural response analysis using wavelets, data compression and pattern recognition for wind and wind loading using proper orthogonal decomposition, and investigation of the data self-similarity using fractal analysis. Large eddy simulation was combined with finite element discretization and it was implemented on a supercomputer in numerical simulation of wind flow past generic bridge decks. An experimental driving-control system was developed for wind tunnel testing of effectiveness and robustness of various control strategies for mitigation of wind induced structural response of bridge towers and decks. Progress to date on the above research topics is very encouraging.
It is expected that new technologies of direct application by the highway structural community, many extending beyond wind issues, will be developed as a result of the initiated R&D effort. As we are approaching the next millennium, it is critical that new tools be developed to enable improved and more cost-effective solutions to problems caused by high winds.
- B. Bienkiewicz, bogusz.bienkiewicz@fhwa.dot.gov
Initiative Underway on Long-Term Durability Modeling
The Engineering Directorate of the National Science Foundation (NSF) announces a collaborative research initiative on the long-term durability of materials, machines, and structures. The focus is on innovative accelerated tests and modeling of deterioration behavior, which will enable reliable prediction of long-term performance from short-term tests. A goal of the initiative is to provide close links between basic research and engineering applications in the field of deterioration science by coordinating research efforts and combining resources from a number of agencies including FHWA and several State DOTs as well as other agencies on a case-by-case basis in terms of co-funding and utilization of testing facilities. Researchers are encouraged to visit the NSF Web site at www.eng.nsf.gov/programs/nsf98-42.htm for instructions and any update on this initiative.
- Jim Cooper, (202) 493-3023, jim.cooper@fhwa.dot.gov
High Durability of Moisture-Cured Urethanes on Steel Bridges
New moisture-cured (MC) urethane coatings tested at TFHRC exhibit high corrosion resistance and are excellent barrier coatings for steel. MC-urethanes are formed by the reaction of isocyanates with the moisture in air. The MC-urethanes provide users with easy application properties such as single package, longer pot life, fast topcoating, low temperature, and high humidity applications. In the last decade, these coating materials have been applied on many steel bridges either for new steel or overcoating purposes in this country.
The performance of three different MC-urethane systems (A B C) with zinc-rich primers on new steel (SSPC SP-10 steel surface) was evaluated by the TFHRC accelerated laboratory test method. After the 4,000-hour test, including freeze, ultraviolet-light/condensation, and salt-fog/dry-air cycles, all the systems performed extremely well with no observable surface failures. When an intentional scribe (i.e. scratch) was made on the steel and then exposed to the 1500 cyclic laboratory test, all three systems developed rust creepage at the scribe. Furthermore, the systems applied on the chloride-contaminated (20 mg/cm2, typical chloride concentration after blasting) steel surfaces developed larger rust creepages than those applied on the chloride-free steel surfaces; these performance differences can be seen by comparing the plotted lines in figure 1 and 2. The detrimental effect of the contaminated chloride level is significant, especially for Product C.
The development of scribe creepage implies this type of coating may not be the best performer for areas prone to coating failure and damage, such as edges, joints, and bearings. However, the MC-urethane coating systems performed much better than acrylic and epoxy mastic systems. Variations in performance of these different MC-urethane products were found to be caused by their different chemical compositions with well graded zinc particles performing best. This suggests that material testing and quality control are essential prior to product selection. The research results were presented at the 1997 SSPC Conference at San Diego, California, in November and in a full report to be published by TFHRC later this year.
- Shuang-Ling Chong, (202) 493-3081, shuang-ling.chong@fhwa.dot.gov
FHWA/NHTSA Team is Awarded for Being Up To Speed
The joint FHWA/NHTSA Speed Management Team has been providing outstanding service as an intermodal safety team to DOT customers following the repeal of the national maximum speed limit. To reward them, the NHTSA Administrator's Award for Superior Achievement (Team) was presented to team members at the NHTSA Administrator's Awards Ceremony on December 4. The team is composed of representatives of FHWA's Offices of Highway Safety, R&D, Motor Carrier Safety and Technology, and Motor Carrier Planning and Customer Liaison; and NHTSA's Offices of Traffic Injury Control Programs, Research and Traffic Records, and the National Center for Statistics and Analysis.
- Janet A. Coleman, (202) 366-4668, janet.coleman@fhwa.dot.gov
ACI Honors FHWA's Dr. Forster
Dr. Stephen Forster has been selected as a Fellow of the American Concrete Institute (ACI). Every year, ACI selects a few individuals among its 18,000 members residing in over 100 countries to receive this award. Winners must have made outstanding contributions to the field of concrete design, construction, materials, education, and certification.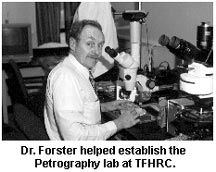 A research geologist in FHWA's Special Projects and Engineering Division, Dr. Forster is currently leader of the Concrete and Aggregates team which is responsible for research on aggregates and portland cement concrete used for the construction, repair, and rehabilitation of the Nation's highways. In addition, he is the project manager for FHWA's Project E-2, currently studying alkali-aggregate reactivity, concrete freeze/thaw durability, and the development of high-performance concrete. He is active in Transportation Research Board and American Society for Testing and Materials, and chairs ACI Committee 221 on aggregates.
Dr. Forster serves as FHWA's headquarters expert on performance, distress, and durability of portland cement concrete and aggregate. As such, he is readily available to other headquarters offices, FHWA field offices, and State highway agencies, to discuss problems, evaluate samples, or visit field sites to assist others in the search for viable solutions to concrete-related problems.
- Haruyo Nakashima, haruyo.nakashima@fhwa.dot.gov
PAVEMENTS
---
Assessing Pavement Management Software
New Visual Modeler software will assist decision makers in analyzing the performance of pavement networks. The software was demonstrated on December 5 in Baltimore to representatives from 11 pooled fund States (PA, SC, WI, MN, FL, NE, NC, AZ, CA, ID and OH). Not only were these folks pleased by the software's performance, they loaded it immediately onto their laptop computers. The software can store, retrieve and process pavement related condition and inventory data of almost any type.
The key process behind the Visual Modeler software is its ability to specify which types of data you can use to build models. The system is quite flexible, it can be used to access the Long-Term Pavement Program (LTPP) database via the DataPave software and can analyze many types of State pavement performance databases. The software is in the public domain, and plans will be made to distribute it through FHWA.
The Visual Modeler system was tested within the Penn DOT pavement management system. It was shown to be effective for developing models at the network level. The engineer using this software can create reasonable performance models without an extensive knowledge of statistical analysis.
Some of the major features of the Visual Modeler (release 2.0) are a drag and drop import interface; group and segment models; access to the LTPP database through the FHWA's DataPave software (scheduled for release in January); the development of customized performance indexes for defining up to 10 separate performance measures; extensive graphing capabilities; an automatic software setup during the import process to quickly analyze your data; and a customized setup of performance classes so you can analyze your data from many viewpoints.
- Mark Swanlund, (410) 962-0077, mark.swanlund@fhwa.dot.gov
What Pavement Management Software Will Work For You?
Pavement management is a job that requires collecting a lot of data and careful record keeping. Databases can ease this process significantly, but many highway agencies are in the dark about which kind of database will best serve them. There are so many categories of data needed to run an effective pavement management system (PMS) that not all software will provide what the user is seeking.
Recently, FHWA published the Catalog of Selected Pavement Management Software for Local Transportation Agencies as a guide with specific information on the current pavement management system database software programs available. The catalog grew out of a course called "Pavement Management for Local Agencies" developed for FHWA by the Texas Transportation Institute (TTI). The catalog gives road managers a good overview of what kinds of features are offered in PMS software programs, though it does not list every product on the market.
The catalog provides information to a variety of users at different levels of highway maintenance planning. Using the catalog, road managers can find pavement management system programs that work for the various needs of their agencies. The catalog is effective in taking the guesswork out of buying the right software, saving agencies time and money.
- Celso Gatchalian, (202) 366-1342, celso.gatchalian@fhwa.dot.gov
ENVIRONMENT
---
Colorado Scores First TERP Project
The first project under FHWA's new Transportation Environmental Research Program (TERP) has been awarded to the University of Colorado at Denver. Investigators at the university plan to study "Watershed Modeling of Gasoline Oxygenates Used in Transportation." More specifically, the researchers hope to evaluate the impact on groundwater supplies of oxygenates used in gasoline to mitigate air pollution. Several oxygenates, especially methyl tertiary butyl ether, commonly known as MTBE, have been detected in public drinking water sources; the human health effects of MTBE are unknown but are themselves undergoing intense research.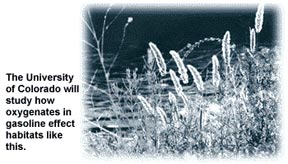 The Colorado team plans to develop a model that links traffic flow along watershed roadways, the resulting airborne emissions of MTBE, soil deposition, and groundwater infiltration of MTBE. The researchers also plan to explore the impact of watershed vegetation on biodegradation of MTBE.
As one of the first proposals submitted under TERP, the Colorado research was granted by the agency's Office of Contracts and Procurement in early September. Colorado's project is one of eight proposals already submitted under the program, developed as a multi-year effort. Colleges and universities are encouraged to explore the web site for TERP at www.fhwa.dot.gov/terp/index.htm.
- Mike Koontz, (202) 366-0639 michael.koontz@fhwa.dot.gov
POLICY
Information on Estimating Local Government Highway Bonds
Local government highway bond issues, which totaled $4.325 billion for 1995 data, constitute 11 percent of the total highway funding receipts, an important portion of local government highway revenue. Therefore, estimating local government highway bond information by State during a particular calendar year is critical information. During FY 1997, the Highway Funding and Motor Fuel Division of the Office of Highway Information Management (OHIM) entered into a research contract to produce these estimates. OHIM is sharing the resulting estimates and database with the States to help improve the quality of the local highway finance bond data. The data is located on the Internet under the OHIM Web site: cti1.volpe.dot.gov/ohim (under Reports, Products, and Publications).
The estimates are necessary for OHIM to produce a complete picture of local governments' financial involvement (revenues, expenditures, and debt) in highway activities. The research data would supplement State-reported data on local government highway bonds. For example, for six States that did not report local government highway finance for 1995, the researcher's database contained local government highway bon Id data. This allowed us to substitute the local government highway bond data in the researcher's database for these six States, instead of estimating the local government highway bond data ourselves.
The researchers surveyed a number of municipal bond information sources and discovered what they considered to be the best source for this data. Utilizing this database, researchers provided FHWA with a spreadsheet which listed all municipal bond issues by local governments for highway purposes. The data included the net proceeds from bonds and notes, debt service (interest and redemption payments), and the status of local government highway debt (opening debt, issues, redemptions, and closing debt).
- Leonard Goldberg at (202)-366-5024, leonard.goldberg@fhwa.dot.gov