Table of Contents
DataPave Unlocks a World of Pavement Performance Data
Thin Bonded Overlay Construction Offers Lessons Learned
Partnerships Strengthened at HPC Symposium
Welcome to Highway Hydraulics
Estimating Highway Usage: Exposure Data Sources Cataloged
IHSDM Group Offers Fresh Insight Into Development
Highway Safety Design Guide Gets Rewritten
U.S.-Mexico Program Improves Border Road Travel and Trade
CORSIM-A State-of-the-Best Practice for Traffic Operation Analysis
Personal Transportation Becomes Lively Topic
PAVEMENTS
---
DataPave Unlocks a World of Pavement Performance Data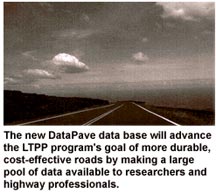 The long awaited arrival of a powerful LTPP Information Management System (IMS) data base file extraction tool is here. The first version of DataPave, a Windows 95/ NT-based CD-ROM program, has recently been beta-tested and refined. General distribution of the software will occur at the 1998 TRB meeting. DataPave was developed by ERES Consultants, Inc., for FHWA.
DataPave was created with two primary purposes in mind. First and foremost, it was designed to provide comprehensive access to information stored in tabular IMS files. It does this by allowing the user either to select a table for viewing or employ a Structured Query Language statement for various combinations of tables. This extracted data can then be exported in several formats. Secondly, it was created to provide cursory and visually stimulating LTPP information for user-selected sections. This is done through several program modules which include geographical information system-based map displays, distress and performance history graphs for multiple sections, and inventory folder displays.
A demonstration workshop is being developed to accompany the release of DataPave. Tentatively, several workshops will be scheduled for next spring in strategic locations around the States and Provinces. Also, a national (United States and Canada) DataPave contest, cosponsored by FHWA and the American Society of Civil Engineers, will be initiated next year for individuals and groups affiliated with State/Province highway agencies and universities.
- Kurt Dunn, (816) 276-2734, kurt.dunn@fhwa.dot.gov; and John Donahue
STRUCTURES
---
Thin Bonded Overlay Construction Offers Lessons Learned
FHWA has begun receiving construction reports from States that have constructed thin bonded overlay or surface lamination projects. The Thin Bonded Overlay and Surface Lamination (TBOSL) Program was funded under ISTEA Section 6005 to demonstrate technologies for rehabilitating bridge deck and pavement surfaces with improved materials. The ultimate goal is to reduce life-cycle costs of bridge decks and pavements by extending their useful life.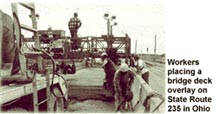 The TBOSL program is guided by a TWG composed of experts from FHWA as well as State and local Governments. Leadership of the TWG is shared by Vasant Mistry of the Bridge Division and Roger Larson of the Pavement Division. Under the program which has now been completed, the TWG has approved 29 bridge deck and 13 pavement overlay projects in 18 States. Of these, 16 bridge decks and 11 pavement projects have been constructed through mid-1997. Following the construction phase, each overlay will be evaluated for 2 to 5 years to determine the effectiveness of the methods and materials used.
One of the conditions of Federal funding of TBOSL projects is that each State will provide a report on project construction, followed by annual reports on the condition of the overlay. The TWG will distribute copies of these reports to each FHWA Regional Technology Transfer Coordinator so that evaluation results and lessons learned are disseminated as widely as possible. Construction reports have been received from Delaware, Idaho, Illinois, Iowa, Montana, Ohio, Pennsylvania, and Tennessee. As additional projects are completed, the TWG looks forward to sharing information about this useful technology with all of the States.
- Vasant Mistry, (202) 366-4599, vasant.mistry@fhwa.dot.gov; and Roger Larson
Partnerships Strengthened at HPC Symposium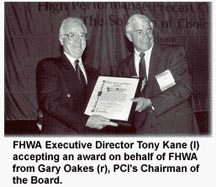 The solution of choice was the theme as more than 1,200 transportation professionals representing 22 countries met during the week of October 19 in New Orleans for the Precast/Prestressed Concrete Institute's (PCI's) 43rd annual convention, and the International Symposium on High Performance Concrete (HPC). The symposium was a joint venture between PCI and FHWA.
FHWA's Executive Director Anthony R. Kane was a key speaker for the event. Mr. Kane spoke on FHWA's partnership with the concrete industry. He also spoke on upcoming legislation and the scope of proposed long-term cooperative efforts with the industry for longer lasting concrete structures using state-of-the-art HPC technology.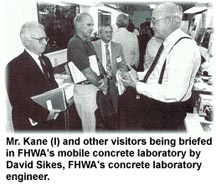 At the luncheon, Mr. Kane presented an award of appreciation to PCI's President Thomas B. Battles for the institute's outstanding support of the symposium. PCI then recognized FHWA's contributions to the promotion of HPC technology by presenting Mr. Kane with an award which he graciously accepted on behalf of FHWA. Several members of the HPC Technology Delivery Team also attended the meeting and shared in the award.
Participants were able to attend a selection of industry-related technical research and marketing sessions and management programs. More than 60 industry-leading companies filled the exhibit hall. FHWA had a booth and had its Mobile Concrete Trailer Laboratory on display just outside the exhibit hall. Both were well attended and helped foster interest in HPC, which promises stronger, more cost efficient, and longer lasting bridges.
- Suneel Vanikar, (202) 366-0120, suneel.vanikar@fhwa.dot.gov
Welcome to Highway Hydraulics
Are you a new designer who does not yet have extensive drainage design experience? Well, you'll be interested to know that FHWA has recently published Introduction to Highway Hydraulics, Hydraulic Design Series No. 4 (HDS-4), FHWA-HI-97-028. This publication replaces the 1965 HDS-4 manual, Design of Roadside Drainage Channels. It is available to the public through the National Technical Information Service by calling (703) 487-4650 and specifying that you want PB97-186761.
The HDS-4 manual is an overview of basic hydrologic and hydraulic concepts of highway drainage design. The hydrologic concepts include the rational equation and rural and urban regression equations. The hydraulic concepts also include continuity, energy, momentum, hydrostatics, weir flow, and orifice flow. Design applications and example problems are presented for both open channel flow and closed conduit flow situations.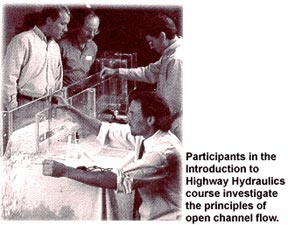 The concepts discussed in HDS-4 are presented in the new National Highway Institute (NHI) training course #13065, Introduction to Highway Hydraulics. This 4-day course includes classroom presentations, design workshops, and hands-on laboratory sessions with a portable hydraulic flume. During the lab sessions, hydraulic concepts are demonstrated and course participants measure flow depth, velocity, and discharge for use in design calculations.
- Jorge Pagan-Ortiz, (202) 366-4604, jorge.pagan@fhwa.dot.gov
SAFETY
---
Estimating Highway Usage: Exposure Data Sources Cataloged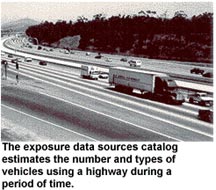 To design better roads, safety researchers need to know who is using the highway and how much it's being used (e.g., average daily traffic, number of trips). Called exposure data, sources for this data are varied. A new report, Exposure Data Sources Catalog for Safety Analysis (FHWA-RD-97-025), now available summarizes and evaluates various exposure data sources.
The report highlights the range of exposure data sources that are available and gives highway safety researchers information to assess the feasibility of using exposure data sources in designing highway safety evaluation studies. Both traditional and non-traditional exposure data sources are reviewed. The report provides 1-page summaries for each exposure data source. A longer description covers the purpose of the collection, contents, period covered, sample design, data collection methods, sample size, data quality, data format, possible cautions in using the exposure data, and availability of the data.
The traditional data sources reviewed are the Highway Performance Monitoring System, Highway Safety Information System, Long-Term Pavement Performance (LTPP) Monitoring System, Nationwide Personal Transportation Survey, National Truck Trip Information Survey, Operational Exposure Data Sources, Residential Transportation Energy Consumption Survey, Truck Inventory and Use Survey, and weigh-in-motion devices. Two non-traditional data sources were reviewed for possible use in deriving exposure estimates: intelligent transportation systems and transportation planning surveys. Copies of the report are available from FHWA's R&T Report Center, (301) 577-0906.
- Joe Bared, joe.bared@fhwa.dot.gov
IHSDM Group Offers Fresh Insight Into Development
How do you know if your R&D project will, as a final product, meet the needs of the targeted end-users? As a means of answering this question, the Safety Design Division at the Turner-Fairbank Highway Research Center (TFHRC) has formed a Technical Working Group (TWG) of State and Federal DOT officials from around the country. The TWG periodically evaluates one of FHWA's major safety research programs, the Interactive Highway Safety Design Model (IHSDM).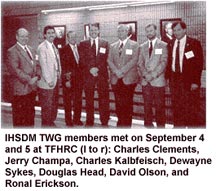 At the most recent IHSDM TWG meeting, members directed much of their attention to the potential and practical benefits of IHSDM for the Nation's roadway planners and designers, for whom IHSDM is ultimately intended. As officials involved in transportation applications at the State level, the TWG members offer a unique perspective on IHSDM as an effective tool for designing safer roads and highways.
Now in prototype development, the IHSDM will give highway planners and designers the opportunity--within a Computer-Aided Design environment--to quickly evaluate the safety implications of alternative highway designs from the planning through the final design stage.
The IHSDM TWG is represented by the State DOT's of Arkansas, California, Illinois, Minnesota, North Carolina, Washington, and West Virginia, as well as FHWA's Region 8 office and Indiana division office. Regarding the beneficial value of the TWG to IHSDM's progress, the FHWA staff involved in developing IHSDM state, "The TWG members provide very helpful insight as we move forward with IHSDM. Member assessments of the program assist us in assuring that IHSDM stays on track in giving maximum benefit when it is finally made available to roadway planners and designers."
- Justin True
Highway Safety Design Guide Gets Rewritten
Presenting concepts for enhancing safety in the operation and management of highways, AASHTO has just published the Highway Safety Design and Operations Guide. It represents the culmination of past efforts combined with the results of research and proven engineering practices. The guide contains state-of-the-art technologies that must be applied to achieve a safe level of traffic operation. It discusses a broad range of safety topics and gives the rationale for specific treatments. This includes recent changes to increase the crash worthiness of highway safety appertenances, such as guardrail systems and crash cushions. Applications of these technologies will improve roadside safety for the increasing number of smaller cars and recretational vehicles entering the vehicle fleet.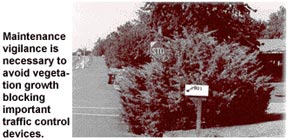 In the early 1990's, FHWA's Office of Highway Safety presented the AASHTO Standing Committee on Highway Traffic Safety with the new guide as a draft proposed replacement to the Highway Design and Operational Practices Related to Highway Safety (the "Yellow Book"). The proposed document focused on new information as well as emphasized current well known safety practices that are still not being fully used. The committee agreed to take the lead in finalizing the document as a guide with technical assistance and support from FHWA.
The guide is available from AASHTO. FHWA is developing a training package to introduce States and local agencies to the new guide. The training will focus on how to apply the guidance in safety reviews and how it fits into a safety management process.
- Carl Hayden
INTERNATIONAL
---
U.S.-Mexico Program Improves Border Road Travel and Trade
More than 75 million vehicles cross the U.S.-Mexico border each year. With the increasing trade resulting from the North American Free Trade Act, traffic is on the rise and creating new challenges for transportation officials on both sides of the border. In 1995, FHWA created the Border Technology Exchange Program (BTEP) to provide opportunities for sharing technical transportation information and technology among the U.S. border States and their counterparts in Mexico and Canada.
By combining knowledge and resources, roads can be planned, maintained, and operated in a manner that will facilitate travel, trade, and safety in both the United States and Mexico. The States on both sides of the border can identify common goals to design programs that are tailored to their particular needs. Cooperative program activities are then outlined in jointly formulated work and strategic plans. The Arizona DOT and the Secretaria de Comunicaciones y Transporte (SCT) in the Mexican State of Sonora are actively engaged in programs that benefit both parties. Arizona DOT, SCT, and FHWA representatives met recently in the Sonoran capital, Hermosillo, to review program progress and plan future action items.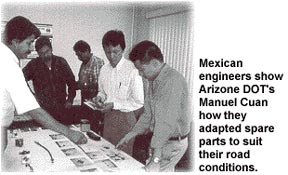 The SCT demonstrated several equipment adaptations that improved its ability to maintain roads. After seeing a road striping machine in Arizona, SCT built one from existing used equipment. A snowplow was developed the same way. The SCT upgraded obsolete computers donated by the Arizona DOT and installed maintenance and design software programs. Arizona's PECOS maintenance software program may become the standard for use across Mexico. The SCT is also developing a motor carrier information program that will provide Arizona officials with easy access to Sonora's records.
The technical areas covered by the BTEP encompass the essentials of road transportation program delivery topics. Different States bring different emphases to their relationships. California is spearheading binational planning efforts while Texas and New Mexico provide training expertise and on-site technical support. As the cooperation expands, so will the depth of program activities.
- C. Tere Franceschi, (202) 366-9775, c.tere.franceschi@fhwa.dot.gov
ITS
---
CORSIM--A State-of-the-Best Practice for Traffic Operation Analysis
Recognizing a strong demand for powerful tools to address complex issues on traffic operations and roadway design for integrated networks, including freeways and surface streets, FHWA has recently developed the first Windows-based version of a traffic simulation model. It's called CORSIM, and it integrates the existing NETSIM and FRESIM models. CORSIM is a microscopic, stochastic traffic simulation model that can realistically represent the real world dynamic traffic environment. CORSIM has the most sophisticated car-following and lane-changing logic to simulate vehicle movements on a second-by-second basis.
Each vehicle is moved based on dynamic interactions among roadway conditions, traffic control, positions of adjacent vehicles, vehicle characteristics, driver behaviors, etc. CORSIM produces a variety of measures of effectiveness for engineers to quantify traffic network performance. Furthermore, CORSIM produces animated graphics allowing the user to look and feel the simulation results and perform many more reviews of outputs in much less time. In turn, this enables the effective and efficient application of this powerful tool to a wider range of traffic engineering problems.
With these powerful features, CORSIM is capable of providing comprehensive simulation capabilities in (1) geometric design evaluation; (2) transit operation; (3) sign and signal control at intersections; (4) ramp metering control for freeways; (5) site impact analysis; (6) incident detection, management, and control; and (7) assessment of traffic system management strategies. CORSIM brings the real world into the office so that engineers can study problems, try new ideas, evaluate them quantitatively, and identify the best solutions before implementation.
A test of the pre-release version of CORSIM was completed in March 1997. Hundreds of suggestions and comments were received, and most of them have been incorporated in the latest version of CORSIM. The Traffic Software Integrated System package including CORSIM and its graphics program, TRAFVU, is now available at the McTrans Center, University of Florida, 512 Weil Hall, P.O. Box 116585, Gainesville, Florida 32611; (352) 392-0378.
- Henry Lieu, henry.lieu@fhwa.dot.gov
POLICY
---
Personal Transportation Becomes a Lively Topic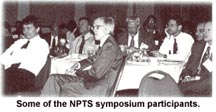 Nearly 100 people attended the Nationwide Personal Transportation Survey Symposium held from October 29 to 31 in Bethesda, Maryland. Four papers using the recently issued 1995 NPTS data set were presented and discussed.There were two policies panels at the symposium. The Federal panel, which was very lively, included Bob Noland (EPA), Steve Bartolome-Hill (Health and Human Services), Bill Passer (Department of Labor), and Gloria J. Jeff (FHWA). We anticipate proceedings from the conference, including final versions of the four papers, to be available by April 1998. Visit us at our Web site: http://www-cta.ornl.gov/npts
Daphne Spain's paper on the "Aging Baby Boom" generated vigorous discussion about individual decisions on residential location and financial incentives by Governments to encourage people to move to central cities. A paper by Don Pickrell and Paul Schimek on "Personal Motor Vehicle Ownership and Use," documenting the continuing aging of the vehicle fleet and the fleet composition increasing with light trucks and sport utility vehicles, raised many questions related to air quality.
For the paper on the "Interaction of Land Use and Transportation," Catherine Ross and Anne Dunning showed that increasing population density corresponds to lower vehicle miles of travel (VMT) per person and increasing choice of transit as a mode. However, it is not until densities of 10,000 people per square mile are reached that seems to affect mode choice, with increasing proportions of walk, bike, and transit trips. Finally, Elaine Murakami and Jennifer Young, discussed the travel patterns of low income households. Although the number of household vehicles in the United States equals the number of drivers, low income households are much more likely to be without any private vehicles. If they have a car, the car tends to be quite old and tends to be driven fewer kilometers.
- Bryant Gross, (202) 366-5026, bryant.gross@fhwa.dot.gov