Table of Contents
Aiding Traffic Flow with Ramp Metering
Narrowing the Hit-or-Miss Gap of Incident Detection
Investing in Our Highway and Transit Systems: How Do We Stand?
Flexibility in Highway Design Sparks Widespread Interest
Controlling Ground Water Contamination Unites Experts
Travel Monitoring Exhibition Unveiled in Charlotte
Pavement Recycling-A Successful Time-Tested Technology
Work Zone Safety Clearinghouse Debuts in Texas
Designing Highways to Accommodate Older Drivers: Handbook Tells All
ITS
---
Aiding Traffic Flow with Ramp Metering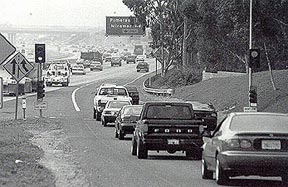 An ongoing FHWA project has developers at Ball Aerospace and Technologies, Inc., investigating real-time implementation of freeway ramp metering strategies. The objective of the project is to develop ramp metering control algorithms to alleviate traffic within a freeway corridor during both recurrent and transient congestion.
The control algorithms developed in this study are a key component of the Advanced Traffic Management Systems (ATMS) that are being considered for intelligent transportation infrastructure (ITI) deployment. As such, one of the essential requirements for the algorithms is real-time operational capability. Also to be developed are advanced control features that respond to unforeseen traffic disturbances, such as incidents and bad weather.
The developed algorithms will be evaluated in laboratory simulations and field experiments. The algorithms will be interfaced with a microscopic corridor simulation model to perform simulation experiments in the lab. Field tests will be conducted within an existing freeway surveillance and control system. One of the candidate sites is known as the California Testbed, a freeway and dual arterial corridor in Orange County that enjoys the active participation of Caltrans District 12, City of Irvine, and the University of California at Irvine. This site provides the high-speed communication and real-time data acquisition and control capabilities necessary to support the field testing objectives.
Given the effectiveness of current implementation strategies and the potential for further improvements with projects such as this one, ramp metering is assured to remain in real-world traffic management systems as a viable solution to increasing traffic congestion.
- Aladdin Barkawi, aladdin.barkawi@fhwa.dot.gov
Narrowing the Hit-or-Miss Gap of Incident Detection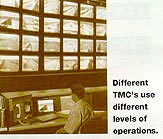 Incident detection by computer-based incident detection systems cannot be infallible. Two kinds of errors are possible, a miss in which an existing incident is not recognized and reported by the system and a false alarm in which an accident is reported where none exists. On the other hand, a hit occurs when the system reports an incident that actually exists. Obviously, an ideal system would maximize the frequency of hits while minimizing the frequency of misses and false alarms. The ideal system would also minimize the detection latency, the time required by the system to recognize an incident and notify the operator.
Such an ideal system does not exist. In designing an automated incident detection system, the engineer must make tradeoffs between these factors. A crucial question for automated support system design is the effect of various approaches to this tradeoff on operator and traffic management center performance. One existing philosophy, for example, is that the system should be designed to eliminate the "cry wolf" problem by minimizing false alarms.
A pair of experiments in the ATMS Human Factors Research Simulator at Georgia Tech Research Institute tested these and related issues during scenarios in which operators identified and managed simulated incidents. Four groups of subjects were provided with an automated incident detection and locating system (IDLS) that reported possible incidents; a fifth, baseline group used only closed circuit TV cameras and a color-coded map display to search for incidents. The IDLS varied on hit rate, false alarm rate, detection latency rate, lower detection latency, and a substantially higher false alarm rate.
The operator performance data suggest that automated IDLS enhance the operators' performance by reducing misses and decreasing the detection latency. The data further suggest that the incident detection system should be implemented with the highest hit rate and lowest detection latency that are practical. While this will ultimately translate to a high false alarm rate, operators are willing to accept this if the system provides means for easily identifying and disposing of false alarm reports. These means include automated identification of appropriate camera sites and other sensors most appropriate to evaluate the data, color-coded map displays and CCTV monitors to supplement the IDLS, and a system for easily rejecting incident reports or delaying their management.
- Nazy Sobhi, (202) 493-3369, nazy.sobhi@fhwa.dot.gov
POLICY
---
Investing in Our Highway and Transit Systems: How Do We Stand?
Capital spending for highways could be almost doubled from current levels ($43.1 billion annually) and the public would receive benefits greater than the amount spent. Likewise, doubling annual transit capital spending ($7 billion annually) could be economically justified. In 1995, spending on pavement, capacity, and bridge improvements was 13 percent ($5 billion) lower than the estimated amount required to maintain highway-user costs and bridge conditions at present levels. Spending on transit was 16 percent ($1.1 billion) lower than the estimated amount required to maintain transit conditions. These findings are contained in the 1997 Status of the Nation's Surface Transportation System-Conditions and Performance Report to Congress (C&P report).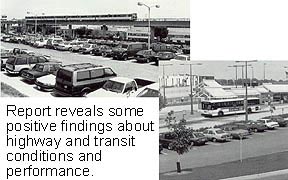 The C&P report analyzes recent trends in highway, bridge, and transit conditions, performance, and financing, and projects 20-year investment requirements. The highway investment requirements numbers were developed using the Highway Economic Requirements System (HERS). HERS is a model that identifies system deficiencies by analyzing the characteristics, condition, and projected travel growth of sample highway sections from the Highway Performance Monitoring System and projecting pavement deterioration based on estimated traffic loadings.
The C&P report has some positive findings about highway and transit conditions and performance. The percentage of pavement in poor condition has declined in recent years. The number of deficient bridges has decreased since 1990. Highway fatality rates have declined, though at a slow pace. Transit speed of service has increased since 1985. The condition of light rail equipment has improved, but there has been a slight decline in the condition of buses and heavy rail equipment. Condition of transit facilities continue to improve.
Copies of the report are available from the Office of Policy at (800) 240-5674 or (202) 366-9899. A copy of the report in PDF format, as well as additional background data, will soon be available at www.fhwa.dot.gov/aap/
- Ross Crichton, (202) 366-5027, ross.crichton@fhwa.dot.gov, and Cliff Comeau, (202) 366-4051, cliff.comeau@fhwa.dot.gov
ENVIRONMENT
---
Flexibility in Highway Design Sparks Widespread Interest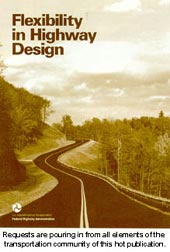 Highway designers are showing broad interest in designs that fit communities better, yet observe the suggested AASHTO Green Book guidelines. For example, the enthusiastic reception of a new FHWA publication, Flexibility in Highway Design, has unexpectedly exhausted initial printing and led to a reprint.
Since September 1997, FHWA has distributed about 10,000 copies of the publication. Requests are pouring in from all elements of the transportation community. From organizations, consultants, citizens, professional engineers, and professors of engineering, the interest and attention given to developing community-compatible facilities are growing. The publication is being recognized as a good resource guide for addressing the design considerations and flexible principles leading to sustainable communities.
The challenge is putting people first in highway design. Flexibility in Highway Design shows how to use opportunities under current AASHTO design guidelines to create flexible designs that sustain communities without compromising safety. The publication gives practical design suggestions and case examples for major design areas including horizontal and vertical alignment, cross-section elements, structures, and intersections. For example, the Green Book gives a range of turning radius designs for intersections. A wide turning radius moves traffic as quickly as possible through intersections. However, in residential areas the same wide turning radius may undermine lower residential speed limits as well as make intersections less safe for pedestrians.
The publication was developed in partnership with AASHTO, State DOT's, and environmental organizations. Currently, AASHTO is considering adopting the publication as a companion to the Green Book. The publication and the joint efforts of FHWA and AASHTO have also created interest in a possible national training effort on this timely subject. Discussions are underway to develop training and technical assistance in flexible design principles and practices for interdisciplinary transportation staff members by early 1999. For copies of Flexibility in Highway Design, call FHWA at (202) 366-2065. For more information about the publication, contact Harold Peaks at (202) 366-1598.
- Florence W. Mills, (202) 366-2062, florence.mills@fhwa.dot.gov
Controlling Ground Water Contamination Unites Experts
In response to new regulations for clean water, FHWA and various States have joined forces with TRB to conduct research on evaluating and controlling ground water contamination. On May 13 to 14, a group of technical experts and State representatives met in Knoxville, TN, for discussions centered on a pooled-fund panel meeting dealing primarily with control of ground water contamination in karst (fractured limestone or other rock) areas.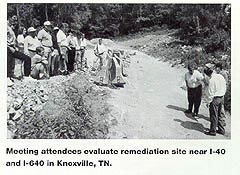 They addressed several aspects of ground water contamination from highways, including possible contaminants from highway construction and repair materials, impacts from deicing salts, sizeable petroleum leaks under highways, and ordinary highway stormwater runoff. There was special concern about areas lacking soil or other filter materials to protect the ground water as is often the case in limestone areas featuring sinkholes.
More than 40 attendees visited the remedial site adjacent to the I-40 and I-640 intersection east of Knoxville. Highway runoff is being diverted away from this site to protect the highways from erosion, undermining, and collapse and to control impacts to ground water quality. The meeting provided an ideal opportunity to exchange research results and plans and share problems encountered by different States.
- Howard Jongedyk
INFORMATION MANAGEMENT
---
Travel Monitoring Exhibition Unveiled in Charlotte
From May 11 to 15 in Charlotte, North Carolina, FHWA, Transport Canada, North Carolina DOT, and the Charlotte DOT presented the North American Travel Monitoring Exhibition and Conference (NATMEC '98). It was a continuation of the National Traffic Data Acquisition Conference series. The cosponsors were the American Association of State Highway and Transportation Officials (AASHTO), Transportation Research Board (TRB), and North Carolina State University.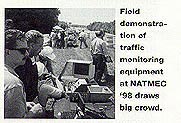 Opening remarks were presented by Norris Tolson, North Carolina Secretary of Transportation. A keynote address was made by FHWA Executive Director Anthony Kane. There were 350 attendees from local, State, and Federal agencies, plus industry and academia. In addition to 30 exhibits and 90 presentations, field demonstrations of traffic monitoring equipment were featured.
The conference provided an opportunity to examine and share state-of-the-art technology, knowledge, and progress in traffic data collection, analysis, and use. This comprehensive program included informative presentations on traffic counting, vehicle classification, weigh-in-motion, vehicle occupancy, freight movement, and travel time. Opportunities for data collection from ITS were also highlighted. Look for the conference proceedings to appear on the Office of Highway Information Management web site at www/fhwa.dot.gov/ohim.
- Ralph Gillmann, (202) 366-5042, ralph.gillmann@fhwa.dot.gov
PAVEMENTS
---
Pavement Recycling-A Successful Time-Tested Technology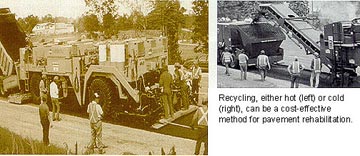 When it comes to recycling pavements, highway agencies and contractors are finding that everything old is new again. Thanks to significant advances in technology, material removed from old asphalt and concrete roads is being increasingly recycled into new pavement construction. The recycling process has been developing since the early 1900's; but since the 1970's, it has increased in popularity. During the past 25 years of active research and equipment development, pavement recycling has progressed from an experimental technology to a practical and efficient method for pavement rehabilitation. Several new techniques and types of equipment have advanced pavement recycling technology. Yet the technology has been slow to catch on.
To promote asphalt recycling to State and local government highway agencies, FHWA's Office of Technology Applications has developed a 2-day workshop. The workshop's objectives are to provide participants with (1) an understanding of the various methods (hot and cold) of recycling asphalt pavements; (2) the ability to determine when asphalt recycling is a cost-effective pavement rehabilitation alternative; (3) the knowledge of how to select the most appropriate asphalt recycling method; (4) information on materials and mix design for recycling; and (5) information on equipment, construction methods, and QC/QA practices involved in recycling.
The workshop instructors, from the National Center for Asphalt Technology, have successfully completed several workshop sessions at regional locations around the country this past spring. Three workshops are scheduled for this fall. The training products that are available free of charge from this workshop are the reference book Pavement Recycling Guidelines for State and Local Governments (FHWA-SA-98-042) and PowerPoint training modules, both of which are downloadable from www.ota.fhwa.dot.gov/recycle.htm. Printed copies of the reference book can be ordered from FHWA's R&T Report Center by telephone (301-577-0906) or fax (301-577-1421).
- Kevin Connor, (202) 366-1138, kconnor@fhwa.dot.gov
SAFETY
---
Work Zone Safety Clearinghouse Debuts in Texas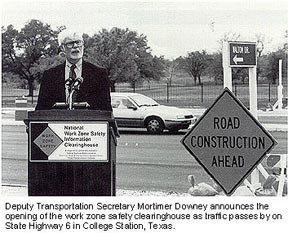 March 24 marked the beginning milestone for the National Highway Work Zone Safety Information Clearinghouse. To formally announce the opening of the Nation's first-ever work zone safety clearinghouse, Deputy Secretary of Transportation Mortimer Downey joined with Bill Toohey, Sr., Vice President of the American Road and Transportation Builders Association (ARTBA); Herbert Richardson, Director of the Texas Transportation Institute (TTI); and Paul Gonzalez of the American Federation of State, County, and Municipal Employees (AFSCME). The event took place along an actual work zone site on State Highway 6 near Texas A&M University in College Station, TX.
More than 700 people are killed and 5,000 injured each year in accidents that occur in road construction sites across the Nation. "most of the time we can't shut down roads while this construction is going on, so we have to create work zones to let traffic pass even while highway workers do their jobs just feet away. there's clearly risk for them and for the travelers passing by," said Deputy Secretary Downey at the opening ceremony.
The Clearinghouse is a cooperative venture between FHWA and ARTBA and will be operated by TTI of College Station. It will for the first time provide a centralized, comprehensive information resource that can assist those interested in reducing incidents associated with temporary highway work zones. This service will be valuable to traffic and highway design engineers, public safety officials, educators, contractors, manufacturers and suppliers of traffic control devices, researchers, utility companies, traffic law enforcement officials, labor unions, public and private work zone safety advocates, and others.
The Clearinghouse also has the backing of AFSCME, a union that represents 1.3 million members-106,000 of them in State and local highway agencies. "this action is especially commendable," said Paul Gonzalez, international representative for the union. "within our union, transportation-related accidents are the number one cause of death on the job."
This national Clearinghouse provides an array of best practice information to include work zone design, research reports, information on mounting public awareness and law enforcement campaigns, as well as data on safety consultants, products, and training courses. In most cases, information will be provided at no charge. Inquires may be made to the Clearinghouse's toll-free telephone 888-447-5556 or to its Web site at http://wzsafety.tamu.edu.
- Ann Walls, (202) 366-6836, ann.walls@fhwa.dot.gov
Designing Highways to Accommodate Older Drivers: Handbook Tells All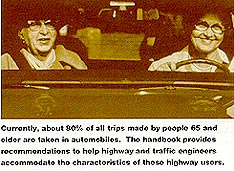 The well received Older Driver Highway Design Handbook is currently being promoted through a series of FHWA-sponsored hands-on workshops. The handbook is designed to provide guidance to highway design and traffic engineering professionals in accommodating older drivers. Specifically, the handbook provides design guidelines for geometrics, signing and pavement markings of at-grade intersections, grade-separated interchanges, roadway curvature and passing zones, and construction/work zones.
The workshops are aimed at practicing highway and traffic engineers with the goal of promoting use of the handbook and gaining feedback on the handbook's current format and contents. These full-day workshops will be held in various locations around the country starting in May and continuing through early fall.
The workshops will provide attendees with an introduction to the development, contents, and use of the handbook. Attendees will also be provided examples of real-world applications of the handbook guidelines and opportunities to use the handbook to tackle several realistic case studies.
A limited number of copies of the handbook (FHWA-RD-97-135) is currently available for distribution. The handbook will be available on CD later this year and will be placed on the Web for on-line access.
- Mark Robinson, (202) 493-3384, mark.robinson@fhwa.dot.gov