Table of Contents
Lee County Florida Pricing Project Opens
New Comprehensive Conference To Be Held on Countering Concrete Corrosion
Workshops Help State DOT's Fight Concrete Corrosion in Bridges
Bridge Coatings Team Makes Initial Findings on Mathis Bridge
Workshops Explore Archived Data User Service Requirements
FHWA Republishes Trust Fund Attribution Paper
New Videotapes Explain LTPP's Resilient Modulus Laboratory Test
Evaluating the FHWA Hearing Requirement
POLICY
---
Lee County Florida Pricing Project Opens
On August 3 variable pricing on two bridges between Fort Myers and Cape Coral, Florida, went into effect. The variable pricing program offers 50 percent discounts during the shoulder times of the peak periods for those travelers using transponders. Discount hours will be 6:30 a.m. - 7 a.m., 9 a.m.-11 a.m., 2-4 p.m. and 6:30-7 p.m.. Electronic toll collection was instituted on the bridges in November 1997, and over 50,000 transponders have been distributed thus far. A monitoring and evaluation study will analyze the impacts on mode shift, travel time shifts, revenues, energy conservation, and transit.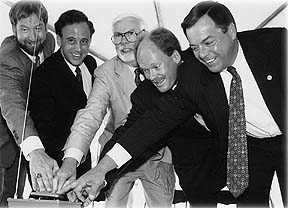 The growth rate for Lee County from 1980 to 1994 was roughly the third highest among the 120 U.S. metro areas with populations of 250,000 or more. Faced with continued projections of high growth and expansion, the project sponsors hope to help delay extra construction in the area by better utilizing existing and planned capacity. The goal of the project is to provide an incentive to motorists to travel during off-peak times.
The project received funding from the Congestion Pricing Pilot Program under ISTEA, as well as matching funds from Florida DOT and Lee County DOT. Additional pricing projects, sponsored under the pilot program are operating in San Diego and Houston. Pre-project studies for additional pricing implementation locations are underway across the United States. The pilot program will continue to support tests and evaluations of pricing under TEA-21 as the Value Pricing Pilot Program. A Federal Register notice announcing the availability of funds in FY 1999 is forthcoming.
Theresa Smith
STRUCTURES
---
New Comprehensive Conference To Be Held on Countering Concrete Corrosion
To spread the word on the latest methods for fighting corrosion, FHWA and the National Research Council of Canada will co-sponsor the 1st International Conference on Corrosion and Rehabilitation of Reinforced Concrete Structures on December 7-11 in Orlando, FL. No other conference held in the recent past or scheduled in the near future so carefully focuses on corrosion control and rehabilitation of reinforced concrete structures. The technical program focuses on innovative science and technology that is being applied to prevent or minimize corrosion and to mitigate the resulting damage. Carefully selected papers capture perspectives on corrosion from several countries.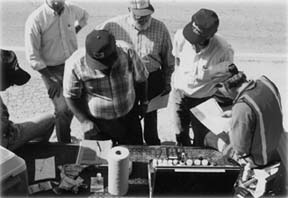 Broad-based cooperation in conducting the conference includes the American Association of State Highway and Transportation Officials (AASHTO), American Public Works Association, National Association of Corrosion Engineers, American Society of Civil Engineers, and International Concrete Repair Institute.
To register, contact Visions USA, (404) 880-0002. For detailed information on participating and/or exhibiting, access the OTA web site at www.ota.fhwa.dot.gov/nrc.
Donald R. Jackson (202) 366-6770 donald.jackson@fhwa.dot.gov
Workshops Help State DOT's Fight Concrete Corrosion in Bridges
Deterioration of concrete bridges has become a major obstacle in the operation of the nation's highway system. The cost of repairing, rehabilitating, or replacing these structures is increasing rapidly. A series of showcase workshops sponsored by the FHWA Office of Technology Applications (OTA) is being made available to encourage State DOT's to adopt innovative technologies for assessing, repairing, and rehabilitating reinforced concrete bridges.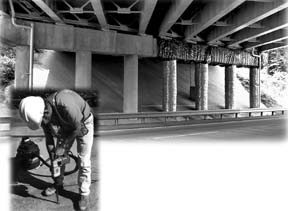 The workshops have been created to present state-of-the-art information to people responsible for the condition of our Nation's highway infrastructure, including Federal and State bridge engineers, maintenance personnel, bridge inspectors, and researchers. The technology transfer is achieved through a combination of executive presentations, classroom instruction, and hands-on training.
Two of the showcase workshops, "Physical Assessment of Reinforced Concrete Structures" and "Methodology for Design and Treatment of Concrete Bridge Components Subject to Bar Corrosion," bring highway agency staff up to speed on the technologies evaluated or developed under the Strategic Highway Research Program (SHRP) for assessing and repairing reinforced concrete bridge structures. These showcases are combined into one 4-day workshop, with each showcase covering 2 days.
Workshop participants are provided with a better understanding and appreciation for:
The primary causes and magnitude of the deteriorated condition of the nation's bridge structures.
The advantages and limitations of various test procedures used for assessing the condition of bridge structures with respect to reinforcing steel corrosion.
The merits, service lives, and cost of methods to repair and rehabilitate deteriorated bridge components.
Determining which treatment to use on deteriorated bridge components to minimize life-cycle costs.
Designing corrosion protection methods into new concrete structures.
Practical methods to minimize cracking in new concrete.
Procedures to remove and replace deteriorated concrete.
After completion of the workshops, attendees can request to borrow any of the SHRP products discussed in the workshop. The purpose of the equipment loan program is to provide individuals with additional hands-on experience and time to conduct their own independent evaluation of the various SHRP products. To date over 65 State DOT representatives have taken advantage of this opportunity.
Other technical assistance, including informal site visits by workshop instructors who provide additional training and assistance regarding the application of SHRP products, is also available to State highway agencies.
Donald R. Jackson (202) 366-6770 donald.jackson@fhwa.dot.gov
Bridge Coatings Team Makes Initial Findings on Mathis Bridge
Initial findings from the Mathis Bridge maintenance paint project show several spans coated with zinc-rich primers and two spans coated with thermal sprayed metal coatings (metallized) were very resistant to corrosion. Findings indicate the clear benefits of investing in higher quality surface preparation and a wide variation in performance of coating systems of similar generic classifications. These findings were made in August when, to mark the 10-year anniversary of this test application, the FHWA Bridge Coatings Team, New Jersey division staff, and New Jersey DOT engineers inspected the condition of the various paint systems on the bridge.

In 1988 the New Jersey DOT, in conjunction with FHWA, performed a major maintenance painting project on the Thomas Mathis Bridge carrying Rt. 37 between Toms River and Seaside Heights, NJ. A major function of this project was to assess the performance of over 40 commercially available bridge coating systems. The Mathis Bridge serves as an excellent test platform for evaluating the coating systems. The bridge consists of repeating rolled beam spans, each located some 3 to 7 m above the seawater of the bay separating Seaside Heights from the mainland. For testing purposes the bridge is ideal because it is easy to access, provides consistent test conditions span-to-span, and is exposed to a relatively harsh marine and seasonal environment.
The recent inspection was performed by engineers from the FHWA Bridge Coatings Team (Mike Praul of the Maine Division and Bob Kogler of the Special Projects and Engineering Division of R&D), with the assistance of Helene Cook from FHWA's New Jersey Division Office, and Tony Chmiel of the New Jersey DOT. The group is working on an inspection report to complement the periodic reports by the New Jersey DOT which has tracked the progress of the test program over the past ten years.
Bob Kogler
ITS
---
Workshops Explore Archived Data User Service Requirements
Intelligent Transportation Systems (ITS) could be used to collect new kinds of data that can be used in various new user services. The Archived Data User Service (ADUS) Requirements Workshop was recently held to determine the functional requirements for which data and which new user services should be added to the National ITS Architecture. The workshop was held in Seattle, WA, on July 15-16, and follows a January workshop on ITS As A Data Resource. An April report of the same name describes the variety of data potentially available from ITS and the stakeholders who have an interest in archiving ITS-generated data.
Based on comments from this workshop, an addendum to the National ITS Program Plan that covers ADUS has been prepared. The ITS Architecture Team will begin revising the National ITS Architecture this fall.
Ralph Gillmann (202) 366-5042 ralph.gillmann@fhwa.dot.gov
INFORMATION MANAGEMENT
---
FHWA Republishes trust Fund Attribution Paper
In an August 10 Highway Information Update (Volume 3, No. 1), FHWA's Office of Highway Information Management republished a description of the methodology it uses to attribute estimated State payments to the Highway Account of the Highway Trust Fund.
To a far greater degree than before, TEA-21 makes use of State-reported motor fuel and related trust fund contributions in apportioning Federal funds to States. Relative to the attribution methodology, TEA-21 mandates the use of: 1) Trust Fund contributions in apportioning 35 percent of the Surface Transportation Funds, and 2) Highway Account contributions by commercial vehicles (that is, contributions resulting from diesel fuel tax, truck tire tax, truck and trailer retail sales, and heavy vehicle use tax) in apportioning 33 percent of the Interstate Maintenance Funds. Also, Highway Account contributions are used in the computation of Minimum Guarantee. States' shares of certain apportionments specified in TEA-21 are used to ensure that each State receives at least 90.5 percent of its percentage contribution to the Highway Account. In addition, highway use of diesel fuel is used in apportioning 30 percent of the National Highway System funds. In some cases, modeling research supports motor-fuel consumption estimates where States cannot furnish accurate and timely data.
The description of the methodology appears in the Highway Information Update and can be accessed under FHWA's Office of Highway Information Management's web site at www.fhwa.dot.gov/ohim under Awhat's new.@
Ralph Erickson (202) 366-9235 ralph.erickson@fhwa.dot.gov
PAVEMENTS
---
New Videotapes Explain LTPP's Resilient Modulus Laboratory Test
Three new videotapes that explain the how and why of the Long Term Pavement Performance (LTPP) program's revised resilient modulus laboratory tests and procedures are now available. Produced by FHWA through a cooperative agreement with the Minnesota DOT, the videotapes were developed to help State highway managers make the decision whether to adopt the laboratory test method. They are:
Laboratory Resilient Modulus Testing: Is This the Right Thing? Intended for administrators and engineers, this 8-minute videotape explains resilient modulus and why it is important to adopt the resilient modulus test procedure. It also explains the developments that have made resilient modulus testing more consistent and easier to adopt.
Laboratory Resilient Modulus Testing: Startup and Quality Control Procedure. This 15- minute videotape for laboratory managers and technicians begins with a detailed definition of resilient modulus. It then explains the procedure developed under the LTPP program to ensure that a laboratory is set up properly to conduct the resilient modulus test procedure and to collect accurate test results. The procedure ensures that test results are comparable regardless of where or when they were obtained.
Laboratory Resilient Modulus Testing: Sample Preparation and Test Procedure. This 13- minute videotape for managers and technicians describes each of the steps in the resilient modulus test procedure, including how to prepare soil and aggregate samples.
Max Grogg, max.grogg@fhwa.dot.gov.
MOTOR CARRIERS
---
Evaluating the FHWA Hearing Requirement
FHWA currently requires that all commercial motor vehicle (CMV) drivers have a specified minimum level of hearing to drive in interstate commerce. To establish a more scientific basis for Federal CMV driver hearing requirements, FHWA initiated research to evaluate hearing as a critical requirement for safe driving. This research report, Role of Driver Hearing in Commercial Motor Vehicle Operation: An Evaluation of the FHWA Hearing Requirement, is now available from the National Technical Information Service (PB98- 114606).
The study sought to answer questions concerning CMV driver hearing, noise exposure, and hearing-critical tasks. Researchers first conducted a literature review, a large part of which focused on a current method for screening truck driver hearing - the forced-whisper test. The next step was a task analysis, followed by empirical measurements of driver hearing, truck-cab noise, and noise exposure. Finally, research was conducted to predict the audibility of internal and external warning signals, and communication within truck cabs.
The study found that truck-cab noise degrades communication within the truck to unacceptable levels under many conditions, and recommended that truck manufacturers make every effort to decrease truck-cab noise in future models. Researchers also recommended that the forced-whisper test be substituted by the more objective pure-tone audiometric hearing test. The overall conclusion of the report is that an FHWA hearing requirement is necessary, as there are both intentional signals and incidental sounds that CMV drivers need to hear in order to drive safely.
Albert Alvarez (202) 366-4706 albert.alvarez@fhwa.dot.gov