Table of Contents
Kenis Dynamic/Profiler Truck Hits the Road
Continuing the Support of Asphalt Research at WRI
Studying Tire-Pavement Noise Interaction at NASA
DP-108A Demonstrates the Use of Pavement Management Analysis
LTPPPBIND Software Available
New Mexico Bridge Sets New World Record for Fiber Optic Strain Gauges
Eisenhower Fellowships Help Upgrade the Transportation Community
Testing a Thrie Beam on Wood Post Guardrail
Geotechnical Team Seeks Solutions in Europe and Canada
Setting Safe Standards for In-Vehicle Navigation
Researching Traffic Flow Sensor Displays
ITS Y2K: Awareness to Action
PAVEMENTS
---
Kenis Dynamic/Profiler Truck Hits the Road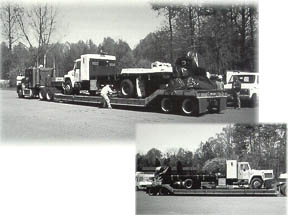 For the first time ever, a heavy truck developed at TFHRC dubbed the "Kenis Dynamic/Profiler Truck (KDP Truck)" was used to simultaneously measure both dynamic loading and pavement profile in Phoenix and Tucson, Arizona. This landmark use of the KDP Truck was the result of FHWA's participation in the World Road Association's (PIARC) International Experiment to Harmonize Longitudinal and Transverse Profile Measure and Reporting Procedures held in April 1998. The experiment, which was designed to address the need to standardize road evenness measurements cross country boundaries, will be carried out in three locations - the Arizona sites in North America, and a site in Japan and Europe.
Road evenness is used as an indicator of both pavement functional performance and structural condition. Currently, profiling equipment methods to measure longitudinal and transverse evenness vary widely from country to country. The results of this experiment will provide a means for comparing measurement methods - one of the first steps for realizing consistent pavement management practices (with respect to longitudinal and transverse evenness and cross slope as well as the assessment of their effects on the road user, road owner, and the environment) across country boundaries.
- Xian Zhao, (202) 493-3106, xian.zhao@fhwa.dot.gov.
Continuing the Support of Asphalt Research at WRI
The new Transportation Efficiency Act (TEA-21) is granting $16 million to FHWA-sponsored Western Research Institute (WRI), ensuring the continuation of research on the fundamental properties of asphalt and modified asphalt through the year 2003.
For the past six years, FHWA has supported highly successful asphalt studies at the Institute, which is located in Laramie, WY, at the foot of the snowy range of mountains next to the University of Wyoming campus. Originally, WRI was a U.S. Bureau of Mines facility before becoming a non-profit university-affiliated research institute in 1983. Even though WRI is best known to the research community for its expertise in chemical and molecular aspects of asphalt, its most prominent accomplishment is the development of the basis for the Superpave binder specifications.
The new congressional mandate under TEA-21 is rather broad in terms of what research is to be undertaken during the next several years. However, specific mention has been made to include refinements of SHRP specifications. WRI will also continue conducting research to support the implementation of Superpave. Among some of the research topics to be pursued are the development of the chemical/molecular model of asphalt, and the determination of the molecular and microstructural bases of asphalt and mix rheology and of pavement performance in general. WRI will continue pinning down the fundamental mechanisms of oxidation and developing the fundamental mechanisms of fatigue cracking.
- Ernest J. Bastian, (202) 493-3075, ernest.bastian@fhwa.dot.gov
Studying Tire-Pavement Noise Interaction at NASA
During the week of July 12-17, the Pavement Surface Analysis (PSA) team conducted an experiment at the National Aeronautics and Space Administration (NASA) base at Wallops Island, VA, collecting data for a tire-pavement noise interaction study. This visit was the last of a series of five. The primary objective of the study is to define the relationship between noise levels, tire texture, and pavement texture.
The NASA Wallops Facility provides an excellent test site for a noise experiment of this kind. There are over a dozen concrete or asphalt pavement surface conditions, with or without groves, and a broad range of textures. Three types of vehicles were used on eight of the pavement surfaces --a passenger car, a sport utility vehicle, and a small size truck. The experiment was conducted under two different setups: 1) outside noise/single vehicle/controlled conditions, and 2) inside noise/single vehicle/controlled conditions. The successful completion of the field tests not only led to some surprising findings, but also increased our understanding of tire/pavement interaction as it applies to noise created by various pavement surfaces and tire types.
- Dennis Sixbey, (202) 493-3078, dennis.sixbey@fhwa.dot.gov
DP-108A Demonstrates the Use of Pavement Management Analysis
A free 2-day FHWA course is now available to help State and local highway agencies learn the benefits of pavement management (PM) analytical techniques and planning activities capable of developing multi-year prioritization of pavement preservation projects.
The participants are introduced to the basic techniques used to monitor and predict the performance of pavement networks, select pavement preservation treatments and strategies, and calculate the life cycle costing and network-level investment analysis used to identify cost-effective treatments and strategies. The course also illustrates how the results of the pavement management multi-year prioritization activities can be used in the development of highway agencies' multi-year transportation improvement plans.
The course also presents a variety of examples from State and local highway agencies using pavement management systems capable of performing multi-year prioritization. These examples include case studies from three State highway agencies that explain in detail the PMS structure, analytical methods, the engineering/ programming process, and outputs used to develop multi-year pavement preservation plan.
The course is being presented in over 20 locations around the country, at the Transportation Research Board meeting in Washington, D.C., and at the 4th International Conference on Managing Pavements in South Africa. To request this course or for more information, contact the following.
- Luis Rodriguez, (202) 366-1335, luis.rodriguez@fhwa.dot.gov.
LTPPPBIND Software Available
SHRPBIND software, developed to aid highway agencies in selecting the most suitable performance grade of asphalt binder for a particular site, has been updated and renamed. Now called LTPPBIND, enhancements to the program, include:
the addition of LTPP pavement temperature algorithms for binder selection.
the ability to adjust initial selection of binders based upon temperatures to account for traffic considerations
several reports summarizing appropriate performance grade binder usage and application.

With these modifications, practicing engineers can now select asphalt binders based on actual temperature conditions at their site and at the level of risk designated by their highway agency. In addition, the program provides the flexibility to select either the original SHRP temperature algorithm or the latest revised temperature algorithms from the LTPP seasonal monitoring program.
LTPPBIND is currently available and can be downloaded from LTPP's Homepage at www.tfhrc.gov/pavement/ltpp/ltpphome.htm. A CD-ROM version is targeted for release in September 1998.
- Monte Symons, (202) 493-3144, monte.symonds@fhwa.dot.gov
STRUCTURES
---
New Mexico Bridge Sets New World Record for Fiber Optic Strain Gauges
Work conducted by an FHWA-sponsored team from the Naval Research Laboratory and New Mexico State University has broken a world record. A bridge in Las Cruces, New Mexico, that has 67 calibrated Bragg-grating, fiber-optic strain sensors, has surpassed a record held by the Taylor Bridge in Headingley, Manitoba, which has 66 calibrated Bragg-grating, fiber-optic strain sensors.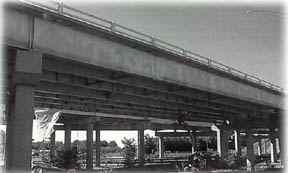 On August 4, the system was completed by calibrating the sensors using a truck of known weight. Dr. Richard Livingston from the Turner-Fairbank Highway Research Center led the FHWA project.
Preliminary results from the instrumented bridge show that it is capable of detecting and counting all the standard classes of vehicles traveling on the bridge. Vehicle speeds are also measured. Now that the system has been calibrated, it will be possible to weigh the vehicles as well. The system operates continuously, and the data are transmitted by cell phone to the New Mexico State University Civil Engineering Building.
When a vehicle driving over the bridge passes over a Bragg-grating, fiber-optic strain sensor, the sensor measures the strain by shifting the light frequency of the light reflected down the fiber from the Bragg grating, which is embedded inside the fiber itself. Since it is possible to put several sensors on the same fiber, the amount of cabling required is reduced significantly compared to other types of strain gauges. Also, since the signal is optical rather than electronic, it is not affected by electromagnetic interference.
- Richard Livingston, (202) 493-3063, dick.livingston@fhwa.dot.gov
SAFETY
---
Eisenhower Fellowships Help Upgrade the Transportation Community
Under a Graduate Research Fellowship, Eyad Masad was able to quantify aggregate structure, aggregate orientation, and void distribution of asphalt mixes at different stages of compaction in TFHRC's Superpave Gyratory Compactor. Masad's research involved the use of digital image analysis to evaluate the internal structure of asphalt concrete specimens. His work included comparison of cores made in the laboratory with those compacted in the field. The Simulation, Imaging, and Mechanics of Asphalt Pavement (SIMAP) team will continue his research in developing the scientific basis underlying the mix design process and establishing criteria to predict pavement performance.
Masad's research is just one contribution from the 120 Eisenhower Fellowships to students and faculty across the country that were made as part of a congressionally mandated program that began in 1992. The purpose of these grants is to attract the Nation's greatest thinkers to careers in transportation.
- Harayo Nakashima,
Testing a Thrie Beam on Wood Post Guardrail
A thrie beam on strong wood post guardrail was recently crash tested at Texas Transportation Institute's Proving Grounds. The purpose of the test was to see if a thrie beam guardrail with wood posts could meet the strength requirements for Test Level Three (TL-3) in the National Cooperative Highway Research Report No. 350. There was some question as to whether or not the wood post guardrail would perform satisfactorily because a thrie beam on strong steel post guardrail (G9 system) had failed the same strength test with a pickup truck. The thrie beam on wood post guardrail had 150-mm by 200-mm wood blockouts mounted on a wood post having the same dimensions.
The 2000-kg pickup truck impacted the guardrail at 100 km/h and 25 deg and was smoothly redirected. The pickup truck remained upright (See Figure 1). There was some wheel contact with the posts (See Figure 2). However, the wheel remained attached to the pickup truck. The test results met the evaluation criteria in NCHRP 350.
- Charles McDevitt, 285-2418 charles.mcdevitt@fhwa.dot.gov
INTERNATIONAL
---
Geotechnical Team Seeks Solutions in Europe and Canada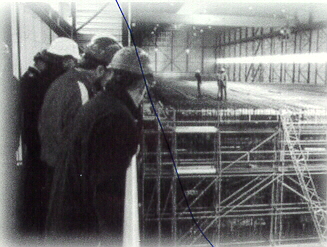 In 1994, the American Association of State Highway and Transportation Officials (AASHTO) Subcommittee on Bridges and Structures introduced a comprehensive bridge design specification based on an ultimate strength design method referred to as Load and Resistance Factor Design (LRFD). The LRFD bridge design specification contains comprehensive guidance for both structural and geotechnical features. Design engineers have discovered incompatibilities in applying the LRFD specification to the earliest designs of geotechnical features. These incompatibilities have impeded a smooth national transition to the use of LRFD.
To learn how other countries have applied the LRFD approach to geotechnical features, FHWA sponsored an international technology scanning tour to Canada, Denmark, Germany and France. In addition to identifying the best practices for implementing LRFD, the scanning team used the tour as an opportunity to investigate the best practices for implementing innovative contracting procedures to construct geotechnical features, and to identify innovative ground improvement products and practices. Nine representatives from FHWA, State DOTs, and the private sector participated in the March 1998 tour organized by the Office of International Programs.
New design codes developed in Ontario and Europe based on the LRFD approach will form the basis for geotechnical design practice throughout Canada and the European Community. A review of the Canadian specification, the Eurocode, and the ultimate strength design method confirmed for the team that the implementation of the LRFD approach will advance geotechnical engineering practice in the United States. The team identified specific enhancements that could be made to the U.S. Code to assist engineers in implementation. The Canadians and Europeans provide comprehensive training in the new specifications, and the team agreed that a concerted training effort was necessary in the United States. In addition, the team noted that improved communication and team building between geotechnical and structural engineers is needed universally. Research and developmental studies on LRFD have already been initiated as a result of the tour findings.
- Tom Saad, FHWA Indiana Division Bridge Engineer, (317) 226-7490. thomas.saad@fhwa.dot.gov.
ITS
---
Setting Safe Standards for In-Vehicle Navigation
Advanced Traveler Information Systems, such as in-vehicle navigation, are quickly arriving on the market. These types of systems could help alleviate traffic and safety problems by providing guidance to drivers when driving to unfamiliar destinations. However, attempting to operate complex functions while driving could lead to severe safety problems.
To establish the Standard for Navigation and Route Guidance Function Accessibility While Driving (J2364), the Society of Automotive Engineers (SAE) ITS Safety & Human Factors Committee has established a subcommittee. They have concluded that time to complete a task, starting when the user moves to operate a control until the goal of the task has been achieved, is a valid criterion for function accessibility. Research on in-vehicle attention demand including extensive controls, glance frequency, and duration support this critereon.
To determine where to draw the line for acceptable task time, the subcommittee considered existing design guidelines for in-vehicle navigation systems, especially FHWA's just completed ATIS/CVO Human Factors Design Guidelines produced by FHWA's Traffic & Driver Information Systems Division. Much of the research supports a cut-off around 10 seconds, but under non-driving or static conditions. Therefore, the subcommittee determined that any navigation task or function that requires more than 15 seconds for the user to complete will be disallowed while the vehicle is in motion. An example of a disallowed function would be full destination entry such as inputing a street address or restaurant name, which can take up to 120 seconds to complete. Upon further review of the evidence the subcommittee may reduce the cut-off to less than 15 seconds.
This is a straw man proposal subject to the larger committee's approval. The SAE funded contract work supporting this standard closes at the end of December, 1998. The standard should be formally submitted to SAE sometime during 1999. The standard will apply to both original equipment manufacturer and aftermarket route-guidance and navigation system functions for passenger vehicles. Through this standard, SAE hopes to clearly define which information display and manual control transactions should not be accessible to drivers while the vehicle is moving.
- Chris Monk, (202) 493-3382, christopher.monk@fhwa.dot.gov
Researching Traffic Flow Sensor Displays
Traffic management center (TMC) operators can locate incidents without the use of video cameras by observing the differences in speed and density of traffic measured by sensors. Sensors such as loop detectors or automated image processing cameras can be used to collect speed and traffic density information at sufficient intervals to diagnose many traffic situations.
For example, traffic flow information from the sensors is provided to TMC operators in many different forms ranging from raw, numerical data to graphical displays summarizing data across numerous sensor sites. Two closely related human factors research studies were conducted in order to determine the value of such displays and information in the TMC.
In the studies, subjects were asked to discriminate between "normal" traffic, "congested" traffic, and "incident-related" traffic. The first study was based on computer presentations of traffic flow data. Operators could quickly discriminating between the three kinds of traffic using the computer presented speed and density displays. Operators needed to have access to speed and density data for all lanes at a given site or information on a single lane for several consecutive sensors in order to do the best job of discriminating.
In the second study, five prototype displays (four graphical and one tabular) were developed and evaluated. Response time and accuracy as well as the subjects' confidence in their decisions were measured and analyzed. Subjects ranked and provided detailed comments on the displays.
As a result of the studies, it was recommended that traffic flow data be presented in a bar-graph format that integrates speed and density data from multiple sensors on a single display.
- Nazy Sobhi, (202) 493-3369, nazy.sobhi@fhwa.dot.gov
TECHNOLOGY TRANSFER
---
ITS Y2K: Awareness to Action
On July 27, 1998, the U.S. Department of Transportation hosted a summit on the effect of the Year 2000 (Y2K) on Intelligent Transportation Systems (ITS). The Year 2000 problem arose because limited storage capacity meant many computers were programmed to use just two digits to keep track of the date. These systems could recognize a "double zero" date on Jan. 1, 2000 not as 2000, but as 1900. As a result they could stop running, start generating bad data, or otherwise begin to malfunction.
Called Awareness to Action, the summit brought together operators of systems representing all surface modes - transit, highway, ports, freight, and rail. The 1-day summit served as the kick off for a 500-day campaign to take action to assure that ITS is an enabler of 21st century transportation, not a stumbling block. The summit was organized to give system operators the information they can use in their preparations for the year 2000. The attendees, which included industry, Federal, State and local government representatives, helped to draft Steps for Action, a guide operators can use to help prevent computer-related surface transportation problems anticipated when the year 2000 begins.
At the summit, Deputy U.S. Transportation Secretary Mortimer L. Downey announced a broad-based partnership to work toward fixing Y2K computer glitches so that they do not disrupt intelligent transportation systems such as synchronized traffic lights, freeway ramp meters, automated transit management programs, and cargo tracking systems.
"President Clinton and Vice President Gore have made solving the Year 2000 problem one of their top priorities," said Downey. "We're giving our partners technical guidance and access to the resources they need so that their high-technology transportation systems will work as well on Jan. 1, 2000, as they did on the day before."
Mr. Downey announced two steps. First, today's summit will produce useful information, called "Steps for Action," on the Year 2000 problem for users of ITS technologies. Included in the guidance will be information on managing Year 2000 repairs, the technical process, and institutional considerations. The "Steps for Action" will be available worldwide through the Internet at www.fhwa.dot.gov/y2k.
Second, states and localities may use their regularly-allocated Federal funds for ITS-related Year 2000 problem repairs. The department's Federal Highway Administration and Federal Transit Administration field offices will expedite their reviews for any necessary approvals.
- John McCracken, (202) 366-2219, john.mccracken@fhwa.dot.gov