Table of Contents
OMCHS Conducts "New Entrant" Safety Research
Updated ITS Web site Offers Complete Access
New UTW Homepage on RD&T Web site Keeps Community Apprized
FHWA Preparing Workbook On Roadway Aesthetic Treatments
Highway Funding Bulletin Shows Funding Snap Shot
TRB Releases Report on Asian Bridge Techniques
FHWA Learning Center Hosts Open House
SAE Honors FHWA Researcher
Technology Transfer is On-Line and In Touch
The First 45 Years
Errata
SAFETY
---
OMCHS Conducts "New Entrant" Safety Research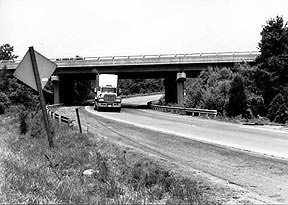 The Office of Motor Carrier and Highway Safety (OMCHS) has completed research to determine whether the safety performance and regulatory compliance of "new entrants"-motor carriers just entering interstate operation-is worse than that of experienced carriers.
Researchers performed two analyses to examine the existence of a safety performance learning curve and conducted one study to confirm the existence of a safety regulation compliance learning curve.
Safety Regulation Compliance Learning Curve. Results of this study showed a substantial age-related pattern of compliance; the number of safety regulation compliance violations was substantially higher for new entrants than for more experienced carriers. (A carrier's "age" was measured in years spent in interstate operations.) Furthermore, the rates declined in steady progression across age groups. This suggests that a safety regulation compliance learning curve does exist.
Safety Performance Learning Curve. The study found that while the most experienced carriers usually had the lowest overall crash rate, the results do not indicate the presence of a safety performance learning curve. (If the new entrants had exhibited higher compliance rates and improved performance, i.e., lower crash rates, as they accumulated experience, this would have suggested the existence of a safety performance learning curve.)
Deregulation of the motor carrier industry combined with a period of sustained economic growth resulted in a sizeable increase in the number of new motor carriers entering interstate operation. OMCHS is researching the development of a new entrant program to assist new carriers in their efforts to improve their compliance with the Federal Motor Carrier Safety Regulations and applicable Hazardous Materials Regulations.
The final report of the study will be available from the National Technical Information Service later this spring.
Dale Sienicki(202) 366-9039 dale.sienicki@fhwa.dot.gov
OPERATIONS
---
Updated ITS Web site Offers Complete Access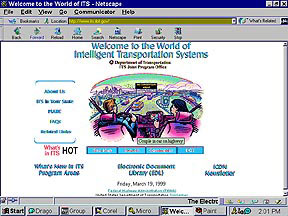 An updated, streamlined, easier-to-navigate Web site is providing users with instant access to Intelligent Transportation System (ITS) information. FHWA's ITS Joint Program Office created and maintains the site. The new design, which features bright graphics, allows the user to access information quickly and easily. The site is also easy to navigate-users can access three key areas at any one time:
The Electronic Document Library-also known as the "EDL"-is a cyber library that provides users with instant access to the Nation's largest collection of U.S. government research and reports related to ITS. It has already proven to be a valuable resource for transportation professionals. Although offered to the general public last summer, the EDL is still being tested to see what improvements can be made. This dynamic collection has nearly 1,400 documents today, with more information being entered daily as it becomes available. To reach the EDL directly, go to: www.its.fhwa.dot.gov/cyberdocs/welcome.htm

The ITS Cooperative Deployment Network (ICDN) is a unique, integrated Web site that hosts member associations and government entities committed to advancing ITS. The network's membership is based on the National Associations Working Group (NAWG). The site advertises newly published documents. Visitors can also participate in interactive discussions in a variety of forums on various topics. By subscribing to the free newsletter, readers can have the ICDN conveniently delivered to their e-mail boxes. The direct link to the ICDN is: www.nawgits.com/jpo/icdn.html.

What's New In ITS Program Areas - The ITS JPO Web site is alive with new information about ITS. The "What's New" section of the site features immediate access to new information organized by program area, e.g., architecture, intermodal freight, rural, TEA-21, and more. The point is to allow web visitors to find the information quickly and then download it. The "What's Hot" button is the instant path to downloading new releases.
The ITS JPO Web site allows visitors to learn about ITS staff or ITS projects in their home state, to find answers to frequently asked questions, and, most importantly, to e-mail JPO with suggestions to improve the site or with requests for more information. Stop on by www.its.dot.gov.
Susan Slye (202) 366-1068 susan.slye@fhwa.dot.gov.
PAVEMENTS
---
New UTW Homepage on RD&T Web site Keeps Community Apprized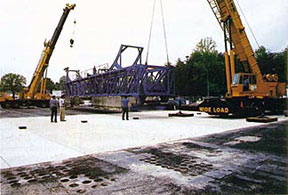 In the Spring of 1998 FHWA and the American Concrete Pavement Association (ACPA) launched a joint ultra-thin whitetopping (UTW) research project. The research, which is being conducted under a Cooperative Research and Development Agreement (CRADA), evaluates critical design factors affecting the performance of UTWs.
To keep the highway community apprized of the research project and its results to date, FHWA's Research, Development, and Technology service business unit is hosting a UTW homepage that can be found on the RD&T Web site at www.tfhrc.gov under the "Pavements" section. Or you can point your browser directly to it at www.tfhrc.gov/pavement/utwweb/home. The new homepage features detailed information on the project including its objectives, experimental design, data collection and analysis procedures, and the project time line. In addition, a special section is devoted to the results of the project to date.
UTW is a relatively new technique that involves the placement of a thin (50- to 100-mm) concrete overlay to restore asphalt concrete pavements which have cracked and/or rutted. The first experimental section of UTW was constructed in 1991 on an access road to a landfill in Louisville, Kentucky. Since then over 170 UTW projects have been constructed across the United States.
Mary Taylor-Maddox
ENVIRONMENT
---
FHWA Preparing Workbook On Roadway Aesthetic Treatments
Federal Highway Administrator Kenneth R. Wykle on March 11 announced that FHWA is preparing a workbook for use by road, street, and bridge designers throughout the Nation to illustrate ways to blend road construction into the natural surroundings, thus protecting the aesthetic environment.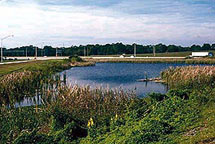 To produce it, the FHWA is seeking photos of good examples to be included in the workbook, which will be called the Special Roadway Aesthetic Treatments Photo Workbook. "President Clinton called on every citizen to mark the millennium by saving America's treasures," FHWA Administrator Kenneth R. Wykle said. "Highway design is more than just connecting point A to point B; it's about preserving and enhancing the character of the road and its environment-transportation system design should compliment nature."
The project goal is to compile examples of innovative, aesthetic treatments that have been applied on transportation projects nationwide, with particular emphasis on structural and geotechnical features, such as bridges, walls, barriers, soil and rock cut, and fill slopes. The workbook will include color photographs, brief project and aesthetic treatment descriptions, typical plan sheet details, construction specifications, and construction cost data.
Examples, including photos and drawings for the workbook should be submitted by April 15, 1999 to Stephen Hay, c/o GeoEngineers Inc., 7504 S.W. Bridgeport Road, Portland, OR, 97224; (503) 624-9274, shay@geoengineers.com.
TaMara McCrae (202) 366-0660 tamara.mccrae@fhwa.dot.gov
POLICY
---
Highway Funding Bulletin Shows Funding Snap Shot
FHWA's Office of Highway Policy Information recently released an updated bulletin, Highway Funding 1996-1999. FHWA's highway funding bulletins are the most comprehensive reports detailing the income and expenditures of highway finance in the United States. This bulletin includes a "snapshot" of highway revenues and disbursements. It covers all levels of government-Federal, State, and local finance. It contains State-reported data from 1996 and 1997 and projects 1998 and 1999 Highway finance data.
Summary data from the bulletin shows that total financial disbursements are expected to exceed $110 billion in 1999, an increase of 12.4 percent over the total financial disbursements in 1996. The total highway-user revenues anticipated for 1999, which is $101.3 billion, would fund about 92 percent of all highway disbursements. This includes motor fuel, motor vehicle taxes, and fees and tolls.
Projected highway expenditures for 1999 are summarized as follows:
| | Millions | Percent |
| --- | --- | --- |
| Highway Capital Outlay | $54,458 | 48.5 |
| Highway Maintenance/Operation | 27,779 | 25.2 |
| Administration and Research | 8,407 | 7.6 |
| Law Enforcement and Safety | 10,547 | 9.6 |
| Interest | 4,482 | 4.1 |
| Bond Retirements | 5,545 | 5.0 |
| Total | 110,218 | 100.0 |
Capital expenditures are expected to increase in 1999 to about $53.5 billion, with more significant increases in upcoming years as the Federal funds authorized in TEA-21 are paid out in project expenditures. State governments will be responsible for approximately 74 percent of the total expenditures, with capital expenditures of $39.4 billion. If current trends continue, 31 percent of the State government capital expenditures will be for projects on the Interstate system, and 38 percent will be used on other principal arterials. An additional 21 percent will be for projects on other arterial and collectors, while 10 percent will be used for local roads. Of the amount expended by States on all arterials and collectors, 17 percent is expected to be used for new roads and bridges, 32 percent for other capacity improvements, 43 percent for system preservation, and 8 percent for operational and safety-related improvements.
Total funding for highways including receipts, intergovernmental payments, and disbursements for the years 1996 through 1999 are included in the Highway Funding Bulletin. It may be accessed on the Office of Highway Policy Information's Web site, www.fhwa.dot.gov/ohim, under "Products and Publications."
Tom Howard (202) 366-2833 tom.howard@fhwa.dot.gov
INTERNATIONAL
---
TRB Releases Report on Asian Bridge Techniques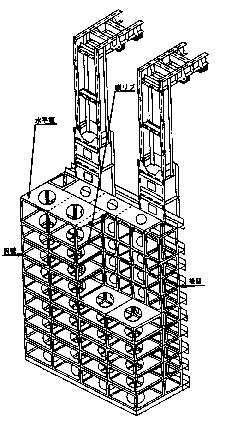 The Transportation Research Board (TRB) released a report of Asian bridge construction techniques that highlights 30 recommendations for potential application in the United States. The report discusses bridge design, materials technology, construction procedures, and maintenance practices in Asia. Implementation of these recommendations in the United States could result in significant advances in bridge design, construction, and maintenance.
The report and its recommendations were the result of an observation tour to Japan, South Korea, and Taiwan sponsored by FHWA's International Technology Scanning Program and the National Cooperative Highway Research Program. Eleven bridge experts from FHWA, several states, and private industry inspected bridge projects and visited construction sites and fabrication facilities.
The team's recommendations that are the highest priority include further investigation of dimpled pipe for exterior stay cables, computerized assembly and test systems for steel components, and nonsegregating flowable concretes. FHWA is leading a follow-up scanning tour of steel fabrication techniques during 1999, which will include Europe and Japan. Copies of the report are available from TRB.
Hana Maier (202) 366-6003 international@fhwa.dot.gov
TECHNOLOGY TRANSFER
---
FHWA Learning Center Hosts Open House
FHWA's Learning Center in Arlington, VA, officially opened during ceremony held on February 24. The Learning Center serves three training units: the National Highway Institute (NHI), the core unit of the newly-created Office of Professional Development; the National Training Center (NTC) of the Office of Motor Carriers; and the Training and Development Group (TDG), formerly the Training and Executive Development Division of the Office of Human Services. NHI and NTC have offices at the Learning Center; TDG remains at the Nassif Building in Washington, DC.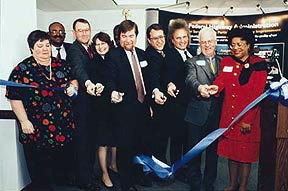 More than a hundred guests representing various DOT agencies, other Government departments, several transportation-related associations, and the university community, joined four Turkish visitors currently in training at the center for the ceremony. Federal Highway Administrator Kenneth R. Wykle spoke at the event, underscoring the importance of training in today's rapidly changing society. "By establishing these facilities FHWA is making a strong commitment to the professional development of FHWA personnel and our State, local, and university partners," Wykle said.
Dr. Moges Ayele, the Director of NHI, welcomed the guests. Joseph S. Toole, the Director of the Office of Professional Development (OPT), presented his vision of the role of this new Service Business Unit and recognized 13 employees who had helped establish, equip, and furnish the new training facility. The FHWA Learning Center is located at 4600 North Fairfax Drive in Arlington, VA, just three blocks from the Ballston metro stop. For more detailed instructions, please check NHI's web page: www.nhi.fhwa.dot.gov.
Marketta Kopinski (703) 235-0534 marketta.kopinski@fhwa.dot.gov
SAE Honors FHWA Researcher
The Society of Automotive Engineers (SAE) honored Mr. Gene M. McHale as one of four SAE Distinguished Younger Member Award recipients for 1998. The award was presented on March 2 at the SAE Honors Convocation during the SAE International Congress and Exposition in Detroit, MI. Mr. McHale was selected for this special recognition for his service to SAE local section activities.
McHale has been on the SAE Washington D.C. Section Governing Board since 1991 and served as Section Chairman in 1997. During his year as Section Chairman, he was involved in National Engineers Week activities, the 1997 Air Bag Safety Campaign, and in the development of a membership survey. In addition, the SAE Washington D.C. Section received the SAE Sections Board Gold Award of Excellence for his year as Section Chairman. At the SAE International level, Mr. McHale has served on the SAE Government/Industry Committee and the SAE Government/Industry Meeting Planning Committee.
A general research engineer in FHWA's Office of Operations R&D, McHale currently works on Intelligent Transportation Systems-related research. He has been employed by FHWA since 1995 and had previously worked on FHWA research activities since 1987.
Len Meczkowski (202) 493-3317 leonard.meczkowski@fhwa.dot.gov
Technology Transfer is On-Line and In Touch
The Internet offers new ways to provide technology transfer. However, realizing the potential of the Internet requires targeting the right audience with the appropriate information, and relating the information to how it will benefit the technology user. Making the most of the medium requires marketing skills and technology savvy.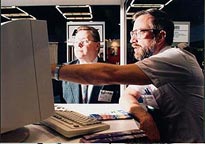 Successful technology transfer is built on one-to-one relationships. A 1985 report, the Technology Transfer Primer, explains that human contacts are the most critical ingredients for T2 to succeed, along with "good written and visual materials." However, such materials "are useless without an understanding of the needs, limitations and problems of the user." T2 is defined as active, rather than passive, with interaction between technology sponsors and users leading to actual innovation. The timeliness of the T2 process is defined by the speed of available information processing technology and sharing mechanisms. In 1985, these were typically typed memos, published reports, telephone calls, or meetings.
Shift to the '90's. Now we fax instead of mail, e-mail instead of phone, and video-conference instead of meet. A radical new paradigm for information flow has changed not only how we receive our information, but has stepped up the speed at which we are expected (and need) to process and digest the information. Librarian of Congress, James Billington, stated, "It's significant that we call it the Information Age...We don't talk about the Knowledge Age " (Washington Post, March 12, 1999).
T2 agents must use marketing skills to distill information into useful knowledge that their customers can use. If they are technology savvy T2 agents they can learn these marketing skills and find distilled information at community-of-practice Web sites. Because the Internet is available to everyone regardless of location, T2 agents can reach their customers wherever they want, whenever they want -- so long as they know how to get their customers to log on. And on the net, even broader audiences can be reached. The least computer literate customer can still rely on traditional tools of technology transfer for information and interaction.
Internet resources will not supplant traditional T2 methods. One-on-one training and hands-on practice are still the most effective ways to transfer technology. The Internet instead is a powerful tool that enhances T2 activities by making up-to-date information easily accessable, affordable, and available to a wide, if not unlimited, audience.
Martha M. Soneira (202) 366-8029 martha.soneira@fhwa.dot.gov
The First 45 Years
In 1954, a young man was walking down F Street in Washington, DC, when he noticed the sign "Bureau of Public Roads" (BPR) in front of a government building. Having heard that BPR hired structural engineers; he entered, asked for a job and became a bridge engineer on the spot. Two months later, John O'Fallon reported to the Bridge Branch and began design of his first bridge since graduating from Manhattan College in 1951. In February of this year, John worked his 45th year of Federal service.
In his career thus far, O'Fallon became the first Division Bridge Engineer in the Connecticut Division and spent a year as chief structural engineer for a consultant. He returned to Washington and BPR's new Bridge Division, then went to the Highway Design Division, then worked on the Northeast Corridor (NEC), and finally the Structures Division at TFHRC. Some of his assignments include starting the National Bridge Inspection and Special Bridge Replacement Programs, drafting the original Bridge Inspector's Training Manual, creating the 6-week Bridge Engineers Workshop, editing the chapter on bridges in America's Highways, 1776-1976, and managing the NEC Structures Program. At present, John is team-leader for the Bridge Infrastructure Team which handles bridge management, NDE, corrosion protection, timber bridges, bridge dynamics, structural analysis, and culverts. Mr O'Fallon likes to note that he may now be the last original Division Bridge Engineer still with FHWA. His next goal is to work through August 1, 2001.
Jon Schans (202) 366-9071 Jon.Schans@dot.gov
Errata
Two editorial errors were made in the March issue of the Transporter: On page 6, the caption to the photo miss identifies the person in the center of the photo as FHWA Administrator Kenneth R. Wykle. The person should have been correctly identified as FHWA Director of Research, Development, and Technology, Denny Judycki. On page 2, the article titled "FHWA Takes A Step Forward in Pavement Designed" erroneously states "In order for AASHTO to approve the test, AASHTO researchers must place both the specimen and the measurement frame in a water bath to allow for constant monitoring of the specimen length. Water is used as a heating or cooling medium." It should state, "The test requires that both specimen and measurement frame be placed in a water bath to allow for constant monitoring of the specimen length and for water to be used as a heating or cooling medium."