Table of Contents
FHWA Lays Groundwork for HERMES II
Crash Test: Thrie Beam on Steel Post Guardrail
New York Three-Cable Terminal Crash Tested with Small Car
FHWA Conducts Crash Test with W-Beam Guardrail
MoDOT Debuts Scrub Meal Maintenance Treatment
LTPP Products Now Available on the Web
FHWA Partners with Hot Mix Asphalt Industry and Wins Award
Highway Finance Reassessment Begins
Commercial Driver's License Effectiveness Study
New Accessability Policy Announced
STRUCTURES
---
FHWA Lays Groundwork for HERMES II
Lawrence Livermore National Laboratory developed HERMES-a ground penetrating radar system that uses an array of impulse radar modules to create images of internal defects in concrete bridge decks. This system launches high-frequency electromagnetic pulses into a bridge deck while traveling at normal highway speeds. It evaluates the bridge deck without the need for lane closures.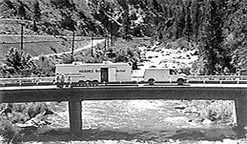 HERMES has a unique arrangement of transceivers that can give samples across a 2-m width of bridge deck at 3-cm intervals.
FHWA will provide a thorough and systematic evaluation of the prototype system, thereby laying the ground work for the development of a second-generation HERMES system-HERMES II. FHWA's Nondestructive Evaluation Validation Center will work on this project to ensure that Phase Two of this research is focused on providing an effective system for the inspection of bridge decks.
HERMES is made of a computer workstation and data storage device, a survey wheel, control electronics, and an array of 64 antenna modules or transceivers. The most unique design feature of the system is the antenna array that consists of air-coupled ultra-wideband horn antennas producing signals with a frequency content ranging from 0.5 to 5 GHz. The arrangement of the transceivers gives samples across a 2-m width of the deck at 3-cm intervals. In the direction of movement, 3-cm spacing or less is attainable. The density of data enables synthetic aperture radar techniques to be used in the processing of the data, and three-dimensional images can be produced.
The state of California is leading the effort to develop HERMES II, which will incorporate the improvements and developments resulting from the testing and evaluation of the prototype system.
Researchers anticipate that HERMES II will potentially do the following:
Conduct quantitative and reliable condition assessment of bridge decks.
Assess a large network of bridges quickly.
Present deck condition data in a format that can easily be converted to engineering plans and can provide accurate estimates for deck rehabilitation.
HERMES II will begin in the year 2000, with the goal of delivering this technology within 3 years. For more information, please contact the FHWA NDE Validation Center.
Glenn Washer (202) 493-3082 glenn.washer@fhwa.dot.gov
SAFETY
---
Crash Test: Thrie Beam on Steel Post Guardrail
FHWA recently conducted a crash test of a thrie beam on strong steel post guardrail at Texas Transportation Institute's (TTI) Proving Grounds. The purpose of the test was to see if a thrie beam guardrail with routed wood blockouts on 2.1-m-long steel posts could meet the strength requirements for Test Level Three (TL-3) in National Cooperative Highway Research Program's Report No. 350 (NCHRP 350). There was some question as to whether or not this steel post guardrail would perform satisfactorily because a thrie beam on strong steel post guardrail (G9 system) with steel blockouts had failed the same strength test with a pickup truck.
The thrie beam on a strong-steel post guardrail had 150-mm by 200-mm wood blockouts with a 100-mm by 10-mm routed groove (see figure 1). This groove fit over the steel flange and prevented rotation of the blockout. It also served to brace the flange against buckling until the vehicle was redirected. The 2000-kg pickup truck impacted the guardrail at a nominal impact speed and angle of 100 km/h and 25 degrees and was smoothly redirected. The pickup truck remained upright and relatively stable during and after the collision. Damage to the pickup truck was relatively minor. Damage to the guardrail was also minimal.
The maximum lateral deflection of the barrier was only 0.58 m. The test results met the evaluation criteria in NCHRP 350.
Charles McDevitt (202) 493-3313 charlie.mcdevitt@fhwa.dot.gov
New York Three-Cable Terminal Crash Tested with Small Car
The New York 3-Cable Terminal was recently crash tested with an 820-kg small car at a nominal speed and angle of 100 km/h and 15 degrees at TTI's Proving Grounds.
The test installation was constructed on a 6-to-1 slope. The distance from the groundline to the center of the top cable was 685 mm. The first post was set in a concrete footing and made frangible by a slip-base connection. The concrete footing for the last post and the cable anchors were constructed in two sections that fit together with a tongue and groove connection. The critical impact point was selected so that the bumper of the test vehicle had to break the first post away before the vehicle ramped up the ends of the cables and overturned. This was considered to be a worst-case test condition.
The small car was towed into the test installation using a steel cable guidance and a reverse tow system. The vehicle, traveling at 99.3 km/h impacted the terminal at 14.7 degrees. The right front corner of the bumper impacted the cables in the downward sloping section and then contacted the first post, activating the slip base. The right front tire contacted the post and knocked it to the ground. As a result, the small car gated through the end of the terminal as intended in a stable manner. The vehicle continued to travel down the side of the ditch. It then traversed up the back slope and traveled out of what would be the right-of-way and into private property.
There was very little damage to the vehicle due to its encounter with the terminal and damage to the terminal was minimal. The test results met the evaluation criteria for Test No. 3-34 in NCHRP Report 350.
Charles McDevitt (202) 493-3313 charlie.mcdevitt@fhwa.dot.gov
FHWA Conducts Crash Test with W-Beam Guardrail
FHWA recently conducted a crash test at TTI's Proving Grounds on a transition design that has a W-beam rub rail. To date, very few guardrail-to-bridge rail transitions have been tested in accordance with NCHRP 350.
By using computer simulation, researchers determined that the critical impact point was to be 1.5 m from the end of the rigid concrete section. The 2000-kg pickup truck impacted the transition at 100 km/h and an impact angle of 25 degrees. The pickup truck was redirected and remained upright. The test results met the evaluation criteria for Test Number 3-21 in NCHRP Report 350.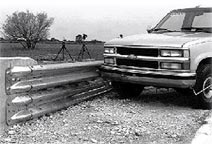 W-beam transition redirected the pickup truck, which remained upright.
In the design used for this test, the upper and lower W-beam rails were connected to a vertical face on an independent concrete end block. The side of the concrete end block was shaped so that it would transition from a vertical section to a NJ-shape over a 3.05-m length. This is a versatile transition design because it can be used to connect the guardrail to either a NJ-shape or a vertical concrete bridge rail. The independent concrete end block has a large spread footing, which can be eliminated if the end block is adequately attached to the wing wall abutment.
When conducting the test, it is important to properly lap the W-beam rails over the end shoes in the direction of traffic. In an earlier test, the end shoes were improperly lapped over the W-beam rails. As a result, the edges of the end shoes formed a snag point that caused the pickup truck to roll 45 degrees towards the barrier before coming to a complete stop.
Charles McDevitt (202) 493-3313 charlie.mcdevitt@fhwa.dot.gov
PAVEMENTS
---
MoDOT Debuts Scrub Seal Maintenance Treatment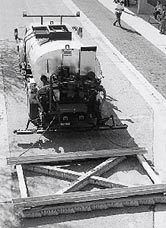 By the end of the 1999 construction season, MoDOT will have about 1295 km of scrub seal in place.
The Missouri Department of Transportation (MoDOT) introduced its scrub seal maintenance treatment at the Iowa Summer Maintenance Expo held April 19.
MoDOT implemented its first scrub seal in 1996 with the support of FHWA's Office of Technology Applications. By the end of the 1999 construction season, MoDOT will have about 1295 km of scrub seal in place.
Scrub seal material is an anionic-charged, polymer-modified, asphalt agent that is applied to asphalt pavement surface. The material rejuvenates a dry, oxidized, and cracked surface, but it does not improve the structural condition of the pavement.
The oil-based agent is sprayed on and then scrubbed into cracks and voids by a truck dragging a 3.66 m-wide, X-shaped tool with about three dozen broom heads attached. The asphalt is quickly followed by a layer of small aggregate such as sand or cinders, which is scrubbed into cracks and voids by a second broom. A pneumatic tire roller then rolls the seal. Under ideal weather conditions of 21-32EC, the road can be opened to traffic within two hours.
Compared to other preventive maintenance treatments, such as a one-inch hot-mix overlay, a chip seal, or microsurfacing, a scrub seal is faster to apply. It lasts about 4 years, and it's basically maintenance free. At about $3,000 per mile, scrub seal is also significantly cheaper.
What's the downside? Since it's meant as a preventive maintenance treatment, it is appropriate only for pavements already in sound condition. For more information, call the contact below.
Ivan Corp (816) 889-6403
LTPP Products Now Available on the Web
Two Long-Term Pavement Performance (LTPP) software products-LTPPBind and Rigid Pavement Design Software-can now be downloaded directly from LTPP's Web site.
The LTPPBind software was developed by LTPP to help highway agencies select the most suitable and cost-effective Superpave performance grade (PG) for a particular site. The program includes climatic data from 7,928 weather stations in the United States and Canada. Users can pick a particular region on a map, zoom in on it, and receive a summary of temperature data and PG binder calculations for the three weather stations closest to the selected region on the map.
The Rigid Pavement Design Software is a Microsoft Excel spreadsheet that automates the design and analysis procedures in the 1998 Supplement to the AASHTO Guide for Design of Pavement Structures. Developed by LTPP to help highway managers and engineers implement the improved guidelines for design portland cement concrete pavements, the spreadsheet allows engineers to tailor rigid pavement design to site-specific conditions, materials, traffic, and design details. The resulting design is more cost-effective and reliable.
Copies of LTPPBind and Rigid Pavement Design software can be obtained from the LTPP Web site at www.tfhrc.gov. From the home page select "LTPP" and then "Products."
Charlie Churilla (202) 493-3142 charles.churilla@fhwa.dot.gov
FHWA Partners with Hot Mix Asphalt Industry and Wins Award
FHWA has received the first annual Partnership Award for Worker Health and Safety from the National Occupational Research Agenda (NORA).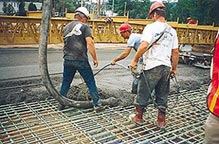 New procedures implemented by the hot-mix asphalt industry protect the 300,000 highway paving workers across the country.
FHWA and its partners set a new benchmark for worker safety when the hot mix asphalt paving industry voluntarily agreed to use innovative control technology equipment which reduces worker asphalt fume exposure by 80 percent on all new large highway class highway pavers produced after July 1997. Working together, FHWA and its partners ensured that effective control technology, designed and evaluated by the National Institute for Occupational Safety and Health (NIOSH), was implemented to protect the 300,000 highway paving workers across the country.
The award was created by NORA to recognize and honor those organizations participating in a NORA-related research partnership that achieves the goal of protecting and enhancing worker health and safety. NORA is a national occupation research agenda developed by NIOSH and public and private partners to provide a long-term framework for occupational safety and health research.
Dawn Vanlandingham (202) 493-3198 dawn.vanlandingham@fhwa.dot.gov
POLICY
---
Highway Finance Reassessment Begins
In June 1999, the Office of Highway Policy Information announced that it would begin a comprehensive reassessment of its highway finance reporting series including State highway finance, local highway finance, as well as Federal highway finance reporting series. These data are published annually in FHWA's Highway Statistics publication.
The purpose of the reassessment is to review highway finance data and determine what changes should be made to meet current and emerging needs of FHWA and of FHWA's other customers. The enactment of the Transportation Equity Act of the 21st Century (TEA-21) and the increased emphasis on FHWA's strategic plan provide the opportunity for FHWA to undertake this reassessment. The extensive use of highway finance data in post-TEA-21 reauthorization, the need to support the legislatively required Conditions and Performance Report, and changing customer data needs also provide current and compelling impetus for this reassessment.
The highway finance reassessment is expected to extend over two years and ultimately result in data that will both serve HPPI customers through a streamlined system that will not burden the States. Improved software ("smart" forms) and analytical packages should result through this process.
The recent Highway Performance Monitoring System (HPMS) and Motor-Fuel Reassessments-two programs characterized by the open participation of many partners-will serve as models for this effort.
Tom Howard (202) 366-0170 tom.howard@fhwa.dot.gov
MOTOR CARRIERS
---
Commercial Driver's License Effectiveness Study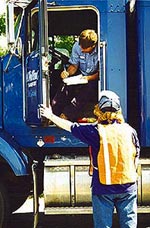 The CDL program has made significant progress toward resolving safety problems.
The Commercial Driver's License (CDL) program went into effect nationwide in 1992. Established when Congress enacted the Commercial Motor Vehicle Safety Act of 1986 (CMVSA), the CDL program was initiated to ensure that only one CDL is issued to an individual and that all driving convictions are made part of a driver's record. The Office of Motor Carrier and Highway Safety recently completed a study that examined the implementation of the CDL program and assessed its effectiveness and benefits to highway safety.
Researchers found that the CDL program has made significant progress toward resolving the safety problems that led to the enactment of CMVSA. Some findings included the following:
The incidence of CDL holders possessing multiple licenses of any type has been greatly reduced, limiting the practice of spreading driving convictions among multiple records.
Testing requirements associated with obtaining a CDL have eliminated many problem drivers who had been operating commercial motor vehicles.
State CDL compliance reviews have indicated that States have harmonized their laws with the violations listed in the CMVSA, allowing for legal equivalency among States concerning convictions for CMVSA violations.
The study recommends that FHWA develop a formal process for ongoing review, assessment, correction, and continuous improvement of the States' implementation of the CDL program. More findings and recommendations can be found in the final report, the Commercial Driver's License Effectiveness Study, available from the National Technical Information Service.
Larry Slade (202) 366-5721 larry.slade@fhwa.dot.gov
TECHNOLOGY TRANSFER
---
New Accessability Policy Announced
U.S. Secretary of Transportation Rodney E. Slater held a ceremony to celebrate the ninth anniversary of the Americans with Disabilities Act (ADA) and announce a new departmental policy on accessibility that will affect the way pedestrian access in the public right-of-way is designed.
The transportation policy and action items include:
A departmental policy statement to ensure access for people with disabilities and access to all modes of transportation, including trails and walkways;
A ONEDOT accessibility task force comprised of representatives from all modes of transportation to develop programs and benchmarks to help ensure transportation access for all Americans;
An initiative on pedestrian access to improve design standards, clarify existing guidelines, and ensure transportation planning processes and implementation address all applicable ADA requirements;
The distribution of new FHWA publication Designing Sidewalks and Trails for Accessibility (Part 1, Research Report) and airports;
FHWA will partner with the U.S. Access Board to develop guidance on accessibility in pedestrian public rights-of-way starting in October 1999;
The unveiling of a new department Web site that provides information about transportation access issues. The Web site is www.fhwa.dot.gov/ada.
Further, Secretary Slater recognized four cities -- San Francisco, California; Austin, Texas; Seattle, Washington, and Silver City, New Mexico -- for their extraordinary work on creating visionary access programs within their cities.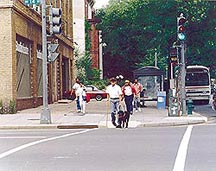 In October, FHWA will partner with the U.S. Access Board to develop guidance on accessibility in pedestrian public rights-of-way.
San Francisco employs remote infrared signage technology that allows the blind, when carrying a small receiver, to pick up location and direction information such as how to leave a transit facility, street numbers on municipal buildings, and intersecting streets.
Austin, partnering with disability groups, has developed a $1 million-a-year program to make curb ramps accessible for everyone.
Seattle's "Citizen Wheelchair Ramp Request" form activates a city staffer to personally work with the individual making the request to make sure their needs are met and that the necessary ramps from their home to the nearest bus stop are installed in an expedited three to nine months.
Silver City's flooding problems led to very high curbs of two to three feet. The city's endeavors to make the downtown accessible far exceeded ADA requirements.
Dawn Vanlandingham (202) 493-3198 dawn.vanlandingham@fhwa.dot.gov