TPM and AM Technical Implementation Workshops 2017
American Institute of Certified Planners (AICP) CM Credits
In general, FHWA can award Certification Maintenance (CM) credits for AICP. Participants must login into to the APA website to redeem AICP CM.
Professional Development Hours (PDH) or Continuing Education Units (CEUs) for other organizations (i.e. Professional Engineering Licensing, PMP, etc.) must be handled by the participants, meaning FHWA can verify that attendees participated in the workshop for X number of hours/days, etc., but it is up to the participant to submitted the necessary documentation for their individual PDHs.
Regional Workshop Information
Four regional workshops are being held to assist FHWA Staff, State DOTs and MPOs with implementing the technical requirements of the Asset Management, PM2 and PM3 final rules. The outcomes of the workshops are:
What one attendee had to say:
"I was confused about some of the requirements, but now I'm not."
Attendees will leave with the ability to apply the requirements of the 3 rules to their day-to-day decisionmaking and implement a performance-based program.
Attendees will be able to use the management systems for the purposes of:

Target setting
Communication
Life cycle planning
Financial planning

Attendees will know how to incorporate risk management into their AM plan.
Attendees will be able to calculate the required metrics and measures for PM2 and PM3, as well as complete data and performance reporting as required.
FHWA will convey the significant progress and penalty requirements and how they will be determined.
To see the most up-to-date presentations on any topic, please view the list under the most recent set of workshops.
1. Kansas City, MO June 20-23, 2017
The states invited include: Illinois, Missouri, North Dakota, South Dakota, Nebraska, Iowa, Kansas, Indiana, Minnesota, Wisconsin, Michigan, Oklahoma, and Texas.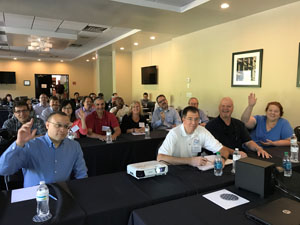 2. Raleigh, NC (July 11-14, 2017)
The states invited include: Alabama, Arkansas, Florida, Georgia, Kentucky, Louisiana, Mississippi, North Carolina, South Carolina, Puerto Rico, Tennessee, Virginia, West Virginia.
3. Cambridge, MA (August 22-25, 2017)
The states invited include: Connecticut, Delaware, District of Columbia, Maine, Maryland, Massachusetts, New Hampshire, New Jersey, New York, Ohio, Pennsylvania, Rhode Island, Vermont.
4. Phoenix, AZ (September 12-15, 2017)
The states invited include: Alaska, Arizona, California, Colorado, Hawaii, Idaho, Montana, New Mexico, Nevada, Oregon, Utah, Washington, Wyoming.
AM Workshop Notes
This workshop is for those with knowledge of Asset Management and includes hands-on break-out groups which include analysis pertaining to life-cycle planning, risk, and development of financial plans.
We recommend that participants take the following NHI web-based training courses prior to participation in the workshop: