CASE STUDY: The BOWMAN BRIDGE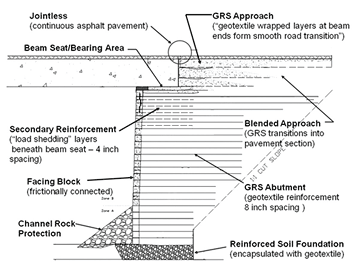 The Bowman Road Bridge in Defiance County, Ohio, was built in just 6 weeks. Construction time could have been reduced to less than 3 weeks if two separate labor crews had been available to build both abutments simultaneously.
Many factors contributed to the time reduction. There was no need to pour concrete, which can take significant project time. Instead, precast concrete box beams were placed directly on the GRS abutments. No approach slab was needed; GRS was compacted directly behind the bridge beams to form the approach way. Materials are readily available, a benefit of the generic nature of the system. Costs were also radically reduced. The county realized a cost savings of nearly 25 percent on its first bridge support project. These savings came from more than just the reduced labor costs that result from shorter construction time and simpler construction. GRS bridge abutments also require fewer materials.
Instead of using cast-in-place concrete for the abutment walls, the Bowman Road Bridge engineers used split-face cinder blocks (modular concrete blocks) to face the abutment. Underneath the GRS abutment, they used a Reinforced Soil Foundation (RSF) over the clay subsoil. The RSF uses GRS to provide embedment and a larger bearing area. GRS consists of layers of compacted granular soil alternated with sheets of geotextile fabric reinforcement to provide support. With GRS-IBS, there is no need for a deep foundation. The construction is jointless and has no approach slab. This has the added benefit of eliminating the "bump" typically experienced where a bridge abuts the roadway.
The performance of the Bowman Road Bridge and the other GRS-IBS bridges has been outstanding. All have performed well and have required no maintenance to date. They have also saved the county significantly on construction costs.
The FHWA and Defiance County proved that this new technology works. For transportation agencies whose budgets are insufficient to meet bridge construction demands, GRS-IBS could be the long-awaited answer.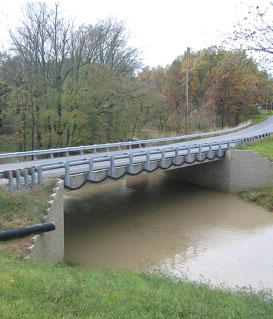 Completed Bowman Bridge, Defiance County, Ohio