Improving Connectivity: The Custer Interchange Project
Project Details
2.1 Project Overview
The 12-mile project includes the construction of a new interchange at Custer Avenue, including widening Custer Avenue to four through lanes between North Montana Avenue and North Washington Street. Additional enhancements include median/turn lanes and provisions for bicycles and pedestrians, as well as construction of two auxiliary lanes on I-15. Minor realignment of the east side Frontage Road at Custer Avenue is also part of the proposed improvements.
Figure 1. Project Study Area, I-15 Corridor, Helena, MT.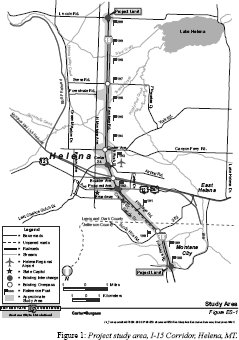 2.2 Project History and Development
The Custer Interchange Project is located within the urban limits of Helena, MT, in Lewis & Clark County along a number of routes. All of the routes within the project area are at least 40 years old: I-15 was initially constructed in 1962; Custer Avenue was constructed in 1955; Cedar Street in 1961; and the initial construction date of Frontage Road is unknown.
Although many of the routes in question have seen improvements over the years, increases in population and changes in land use have resulted in increases in traffic volumes on I-15 and the surrounding roadways. This has decreased the operating efficiency of I-15 and the interchanges, as well as the east-west roadways that serve and cross I-15. Another impact of this increased use has been a 31% higher than average crash rate along the I-15 corridor.
In order to address these issues, MDT has worked extensively with the City of Helena, Lewis & Clark County, Helena Regional Airport Authority, FHWA, and select business owners. In addition, MDT has held 8 public information meetings with local residents since August of 2006.
2.3 Project Purpose
The purpose of the Custer Interchange Project is to improve east-west travel for all modes of transportation, improve emergency services access, improve pedestrian and bicycle facilities, and improve the safety and operational efficiency of I-15, as well as the interchanges and roadways crossing I-15. The Custer Avenue interchange will also provide access to existing and projected land use north of the Capitol and Cedar Interchanges.
2.4 Project Challenges
Due to the location of the project area it is crucial that construction is completed as quickly as possible to minimize the impacts to the traveling public and to nearby businesses, residents, and commuters.
2.5 Project Status
The Final Environmental Impact Statement (FEIS) has been completed, and the FHWA signed the Record of Decision (ROD) in 2004. The preliminary engineering is nearly 50% complete, after which the scope of work will be distributed for comment and approval. Once the scope of work is approved, the project will move into the plan-in-hand design, with a projected ready date of December 1, 2010.