At-Grade Intersection Improvement MD Route 97 Georgia Avenue at Randolph Road
Workshop Details
1.1 Opening Session
MD-97 at Randolph Road is an at-grade four-legged intersection in a heavily urbanized area with heavy traffic flows, particularly during peak hours. The MDSHA ACTT workshop took place September 10-12, 2007, at the Sheraton BWI Airport Hotel in Linthicum, MD.
The FHWA Innovative Contracting Engineer Jerry Blanding, the workshop moderator, welcomed the group and gave a presentation titled Building on Success, giving the mostly first-time attendees an overview of the development and implementation of the ACTT process. The Maryland Department of Transportation State Highway Administration Deputy Administrator Douglas Rose and the FHWA Assistant Division Administrator Bill Wade greeted the attendees, and the participants introduced themselves. Ken McDonald. project manager with Johnson, Mirmiran, and Thompson provided an MD-97 project overview, and the group then departed on a tour of the project area.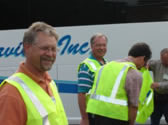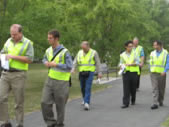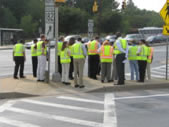 Photos: Touring MD-97 at Randolph Road. Photo source: FHWA and MDSHA
1.2. Workshop Process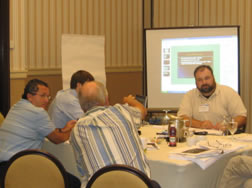 The MDSHA workshop followed the traditional ACTT process. On Tuesday morning, the ACTT management team member and moderator, Jerry Blanding, discussed the brainstorming process with workshop attendees. Each skill-set committee met separately to discuss the project and brainstorm preliminary ideas, reconvening before lunch to share initial thoughts. After lunch, the committees continued their work, intermingling with other teams to ask questions and share ideas. The teams spent the remainder of the afternoon preparing final recommendations for presentation to the full group on Wednesday morning, the final day of the workshop.
A typical breakout session. Photo source: FHWA and MDSHA
1.3 Skill Sets and Goals
Each skill-set committee had established goals unique to its subject area:
Skill Set: Construction
Acceleration of the construction process can only happen with the cooperation and participation of the contractors performing the work. While contractors are generally willing participants in a partnering process and are concerned with producing a quality project, it must be recognized that one of their primary goals is to profit financially. Therefore any innovative construction techniques that are suggested must be reasonably constructed and fiscally viable. Moreover, if financial incentives can be associated with envisioned innovative techniques, there is a greater chance that these techniques will result in shortened construction periods without lessening quality. Proactive contract administration, pre-fabricating and pre-ordering materials, state-of-the art field work, such as surveying, data collection and fast-curing concrete, are all ideas that could be explored.
Goals for Construction Skill Set:
This is a highly urbanized area. Possible work areas and staging sites will be difficult to identify and should be explored.
Work zone safety, pedestrian mobility safety, and motorists safety must be maintained.
Are there new types of construction materials that could be used on this project that would speed construction, such as quick-setting or pre-cast concrete for drainage structures?
Construction management by a private firm could improve materials delivery, contract administration and reduce contractor delays. Should this approach be adopted?
Utility relocation, specifically PEPCO and Verizon, are critical path items for this project. Are there means and methods to improve the efficiency and timeframe for their relocation?
Maintenance of traffic (MOT) is a critical item in this project and will require a minimum of seven stages. Is there any way to reduce the number of stages of the MOT while maintaining traffic and pedestrian flow and other mobility, and at the same time, preserve work zone safety?
Much, if not all, of the existing at-grade intersection will be removed. Are there innovative demolition techniques that could be employed to speed this process?
The newly constructed Randolph Road will be depressed beneath the existing grade approximately 23 feet and will be located approximately 26 feet above Washinton Metropolitcan Area Transit Authority (WMATA) tunnels. A tunnel constructed in multiple states will take Randalph Road beneath the intersection along the same footprint as the existing intersection. Keeping in mind that WMATA has special requirements for working within the "zone of influence," can this be done more efficiently?
Skill Set: Geotechnical Engineering

There is a significant amount of excavation that will be performed in connection with this project. Subsurface conditions and innovative techniques, particularly during maintenance of traffic, should be explored to expedite construction.
Silas Nichols, FHWA Resource Center, facilitating Geotechnical Engineering skill set discussions
Goals for Geotechnical Engineering Skill Set:
The finished profile of Randolph Road will be depressed about 23 feet below the existing grade. Attention should be focused on grading requirements within constrained areas and the use of earth retention systems should be used.
Extensive MOT stages will require temporary detour roads to be constructed at various elevations. Can MOT phases be combined? Will there be adequate materials on site for construction of detour lanes?
Storm water management is being provided by using bioretention facilities. Are there any opportunities to expedite this construction?
An existing WMATA rail line exists directly beneath the intersection of MD 97 and Randolph Road, approximately 50 feet below. Considerations for WMATA have included the use of spread footers to eliminate concerns with the vibration of pile driving. Examine any geotechnical reports to explore opportunities during foundation construction.
Extensive Pepco and Verizon facilities exist directly beneath the intersection and will be relocated into a newly constructed duct bank infrastructure system beneath Judson and Sheraton roads. Will subsurface conditions allow expedited construction of the infrastructure system?
Groundwater readings were taken at select locations along the depressed roadway. the results indicate groundwater does not appear to be a concern. But should a high groundwater table be encountered, what methods of dewatering can be implemented to expedite construction?
Skill Set: Public Relations/Public Involvement
In this highly urbanized area impacts during construction to the community, motorists, pedestrians, business owners and emergency service providers cannot be avoided, only minimized. It is critical that effective public outreach and communications are provided to ensure that these citizens are well informed of construction periods and stages and can make intelligent travel decisions. Businesses may elect to alter delivery times to coincide with certain phases of the MOT. Local elected officials will require constant project updates.
Goals for Public Relations/Public Involvement Skill Set:
Identify all stakeholders in the project.
Bring stakeholders into the project and the process of regional communications.
Investigate methods of effective communication to motorists and pedestrians traveling through the area during construction.
Investigate the need for a public relations manager on site.
How do we secure the acceptance and participation of all stakeholders?
How do we collaborate with and manage the information released by the press?
What is the most effective means of informing the local elected officials and their constituents of construction progress and impacts?
Develop a plan to engage all stakeholders in the acceleration of construction process and communicate to them the overall benefit. Solicit their assistance.
Skill Set: Roadway/Geometric Design
Highway design elements such as horizontal and vertical geometrics and roadside grading can impact overall project costs and construction time frames. Adverse impacts associated with roadway geometrics could range from problematic excavation due to rock or unsuitable materials requiring excavation and backfill to impacts to neighboring properties. Vertical and horizontal alignments can often result in utility impacts that should be considered during geometric layout. Design guidelines allow for flexibility during design. The designers challenge is to meet State and national design standards while minimizing adverse impacts overall. If all of these elements can be brought together in an efficient manner, the result should be a construction time frame that is as timely as possible with minimal adverse impacts.
Goals for Roadway/Geommetric Design Skill Set:
Evaluate the horizontal and vertical geometrics to assess efficacy of construction both overall and during various phases of MOT.
Evaluate the horizontal and vertical geometrics with regard to access to the surrounding properties during construction.
Evaluate the design geometrics with regard to impacts to neighboring properties.
Review all design elements to ensure that necessary utility relocations have been minimized to the greatest extent possible.
Review key design elements to assess if there are any means of accelerating construction through innovative design techniques.
Review design elements with regard to the need for permits and the possibility of minimizing or eliminating permits.
Skill Set: Structures
The Randolph Road tunnel beneath MD 97, with WMATA rail tunnels located approximately 50 feet below the existing intersection, is the focal point of this project. Any effective means of accelerating the construction of both the tunnel and associated retaining walls could have the resultant effect of accelerating the overall project construction period. Review of standard design and construction practices should be performed. Prefabrication or pre-ordering of materials when applicable to avoid delays should be reviewed. Partnering between the owner and the contractor may aid in communications and expediting construction and should be considered.
Goals for Structures Skill Set:
Design concepts should consider availability of materials. Are there any long-lead items?
Construction areas will be constrained in this tightly urbanized area. Staging areas and accessibility of those areas should be assessed.
Design concepts should consider the use of early-strength concrete or pre-cast materials for tunnel and retaining walls.
Evaluate impacts to utilities associated with structure foundations.
Assess the stages of construction and evaluate the possibility of reducing stages.
Should construction management be considered as a means of improving construction efficiency, owner/contractor partnering and reduction of delay?
Are there other new types of construction materials or techniques that could be used on this project that would speed construction?
Skill Set: Traffic Engineering/ITS/Safety

Traffic management techniques both during construction and in the completed facility will be critical to the overall success of the project. All innovative techniques that will aide in improving safety, traffic flow, communication and overall speed of construction should be thoroughly reviewed for possibilities. Efficiency in communicating to local elected officials, emergency service providers, motorist, and local businesses regarding traffic shifts, detours, restrictions and MOT phases during construction will help minimize impacts. Information systems to communicate via the Internet and media should be explored. Incident management systems should also be assessed for potential benefit for this project.
Tom Harmon, FHWA Resource Center facilitating Traffic Engineering/ITS/ Safety skill set discussions
Goals for Traffic Engineering/ITS/Safety Skill Set:
Review Maintenance of Traffic Plans for opportunities to improve traffic flow and eliminate phases or shorten durations while maintaining safety practices
Assess pedestrian and biker safety, mobility and accessibility during construction
Consider truck detours during heavy construction periods
Consider working with businesses to coordinate truck business deliveries to non-construction hours
Assess the benefits of a public involvement liaison and campaign during construction
Review construction phases for work zone safety
During construction, consider alternate route detours or elimination of certain movements to maximize work zone areas
On-hand field resources for incident management; special event planning during construction and post construction
Utilize ITS into construction phasing
Assure current technology for traffic control devices (signs, signals, VMS, arrow panels, portable signs)
Post construction – traffic demand management (HOV, mass transit, car and vanpooling, work with local business to encourage flex time, telecommuting, etc.)