January 2007 Accelerated Construction Technology Transfer Building on Success
ACTT Projects, Backgrounds and Top Recommendations by State
Sharing national knowledge and expertise to promote accelerated construction and keep traffic moving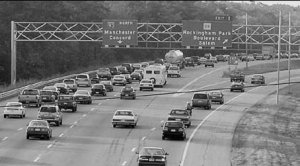 OHIO
February 2006
Project
For the past several years, the Ohio Department of Transportation (ODOT) has been working with the community to develop a comprehensive strategy to rebuild the Cleveland Innerbelt. This effort, which evolved into the Cleveland Innerbelt Plan in 2004, includes rebuilding portions of Interstates 71, 77 and 90 through downtown Cleveland. Estimated cost is $850 million.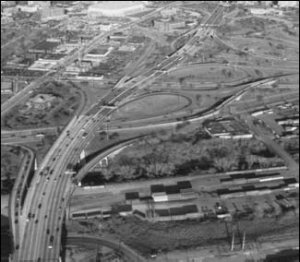 Background
Constructed in the late 1950s and early 1960s, Cleveland's Innerbelt Freeway (I-90) is host to a number of operational and safety concerns. The Cleveland Innerbelt Plan, which consists of nine individual projects, will upgrade the existing facility to current design standards while balancing safety, operation and access. The corridor encompasses 25 bridges, including the 5,079-foot-long Central Viaduct. The project is complicated by the fact that the origin and destination points of approximately 85 percent of the a.m. and p.m. peak traffic fall within the project study area.
Top Recommendations from Workshop
Determine if the project timeline is reasonable. Focus on ROW and the relocation of utilities with available cash on hand (including earmarks), especially for the Central Viaduct.
When ready, bond and accelerate to finish in a reasonable timeframe. National experts say Ohio's indebtedness is conservative. Consider additional bonds.
Utilize innovative techniques such as A-plus-B-plus-C contracting, incentives and disincentives, lane rentals, etc.
Incorporate strategies to control material price spikes, i.e., pre-bidding of materials, shorter contract timeframes, etc.
Establish a permanent, corridor-based project management team (PMT). Include a dispute review board (DRB) to be forward-looking and to control claims costs.
Work with FHWA on allowing ODOT to let the highway contract prior to clearing ROW. This will help the project schedule tremendously.
Divorce CPM from the financing package.
Consider a five-year program instead of an eight-year schedule.
Consider separate utility bridges.
Consolidate utilities.
Prepare a pre-approved list of relocation contractors for a utilities subcontract.
Conduct a scientific survey to determine the demographics of roadway users. Use this information to tailor the outreach program and make targeted investments.
Contact
Craig Hebebrand
(216) 584-2113
craig.hebebrand@dot.state.oh.us
NEW HAMPSHIRE
February 2006
Project
The I-93 Salem to Manchester (I-93 Improvements) project consists of 19.8 miles of Interstate 93 beginning at the New Hampshire/Massachusetts State line and continuing north to the I-93/I-293 interchange. The project passes through five communities and includes sections of five State highways, as well as several other municipally-owned and maintained roadways. Forty-three bridges will be replaced, rehabilitated or widened as part of the $480 million project.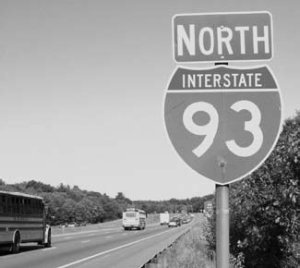 Background
I-93 was constructed in the early 1960s and provides two lanes each in the northbound and southbound barrels. Recent traffic volumes throughout the corridor have exceeded 100,000 vehicles per day (VPD), which far surpasses the 60,000 to 70,000 VPD that the roadway was designed to accommodate. As a result, motorists encounter regular congestion and backups, and numerous accidents occur, many involving multiple vehicles. Safety and congestion are further compromised by substandard ramp and highway geometry at most of the interchanges.
Top Recommendations from Workshop
Consider breaking out the final paving contract.
Consider onsite hot mix asphalt (HMA) drum/crusher/concrete/precast plants.
Consider utilizing a perpetual pavement design.
Complete constructability reviews and evaluate material hauling routes outside of the mainline.
Optimize construction sequencing by utilizing corridor-wide CPM scheduling.
Assign a corridor-wide traffic control manager and construction management team.
Develop a risk management plan for resource protection.
Utilize time-based contracting strategies when appropriate, such as A-plus-B bidding, the use of incentives and disincentives, and tied bidding.
Complete reviews on constructability and contract packaging with industry.
Minimize phased construction.
Skid bridges using SPMTs and other means.
Consider relocating utilities off bridges.
Advertise an early contract for fabrication of structural steel and precast elements to expedite construction and to increase supplier capacity.
Consider acceptance of intent-to-build shop drawing plans to expedite review time.
Consider acceptance of electronic shop drawings to expedite review time.
Develop a detailed PR plan to keep users informed.
Establish a dedicated ROW coordinator for the corridor.
Complete early ROW definitions and advance acquisitions when possible.
Utilize incentives to accelerate ROW acquisition.
Establish a dedicated utility coordinator.
Consider partnering with utilities to share cost when appropriate.
Contact
William Cass
(603) 271-6152
bcass@dot.state.nh.us
NEW YORK
March 2006
Project
The Brooklyn-Queens Expressway (BQE) "triple cantilever" project encompasses 1.5 miles of the infamous BQE Expressway (or I-278), including 22 structures. The segment under study runs between Atlantic Avenue and Sands Street in Kings County and consists of a roadway elevated on a variety of steel and concrete bridges.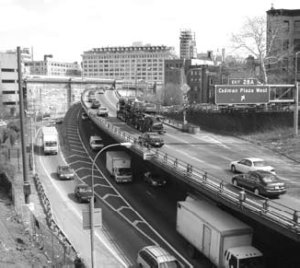 Background
The most notable bridge along the project corridor, the triple cantilever, is a reinforced concrete, multi-level structure built in 1948. It carries six lanes of the BQE on two cantilevers, with the three eastbound lanes located above the three westbound lanes. The third cantilever features the Brooklyn Heights Promenade, a pedestrian walkway with views of the East River and the Manhattan skyline. Furman Street runs parallel to the Interstate, at grade. Local street intersections and connections to the Brooklyn Bridge north of the triple cantilever add to the complexity of the structure. Project constraints include substandard features and potential impacts on business development, residential communities, city parks, historical resources and multimodal infrastructure.
Top Recommendations from Workshop
Utilize temporary bridges.
Double deck the BQE at Old Fulton Street.
Use Furman Street as a detour.
Study potential re-alignment at the Brooklyn Bridge.
Use pre-fabricated bridge units.
Form a community advisory group early in the process.
Form a multi-disciplinary project design team.
Coordinate with park construction. Work with other agencies early in the process.
Utilize the park as the staging area.
Use barges for staging and for delivering materials.
Use Pier 7 for storage/staging.
Conduct a comprehensive internal and external scoping process to:

Refine project purpose and need.
Delineate and map the environmental context.
Obtain agency and public input.
Establish transportation and environmental performance measures that will support environmental streamlining and stewardship.
Contact
Mike Stelzer
(518) 485-5283
mstelzer@dot.state.ny.us
HAWAII
April 2006
Project
The Interstate Route H-1, Pearl City, Waimalu and Airport Viaduct Deck Improvements project spans Interstate H-1 from Waipahu (milepost 8.8) to the Honolulu International Airport (milepost 18.1). Collectively, the three viaducts comprise nearly four miles of the nine-and-a-half-mile corridor.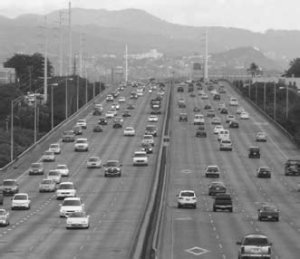 Background
The scope of work for the project is to provide a repair method that will address the deteriorating deck surface of the three viaducts. Ultimately, the Hawaii Department of Transportation's (HDOT's) goal is to find a long-term (50-year) solution that will prolong the life of the three structures without crippling traffic along some of the State's most heavily used roadways. Estimated cost for the project is $100 million.
Top Recommendations from Workshop
Consider A-plus-B or A-plus-B-plus-C contracting, where C is a quality parameter, a maintenance option, etc.
Utilize a two-step process that consists of short listing qualified contractors and reviewing their proposals.
Rate proposals utilizing best-value factors.
Use incentives to speed up construction.
Construct a temporary bridge over the top.
Remove the median barrier to provide for more lanes of traffic.
Approach this as one project with multiple phases.
Brand the project.
Communicate and coordinate with other agencies.
Look at joint development agreements for the ROW under the viaducts.
Consider user fees or high occupancy toll (HOT) lanes.
Implement a long-term maintenance agreement; it offers the quality hook as well as life cycle cost efficiencies.
Include performance specifications in the areas of traffic management, quality and life cycle efficiency.
Contact
Christine Yamasaki
(808) 692-7572
Christine.Yamasaki@hawaii.gov
NORTH CAROLINA
April 2006
Project
The US 421/I-40 Business in Winston-Salem project stretches from west of Fourth Street to east of Church Street. Originally, the North Carolina DOT (NCDOT) envisioned the US 421/I-40 Business in Winston-Salem project as a pavement rehabilitation effort. However, as the project evolved, NCDOT realized that minor rehabilitation would not address the safety and mobility improvements needed throughout the corridor. Thus, NCDOT incorporated design improvements into the project scope.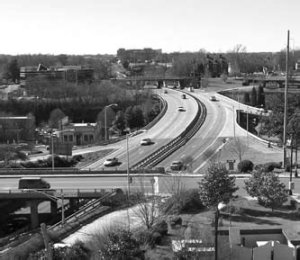 Background
Numerous bridges throughout the project corridor have substandard design features, including horizontal and vertical alignment issues and ramp configurations, that do not meet AASHTO recommendations - and that contribute to the congestion and high accident rates experienced at several locations within the project limits. Furthermore, NCDOT expects that driving conditions will continue to deteriorate as traffic volumes rise. A key challenge is the narrow project corridor, which provides no room to shift traffic in order to maintain the existing lanes during construction.
Top Recommendations from Workshop
Coordinate with local entities, including Duke Energy, Bell South, Time Warner, NCDOT ITS, Piedmont Natural Gas, the City of Winston-Salem (for water, sewer and signals/lights) and existing historic districts.
Involve environmental agencies.
Address staging/lay-down area requirements.
Consider splicing moratoriums, seasonal restrictions and budget constraints when planning the project.
Establish a pro-active public relations program.
Eliminate the structures at Fourth Street, Green Street and Spruce Street.
Let multiple early contracts for bridge removal, utility relocation and pedestrian/bike bridge construction.
Manage access by developing the two proposed interchanges to replace the current four.
Lower the mainline profile to improve sight distance only in the vicinity of Marshall Street/Cherry Street.
Consider a split diamond interchange with one-way C-D roads.
Encase utilities in a precast vault (under or outside the shoulder) to avoid future damage to the pavement. Share the cost with fiber companies.
Consider various uses for old roadway and bridge concrete. They include subgrade stabilization, fill, aggregate base (if needed), crush-in-place, use for maintenance operations (for driveways, shoulder stabilization, etc.), staging material at urban redevelopment sites, etc.
Incorporate beautification elements such as concrete imprints and colorings; retaining wall/noise wall décor; white cement median barriers; and low-maintenance landscaping.
Phase the project to facilitate construction for the interior portions of the corridor.
Contact
Steve DeWitt
(919) 571-3030
sdewitt@dot.state.nc.us