Innovations - Self-Propelled Modular Transporters
PDF Version (259 kb)
Specialized vehicles dramatically reduce onsite construction time and user impact
Vehicles that can remove existing bridges and install new bridges with minimal traffic disruption are helping the United States grapple with the dual challenges of an aging bridge inventory and increasing bridge congestion.
Self-propelled modular transporters (SPMTs) are computer-controlled multiaxle platform vehicles that can move prefabricated bridge spans weighing several thousand tons and position them accurately within a fraction of an inch. Precise placement is possible because the SPMT's electronic steering capability drives multiple axles and allows pivoting about a point. Bridge construction that formerly shut down traffic for months can now be completed with closures of a few minutes to a few hours.
Conventional bridge construction follows sequential processes that require significant onsite construction time. Onsite superstructure construction, for example, involves erecting beams and deck forms, tying deck reinforcement, placing deck concrete, curing deck concrete, removing temporary formwork, and placing traffic railing and appurtenances such as signs. With SPMT technology, this sequence is collapsed to one onsite step—moving the prefabricated superstructure from the staging area to its final position—thus minimizing onsite construction time and traffic disruption.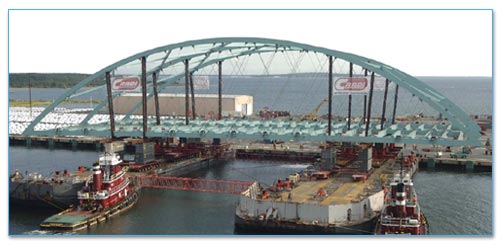 Prefabricating bridge components offsite under controlled conditions and installing them onsite with SPMTs provides unprecedented flexibility to remove and replace existing bridges quickly. The use of SPMTs for bridge moves was the top recommendation of the 2004 Prefabricated Bridge Elements and Systems International Scan sponsored by the Federal Highway Administration, the American Association of State Highway and Transportation Officials, and the Transportation Research Board's National Cooperative Highway Research Program. The scan researched how other countries use prefabricated bridge components to minimize traffic disruption, improve work zone safety, reduce environmental impact, improve constructability, enhance quality, and lower life-cycle costs. The scan team learned that European countries frequently use SPMTs to lift and drive bridges to their final location in just minutes.
SPMTs should be considered for all bridge projects for which reduced onsite construction time is a priority, and also when other site requirements justify their use. A number of U.S. projects have used this technology successfully:
A 111-foot (ft) long steel truss replacement span was installed on Wells Street crossing Wacker Drive in downtown Chicago for the Chicago Transit Authority in 2002.
SPMTs with special framing were used in 2004 to remove the 36-ft-wide existing deck segments and install new precast deck segments in the Lewis and Clark Bridge on SR 433 over the Columbia River between Washington and Oregon, with no impact to rush-hour traffic and with savings of $10 million.
Existing spans were removed and new longer and wider spans installed on Graves Avenue over Interstate 4 northeast of Orlando, FL, in 2006.
Damaged spans were removed and new spans installed on I-10 over LA 35 near Lafayette, LA, in 2006.
SPMTs on barges were used in 2006 to install the new 400-ft-long steel network arch main span of the Providence River Bridge in Rhode Island.
---
For More Information
Manuals
Videos
Contact
Reggie Holt
Senior Bridge Engineer
Office of Infrastructure
FHWA
202-366-4596
reggie.holt@dot.gov