DP-102 Host Site Facility Requirements
SHIPPING MATERIALS: OGI will ship two steel containers that house all the equipment required for the workshops. The containers are approximately 72"x 72"x 102". Estimated weights for the containers are 5,000 lbs and 4,000 lbs. In addition OGI will ship steel plate, weld consumables, and handout materials to each site. The containers will be shipped from the previous demonstration site. The steel will be shipped from OGI in Portland OR.
ELECTRICAL REQUIREMENTS: Host site will need to provide electrical power hookup to handle (480V, 3Ph, 150A) requirements. OGI will provide power lead that extend from the electrical panel boxes in one of the two shipping containers for a maximum distance of 45 feet. The power lead can be wired directly into host site panel, if a suitable breaker is available or wired into a separate disconnect box. If the host site does not have either a 150A breaker for 480V, 3ph service or a suitable disconnect switch, OGI will ship a suitable disconnect box that can be installed near a main distribution panel at the site. After the demonstration the disconnect box will be removed. OGI will ship these materials in advance so that an electrician can install the disconnect prior to OGI's arrival. For a workshop that begins on a Tuesday, OGI needs to have the power connection completed by Monday noon, in order to test the system on Monday.
Additionally OGI requires at least one (120V 1ph, 20A) service in the area.
Note: If (480v, 3Ph, 100A) is the maximum service available, please contact OGI to discuss alternative configurations that would allow OGI to conduct the workshop.
SPACE REQUIREMENTS: A 750-900 square foot workshop area is the minimum space for locating the equipment and for making the demonstration welds. In addition a classroom/ conference room setting is necessary. It needs to accommodate up to 50 people and be suitable for a slide projector and a projection screen, minimum 6' x 6' size. The slide projector will not be supplied by OGI. Rather it will be supplied by FHWA or by the host site.
OTHER: OGI will supply a portable sound system
SUMMARY--THE HOST SITE WILL NEED TO:
1. Provide means to unload and load two steel shipping containers and steel plates from enclosed van. Hence a lift truck with 6,000 lbs capacity is required. For stability a cargo strap or other suitable cable, strap, chain, etc., is needed to extend around the container and the lift truck mast to insure stability while unloading and reloading. Alternately, the containers may be secured to the lift truck from each container's top corners positioned lifting lugs Once unloaded the containers may be moved into position for the demonstration by either a lift truck or by an overhead crane.
2. A forklift, overhead crane or job boom is required in the weld demonstration area in order to position the plates and fixtures for welding. A 1500 lb capacity is sufficient for positioning the plates to be welded and the associated fixtures.
3. POWER Requirements: 480volts, 3 phase, 150 ampere breaker within 45 feet of the demonstration area. OGI can provide a suitable disconnect box if one is not available at the site.
4. Classroom setting for accommodating up to 50 people.
CONTACTS FOR ALL SHIPPING AND ON-SITE ARRANGEMENTS:
Primary OGI Contact: Robert Turpin - Phone: (503) 748-1177 or Fax: (503) 748-1678
Secondary OGI Contact: William Wood - Phone: (503) 748-1317 or Fax: (503) 748-1432
---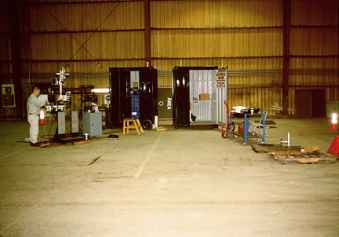 Overall layout with containers and weld station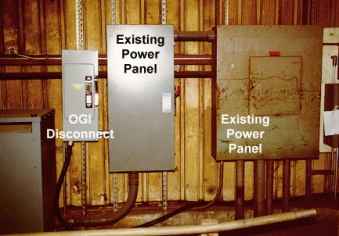 Power Panel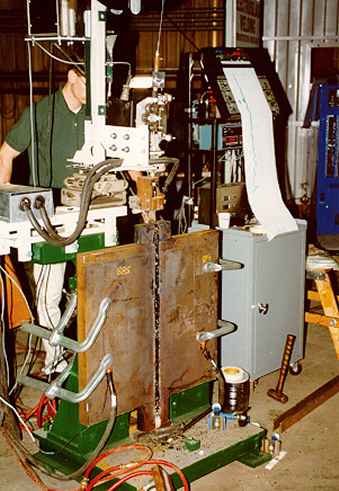 NGI ESW Weld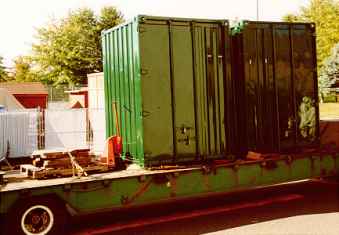 Shipping Containers and Steel
Plate for Welding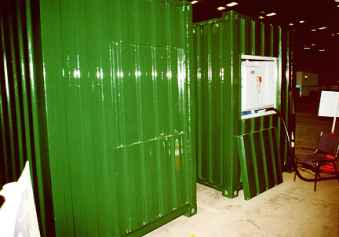 Power Lead form Welding Power
Supply to Site Disconnect