Tunnels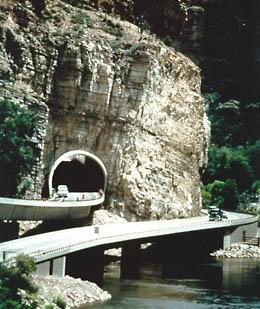 For more than 20 years, the FHWA has researched and fomented new technologies and best practices for the design and construction of road tunnels. The use of underground space for transportation of goods and people has increased in the last 10 years.
Tunnels represent the most expensive type of transportation structures, where in addition to complicated design, the greatest challenges may be encountered during construction. Since the early 1930's until the latter part of the 1980's the technique of tunneling has not kept pace with the development of other technical fields and the literature on tunneling has also shown signs of declining. Hence to be able to serve as a reliable and credible information source to the field offices of FHWA, the state highway agencies, municipalities as well as the general public.
VISION: Preserve and Enhance United States Tunnel Engineering Expertise
MISSION: To develop, promote and advance road tunnel engineering principles, technology, and maintenance practices in the United States through a national team of road tunnel experts.
GOALS:
Form a national team of road tunnel experts to serve as a reliable and credible information source to internal (FHWA) and external (all other) customers.
Develop a web page to include such items as:

A database of ongoing tunnel projects in the United States.
List of tunnel-related publications and how they can be obtained

Enable and promote the continuous development of tunnel knowledge
Assist AASHTO T-20 Subcommittee on Tunnels to create tunnel specifications, and advance tunnel research.
NTIS