FHWA Demonstration Project, DP-102
Narrow-Gap Improved Electroslag Welding for Bridges
Office of Technology Applications
Office of Engineering/Bridge Division
The objective of the Federal Highway Administration's (FHWA's) Demonstration Project 102 (DP-102) Narrow-Gap Improved Electroslag Welding for Bridges is to introduce a modified version of a productive welding process for joining thick plates or other thick wall components. The expected audience will include State Department of Transportation (DOT) bridge engineers, welding engineers, welding inspectors, operators, steel bridge fabricators, consultants, FHWA representatives, and others.
In the 1980s, the FHWA launched a comprehensive research program that developed a modified electroslag welding (ESW) process called the Narrow-Gap Improved Electroslag Welding (NGI ESW) technique. This new technique significantly improved the properties of the electroslag welds. Upon completion of the research, extensive field trial were made to confirm research findings of the new ESW technology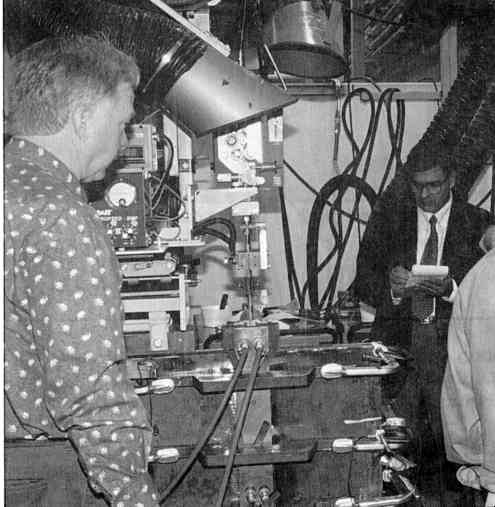 Narrow-Gap Improved Electroslag Welding Process
(Front View)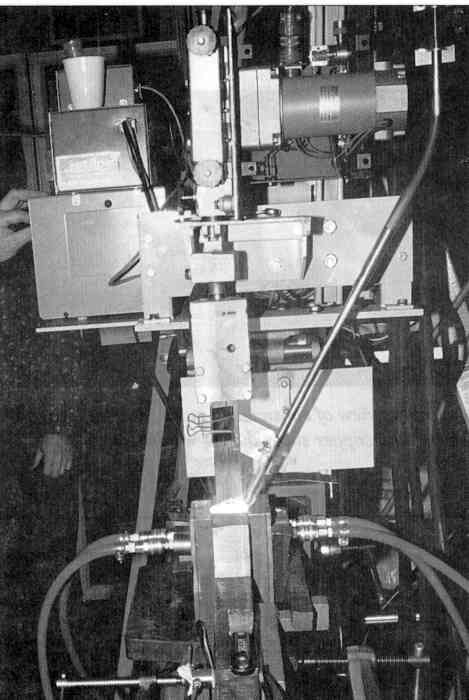 Narrow-Gap Improved Electroslag Welding Process
(Side View)
The primary tasks of DP-102 are to transfer the new ESW technology to State DOTs and bridge fabricators so that the NGI ESW process may be confidently applied to production welds for bridge members. The project is intended to accomplish the following tasks:
Ensure the availability of NGI ESW equipment and materials

Test the new NGI ESW equipment, electrode wire, flux, and procedure

Develop guiding and governing documents required for implementations of NGI ESW

Ensure that the minimum specified weld toughness can be consistently reproduced

Conduct a series of workshop presentations and NGI ESW demonstrations for State DOTs, FHWA representatives, and steel bridge fabricators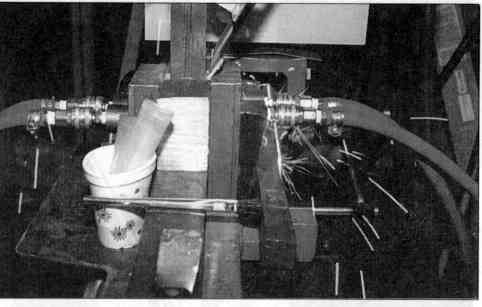 Close-up View of Consumable Guide Flux Feeding System and Copper Shoes During Welding
The workshop will include both slide and video presentations to discuss FHWA-sponsored NGI-ESW operating techniques, inspection procedures, and specifications applicable to NGI ESW. Also, hands-on demonstrations in a shop or a suitable similar facility will take place. The handout material will include a training manual and a copy of the proposed specifications.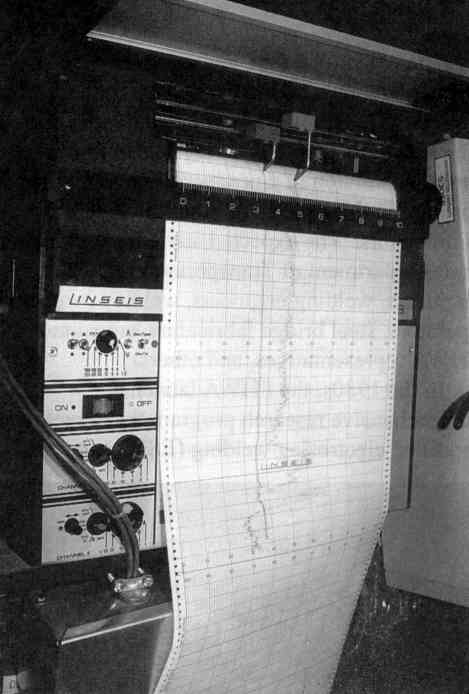 Continuous Monitoring of Voltage and Amperage During Welding
For additional information, or to request presentation of this project, please contact the FHWA division office in your State or the Bridge Division, Washington, DC (Mr. Krishna Verma, Welding Engineer (202) 366-4601 or fax (202) 366-3077).