Innovations - Silica Fume in High-Performance Concrete
PDF Version (85 kb)
Admixture makes concrete stronger and more durable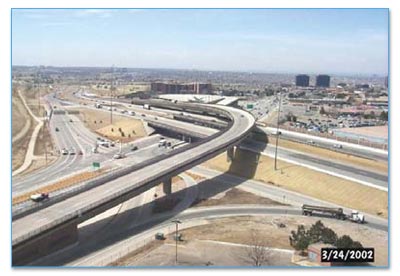 View of an off-ramp from Parker road to southbound I225 in Denver, Colorado. This structure used a ternary mix that included 6% silica fume, 20 percent Flyash class F and less than 500lbs of cement with 56-day strength of 4500 psi.
One of the most widely used supplementary cementitious materials (SCMs) in the production of high-performance concrete (HPC) is silica fume. Also known as microsilica, silica fume is a byproduct of producing silica metal or ferrosilicon alloys. As an admixture in HPC, it makes concrete stronger and more durable.
Silica fume consists of very fine particles about 100 times smaller than the average cement particles. The extreme fineness of the silica fume particles allows it to fill the microscopic voids between cement particles.
Benefits of adding silica fume to concrete include the following:
Increased strength through improved bonding between the aggregate that makes up concrete and the paste that holds it together
Greatly reduced permeability so water and chloride ions (from deicing salts that corrode reinforcing steel rebar) cannot penetrate
Less expansion of the concrete due to alkali-silica reactivity
Electrical resistivity 20 to 100 times greater than ordinary concrete
Increased abrasion resistance on decks, floors, overlays and marine structures
Superior resistance to chemical attack from chlorides, acids, nitrates and sulfates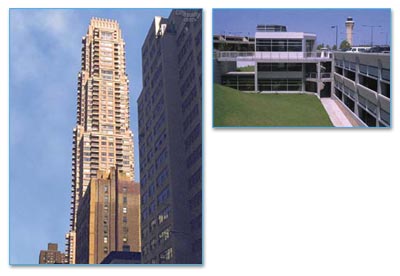 The trump Palace, which used 11% silica fume and with the 28-day compressive strength of 12,500 psi and the Kansas City Airport parking structure that used 10% silica fume and with a 2-day average compressive strength of 3,964 psi.
Many transportation agencies and construction firms are using HPC with silica fume in construction of concrete pavements, bridge decks, precast slabs, parking garages, and prefabricated bridge components, including pier caps, girders, and columns.
Trump Palace, a 56-story building in New York City, used 12,000 cubic yards of HPC with 11percent silica fume and a 28-day compressive strength of 12,500 pounds per square inch.
Kansas City International Airport used HPC with 10 percent silica fume for its 65,000-square-yard parking garage with an average compressive strength of 3,964 in two days for post-tensioning, and achieved rapid chlorine permeability (RCP) of 250 coulombs.
The Colorado Department of Transportation, as part of a research study sponsored by the Federal Highway Administration, developed a concrete mix design (Class H) with up to 20 to 25 percent fly ash and 6 percent silica fume. The mix was used on the decks and rail of a major interchange at Interstate 225 and Parker Road. The Class H mix was able to reduce the 56-day permeability from 6,000 coulombs to below 2,000 while maintaining the standard for workability and strength.
---
For More Information
Contact
Reggie Holt
Senior Bridge Engineer
Office of Infrastructure
FHWA
202-366-4596
reggie.holt@dot.gov