January 7, 2021
Innovation of the Month:
Crowdsourcing for Advancing Operations
The beginning of 2021 brings EDC-6 into full swing. This month, we will introduce you to crowdsourcing for advancing operations, an innovation continuing from EDC-5.
Transportation systems management and operations (TSMO) programs strive to optimize existing roadway use with tools like traveler information, traffic incident management, work zone management, and traffic signal management. TSMO solutions help mitigate congestion from special events, adverse weather, traffic incidents, and work zones. These solutions require real-time, high-quality, and wide-ranging roadway information.
Crowdsourcing for advancing operations is the practice of addressing these needs by enlisting the services of a large number of people through technology. This practice is a low-cost, powerful tool that leverages the public to collect data. Crowdsourcing overcomes gaps in geographic coverage of traditional intelligent transportation system (ITS) monitoring systems, lags in timeliness of information, costs to build and maintain monitoring equipment, and jurisdictional data stovepipes. Crowdsourced data are available wherever and whenever people travel, giving visibility into suburban and rural networks where roadway sensor technology is often not available.
During EDC-5, most participating agencies focused on improving a single aspect of operations using crowdsourced data, most commonly traveler information and incident management. Forward-thinking agencies have already proven how even a single, well managed, integrated, archived, and shared crowdsourced data stream can save millions of dollars in operating costs, while making travel safer and more reliable. EDC-6 will help agencies transform crowdsourcing into a system that gathers, integrates and uses multiple streams of data in several areas to improve real-time operations and operational systems planning.
In October 2020, the Ohio Department of Transportation (ODOT) improved its method for integrating vehicle probe data with their State's linear referencing system data. The new method better translates intersection start and end points, segments crossing county boundaries, ramp sections, and roads that loop (i.e., begin and end on the same road). With this improved data integration, the multiple real-time and archived crowdsourced data applications become more accurate and useful.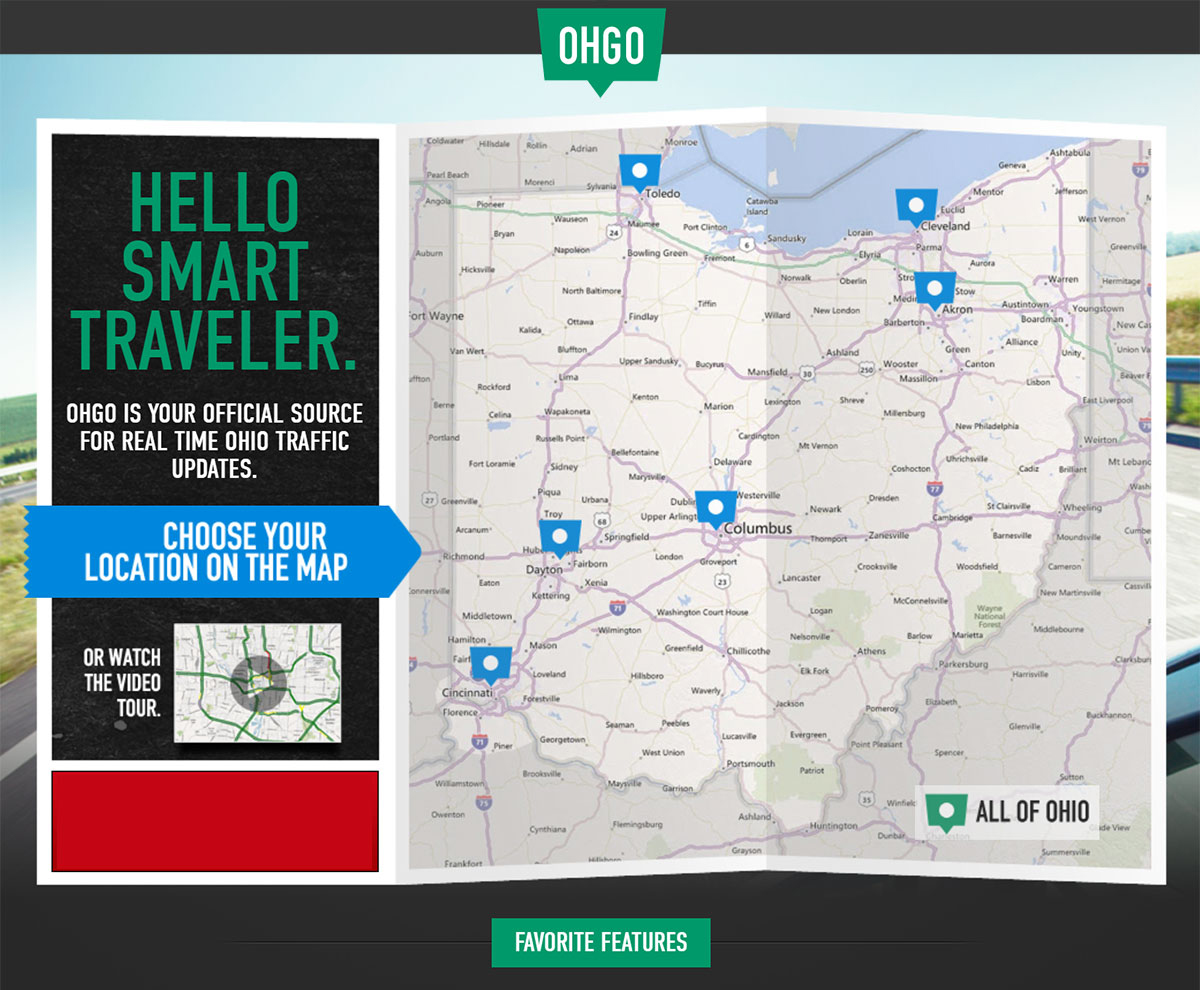 The ODOT Traffic Management Center (TMC) uses high-resolution vehicle probe data through an event streaming platform to help operators investigate dangerous traffic slowdowns, an indicator of a potential incident or traffic queue. TMC operators then alert motorists to delays through dynamic message signs, the OHGO 511 web, and mobile app interfaces. The web and app also enable users to view incidents shared through the State's partnership with the Waze Connected Cities program.
Road weather, arterial, and work zone programs also benefit from better crowdsourced data management and integration. It used to take ODOT analysts many days to import, clean, and assess data to estimate route recovery from snow and ice events. New code and database optimizations have reduced this time to a few hours.
To learn more about crowdsourcing for advancing operations, contact James Colyar, Greg Jones, or Ralph Volpe, EDC-6 team co-leads or visit the team's EDC website.
Arizona Creates AVL Dashboard for Winter Maintenance Operations
The Arizona Department of Transportation (ADOT) has developed an automatic vehicle location (AVL) dashboard for use by ADOT staff for winter maintenance operations and fleet management. The dashboard provides users with real-time information on significant winter weather events, enabling ADOT staff to make informed decisions to best manage the roadway. Additionally, it is also used for post storm response reporting which enables staff to identify actions done correctly, actions needing improvement, and document the corrective actions implemented.
To learn more about this tool or about other weather-responsive management strategies, contact David Johnson with the FHWA Office of Operations.
New Innovator Now Available!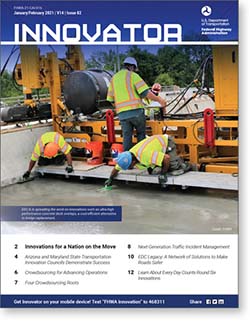 The January/February issue of Innovator is now available, accessible from your computer, tablet, or mobile phone to optimize your reading experience!
In this issue:
Comments? Questions? We'd love your feedback! Drop us a line and let us know what you think.
Read past issues and sign up to receive Innovator by email here, or text "FHWA Innovation" to 468311 to get Innovator on your smartphone.
Watch the EDC-6 Virtual Summit On-Demand
Last month, over 2,000 people attended the EDC-6 virtual summit to learn about the new innovations featured in EDC-6. If you weren't able to join us, you can still view the sessions, videos, or print material on-demand.
Watch team leaders lay out their vision for each EDC-6 innovation, listen to compelling success stories from agencies already using them, explore the virtual exhibit floor to learn about innovations from this and past rounds of EDC, and visit the National STIC Network Showcase to learn about over 200 home grown innovations developed and deployed across the country.
Click here for the on-demand agenda. Register to access the summit content, which will be available until December 2021.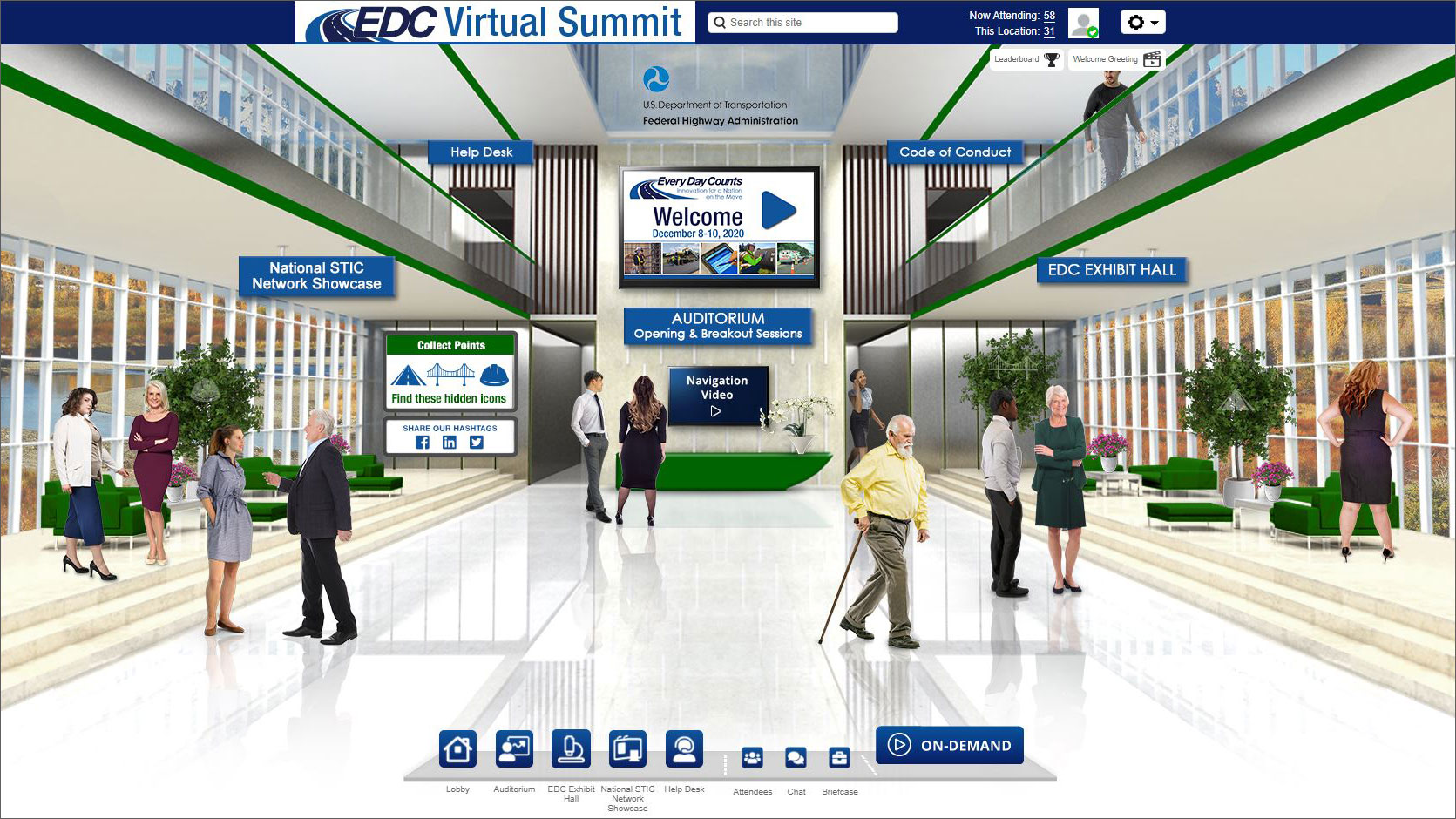 About EDC
Every Day Counts, a State-based program of the Federal Highway Administration's Center for Accelerating Innovation, works with State, local, and private sector partners to encourage the adoption of proven technologies and innovations to shorten and enhance project delivery.