Publication Number: FHWA-HRT-11-015
Date: July 2011
Printable Version (.pdf, 0.6 mb)
FHWA Offers New Guidance on Hollow Bar Soil Nails
Guidance for mitigating corrosion in hollow bar soil nails is presented in a new Federal Highway Administration (FHWA) report, Hollow Bar Soil Nails: Review of Corrosion Factors and Mitigation Practice (Pub. No. FHWA-CFL/TD-10-002).
Hollow bar soil nails (HBSNs) have been used in temporary applications for earth retaining structures in the United States for more than 10 years, providing an alternative to solid bar soil nails when the solid bar installation would require casing of the hole. The use of HBSNs reduces the steps needed for installation, which can accelerate construction and increase work zone safety. When using soil nailing, the existing ground is reinforced and strengthened by installing closely-spaced steel bars, known as "nails," into a slope or excavation as construction of a retaining wall proceeds from the top down. This creates a reinforced section that is stable and able to retain the ground behind it.
A 2006 FHWA report, Hollow Core Soil Nails: State of the Practice, identified areas of further research that would help transportation agency personnel and design professionals understand the potential of HBSNs as a mainstream technology for permanent soil nail applications. One of the areas identified was corrosion mitigation guidance. To view the 2006 report, visit www.cflhd.gov/programs/techDevelopment/geotech/hollowcore.
A subsequent FHWA questionnaire sent to transportation agencies, consultants, manufacturers, trade associations, and contractors found that a lack of guidance on corrosion protection is limiting the use of HBSNs in corrosive environments. The new FHWA report identifies contributing factors that may lead to corrosion of HBSNs and reviews the current guidance on corrosion mitigation. "The hollow bar soil nails are a valuable technology. This study's goal was to further the knowledge base about the technology," said Justin Henwood of FHWA.
Factors affecting corrosion of HBSNs examined in the report include soil corrosivity, coatings, soil abrasiveness, grout properties, grouting procedures and equipment, stress in steel, and metallurgy.
Existing corrosion mitigation guidance is also discussed, including both U.S. and international (primarily European) guidance. Most of the existing guidance pertains to assessing the corrosion potential of the soil and then selecting an appropriate corrosion protection system. The U.S. and international guidance both recognize the importance of assessing the soil corrosivity using a suite of electrochemical tests. As the report notes, however, the level of testing and the assessment of corrosivity are different. The U.S. guidance is based on comparing the measured value of each electrochemical property, such as pH, resistivity, chlorides, and sulfates, with a certain threshold value for that property. The European practice is to assign a numerical rating to a variety of parameters, including electrochemical properties, and then assess the corrosivity of the soil based on the value of the cumulative ranking.
Recommendations for next steps outlined in the report include that studies be performed to assess the factors influencing the development of cracks in grout when using HBSNs. Also included in the report are copies of the FHWA questionnaire and a summary of responses received.
Additional information on HBSNs is provided in the 2010 FHWA publication, Hollow Bar Soil Nails: Pullout Test Program (Pub. No. FHWA-CFL/TD-10-001), which looks at bond strengths and load testing procedures. Included in the publication are details pertaining to an FHWA field study and analysis program and its test results. To download a copy, visit www.cflhd.gov/programs/techDevelopment/geotech/HBSN.
Hollow Bar Soil Nails: Review of Corrosion Factors and Mitigation Practice is available online at www.cflhd.gov/programs/techDevelopment/geotech/corrosion. For more information on HBSNs, contact Justin Henwood at FHWA, 720-963-3362 (email: justin.henwood@fhwa.dot.gov).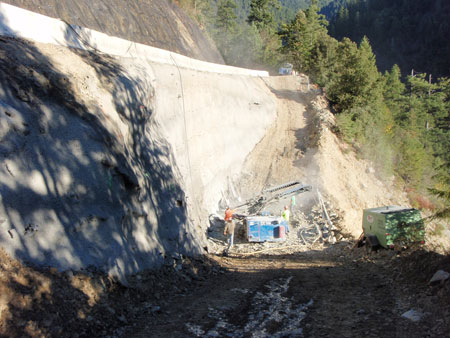 FHWA's Central Federal Lands Highway Division used hollow bar soil nail technology for a project on South Fork Smith River Road in California.