Publication Number: FHWA-HRT-11-015
Date: July 2011
Printable Version (.pdf, 0.6 mb)
Intelligent Compaction: One Giant Step Forward in Quality Control
Take a giant step forward in quality control (QC) for paving projects with the use of intelligent compaction (IC). With transportation agencies nationwide sharing the goal of producing quality projects that meet the public's expectations for performance, high quality compaction of the pavement subgrade and materials is key to long-life performance of the roadway. In the past, a lack of technology made it difficult to perform QC and evaluate compaction operations. The quality of the compaction operation could only be assessed after completion by looking at whether the results complied with the specifications for the project. "Today, IC can provide better control and oversight of the compaction process, resulting in improved and more uniform compaction and increased productivity," said Lee Gallivan of the Federal Highway Administration (FHWA).
Development and implementation of the IC technology has been advanced through a 3-year pooled fund study launched by FHWA and the Transportation Pooled Fund Program in 2007, "Accelerated Implementation of Intelligent Compaction Technology for Embankment Subgrade Soils, Aggregate Base, and Asphalt Pavement Materials" (Project No. TPF-5(128)). As part of the study, 16 IC demonstrations were conducted in 13 States across the country. Field reports on the demonstrations are available at www.intelligentcompaction.com. Two FHWA Tech Briefs, Intelligent Compaction for Asphalt Materials and Intelligent Compaction for Soils and Subbase Materials, are also available on the site or at www.fhwa.dot.gov/pavement (click on "Publications" and then search under "TechBrief").
IC for hot-mix asphalt (HMA) is a process that uses a self-propelled double-drum vibratory roller equipped with new technology, including accelerometers mounted on the roller, an onboard computer to evaluate pavement response to the applied compaction effort, pavement surface temperature sensors, and color-coded display units. This accelerometer-based measurement system is known as intelligent compaction measurement values (IC-MV). The vibratory roller is also equipped with global positioning system (GPS) technology that monitors the operation of the roller and its location. Through a correlation process that uses pavement cores from a test section, the roller operator, quality control technician, and field superintendents can evaluate the quality of the compaction operation in real time.
The roller's color-coded display units show where the roller is located and where it has been to ensure that compaction is achieved over the full pavement area. The technology also provides the roller operator with information about when the individual rolling zones meet the specified compaction requirements, ensuring full coverage. This real-time display is particularly important during night paving, as it helps the roller operator to know the individual start and stop locations of each roller pass. The temperature sensors, meanwhile, continuously monitor the surface temperature of the HMA to ensure that compaction operations are conducted at optimum temperatures.
"Agencies have gone to great lengths to define the quality of the end product primarily based on the quality of the materials going into the mixtures. Most agencies include specifications designed to target densities as part of the compaction process, but few have defined quality as part of roadway operations," said Gallivan. "IC technology provides the opportunity to include compaction as part of the project's overall quality operations. The IC technology does not replace the roller operator, but it gives the operator the ability to more effectively use the equipment."
The availability of real-time information on compaction and pavement surface temperatures allows contractors and agencies to make adjustments to compaction operations as they go. Productivity is also improved by the ability to apply the proper number of rolling passes uniformly across the pavement, thus avoiding over-rolling or under-rolling. Additional quality improvements resulting from use of the IC technology include:
Mapping of the underlying materials or paving surfaces either with or without milling can identify weak areas and facilitate timely remediation.
Enhanced training of roller operators will lead to their increased ownership of the success of compaction operations.
Improved compliance with density specifications will both produce a better pavement and benefit contractors as their pay and bonuses are determined.
Ultimately, quality compaction operations will result in improved pavement performance.
When using IC technology, the first step in evaluating quality is to develop target values. A new IC data management tool, Veda, can be used to create a "compaction curve" that plots IC-MV against roller pass counts. The compaction curve can be used to determine target IC-MV and optimal roller passes for a paving project. IC technology also provides contractors and agencies the opportunity to identify and evaluate the stiffness of pavement sections. They can then address areas that are too soft or not uniform, which can potentially create problems during the remaining construction operations or after the project is completed. These evaluations can be conducted on the existing subgrade or base materials, pavement, shoulders, or milled surfaces.
Developed through the pooled fund study and a collaboration with the Minnesota Department of Transportation (Mn/DOT), Veda also provides the ability to view and analyze geospatial IC data from multiple roller manufacturers. "The software can easily be used to perform standardized data processing and reporting, providing contractor and transportation agency representatives with summary results quickly in the field," said Gallivan.
"The full potential of IC technology as a quality control tool could not be determined without a program such as Veda that can organize, analyze, and provide plan-view plots and information on the immense amounts of data collected during construction activities," said Rebecca Embacher of Mn/DOT. Veda is currently being used in several IC demonstration projects around the country to further the development of the software as a quality control tool. To download Veda and the accompanying user's guide or to learn more about IC technology, visit www.intelligentcompaction.com.
For more information on using IC, contact Lee Gallivan at FHWA, 317-226-7493 (email: victor.gallivan@fhwa.dot.gov), or George Chang at the Transtec Group, 512-451-6233 (email: gkchang@thetranstecgroup.com).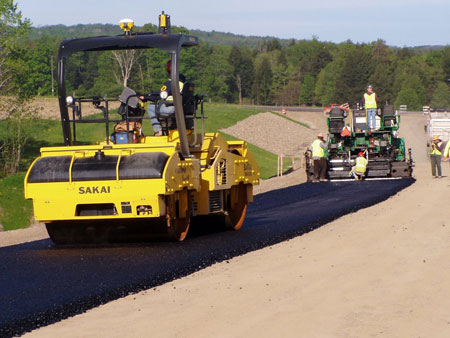 An intelligent compaction (IC) roller is used to place a hot-mix asphalt lift on U.S. 219 in Springville, NY.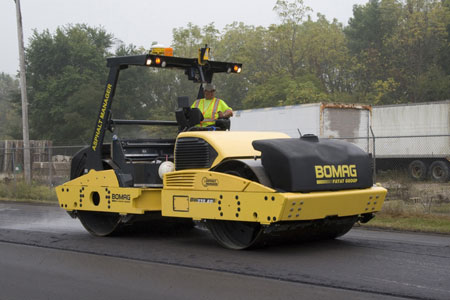 A thin lift of hot-mix asphalt is compacted with an IC roller on U.S. 52 in West Lafayette, IN.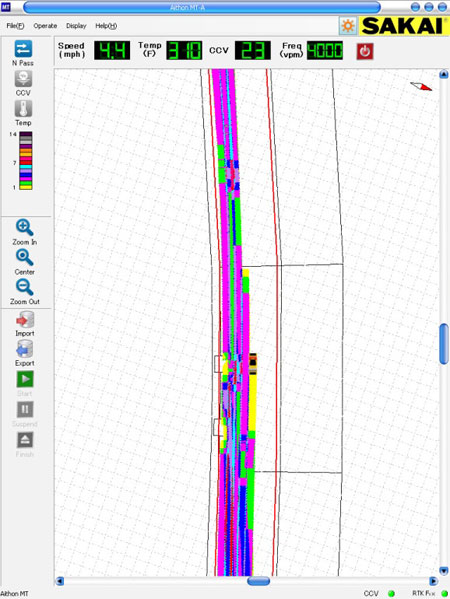 The color-coded IC roller display screen allows agencies and contractors an opportunity to locate and evaluate the stiffness of pavement sections, so that they can address areas that are too soft or not uniform.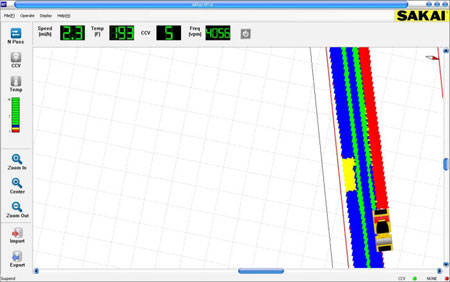 The IC roller display screen can also indicate where the roller is located and where it has been, showing pavement areas that have received overlapping passes and areas that have not had the target number of passes applied. On the display screen, the color red indicates areas that have received one pass, yellow represents those that have received two passes, and blue shows areas receiving three passes. Green indicates overlapped areas that have received four passes.