Publication Number: FHWA-HRT-11-015
Date: July 2011
Printable Version (.pdf, 0.6 mb)
RAP: The State of the Practice
Everything old is new again as State transportation departments look at increasing their use of reclaimed asphalt pavement (RAP), optimizing the use of natural resources while saving money. A new report from the Federal Highway Administration (FHWA), Reclaimed Asphalt Pavement in Asphalt Mixtures: State of the Practice (Pub. No. FHWA-HRT-11-021), highlights RAP use across the United States, as well as best practices for increasing the percentage of RAP used in hot-mix asphalt (HMA) pavements while maintaining high-quality infrastructure.
As stated in FHWA's 2002 recycled materials policy, "The same materials used to build the original highway system can be re-used to repair, reconstruct, and maintain them. Where appropriate, recycling of aggregates and other highway construction materials makes sound economic, environmental, and engineering sense." To view the policy, visit www.fhwa.dot.gov/legsregs/directives/policy/recmatmemo.htm.
The use of RAP reduces the need for virgin aggregate, which is a scarce commodity in some areas of the United States. It also reduces the amount of costly new asphalt binder required in the production of asphalt paving mixtures. "The use of RAP conserves natural resources, lowers transportation costs required to obtain virgin aggregate, and decreases the amount of construction debris placed into landfills," said Audrey Copeland of FHWA. While RAP is most commonly used as a virgin aggregate and asphalt binder substitute, it can also be used as a granular base or subbase, stabilized base aggregate, and embankment or fill material.
A survey of FHWA's Long-Term Pavement Performance (LTPP) program test sections containing at least 30 percent RAP showed similar performance and pavement life when compared to virgin asphalt sections. These LTPP test sections were located throughout the United States and Canada. An analysis of Florida pavements also showed similar pavement life for sections containing no RAP and sections containing 30 percent RAP.
Recycling asphalt pavement first became popular in the 1970s, due to the high cost of crude oil. In the early 1990s, FHWA and the U.S. Environmental Protection Agency estimated that more than 82 million metric tons (90 million tons) of asphalt pavement were reused each year, making asphalt the most frequently recycled material in the country. Use slowed with the introduction of the Superpave mix design system in the 1990s, as guidance originally was not provided for the use of RAP with Superpave pavements. The Superpave mix design system also encouraged the use of coarse-graded mixtures, which in some cases limited the amount of RAP that could be used in the mix. However, guidelines in recent years have addressed the use of RAP in the Superpave mix design method, including the National Cooperative Highway Research Program's (NCHRP) Research Results Digest 253, Guidelines for Incorporating RAP in the Superpave System, and NCHRP Report No. 452, Recommended Use of Reclaimed Asphalt Pavement in the Superpave Mix Design Method: Technician's Manual. Increases in asphalt binder costs and diminishing supplies of quality aggregate, along with a new emphasis on green technologies, are now prompting greater interest in using RAP.
In 2007, FHWA created the RAP Expert Task Group (ETG) to advance the use of RAP in asphalt paving applications. ETG members include representatives from FHWA, State transportation departments, the American Association of State Highway and Transportation Officials (AASHTO), National Asphalt Pavement Association, National Center for Asphalt Technology, industry, and academia.
A 2009 survey conducted by the North Carolina Department of Transportation on behalf of AASHTO and the RAP ETG found that about half of all States increased RAP usage from 2007-2009. Twenty-three States reported experimenting with or routinely using high RAP (25 percent or more RAP in an asphalt mixture). In 2007, average RAP use was estimated at 12 percent in HMA mixtures in the United States. Concerns that limit the use of high RAP cited by States in the 2009 survey include the quality of the blended virgin and RAP binder and potential stiffening of the mix from high RAP quantities, leading to premature cracking.
To address these concerns, Reclaimed Asphalt Pavement in Asphalt Mixtures presents best practices for increasing RAP use. "Several different options are available to address potential concerns, and the most appropriate option will depend on various factors such as material properties, plant type, and production rate," said Copeland. Among the issues to be considered when increasing RAP use are the need for additional processing and quality control (QC), sources and categories of RAP, selection of the virgin binder grade, preparation of materials for mix design, blending and comingling of the virgin and RAP binders, and performance.
Best practices detailed in the report cover RAP processing, RAP percentages and binder grade selection, mix design considerations, plant production, and placement of RAP mixes. As the report notes, "Performing QCs throughout the entire processing and production process is critical." The use of performance tests to evaluate asphalt mixtures containing RAP is also recommended.
To download a copy of Reclaimed Asphalt Pavement in Asphalt Mixtures: State of the Practice, visit www.fhwa.dot.gov/publications/research/infrastructure/pavements/11021/index.cfm. For more information on RAP, visit www.fhwa.dot.gov/pavement/recycling/index.cfm, or contact Audrey Copeland at FHWA, 202-493-3097 (email: audrey.copeland@fhwa.dot.gov).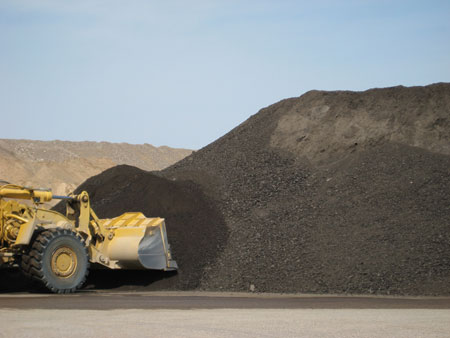 Use of reclaimed asphalt pavement (RAP) conserves natural resources while saving money.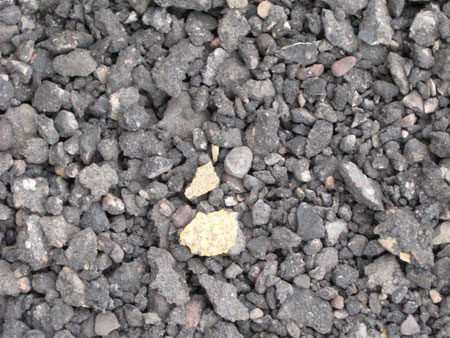 Milled RAP at a project in Kansas.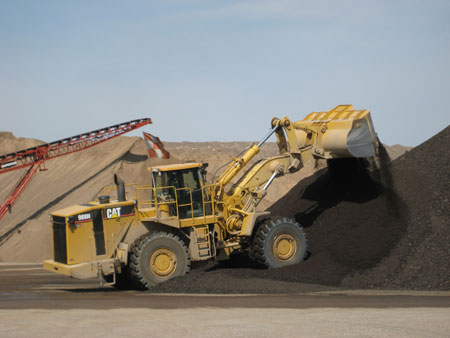 About half of all States increased RAP usage from 2007 to 2009. At this asphalt plant in Minnesota, RAP is processed and new asphalt mixtures containing RAP are produced.