Publication Number: FHWA-HRT-12-013
Date: May 2012
Printable Version (.pdf, 1 mb)
Advancing a New Era of Asset Management
Identifying strategies to advance the practice of transportation asset management is the goal of a new Transportation Asset Management Expert Task Group (TAM ETG) established by the Federal Highway Administration (FHWA).
While States have varying levels of experience in implementing TAM programs, they all face some common issues relating to asset management. There is increased demand on transportation agencies, for example, to make performance-based management decisions that consider risk and long-term financial consequences. To accomplish this, many agencies are adopting the new Asset Management Guide: A Focus on Implementation. Released by the American Association of State Highway and Transportation Officials (AASHTO), the guide promotes the use of Transportation Asset Management Plans.
"State and local transportation agencies see the value of gathering input from a variety of stakeholders regarding how we can support them in this new era of asset management," said Butch Wlaschin, Director of the FHWA Office of Asset Management. "States are also facing severe financial pressures that emphasize the need to develop risk-based asset management plans and financial plans. It is a good time to be discussing these issues, as asset management is the best long-term means to demonstrate accountability and preserve assets."
The TAM ETG held its first meeting in March 2012 in Albany, New York. Members and liaisons include representatives from State transportation agencies; FHWA; AASHTO; the Transportation Research Board (TRB); Institute of Public Works Engineering Australia; Alberta, Canada, Ministry of Transportation; and consulting firms. The ETG has no rulemaking ability but rather will serve as a hub for information exchange, bringing together ideas from State and Federal agencies, the international asset management community, and the private sector.
"State transportation agencies will be facing many new asset management issues in the years ahead," said ETG member Tim Henkel, Division Director for Modal Planning and Program Management at the Minnesota Department of Transportation. "The TAM ETG provides another opportunity for us to identify ways we all can address these challenges."
Among other initiatives, the ETG will:
Outline a framework for financially sustainable transportation infrastructure that clarifies connections among asset management, stewardship, risk management, performance management, and long-term financial planning.
Identify strategies for advancing asset management practices and influencing change within State transportation agencies, as well as partnering with agencies to address gaps in their asset management framework, roles and responsibilities, tools, and workforce skills.
Provide input to FHWA, AASHTO, and TRB regarding the implementation of State and local transportation asset management plans.
Other identified needs include developing case studies, communities of practice, and other resources for agencies; exploring national asset management performance metrics and data issues; fostering the development of asset management tools and templates; defining ways to measure system performance improvement; and discussing practices and process changes that will enable agencies to use asset management effectively.
Communication is another important goal, including sharing best practices and success stories and providing communication tools. The ETG will also discuss the long-term sustainability of asset management initiatives.
"The next few years will be very dynamic," said Wlaschin. "The TAM ETG will be a great forum for us to consider all viewpoints as we expand the concepts, principles, and fundamentals of asset management."
For more information on the TAM ETG, contact Nastaran Saadatmand in the FHWA Office of Asset Management, 202-366-1337 (email: nastaran.saadatmand@dot.gov). To learn more about asset management resources, visit www.fhwa.dot.gov/infrastructure/asstmgmt. To obtain a print or digital copy of the Asset Management Guide: A Focus on Implementation, visit the AASHTO Bookstore at https://bookstore.transportation.org/Item_details.aspx?id=1757.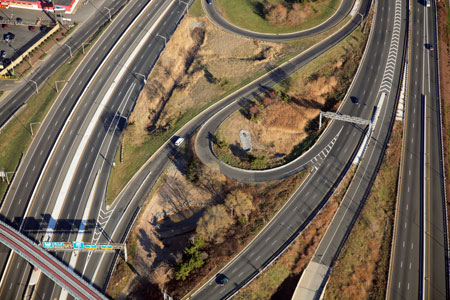 The Transportation Asset Management Expert Task Group will serve as a hub for information exchange, bringing together ideas to enable agencies to use asset management effectively. (© www.iStockphoto.com/Jeremy Edwards)