Publication Number: FHWA-HRT-12-013
Date: May 2012
Printable Version (.pdf, 1 mb)
Tech Brief Examines Performance of PPA-Modified Asphalt Binders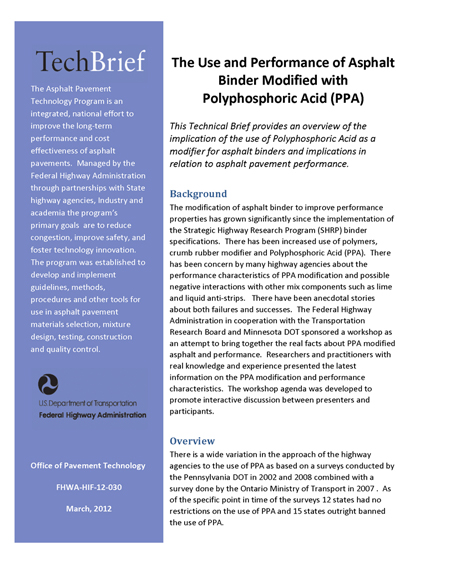 Find the latest information on the use of polyphosphoric acid (PPA) as a modifier for asphalt binders in a new Tech Brief released by the Federal Highway Administration (FHWA).
The Use and Performance of Asphalt Binder Modified with Polyphosphoric Acid (Pub. No. FHWA-HIF-12-030) summarizes a 2009 workshop on PPA-modified asphalt performance sponsored by FHWA in cooperation with the Transportation Research Board and Minnesota Department of Transportation.
Since the implementation of asphalt binder specifications developed under the first Strategic Highway Research Program, suppliers have increasingly modified their asphalt binder to improve performance properties, including adding polymers, crumb rubber modifier, and PPA. The use of PPA, or other binder modifiers, is driven by suppliers using the most economical approach to meet all required performance specifications in a particular application. This has led to concerns about the performance characteristics of the PPA-modified binder and possible negative interactions with other mix components such as lime.
The Tech Brief explains the use of PPA in asphalt binder modification, including the effects of the binder source and interactions with other modifiers such as polymers. Information on mix performance will assist transportation agencies in understanding how PPA can improve performance, while a section on PPA and Moisture Damage Potential looks at how to mitigate any possible moisture damage. Past experience has shown that PPA increases the high temperature stiffness of an asphalt binder with only minor effect on the intermediate and low temperature properties.
Also presented are details on the field performance of PPA-modified binders. In 2006, for example, the Arkansas Department of Transportation completed a major reconstruction of its Interstate system. The project used 6.7 million metric tons (7.4 million tons) of mix produced with modified asphalt binder, most of which included PPA. To date, only minor pavement distresses that are not related to the binder have been observed.
Information is also included on a workshop panel session where representatives from Arizona, Louisiana, and Wisconsin discussed their use of PPA. As the Tech Brief notes, "Each understands the concerns with PPA, but has had success by addressing performance properties as opposed to placing restrictive formulation specifications on the suppliers."
To download the Tech Brief, visit www.fhwa.dot.gov/pavement/pub_details.cfm?id=737. For more information on the use of PPA-modified asphalt binder, contact John Bukowski in the FHWA Office of Pavement Technology, 202-366-1287 (email: john.bukowski@dot.gov).