Publication Number: FHWA-HRT-12-013
Date: May 2012
Printable Version (.pdf, 1 mb)
Context Sensitive Solutions: A Call for Case Studies
Join the conversation about context sensitive solutions (CSS).
As part of the CSS National Dialog 2, case studies are now being accepted that demonstrate best practices in applying CSS principles to transportation projects, programs, and plans.
The Federal Highway Administration (FHWA) is looking for exemplary and innovative approaches that deliver context-driven outcomes by applying the CSS principles to the transportation decisionmaking process. Submissions are welcome from transportation agencies, planning agencies, community groups, and other organizations.
CSS is a collaborative, interdisciplinary approach that involves all stakeholders in building a transportation facility that fits its setting. This approach preserves and enhances scenic, aesthetic, historic, community, and environmental resources, while improving or maintaining safety, mobility, and infrastructure.
The CSS National Dialog 2 is sponsored by the FHWA Office of Planning, Environment, and Realty. It is supported by a team led by the Project Performance Corporation, in collaboration with the Center for Transportation and the Environment, Parsons Corporation, and the Project for Public Spaces. The Dialog is designed to:
Deliver CSS principles and practices to a wide array of partner organizations.
Strengthen and broaden the constituency for CSS.
Discover new opportunities for partnerships.
Bring new perspectives to the practice of planning, designing, building, operating, and maintaining transportation facilities.
Foster a community of CSS practice.
The Dialog will be conducted through a series of nine, 1-day workshops to be held across the country in 2012 and 2013. Each workshop will feature transportation initiatives that demonstrate CSS best practices, as well as provide a forum for discussion. The first CSS National Dialog collected more than 90 case studies from 2008–2010 and highlighted CSS best practices in five regional workshops. To download the final report and other materials from the first CSS National Dialog, visit www.cssnationaldialog.org/archive.asp.
To submit a CSS case study, visit www.cssnationaldialog.org/2/call.asp. Submissions will be accepted until June 15, 2012. To discuss any potential submissions or ask questions, send an email to cssnationaldialog@ncsu.edu or call 919-515-9351. For more information on the National Dialog, visit www.cssnationaldialog.org. Presentations from an April 11, 2012, Webcast that launched the CSS National Dialog 2 are available at www.cssnationaldialog.org/2/webcast.asp. To learn more about CSS, visit www.contextsensitivesolutions.org.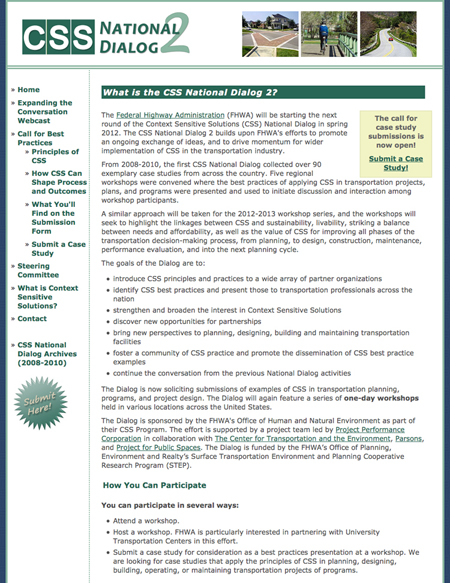 To learn more about the CSS National Dialog 2, visit www.cssnationaldialog.org.