Publication Number: FHWA-HRT-13-008
Date: November 2012
Printable Version (.pdf, 0.3 mb)
Showcasing an Advanced Motorist Warning System in Texas
On September 15, 2001, a tow boat pushing four barges struck the Queen Isabella Causeway (QIC) in Texas, a 3.9-km (2.4-mi) bridge crossing the Gulf Coast Intracoastal Waterway that connects South Padre Island to Port Isabel.
The structure consists of 147 concrete spans, 24-m (80-ft) each, with a 238-m (780-ft) steel section over the navigation channel. Two spans were knocked out by the barge, leaving a 48-m (160-ft) gap in the roadway.
Motorists driving from Port Isabel could see the missing spans just before the peak of the bridge and were able to stop in time. However, drivers coming from South Padre Island could not see the missing spans until after they had crested the peak of the bridge and were about 61 m (200 ft) from the edge of the gap. In the 15 minutes before emergency personnel received notification and closed the bridge, 10 cars drove off the bridge, resulting in 8 fatalities.
A similar accident occurred on May 26, 2002, near Webbers Falls, Oklahoma. A towboat pushing two empty asphalt tank barges on the Arkansas River veered off course and rammed a pier of the I-40 bridge, causing a 153-m (503-ft) section of the bridge to collapse and fall into the river and onto the barges below. By the time traffic could be stopped, eight cars and three truck-tractor semitrailer combinations had fallen into the river or onto the collapsed portion of the bridge, resulting in 14 fatalities and 5 injuries. Following the accident, the National Transportation Safety Board (NTSB) recommended the development of an "effective motorist warning system to stop motor vehicle traffic in the event of a partial or total bridge collapse."
After the QIC disaster, the Texas Department of Transportation (TxDOT) designed and launched a Collapse Warning System for the bridge in 2004. Maintained and monitored by TxDOT's Pharr District Office, the system was upgraded in 2007. It includes:
A continuous fiber optic cable for signal transmission.
A controller to monitor the signal.
Traffic gates, dynamic message signs, and warning signs.
A telephone auto-dial system.
The Collapse Warning System works by detecting the loss of a signal that is transmitted over fiber optic cable. A controller monitors the signal and activates motorist warnings if the signal is lost. A telephone auto-dial system then notifies TxDOT and emergency personnel. Primary motorist warning is accomplished through a series of flashing red traffic signals, which are configured to notify motorists who have not reached the site of the bridge collapse to stop and to allow those who have already passed the site to exit the bridge. Warning mechanisms also include signs alerting motorists when they approach the bridge, traffic gates, dynamic message signs, and preemption of nearby traffic signals. TxDOT conducts a full emergency alarm test each quarter to check the operation of the system and ensure that the auto-dial function is working. Potential system enhancements being considered include adding video surveillance cameras and additional communication lines for remote monitoring of the system.
On April 26, 2012, FHWA held a showcase meeting in South Padre Island, Texas, to learn more about the system, as well as other available commercial solutions. Participants included representatives from TxDOT, the Louisiana Department of Transportation and Development, Florida Department of Transportation, NTSB, and FHWA. Both Louisiana and Florida have expressed interest in installing a similar system on their bridges.
"The system installed on QIC is an exemplary one that is operational and effective," said Raj Ailaney of FHWA. "The technology is readily available, and a unified advanced motorist warning system can easily be designed for a particular bridge location per individual State specifications."
In addition to showcasing TxDOT's system, the workshop provided an overview of existing commercial options for an advanced motorist warning system. In general, such systems contain a sensor mechanism and an integrated central control architecture. A sensor mechanism could be a continuity-type sensor such as the fiber optic cable used in TxDOT's system, a rotational or displacement sensor, or a combination of both to detect a tilt or shift in a structure that could be caused by an event such as a collision, seismic occurrence, storm, scour, or structure component failure. While sensing technologies to detect a failed bridge exist, as well as central control architecture that includes signal and barricade systems, a commercial unified system does not yet exist. However, separate sensing, signal, and barricade systems can be integrated to achieve a complete Advanced Motorist Warning System at an estimated cost of $200,000 to $250,000 for a 152-m (500-ft) long bridge.
For more information on the Collapse Detection and Warning System Showcase, contact Jesus Leal, Director of Transportation Operations for TxDOT's Pharr District Office, 956-702-6127 (email: jesus.leal@txdot.gov). To obtain a copy of the showcase report, contact Raj Ailaney at FHWA, 202-366-6749 (email: raj.ailaney@dot.gov).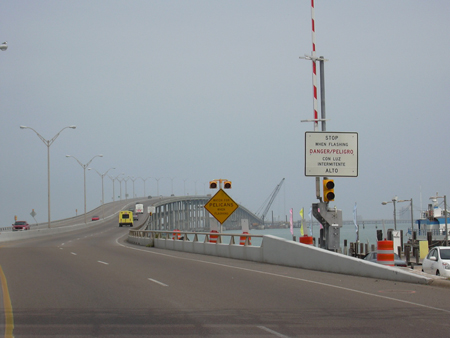 A traffic gate with a warning sign on the Queen Isabella Causeway in Texas (Photo Credit: © TxDOT).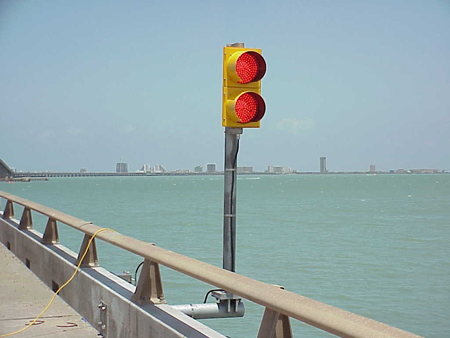 The Collapse Warning System on the Queen Isabella Causeway in Texas includes flashing red traffic signals. (Photo Credit: © TxDOT).