Publication Number: FHWA-HRT-13-007
Date: October 2012
Printable Version (.pdf, 03 mb)
2012 Industrial Materials Conference: The State of the Practice for Sustainable Pavements
Highway engineers and materials suppliers from across the country will discuss best practices in the use of recycled materials in sustainable pavement systems at the 2012 Industrial Materials Conference, scheduled for November 28-29, 2012, in Indianapolis, Indiana.
The conference is cohosted by the Federal Highway Administration (FHWA), Indiana Department of Transportation, and Industrial Resources Council (IRC). Program support is also being provided by the Recycled Materials Resource Center at the University of Wisconsin-Madison (RMRC-3G) and Transportation Research Board.
"Transportation agencies and other project owners are increasingly focused on how to build and maintain pavement systems that are both environmentally and economically sustainable," said Lee Gallivan, FHWA Recycling Program Manager. "Sustainable material choices can have a significant impact on long-term pavement performance as well as project costs, since materials typically consume up to 60 percent of a project budget."
The FHWA Recycling Policy, adopted in 2002, encourages the reuse of materials to support transportation needs of State and local agencies. The policy states:
Recycling and reuse can offer engineering, economic, and environmental benefits.
Recycled materials should get first consideration in materials selection.
Determination of the use of recycled materials should include an initial review of engineering and environmental suitability.
An assessment of economic benefits should follow in the selection process.
Restrictions that prohibit the use of recycled materials without technical basis should be removed from specifications.
Advances in recycling and reclaiming technology over the past decade have increased the types of recycled or reclaimed materials in use and the range of their applications. When appropriately used, these materials can reduce costs, save time, offer equal or in some cases improved performance, and provide long-term sustainable benefits. The increased use of recycled concrete aggregate (RCA), for example, reduces the need for virgin aggregate, which is a scarce commodity in some areas of the United States. RCA use can increase project efficiencies and lower job costs, as well as decreasing the amount and cost of construction debris targeted for landfills.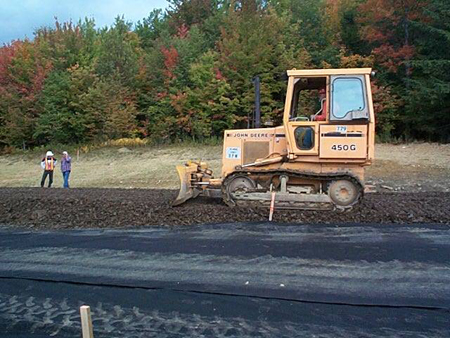 Tire-derived aggregate made from recycled tires is applied to a roadway. © Rubber Manufacturers Association.
The conference will help State and local agencies expand their use of reusable materials by highlighting state-of-the-art technologies and programs. Conference technical sessions will cover the use of recycled materials for subbases, soil stabilization, and embankments; base courses; and pavement surfaces. Among the presentations offered are Recycled Concrete Aggregate in Base Courses, Use of Pulp and Paper Byproducts in Soil Stabilization, Foundry Sand Use in Geotechnical Projects, Steel Furnace Slag in Hot-Mix Asphalt, and Scrap Tire Use in Quiet Pavements.
"The goal of this conference is to showcase case studies and best practices that highway engineers and contractors can adopt in support of their overall sustainability goals," said Michael Blumenthal, President of the IRC and Vice President of the Rubber Manufacturers Association.
Attendees can participate in a roundtable session examining "What is needed in terms of information, resources, and training in order to increase the use of industrial materials in the highway environment?" Another roundtable will ask participants, "What are three things that your organization could do to increase your use of sustainable industrial materials in the next 3 to 5 years?"
The conference will highlight tools and resources available to assist States as they increase their use of sustainable industrial materials. These resources include the American Association of State Highway and Transportation Officials Center for Environmental Excellence (environment.transportation.org), RMRC-3G (www.rmrc.wisc.edu), IRC Web site (www.industrialresourcescouncil.org), and FHWA Recycling Web page (www.fhwa.dot.gov/pavement/recycling).
FHWA resources also include a new National Highway Institute course on Asphalt Pavement In-Place Recycling Techniques (Course No. FHWA-NHI-131050). Developed by FHWA in partnership with the Asphalt Recycling and Reclaiming Association, the course examines three principal recycling techniques: hot in-place, cold in-place, and full depth reclamation. Participants will learn about selecting a technique, materials consideration and mix design, construction specifications, and project control considerations for each technology. The course combines Web-based training modules with 2 days of classroom instruction. For more information, visit www.nhi.fhwa.dot.gov.
To learn more about the 2012 Industrial Materials Conference and to register, visit www.industrialresourcescouncil.org. Information is also available by contacting Lee Gallivan at FHWA, 317-226-7493 (email: victor.gallivan@dot.gov). For information on FHWA's Recycling Policy, visit www.fhwa.dot.gov/legsregs/directives/policy/recmatpolicy.htm.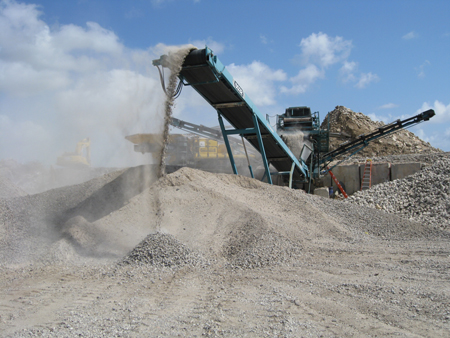 Concrete is processed for reuse as roadway materials. © Construction Materials Recycling Association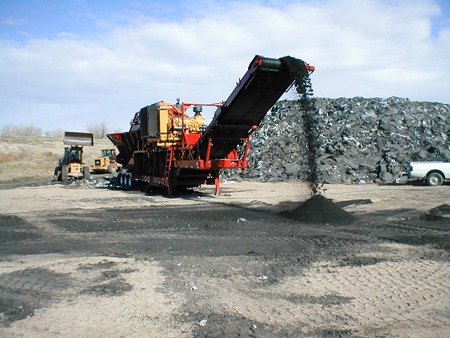 Recycled shingles can be used in hot-mix asphalt. © Construction Materials Recycling Association