Publication Number: FHWA-HRT-13-007
Date: October 2012
Printable Version (.pdf, 03 mb)
MAP-21: Moving Ahead for Progress in the 21st Century
MAP-21, the Moving Ahead for Progress in the 21st Century Act, funds surface transportation programs at more than $105 billion for fiscal years 2013 and 2014. Signed into law on July 6, 2012, MAP-21 is the first multiyear highway authorization law enacted since 2005.
The Act creates a streamlined, performance-based, and multimodal program to address the challenges facing the U.S. transportation system, including improving safety, maintaining infrastructure condition, reducing traffic congestion, improving the efficiency of the system and freight movement, protecting the environment, and reducing delays in project delivery.
MAP-21 transforms Federal highway programs, dramatically reducing the number of programs and targeting resources to an expanded National Highway System, focusing on national transportation goals, and increasing accountability. Through performance-based planning and programming, MAP-21 provides a means to more efficiently invest transportation resources. MAP-21 funding of $82 billion for highway programs, including road, bridge, bicycling, and pedestrian improvements, and a dramatic increase in funding for infrastructure safety, will create jobs and support economic growth.
To learn more about MAP-21, visit www.fhwa.dot.gov/map21.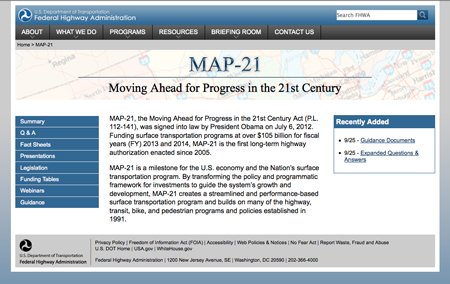 Visit www.fhwa.dot.gov/map21 to learn more about MAP-21.