Publication Number: FHWA-HRT-13-011
Date: April 2013
Printable Version (.pdf, 0.3 mb)
Geotechnical Asset Management: Strategies for Protecting Your Assets and Improving Performance
What is the value of your agency's geotechnical assets? A new Federal Highway Administration (FHWA) publication, Geotechnical Asset Management: Implementation Concepts and Strategies (Pub. No. FHWA-CFL/TD-13-003), examines how to apply asset management strategies to such features as retaining walls, cut slopes, embankments, rockfall sites, and culverts.
While asset management programs have more typically been applied to infrastructure elements such as pavements and bridges, geotechnical features can also significantly affect the performance of a transportation system. "These geotechnical assets are on every roadway and need to be managed over the long term," said Matt DeMarco of FHWA.
If geotechnical features fail, such as during rockfall incidents, the resulting environmental damage, repair costs, and larger economic costs can significantly affect roadway users and communities. When an April 2006 rock slide closed the most accessible and direct route for tourists visiting California's Yosemite National Park, for example, estimated local business losses during the 92-day closure period were $4.8 million. The costs of managing geotechnical assets to prevent failure can be offset by the potential for savings when compared to the larger economic impacts experienced by communities if failures occur.
In 2011 the Transportation Research Board Engineering Geology Committee established a subcommittee on Geotechnical Asset Management. "This reflected a changing paradigm for geotechnical engineers and a growing interest in asset management," said DeMarco. To meet this growing interest, FHWA developed Geotechnical Asset Management as a baseline document containing preliminary guidelines on how geotechnical assets fit into an overall asset management strategy.
Topics covered include asset identification, general strategies for managing geotechnical assets, components that need to be considered in managing these assets, guidance on developing management strategies, and the current state of the practice.
General strategies can follow the approach of managing specific features such as rockfall sites or retaining walls, or alternately managing a group of features in a geotechnical asset class. While U.S. transportation agencies have generally only followed the first approach, countries such as Australia, the United Kingdom, and Canada have managed groups of features. For example, in 2003 Saskatchewan Highways and Transportation in Canada implemented a risk-based system for prioritizing and managing geotechnical and landslide hazards within its transportation network. Managing a group of features allows agencies to better assess risk and develop accurate conclusions.
One of the primary components of a geotechnical management program is data management, including decisions on the quantity and type of data to be collected. To be most effective, agencies should use database systems that centralize, maintain, and make available all data to users throughout the agency. For geotechnical asset features, data collected might include location, relation to roadway, type of structure or feature, geometrics, photographs, details on any distress experienced by the feature, performance history, and a subjective hazard ranking.
Program components also include geotechnical performance standards. These standards should be based on an agency's overall performance measures. Examples of general performance requirements for geotechnical assets include protecting the safety of the traveling public, maintaining traffic mobility, achieving the target design life for the lowest cost, and reducing asset failures and emergency costs. While most agencies have not established performance measures for specific geotechnical features, work is underway by the Alaska Department of Transportation and Public Facilities to develop performance standards for slopes.
Also examined is the current state of the practice. Agencies applying asset management to their geotechnical features are primarily conducting agency-wide programs rather than corridor-level programs. One State taking a different approach is Wyoming, which launched a transportation asset management program in 2008 that is based on corridor needs and includes geotechnical assets.
Agencies will find guidance on developing a geotechnical management program, including a sample proposed process and examples of performance measures and data collection needs. Sample "decision trees" lead agencies through the process of evaluating geotechnical risks.
To download a copy of Geotechnical Asset Management: Implementation Concepts and Strategies, visit www.cflhd.gov/programs/techDevelopment/geotech/GAM. For more information on geotechnical asset management, contact Matt DeMarco at FHWA, 720-963-3520 (email: matthew.demarco@dot.gov).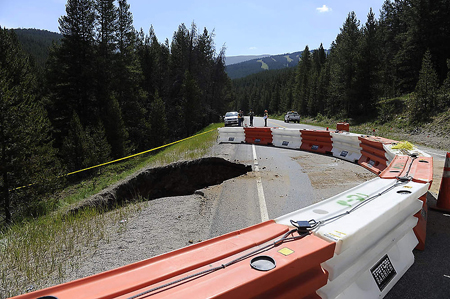 Damage to a culvert on I-70 and adjacent embankment that have failed near the Eisenhower Tunnel in CO.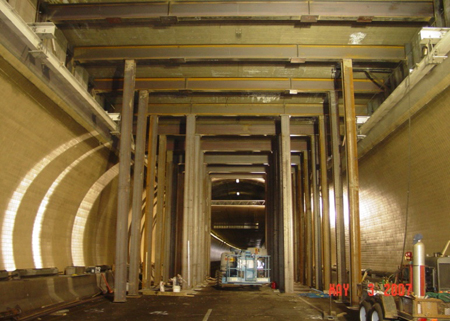 A repair is made to Hanging Lake Tunnel along I-70, near Glenwood Springs, CO.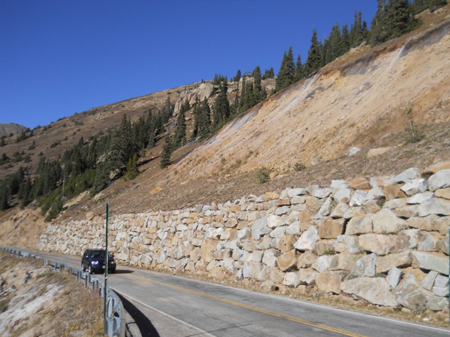 A rockery wall at the toe of a scaled rock and soil cut slope along Guanella Pass Road near Georgetown, CO.