Publication Number: FHWA-HRT-13-011
Date: April 2013
Printable Version (.pdf, 0.3 mb)
We're All in This Together: National Work Zone Awareness Week 2013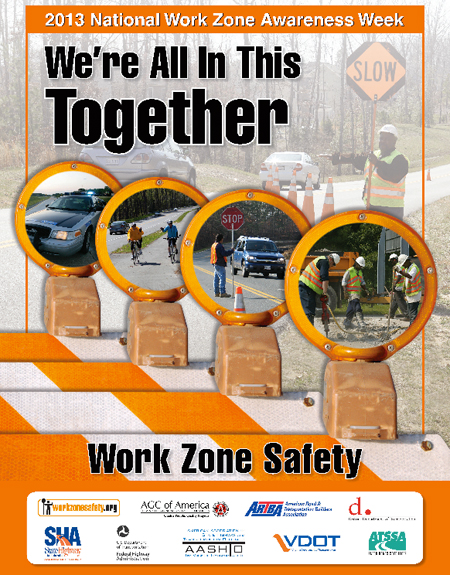 "Work Zone Safety: We're All in This Together." This message to motorists, bicyclists, pedestrians, highway workers, law enforcement, and all others that use, construct, and protect the Nation's roadways will kick off National Work Zone Awareness Week (NWZAW) 2013, scheduled for April 15-19. A kickoff event will be held April 16 at an urban work zone in Washington, DC.
"While work zone awareness is certainly needed year round, this extra reminder is provided in April because that's when road construction increases significantly in many parts of the country after winter," said Tracy Scriba of the Federal Highway Administration (FHWA). "We all have an important role in helping to make our work zones operate safely and efficiently."
In 2010, 576 workers and motorists were killed in highway work zones and more than 37,000 were injured. Approximately 85 percent of those killed in work zones are drivers and their passengers.
NWZAW began in 1999 when FHWA, the American Traffic Safety Services Association (ATSSA), American Association of State Highway and Transportation Officials, and the Virginia Department of Transportation (VDOT) partnered to increase public awareness of work zone safety issues through a national media campaign. Partners now also include other individual States, the American Road and Transportation Builders Association, and the Associated General Contractors of America.
Since 1999, awareness has continued to grow through events, educational and outreach initiatives, and media campaigns sponsored by State transportation agencies and other organizations. States such as Kansas, Mississippi, Missouri, Oregon, Rhode Island, Tennessee, and Washington have launched "Go Orange" campaigns where they light public buildings in orange and encourage citizens to wear the color in support of NWZAW. In 2012, for example, the Rhode Island State House was illuminated in orange as a reminder to motorists to drive safely in work zones, while the Washington State Department of Transportation's Web site featured photos of the public Going Orange for Work Zone Safety.
VDOT first held its own NWZAW in 1997 and now joins with the Virginia Department of Motor Vehicles to also recognize Distracted Driving Awareness Month in April. Partnering with the Virginia Transportation Construction Alliance, VDOT's observance of NWZAW has included outreach to high school driver education classes. Virginia also remembers fallen workers at the VDOT Workers Memorial off I-64 near Afton Mountain.
In Texas, drivers are reminded to "Be Safe. Drive Smart." The Texas Department of Transportation (TxDOT) displayed "office spaces" with desks, filing cabinets, and orange cones outside some of its facilities in 2012, reminding drivers that for many TxDOT employees, their office is the roadway. TxDOT has also produced a work zone best practices video for employees.
New work zone resources available from FHWA include a free online course on Developing Transportation Management Plans (TMPs) for Work Zones. Topics covered in the course include the purpose and content of a TMP, roles and responsibilities, work zone impacts assessments, selection of TMP strategies, and TMP implementation. Designed for self-paced learning, the course is modular and features slides with a voiceover narration. Also included is a Participant Workbook containing exercises to apply the concepts learned throughout the course. To download the course modules, visit www.ops.fhwa.dot.gov/wz/outreach/outreach.htm.
FHWA's National Highway Institute (NHI) offers a Certificate of Accomplishment in Work Zone Safety, which can be obtained after completing four specific NHI work zone courses. The courses cover best practices for designing, operating, and maintaining highway work zones that improve safety for both workers and motorists. For more information, visit www.ops.fhwa.dot.gov/wz/outreach/nhi_wz_courses.htm.
Guidelines, products, and training modules developed through FHWA's Work Zone Safety Grant Program are available through the National Work Zone Safety Information Clearinghouse. For a complete list, visit www.workzonesafety.org/fhwa_wz_grant.
Agencies and contractors looking for additional information on training resources can consult the FHWA Work Zone Training Compendium. Organized into nine categories ranging from design to traffic control to worker safety, the Compendium includes details on format, length, target audience, cost, and point of contact for each training opportunity. To view the Compendium, visit www.ops.fhwa.dot.gov/wz/outreach/outreach.htm.
More details about NWZAW 2013 are available at www.atssa.com and www.ops.fhwa.dot.gov/wz/outreach/wz_awareness.htm. To learn more about FHWA's work zone safety and mobility resources, visit www.ops.fhwa.dot.gov/wz, or contact Tracy Scriba at FHWA, 202-366-0855 (email: tracy.scriba@dot.gov).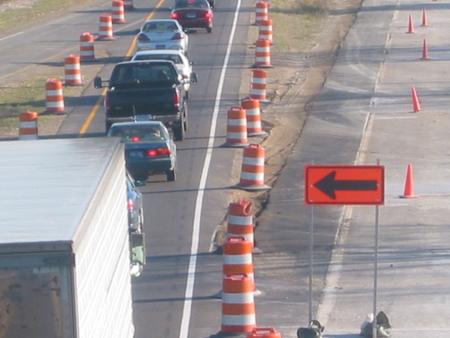 New work zone resources available from FHWA include a free online course on Developing Transportation Management Plans for Work Zones.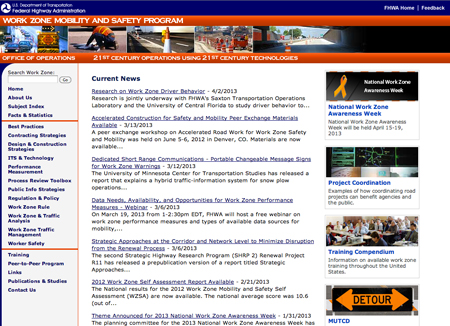 For more information on FHWA's work zone safety and mobility resources, visit www.ops.fhwa.dot.gov/wz.