Date: October 2013
Printable Version (.pdf, 0.3 mb)
A Nationwide Checkup on Infrastructure Health
Is there a better way to assess the Nation's highway infrastructure health?
Results from a study on infrastructure health conducted by the Federal Highway Administration (FHWA), in coordination with the American Association of State Highway and Transportation Officials (AASHTO), are now available online in a series of four reports. "The study's goal was to define a consistent and reliable method to document infrastructure health, focusing on bridges and pavements on the Interstate Highway System," said Nastaran Saadatmand of FHWA. A related goal was to develop tools to provide FHWA and State transportation agencies with key data that will produce better and more complete assessments of infrastructure health nationally.
Study researchers developed an approach for categorizing bridges and pavements in good, fair, or poor condition that could be used consistently across the country. For this study, definitions of good, fair, or poor relate solely to the condition of a bridge or pavement and do not consider other factors such as safety or capacity. Three separate tiers of performance measures that can be used to categorize bridges and pavements were then evaluated. These tiers were previously defined by AASHTO. Tier 1 measures are considered ready for use at the national level, while Tier 2 measures require further work before being ready for deployment. Tier 3 measures are generally still in the proposal stage.
Performance measures for bridges included Structural Deficiency (SD) ratings (Tier 1) and Structural Adequacy Based on National Bridge Inventory (NBI) ratings (Tier 2). A Tier 3 measure was not included for bridges. Performance measures for pavements included the International Roughness Index (IRI) in Tier 1 and Functional Adequacy Based on Highway Performance Monitoring System (HPMS) Distress Data in Tier 2. A Tier 3 measure for pavements assesses structural condition based on Tier 2 data and pavement deflection data.
These measures were evaluated on I-90 in Wisconsin, Minnesota, and South Dakota. The I-90 corridor runs for 1,406 km (874 mi), with average annual daily traffic ranging from approximately 5,000 vehicles to 90,000 vehicles. Evaluations were done using HPMS and NBI data, as well as data collected by the FHWA project team and provided by the participating State highway agencies. State information included documentation of their systems, processes, and corridor inventory and pavement management system data.
The good, fair, and poor analysis for bridges proved to be a viable approach, with NBI data sufficient for the performance management assessment. However, a bridge's SD status was not as easily incorporated into the analysis. The study report notes that a measure of structural adequacy based on NBI ratings would be a viable supplement to SD status as a national measure of bridge condition, although "implementation would require developing a general consensus on its definition."
The good, fair, and poor approach is also feasible for pavements and implementable today using IRI as a Tier 1 measure. However, IRI does not fully represent the condition of a pavement, as it indicates little about the ability of the pavement structure to withstand traffic loadings. Implementation of the Tiers 2 and 3 pavement measures also proved to be feasible, although the study recommends data collection and processing improvements to advance the measures and achieve a more accurate picture of pavement health, particularly given the limitations of IRI in assessing pavement condition.
As part of the study, a sample health report was prepared for the pilot corridor. This report uses several metrics to assess the overall health of a corridor, including the good/fair/poor measures, age, remaining service life for pavements, and traffic volumes. "The assessment would enable FHWA to examine corridor health across multiple States in a consistent manner," said Saadatmand. Also discussed is a prototype tool that would automate creation of infrastructure health reports.
To download the pilot study report, Improving FHWA's Ability to Assess Highway Infrastructure Health (Pub. No. FHWA-HIF-12-049), visit www.fhwa.dot.gov/asset/pubs/hif12049/hif12049.pdf. A report addendum examines discrepancies between pavement rutting observed during field data collection versus data collected by the States. Available at www.fhwa.dot.gov/asset/pubs/hif13037.pdf, the addendum recommends practices for collecting consistent, high-quality pavement rutting data.
Following the pilot study, further research was done on developing a next generation pavement performance measure that provides an accurate and repeatable assessment of a roadway's functional condition. The measure will solely use HPMS data. During the study, the focus shifted from developing a single composite index of ride quality, cracking, and rutting to analyzing these distresses individually. To view the report, which offers recommendations for collecting, processing, reviewing, and storing data on these distresses, visit www.fhwa.dot.gov/asset/pubs/hif13042.pdf.
FHWA and AASHTO presented the study results to senior-level State transportation agency representatives at a national meeting held October 13, 2011, in Detroit, Michigan. To view the national meeting report, which summarizes discussion about the recommended condition ratings and health reporting, visit www.fhwa.dot.gov/asset/health/workshopreport.pdf.
For more information on the Infrastructure Health study, contact Nastaran Saadatmand at FHWA, 202-366-1337 (email: nastaran.saadatmand@dot.gov).
Improving FHWA's Ability to Assess Highway Infrastructure Health examines different types of performance measures for pavements and bridges. It should not be viewed as FHWA's proposal for the establishment of national pavement and bridge measures as required by MAP-21. FHWA will propose these national measures through the rulemaking process, which will include an opportunity for public comment before regulations are finalized.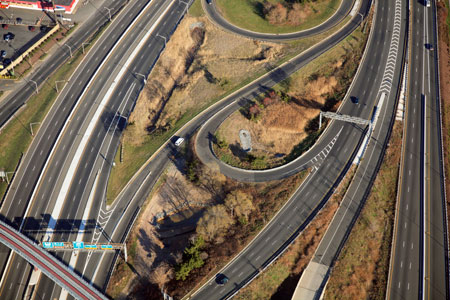 Improving FHWA's Ability to Assess Highway Infrastructure Health examines methods for consistently and reliably evaluating the health of the Nation's bridges and pavements. (Photo Credit: © www.iStockphoto.com/Jeremy Edwards)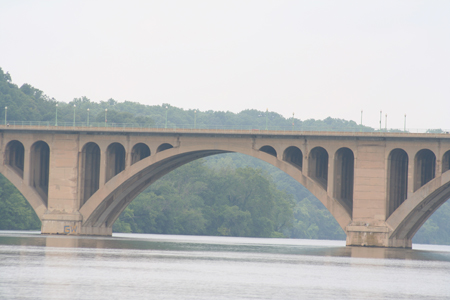 The FHWA study developed an approach for categorizing bridges and pavements in good, fair, or poor condition that could be used consistently across the country.