Date: October 2013
Printable Version (.pdf, 0.3 mb)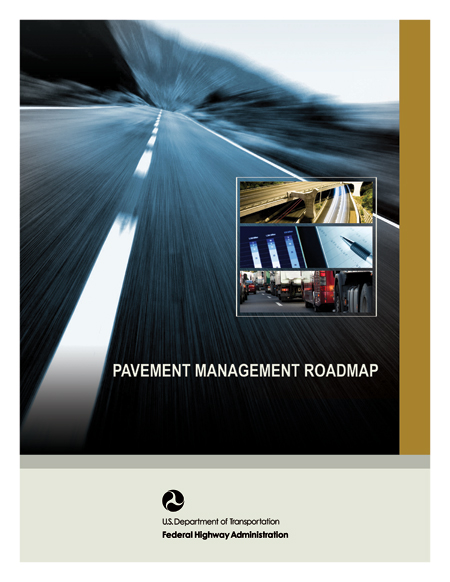 The Future of Pavement Management
What does the future hold for pavement management?
Research, development, and technology transfer initiatives across the country are expanding the role of pavement management, updating the use of existing tools and technologies, and introducing new tools for highway agencies. These initiatives support the goals of the Federal Highway Administration's (FHWA) Pavement Management Roadmap (Pub. No. FHWA-HIF-11-011).
Released in 2010, the Roadmap identified the steps needed to address current gaps in pavement management and establish research priorities. Twenty-three short-term needs (over 5 years) were identified and 24 long-term needs (over 5 to 10 years). FHWA developed the Roadmap in partnership with State and local highway agencies, Canadian government agencies, metropolitan planning organizations, members of academia, and private industry.
Implementation efforts have been aided by a network of Roadmap research sponsors. This network includes representatives from State transportation agencies, academia, and FHWA. The network was established to share information, pool resources to advance the needs and projects outlined in the Roadmap, and prevent duplication of effort. Supporting the Roadmap's goal to update current pavement management tools and showcase best practices, a new Pavement Management Guide was released by the American Association of State Highway and Transportation Officials (AASHTO) in 2012, replacing the previous 2001 version. Updates include an increased emphasis on using preventive maintenance treatments as part of a pavement preservation program. The guide also features technology advances that have improved pavement data quality and integration. To purchase a copy of the updated guide, visit the AASHTO Bookstore at https://bookstore.transportation.org/collection_detail.aspx?ID=117. To view a video introduction to the guide, visit www.transportationtv.org/Pages/default.aspx?VideoId=286.
Projects that have also advanced the Roadmap's goals include a recently completed FHWA initiative designed to increase the benefits of pavement management data collection. A major component of a pavement management system (PMS) is the regular monitoring of pavement condition to evaluate how a pavement section is performing over time and determine when either preventive or rehabilitative action should be taken to preserve the section. The project examined the optimum frequency of pavement data collection, as well as recommended data items to include in an effective PMS. Also studied were evolving technologies and the potential to include new data items, such as network-level pavement deflection measurements using a rolling wheel deflectometer (RWD).
Researchers analyzed PMS data on pavement condition and distress from Colorado, Louisiana, Michigan, and Washington State, as well as data from Minnesota's MnROAD pavement test track and FHWA's Long-Term Pavement Performance program. The project report scheduled to be released by 2014 will feature best practices and guidelines for integrating design, material, and construction information within a PMS. Procedures to guide the timing and selection of pavement preservation and rehabilitation practices will also be included. "The guidelines can be easily tailored to the needs and objectives of any highway agency," said Nadarajah Sivaneswaran of FHWA. For more information on the project, visit https://rip.trb.org/view.aspx?id=1230683.
In Virginia, pavement management is being improved through a new structural index that can be used to include data on the pavement's structural condition as part of a network-level pavement evaluation. Developed by researchers at the Virginia Tech Transportation Institute's Center for Sustainable Transportation Infrastructure, under contract to the Virginia Center for Transportation Innovation and Research (VCTIR), the Modified Structural Index (MSI) for asphalt pavements minimizes discrepancies between network-level predictions and project-level decisions. A modified version of the Texas Department of Transportation Structural Capacity Index, the MSI was developed for use by the Virginia Department of Transportation (VDOT).
VDOT currently maintains a database of historical condition and construction history, among other information, for the more than 201,162 lane-km (125,000 lane-mi) of roads throughout the State. In 2006, VDOT also began collecting distress data using digital images. The agency then uses a set of pavement management decision matrices to plan pavement treatments. These matrices are classified by Interstates, primary routes, secondary routes, and unpaved roads, as well as by pavement type. Typically, functional pavement condition had primarily been considered in the evaluation, but this can result in recommended pavement treatments that are either under-designed or over-designed when considered at the project level.
"Using the new index to consider structural condition in addition to observable pavement condition will improve the selection of pavement sections for maintenance," said Brian Diefenderfer, Senior Research Scientist at VCTIR. "It will also improve the selection of pavement treatments." A pilot implementation project on I-81 in Virginia demonstrated that the MSI can be used to support the pavement management decision process, including deterioration modeling and the development of structural performance measures. Phase II of the project, which will be completed in 2014, is developing a similar index for both composite and concrete pavements. To download the 2013 project report, Developing a Network-Level Structural Capacity Index for Structural Evaluation of Pavements, visit www.virginiadot.org/vtrc/main/online_reports/pdf/13-r9.pdf. For more information, contact Brian Diefenderfer at VCTIR, 434-293-1944 (email: brian.diefenderfer@vdot.virginia.gov).
Research into new tools and technologies to improve pavement management also includes an FHWA project on "The State-of-the Technology of Moving Pavement Deflection Testing." Completed in 2011, this project studied pavement deflection testing devices such as the RWD and traffic speed deflectometer that can be operated while traveling at highway speeds, minimizing traffic disruptions and safety hazards. Data collected can be used to create a structural map of the highway network, so that problem areas can be targeted for more detailed inspection and rehabilitation. Three devices were identified as viable, with recommendations made for more comprehensive evaluation.
A follow-up FHWA project, "Pavement Structural Evaluation at the Network Level," is continuing to study the use of moving pavement deflection technology at highway speeds. Field evaluations of three devices were held in September 2013 at the MnROAD pavement testing facility. To learn more, contact Nadarajah Sivaneswaran at FHWA, 202-493-3147 (email: nadarajah.sivaneswaran@dot.gov).
More information on these and other Pavement Management Roadmap projects is available at www.fhwa.dot.gov/pavement/management/roadmap/activities.cfm. For information on how your agency or organization can participate in the Roadmap initiative, contact Nastaran Saadatmand at FHWA, 202-366-1337 (email: nastaran.saadatmand@dot.gov).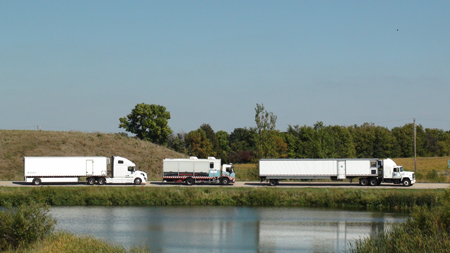 FHWA tested moving paving deflection devices at Minnesota's MnROAD pavement testing facility in September 2013.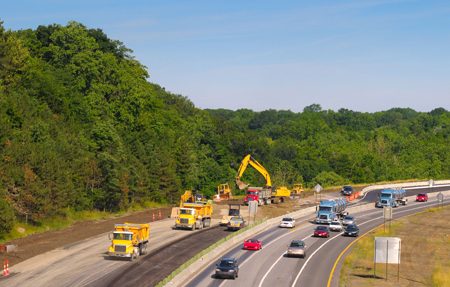 A new FHWA project is developing procedures to guide the timing and selection of pavement preservation and rehabilitation practices. (Photo credit: © www.iStockphoto.com/Kenneth Sponsler)