Date: October 2013
Printable Version (.pdf, 0.3 mb)
Infrastructure Innovation Webinars
These free Webinars provide a quick introduction to the latest infrastructure innovations and technologies.
Alternative Contracting Methods: Deployment from EDC2 Summits Until Now-Where Are We?
October 17, 2013, 2:30–4 p.m. eastern daylight time (EDT)
The Webinar will offer the basics of alternative contracting methods for practitioners who missed the Federal Highway Administration's (FHWA) series of Every Day Counts 2 (EDC2) Summits. Specific methods highlighted will include alternate technical concepts, construction manager/general contractor, and design-build. Deployment efforts will also be spotlighted, including success in accelerating project delivery and minimizing unforeseen project delays and cost overruns. The session is designed for representatives from State and local agencies, transportation associations, and FHWA, as well as other contracting, design, and construction professionals.
To register, visit www.nhi.fhwa.dot.gov/resources/webconference/web_conf_learner_reg.aspx?webconfid=25396.
Bridges for Service Life Beyond 100 Years: Innovative Systems, Subsystems, and Components
October 29, 2013, 2–3:30 p.m. EDT
As part of the second Strategic Highway Research Program (SHRP2) Webinar Series, the Transportation Research Board will conduct this session exploring the Bridges for Service Life Beyond 100 Years project and resulting guide. The guide defines procedures for systematically designing new and existing bridges for service life and durability. Webinar topics will include the service life design approach, guidelines for applying the procedures at a program and project level, and a benefits assessment for the service life approach. The intended audience includes bridge engineers and owners at local, State, and Federal transportation agencies; representatives of the bridge design, preservation, and construction industry; and consultants.
For registration information, visit www.trb.org/StrategicHighwayResearchProgram2SHRP2/Blurbs/169470.aspx.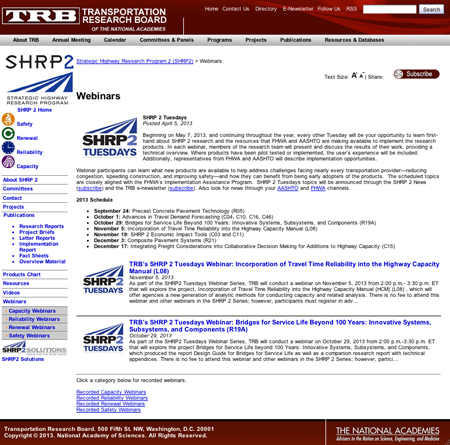 To learn more about the SHRP2 Webinar series, visit www.trb.org/StrategicHighwayResearchProgram2SHRP2/SHRP2Webinars.aspx.