Publication Number: FHWA-HRT-13-017
Date: September 2013
Printable Version (.pdf, 0.3 mb)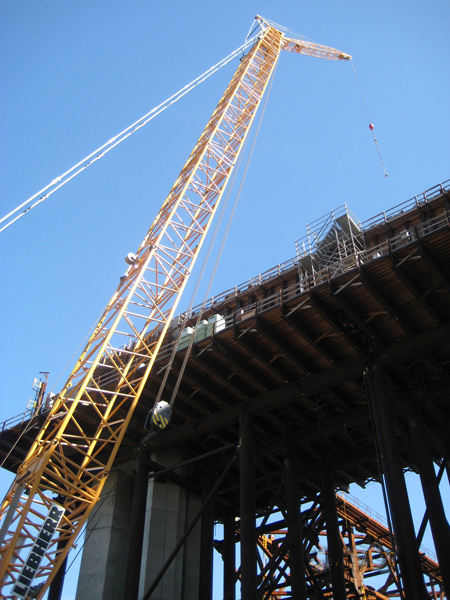 Five regional peer exchanges sponsored by the Construction Peer Network helped to identify best highway construction practices nationwide.
Construction Peer Network: Collaborating to Improve Highway Construction Practices
From construction best practices to project innovations, transportation agencies and contractors across the country have learned from each other's experiences and gained solutions to common challenges by participating in the Construction Peer Network (CPN).
A collaboration among the American Association of State Highway and Transportation Officials, American Road and Transportation Builders Association, Associated General Contractors of America, and Federal Highway Administration (FHWA), the CPN sponsored five regional peer exchange sessions in 2012 and 2013. Practitioners representing a total of 53 transportation agencies, including 48 State agencies; contractors; consulting firms; and the sponsoring organizations participated in the exchanges. The sessions' goals included:
Foster communication and innovation among the highway construction community.
Identify best construction processes and practices.
Widely share, and encourage implementation of, successful processes and practices.
Identify opportunities for continuous program improvement.
"With a small investment of time, construction leaders were able to take away proven practices to advance their programs, while strengthening relationships as a catalyst for future collaboration," said David Unkefer of the FHWA Resource Center.
Prior to each exchange, participants submitted information on construction best practices using an electronic Program Information (PI) Tool. Discussion topics for the exchanges were chosen based on the information gathered with the PI Tool. "Session agendas tailored to regionally important topics enhanced the potential that participants would gain implementable ideas," said Chris Schneider of FHWA.
For each topic, lead States were identified and asked to present their successful practices at the exchange. At the first peer exchange held in Warwick, Rhode Island, in March 2012, representatives from New York and Rhode Island discussed approaches to using performance measures in construction. Both States conduct formal evaluations to assess the cause for change orders, allowing them to determine how well a project has performed. These presentations initiated further discussion by exchange participants on other regional practices. Maryland, Massachusetts, Pennsylvania, and New York, for example, share performance measures transparently with the general public.
At the Southeast Peer Exchange, held March 6-7, 2013, in Orlando, Florida, participants from States such as Louisiana and North Carolina discussed the use of handheld tablets to electronically document field inspections as part of the new "digital job site." North Carolina is also using radio frequency identification devices for approved project materials. This technology provides better inventory control for the contractor and minimizes the risk that materials that have not been tested and approved will be used in the project.
Florida, Georgia, and North Carolina were also among the States that discussed their success in holding closeout conferences with contractors and other stakeholders to evaluate projects after completion.
The final regional peer exchange was held July 9-10, 2013, in Boise, Idaho. Hosted by the Idaho Transportation Department, the event also drew participants from Alaska, Montana, Nebraska, North Dakota, Oregon, South Dakota, Washington, and Wyoming. The five discussion topics chosen were using innovative methods to resolve contract claims and disputes, establishing project staffing qualifications, assessing inspection levels of effort with risk-based processes, utilizing contractors' quality control most effectively, and implementing the digital job site.
Best practices shared included North Dakota's development of a form for highway contractors to submit immediately after any occurrence for which a contractor anticipates filing a claim. With this notice of intent, both the contractor and the North Dakota Department of Transportation staff can keep more detailed records on related work and daily progress on all activities related to the potential claim.
Idaho and Oregon also shared their strategies for improving staff training by mentoring new inspectors. In Oregon, experienced inspectors provide training and visit project sites at critical times to assist less experienced staff. Idaho sends more experienced inspectors to multiple project sites to help ensure quality and workmanship.
"It was extremely valuable to be able to talk to our peers about regional Northwest issues," said Boise peer exchange participant Jeff Carpenter, Director of the Construction Division at the Washington State Department of Transportation. "The question and answer sessions were also very useful, as well as the presentation on using handheld devices in the field."
Ken Keel, Construction Staff Engineer at the Wyoming Department of Transportation, also participated in the Boise peer exchange. "It went very well. I have been on the phone since then several times with other peers, exchanging ideas," said Keel.
FHWA is consolidating results from all five peer exchanges into a national summary. Due out in November 2013, the summary will focus on nationwide trends, best practices, and potential future research directions. Reports from the regional peer exchanges and additional information on the CPN are available at http://construction.transportation.org (click on "Construction Peer Network"). For more information, contact Chris Schneider at FHWA, 202-493-0551 (email: christopher.schneider@dot.gov), or David Unkefer at the FHWA Resource Center, 404-562-3669 (email: david.unkefer@dot.gov).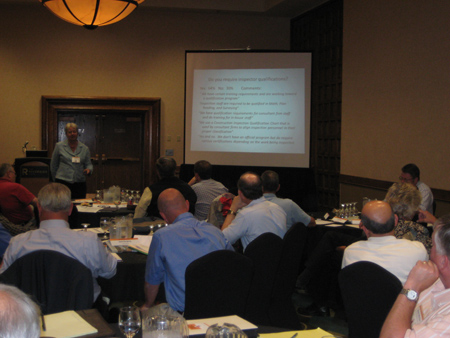 The Construction Peer Network held its final regional peer exchange July 9-10, 2013, in Boise, ID.