Publication Number: FHWA-HRT-13-017
Date: September 2013
Printable Version (.pdf, 0.3 mb)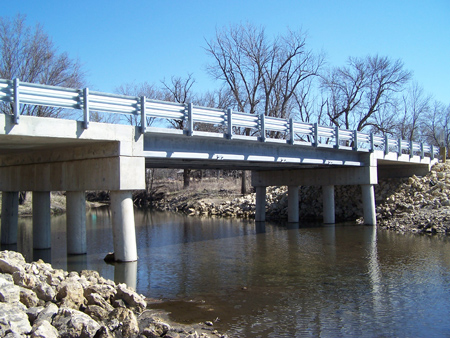 The Jakway Park bridge in Buchanan County, IA, features UHPC girders.
Ultra-High Performance Concrete: The State-of-the-Art
Is ultra-high performance concrete (UHPC) part of your highway infrastructure's future?
A new report released by the Federal Highway Administration (FHWA) summarizes UHPC research, development, and deployment efforts around the world. "Compiling this information allows State and local transportation agencies, researchers, and others to deepen their understanding of UHPC and the opportunities it offers to accelerate bridge construction," said Ben Graybeal of FHWA.
Ultra-High Performance Concrete: A State-of-the-Art Report for the Bridge Community (Pub. No. FHWA-HRT-13-060) includes details on materials and production, mechanical properties, and structural design and testing. Also highlighted are results from durability testing.
UHPC is an advanced cementitious composite material first developed in the 1990s and commercially available in the United States since 2000. It is typically acquired from a supplier in three separate components: a pre-bagged cementitious powder, steel fiber reinforcement, and chemical admixtures. Water completes the mixture. The UHPC is then placed into the formwork using standard construction equipment.
FHWA began investigating UHPC for highway infrastructure use in 2001 and has worked with State transportation departments to deploy the technology since 2002. Bridge applications have included using UHPC for precast, prestressed girders; precast waffle panels for bridge decks; and as a field-cast material joining precast concrete deck panels and girders and the flanges of adjacent girders.
Compared to more conventional concrete materials, UHPC exhibits superior properties such as exceptional durability, high compressive strength, usable tensile strength, and long-term stability. It generally contains high cementitious material contents, low water-to-cementitious material ratios, compressive strengths above 21.7 ksi (150 MPa), and sustained tensile strength resulting from internal fiber reinforcement. These advanced properties have been used to develop new structural forms that facilitate accelerated bridge construction. While UHPC has higher initial costs than conventional concrete, UHPC bridges are expected to have a longer service life and require less maintenance than conventional structures.
UHPC bridge projects in the United States, Canada, Europe, Asia, and Australia are highlighted in the report. More than 90 UHPC bridges have been completed worldwide. The first highway structure in the United States to use UHPC was the Mars Hill bridge in Wapello County, Iowa, in 2006. This simple single-span bridge used precast, prestressed concrete girders topped with a cast-in-place concrete bridge deck. Subsequent UHPC projects in Wapello County have included construction of the Little Cedar Creek bridge in 2011. This structure features a precast bridge deck system, known as a waffle slab, that uses the mechanical and durability properties of UHPC to create a resilient, lightweight deck.
Bridges built in Iowa, Montana, New York, and Oregon, meanwhile, have used field-cast UHPC connections between prefabricated bridge components. The bridges, including the Route 31 bridge over the Canandaigua Outlet in Lyons, New York, and the U.S. Route 6 bridge over Keg Creek in Pottawattamie County, Iowa, use a range of details to connect different precast concrete modular bridge components, including adjacent box beams, full-depth precast deck panels, and deck-bulb-tee girders. These new UHPC connection details eliminate the conflict points between the reinforcing bars and discrete connectors, allowing for easy field assembly.
Buy America provisions are relevant to the steel fiber reinforcement used in UHPC. States planning to use UHPC in projects should work with their FHWA division office early in the design process to determine the availability of a domestic manufacturer. "There are strong indications that a proven class of steel fibers will be domestically produced and available by the end of 2013," said Graybeal.
While highlighting UHPC projects to date, the report also examines the future direction of the technology and current challenges to achieving wide-scale implementation in the United States. These include the need for more demonstration projects, cost-benefit studies, and a new design and production document based on the American Association of State Highway and Transportation Officials' (AASHTO) Load and Resistance Factor Design (LRFD) Bridge Design Specifications and the AASHTO LRFD Bridge Construction Specifications. As the report notes, "A guide specification for construction with UHPC will help owners implement the technology."
To download a copy of Ultra-High Performance Concrete: A State-of-the-Art Report for the Bridge Community, visit www.fhwa.dot.gov/publications/research/infrastructure/structures/hpc/13060. For more information on UHPC, visit www.fhwa.dot.gov/research/resources/uhpc/index.cfm, or contact Ben Graybeal at FHWA, 202-493-3122 (email: benjamin.graybeal@dot.gov).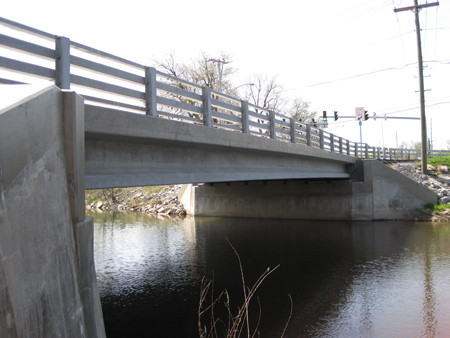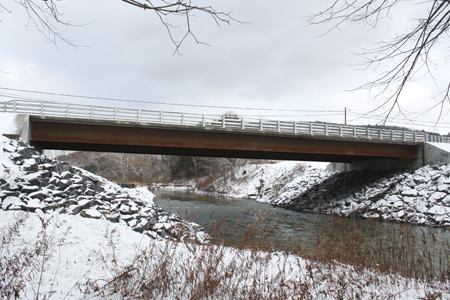 Field-cast UHPC connections were used to construct the Route 31 bridge in Lyons, NY (top), and the Route 23 bridge in Oneonta, NY (bottom).