Publication Number: FHWA-HRT-14-012
Date: April 2014
Printable Version (.pdf, 0.3 mb)
Rock Solid: Rockeries Offer Context-Sensitive Slope Solutions
For highway agencies looking for a cost-effective and aesthetically appealing option when building gravity-retaining structures along rural roadways, rockeries offer a historical and yet sustainable solution.
Rockeries are an engineered system of dry stacked angular rocks placed without mortar, concrete, or steel reinforcement. Often built with local native stone, they rely on the weight, size, shape, and interface friction of the rock elements to provide overall stability. Rock dimensions are generally greater than 450 mm (18 in), while the rock weights are greater than 90 kg (200 lb). The structures achieve stability through the mass of the rocks and inter-rock friction. A retaining rockery supports itself and resists lateral earth pressures, preventing erosion and slope collapse.
Rockeries dating back to the late 1800s can still be found in the United States, along with many others built in the 1930s along National Forest and National Park roads. "We continue to find situations where new rockery construction would be advantageous," said Khamis Haramy of the Federal Highway Administration (FHWA). "Rockeries continue to gain in popularity throughout the western United States." For example, an increasing number of rockeries have been built in northern California and Nevada over the last 15 years. In 2005 and 2006, FHWA's Federal Lands Highway division designed and constructed rockeries for the Guanella Pass Road project in the Pike National Forest in Colorado.
Use had been hampered, however, by a lack of statewide or national design standards and construction guidelines. FHWA's Rockery Design and Construction Guidelines (Pub. No. FHWA-CFL/TD-06-006) provide highway designers, inspectors, and contractors with a basis for evaluating existing rockeries and specifying and constructing new ones. The guidelines define and evaluate rockery stability as a function of the rockery geometry, rock properties and placement, and lateral earth pressure. "These guidelines give roadway designers and owners confidence that these structures can be used in modern highway engineering," said Roger Surdahl of FHWA.
The guidelines cover static and seismic stability design, tiered rockeries, and other various layouts. Also featured are construction recommendations, including excavation, rock placement, drainage details, and backfill selection. Field inspection guidelines are included as well. Agencies and contractors will also find guidance on evaluating the stability of existing historic rockeries and sample specifications that can be modified as necessary to meet the specifics of each individual project. The guidelines' appendices include a sample design problem and details for sample rockery sections.
Since the guidelines were issued, FHWA's Federal Lands Highway division has designed and completed several rockeries projects. Using rockeries and timber-faced steel guardrails on a 7.7-km (4.8-mi) section of Bear Lake Road in Rocky Mountain National Park in Colorado, for example, reduced costs while meeting the project's requirements for context-sensitive design that would match the road's rustic setting. Completed in summer 2013, the project improved both safety and aesthetics on the roadway.
FHWA also used rockeries when reconstructing 3.2 km (2 mi) of roadway on the Beaver to Junction Highway (SR 153) in southern Utah. Completed in fall 2012, the project's scope included widening the roadway to create a consistent standard roadway width while upgrading the road's horizontal and vertical alignments. "Rock fall hazards are of major concern along this portion of SR 153," said Haramy. The only rockfall mitigation measures previously in place were small roadside ditches. To improve safety and reduce maintenance needs, the reconstructed roadway includes new mitigation measures, such as cut-side walls featuring rockeries approaching 7 m (20 ft) in height. These slope-stabilizing rockeries also provide a sustainability benefit by using onsite boulders.
To download a copy of FHWA's Rockery Design and Construction Guidelines, visit www.cflhd.gov/programs/techDevelopment/geotech/rockeries. For more information on the guidelines, contact Khamis Haramy at FHWA, 720-963-3521 (email: khamis.haramy@dot.gov).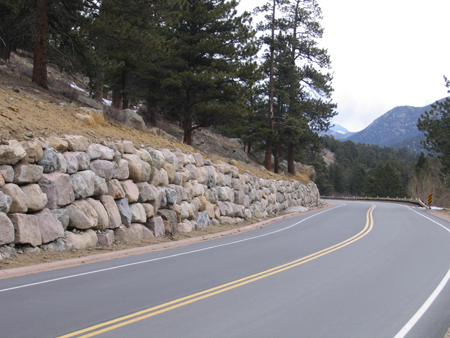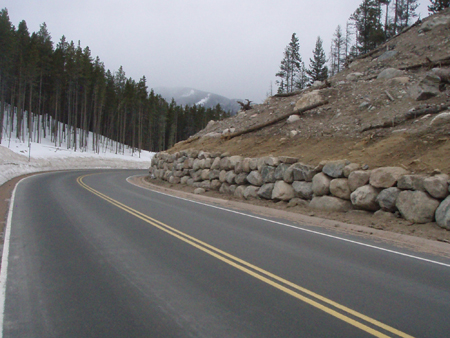 Rockeries built by FHWA on Bear Lake Road in Colorado's Rocky Mountain National Park have improved both safety and aesthetics.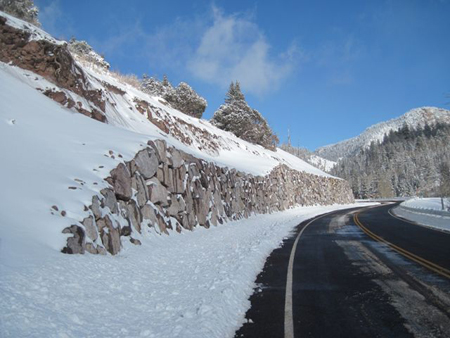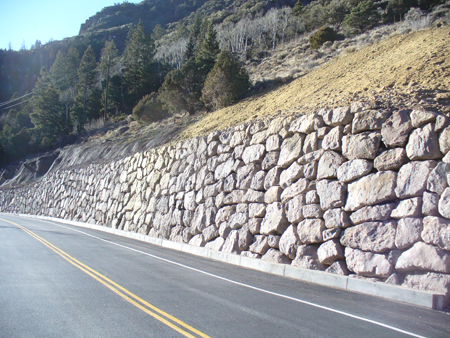 FHWA used rockeries to improve safety and reduce maintenance needs when reconstructing part of the Beaver to Junction Highway in southern Utah.