Publication Number: FHWA-HRT-14-012
Date: April 2014
Printable Version (.pdf, 0.3 mb)
FHWA Offers Highway Friction Tester Demonstrations
Schedule an onsite demonstration of the Federal Highway Administration's (FHWA) Highway Friction Tester (HFT).
The HFT is a self-contained testing vehicle that maps friction at .30-m (1-ft) intervals continuously along a pavement section. Agencies can use the friction data for both network-level and project-level applications. Continuous friction testing improves an agency's ability to measure friction through intersections and around curves, and provides a more comprehensive picture of how friction varies for a section of pavement. The HFT also delivers a coefficient of friction that is more representative of conditions experienced by vehicles with modern anti-lock braking systems.
FHWA's onsite demonstrations offer States an overview of the HFT's testing and data reporting capabilities, allowing agencies to conduct friction testing on their local pavement surfaces. Demonstrations may range from a half-day to up to 5 days, depending on the testing location and the agency's goals for the demonstrations. FHWA offers demonstrations free of charge, but may require participating agencies to provide traffic control.
To schedule a demonstration, contact The Transtec Group at 512-451-6233, or request a demonstration online at www.thetranstecgroup.com/highway-friction-tester-demonstration. For more information about the HFT, contact Bob Orthmeyer at FHWA, 708-283-3533 (email: robert.orthmeyer@dot.gov), or David Merritt at The Transtec Group, 512-451-6233 (email: dmerritt@thetranstecgroup.com).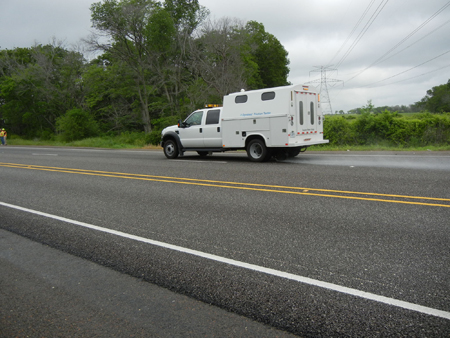 FHWA is offering onsite demonstrations of its Highway Friction Tester, allowing agencies to conduct friction testing on their local pavement surfaces. (Photo Credit: © Frank Holt/Dynatest)