Exploratory Advanced Research Program
Casual Carpooling Focus Group Study
METHODOLOGY
Research Design
The research approach selected for this study was qualitative research in the format of focus groups. This section describes the key design elements of the study including the limitations associated with qualitative research and the use of its findings.
Framework
General research design and the methods used to implement that design should flow naturally from an underlying conceptual model or framework. Our framework posits that system factors, individual factors, and environmental factors influence the outcome behavior of casual carpooling. System factors include the naturally occurring nature of the system, employer–based programs that support ridesharing, or other institutional factors that contribute directly or indirectly to the system. Individual factors include social identity, individual expression, culture, social bonding, attitudes and beliefs, and personal values. Environmental factors include community characteristics, such as geographic location, prevalence of transit, HOV and other managed lanes, and parking availability at homeside meeting places.
Target Population
With the aim of informing the practice of casual carpooling from the perspective of its participants, the research consultants targeted people who participate in such systems as a regular method of commuting, including both drivers and passengers.
The focus groups did not include people who might be instrumental to casual carpooling in general, such as the Casual Carpooling Scan Study participants, transportation or local government/quasi–government entities with interests in ridesharing and carpooling programs, other researchers from universities, or people who are associated with casual carpooling systems such as those who donate time and energy in facilitating the practice through the management of public Web sites and discussion boards. Rather, these individuals were consulted within the planning phases of the focus groups and were invited to observe the focus groups. They provided insights on the systems regarding study locations, options for recruiting focus groups, and locations for holding the focus groups
Study Locations
Focus groups were conducted in three metropolitan areas: Washington, DC; Houston, TX; and San Francisco, CA. Several factors contributed to the evolution of each system in the respective locations; each is briefly presented within the next subsections.
Mapping Tools
Figures 1, 2, and 3, appearing in this section, were created using ArcGIS® software by Esri. The base map is the World Topographic map from Esri; the major road lines are data from the United States Census Bureau; the park–and–ride and casual carpooling locations were manually created in ArcGIS by finding each location on the base map and creating a point; reference addresses are listed on each of the following Web sites and were retrieved in February 2013: www.slug–lines.com/Slugging/Map.asp (Washington, DC, region), www.ridemetro.org/SchedulesMaps/parkride.aspx (Houston, TX, region), and www.ridenow.org/carpool (San Francisco, CA, region). ArcGIS® and ArcMap™ are the intellectual property of Esri and are used herein under license.
Washington, DC
In the Washington, DC, area, casual carpooling is commonly referred to as "slugging." As shown in figure 1, casual carpooling occurs in the Washington, DC, area primarily along Interstate (I) 95 and I–395 between Washington and Northern Virginia, extending as far south as the north side of Fredericksburg, VA. A few "slug lines" also operate along I–66 heading westbound out of Washington to Manassas, VA. Casual carpooling in this region is equally active during the morning (starting as early as 5:30 a.m. and lasting until 8:45 a.m.) and afternoon (starting as early as 3 p.m. and continuing until 6 p.m.) commutes.
AMENDED June 3, 2013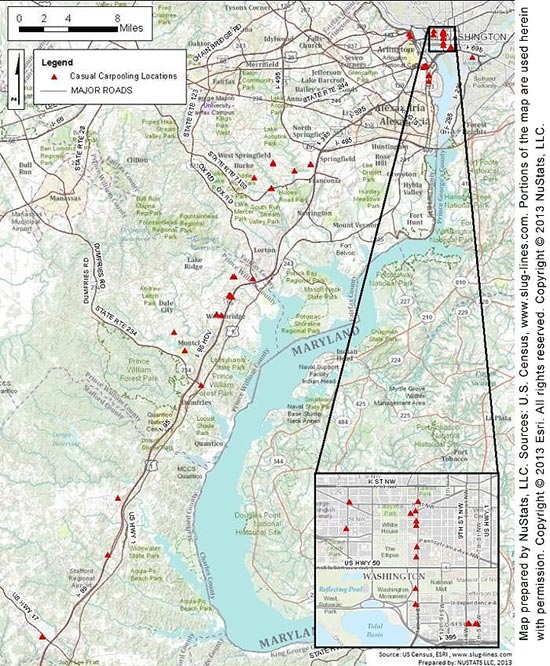 Figure 1. Map. Casual carpooling locations in the Washington, DC, region.
Several dominant environmental features of the Washington area's transportation network have contributed to the region's casual carpooling system:
HOV–3 lanes. The minimum number of occupants that is required for vehicles using HOV lanes along the I–95 and I–395 corridors south of Washington is determined.


Park–and–Ride lots. Large park–and–ride lots are located along I–95 at key interchanges and suburban cities.


Potomac River. The Potomac River creates a barrier between Washington and Virginia, limiting travel crossing between the city and Virginia to three bridges and Metrorail, the subway system.


The Pentagon. The world's largest office building by floor area, with over 30,000 employees and visitors on a daily basis, is also a natural hub for all transportation modes including personal vehicle, taxi, and passenger dropoff/pickup for bus and subway transit services.


High travel demand. The extremely large numbers of workers, students, and others needing to travel into or out of Washington on a daily basis creates high travel demand at or close to trip origins and destinations with readily available transit or parking (often expensive or limited).
Information on casual carpooling in the Washington–Northern Virginia region is available at www.slug–lines.com. This Web site contains comprehensive details on the morning and afternoon casual carpooling (or slugging) locations, etiquette and rules for casual carpooling, hints for getting started, a discussion board, and more. Unique to the site is a history of casual carpooling in the region and information on other casual carpooling programs in the United States and beyond.(4)
Houston, TX
As in the Washington, DC, region, some casual carpoolers in Houston also refer to casual carpooling as "slugging." Casual carpooling occurs along two major corridors leading into Houston: the Katy Freeway (I–10) and the Northwest Freeway (US Highway 290). Along the Northwest Freeway, there is one morning casual carpooling location (Northwest Station Park–and–Ride lot), and along the Katy Freeway, there are two morning casual carpooling locations (Addicks Park–and–Ride and Kingsland Park–and–Ride lots).(5) Figure 2 shows the park–and–ride locations that are listed on the Metropolitan Authority of Harris County Web site (www.ridemetro.org) and the three casual carpooling locations: Northwest Station, Addicks, and Kingsland.(6)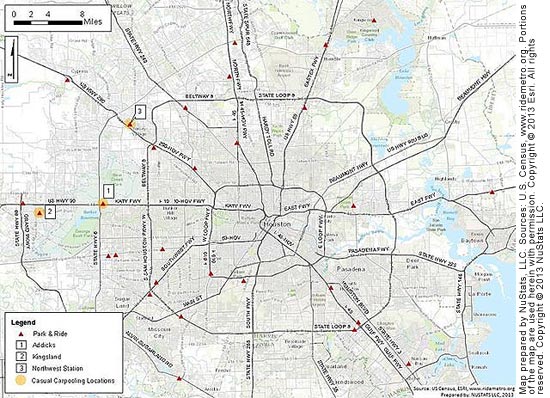 Figure 2. Map. Park–and–ride locations in the Houseton, TX, region.
According to the Casual Carpooling Scan Report, casual carpooling activity in Houston has dropped an estimated 50 percent in volume in recent years.(1) This reduction is largely due to changes since 2010 along the Katy Freeway, the Houston region's major east–west highway, extending approximately 40 mi (65 km) from the central business district west to the Brazos River. The original highway was constructed in the 1960s with three lanes per direction and two frontage lanes, but in 2008 the Texas Department of Transportation completed a reconstruction of a 12–mi (19 km) section of the Katy Freeway from west of State Highway 6 to the I–10 interchange. The reconstruction added lanes in each direction, and the limited access portion was changed from HOV to a variable priced high–occupancy toll (HOT) lane. Now with nine lanes in each direction (three frontage lanes, four general purpose lanes, and two managed HOT lanes), the increased capacity has significantly reduced congestion on the general purpose lanes, making the associated time savings less significant. Additionally, drivers now have the option to drive alone and pay a toll on the HOT lanes. They are no longer required to have a passenger to benefit from the HOT lanes.
San Francisco, CA
Casual carpooling began in the East Bay area of San Francisco in the 1970s in response to congestion associated with crossing the San Francisco–Oakland Bay Bridge. While carpoolers using HOV lanes were spared having to pay the toll upon westbound crossings of the bridge, they also benefited by significant time savings over the general purpose lanes during peak commuting hours. In July 2010, carpool drivers began paying a reduced toll of $2.50 (full fare is $6 for passenger vehicles during commuting hours) to use the designated HOV lanes during specified times (between 5 and 10 a.m. and between 3 and 7 p.m.). Carpools must have three passengers to get the discounted toll. Because the toll is only charged in the westbound direction, there is significant morning congestion at the westbound bridge approach, and travel is oriented towards San Francisco for work, casual carpooling primarily occurs in the morning and passengers rely on transit for their evening, eastbound commutes. At the time of this report, the Bay Area had not yet implemented managed/priced lanes in the casual carpool corridor. Eventually, when managed/priced lanes are implemented in this corridor, carpoolers are expected to continue to be allowed to use these lanes at a free or reduced fare, providing for yet another incentive to carpool.
Based on the locations listed on www.ridenow.org/carpool, a Web site for casual carpoolers in the San Francisco region, casual carpooling in the region occurs as far north as Vallejo and neighboring cities in American Canyon, as shown in figure 3.(7)
People who initiate their commute from Vallejo and neighboring cities experience additional challenges not faced by casual carpoolers who travel from cities closer to San Francisco, such as Berkeley and Oakland. Such challenges include:
Two tolls. In addition to the toll for the inbound trip on the Bay Bridge (described above), a toll is required for the return trip on the Carquinez Bridge, located on I–80 between Contra Costa and Solano counties near Vallejo. The cost for carpools ($2.50) is half of the toll for single–occupant vehicles ($5).


Limited viable transportation options. Vallejo commuters have two other alternatives:



Ferry–Since the summer of 2012, Baylink Ferry has offered weekday commuters five departure times from Vallejo to San Francisco from 5:30 to 10 a.m. For their return trip, commuters have up to four options from 5:15 to 7:15 p.m. Estimated travel time for a one–way trip is 60 minutes and costs $13 for adults (ages 13 to 64).(8)


Bay Area Rapid Transit (BART) /Bus–Alternatively, a combined bus and rail trip is another option for many traveling between Vallejo and San Francisco. According to its Web site, BART is a high–speed transit system that was constructed to ease the traffic congestion on Bay area bridges, including the Bay Bridge that connects Oakland to San Francisco.(9)
Research Protocols
To fully investigate the experiences, thoughts, and opinions of the target population on topics related to casual carpooling, the research design used focus groups. The consulting firm for this study held two to three focus groups in each of the three metropolitan areas of the study. Focus group participants included drivers and passengers who were current participants in casual carpooling or, in the case of Fort Belvoir, VA, which had no casual carpoolers, participants included drivers and passengers who had past experience or interest in casual carpooling.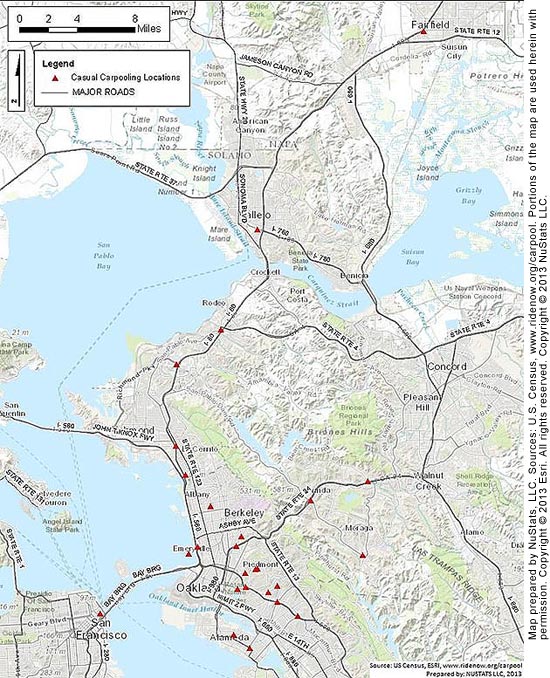 Figure 3. Map. Casual carpooling locations in the San Francisco, CA, region.
A challenge in recruiting focus group participants was that because of the very organic and largely unstructured nature of casual carpooling systems, there are no readily available rosters or lists of participants. Therefore, recruitment of study respondents was conducted in consultation with local experts who assisted with recruitment, advised on recruitment approaches, and in some cases collaborated by assisting with recruitment through workplace emails.
A further complication in the research design was in deciding when and where to hold the focus groups. Focus group facilities are generally located in metropolitan area city centers and commercial/business districts and offer many benefits including handling of logistics and hosting, audio– and videotaping of sessions, providing refreshments and distributing incentives, and separate viewing for observers using a one–way mirror. Experience dictates that focus groups with those who work during the day are best held in the evening. The facilitator opted to hold the focus groups in locations that were close to the dropoff locations (or in the case of San Francisco, near transit or home destinations). Because there were no focus group facilities in these locations, the sessions were held in hotel meeting rooms, with observers viewing in an adjacent room via video connections to a television.
A summary of the research protocols follows:
Focus group recruitment. The consulting firm that performed the focus groups for FHWA conducted recruitment via email invitation in Washington and San Francisco using discussion boards of Web sites dedicated to casual carpooling. The firm solicited participants via intercept recruitment at casual carpooling lines in Houston (where there were no Web sites/discussion boards dedicated to casual carpooling) and San Francisco. See appendix D for an example of an invitation to participate used in the intercept interviews.



Washington, DC–Dumfries, VA–Participants were recruited via email invitation to members on the www.slug–lines.com bulletin board. In addition, an advertisement was placed on the slug–lines.com Web site. Followup screening was conducted by telephone with people expressing interest in the focus groups and to collect basic demographic information (see participant summaries in the next section). Fort Belvoir participants were recruited through the Base Relocation and Closure (BRAC) program through email invitation and face–to–face recruitment. No followup screening was conducted with these participants; therefore, very little information about the participants was collected before the session.


Houston, TX–Participants were solicited using intercept recruitment at three slug lines located at the Northwest and Katy Freeway park–and–ride lots. For those expressing interest in participating in the focus groups, the consulting firm conducted followup to confirm participation using the preferred method of contact (email and/or telephone).


San Francisco, CA–Recruitment relied on the casual carpooling Web site, www.ridenow.org/carpool, and intercept recruiting at Oakland and Vallejo casual carpooling lines 1 week prior to the sessions. Followup to confirm participation was conducted using the preferred method of contact (e–mail and/or telephone).



Focus group hosting. With the exception of the focus group session held in Fort Belvoir, which provided a meeting room for the lunchtime focus group, all sessions were held in meeting rooms at hotels that were conveniently located within proximity of casual carpooling dropoff locations. All rooms needed ample space to fit 10 to 12 individuals around a table and an adjacent room for remote viewing by observers.


Discussion guide. Each focus group was limited to roughly 90 minutes in length and followed a discussion guide (see appendices A, B, and C). The discussion format was similar for all study locations with minor modifications to account for unique characteristics related to or affecting casual carpooling in a specific region.
For each session, light refreshments were provided. All focus group participants were offered a cash token in appreciation for their time. This research was conducted under the Information Collection Request OMB Control No. 2125–0629, ICR Reference No: 201111–2125–002.
Participant Summary
A total of 83 respondents participated in eight focus groups. Tables 1, 2, and 3 document the participation for the focus groups by location. No demographic goals were specified for this study, only a target number of respondents to gain sufficient participation; i.e., at least 12 respondents in each focus group. In the event that more than 12 participants arrived for the focus group, it was left to the moderator's discretion to determine how many respondents would be invited to join the focus group. Qualitative research groups are limited in the number of participants to enrich the conversation. Groups of six to eight participants each are ideal and allow time to probe topics and reach a deeper level of understanding than is possible with a larger group. In focus group research, over–recruitment of participants is a standard practice to account for those who do not or cannot meet their commitment. Where demographic or carpooling behavior information is missing in the tables, this is generally either because the participant declined to provide the information or because the information was not collected during the intercept recruitment, when time available to talk to prospective participants–passengers standing in lines for a ride or drivers waiting for passengers to arrive–was often insufficient. The demographic information was self–reported by the participants and was not observed, collected, or validated through other methods.
Table 1. Participant summary (Washington, DC, region).

Region
Demographic Information
Casual Carpooling (CC) Behavior
Gender
Age
Education
Race
Role
CC to and from Work?
Frequency
Fort Belvoir, VA
May 22, 2012
11:30 a.m.–1 p.m.
Female
No response
No response
Black /
African American
Neither
Neither
Never
Female
No response
No response
Black /
African American
Driver & passenger
Both
On occasion
Female
No response
No response
Black /
African American
Neither
Neither
No response
Female
No response
No response
Black /
African American
Neither
Neither
Never
Female
No response
No response
White / Caucasian
Driver & passenger
Both
No response
Female
No response
No response
White / Caucasian
Driver & passenger
Both
No response
Male
No response
No response
White / Caucasian
Former driver & passenger
Both
Daily
Male
No response
No response
White / Caucasian
Former driver & passenger
Both
Daily
Female
No response
No response
Black /
African American
Neither
No response
No response
Male
No response
No response
White / Caucasian
Driver & passenger
No response
No response
Female
No response
No response
Black / African American
Former passenger
Both
On occasion
Female
No response
No response
Black / African American
No response
No response
No response
Washington, DC
May 23, 2012
5:30–7 p.m.
Female
52
Bachelor's or undergraduate degree
Black / African American
Driver & passenger
Both
About twice a week
Male
42
Bachelor's or undergraduate degree
Black / African American
Driver & passenger
Both
Daily
Female
35
Bachelor's or undergraduate degree
White / Caucasian
Driver
Both
Daily
Female
58
Graduate / professional degree
White / Caucasian
Driver
Both
About twice a week
Male
44
Bachelor's or undergraduate degree
White / Caucasian
Driver
Both
No response
Female
35
Graduate / professional degree
Black / African American
Driver & passenger
Both
Daily
Female
40
Some college credit
White / Caucasian
Driver & passenger
Both
Daily
Male
43
Bachelor's or undergraduate degree
White / Caucasian
Driver & passenger
Both
Daily
Female
33
Graduate / professional degree
Hawaiian / Spanish
Driver
Both
Daily
Male
44
Graduate / professional degree
White / Caucasian
Driver
Both
About twice a month
Female
No response
No response
No response
Driver
Both
No response
Male
46
Bachelor's or undergraduate degree
White / Caucasian
Passenger
Both
About twice a week
Male
38
Bachelor's or undergraduate degree
White / Caucasian
Driver & passenger
Both
Daily
Male
39
Bachelor's or undergraduate degree
White / Caucasian
Driver & passenger
Both
About twice a week
Female
56
No response
Black / African American
Passenger
Both
Daily
Male
50
Graduate / professional degree
White / Caucasian
Passenger
Both
About twice a week
Female
25
Graduate / professional degree
White / Caucasian
Passenger
Both
Daily
Male
46
Graduate / professional degree
White / Caucasian
Driver & passenger
Both
Daily
Female
43
Graduate / professional degree
Black / African American
Driver & passenger
Both
Daily
Female
39
Some college
Black / African American
Driver & passenger
Both
Daily
Male
47
Some college
Black / African American
Driver & passenger
Both
Daily
Male
No response
No response
No response
Driver & passenger
Both
Daily
Table 2. Participant summary (Houston, TX, region).

Region
Demographic Information
Casual Carpooling (CC) Behavior
Gender
Age
Education
Race
Role
CC to and from Work?
Frequency
Houston, TX
July 11, 2012
5:30–7 p.m.
Female
51
Some college credit
White / Caucasian
Driver
Both
About twice a week
Male
No response
No response
No response
Driver
No response
No response
Female
54
High school graduate
White / Caucasian
Passenger
No response
No response
Female
61
Bachelor's or undergraduate degree
Hispanic / Latino
Passenger
To work
Daily
Male
63
Bachelor's or undergraduate degree
White / Caucasian
Passenger
To work
About twice a week
Male
No response
No response
No response
Driver & passenger
Both
Daily
Houston, TX
July 11, 2012
7:30–9 p.m.
Male
No response
No response
No response
Primarily a passenger
No response
No response
Female
No response
No response
White / Caucasian
Primarily a passenger
No response
No response
Female
No response
No response
White / Caucasian
Primarily a passenger
No response
No response
Male
No response
No response
White / Caucasian
Driver & passenger
No response
No response
Male
No response
No response
No response
Driver & passenger
No response
No response
Male
No response
No response
Asian / Pacific Islander
Primarily a passenger
No response
No response
Male
56
No response
White / Caucasian
Primarily a passenger
Both
No response
Female
No response
No response
Hispanic / Latino
Driver & passenger
No response
Daily
Female
No response
No response
White / Caucasian
Driver & passenger
No response
No response
Female
No response
No response
White / Caucasian
Driver & passenger
No response
No response
Table 3. Participant summary (San Francisco, CA, region).

Region
Demographic Information
Casual Carpooling (CC) Behavior
Gender
Age
Education
Race
Role
CC to and from Work?
Frequency
Oakland, CA
August 22, 2012
5:30–7 p.m.
Male
31
No response
No response
Driver
To work
Daily
Male
49
No response
Black / African American
Driver
To work
Daily
Male
30
Graduate / pro­fessional degree
Asian / Pacific Islander
Driver & passenger
To work
Daily
Female
No response
Bachelor's or undergraduate degree
Hispanic / Latino
Passenger
To work
Daily
Female
44
Bachelor's or undergraduate degree
No response
Passenger
To work
No response
Male
No response
No response
No response
Primarily a passenger
No response
No response
Female
32
Bachelor's or undergraduate degree
Black / African American
Passenger
No response
About twice a month
Male
No response
No response
No response
Passenger
To work
Daily
Male
32
Bachelor's or undergraduate degree
Asian / Pacific Islander
Primarily a passenger
To work
About twice a week
Male
No response
No response
No response
No response
To work
Daily
Female
36
Bachelor's or undergraduate degree
Black / African American
Passenger
To work
Daily
Male
35
Bachelor's or undergraduate degree
Hispanic / Latino
No response
To work
Daily
Female
No response
No response
No response
Passenger
To work
Daily
Oakland, CA
August 22, 2012
7:30–9 p.m.
Female
No response
No response
No response
Primarily a driver
No response
No response
Male
No response
No response
No response
Driver & passenger
To work
Daily
Male
No response
No response
No response
Driver & passenger
To work
No response
Female
No response
No response
No response
Primarily a passenger
To work
Daily
Male
No response
No response
No response
Passenger
To work
About twice a week
Female
No response
No response
No response
No response
No response
No response
Male
50
Bachelor's or undergraduate degree
White / Caucasian
Primarily a passenger
No response
No response
Female
No response
No response
No response
Passenger
No response
No response
Female
No response
No response
Asian / Pacific Islander
Primarily a passenger
No response
No response
Female
46
Bachelor's or undergraduate degree
Black / African American
Primarily a driver
To work
No response
Male
56
Graduate / pro­fessional degree
White / Caucasian
Primarily a passenger
To work
No response
Male
33
No response
No response
Primarily a driver
To work
No response
Vallejo, CA
August 23, 2012
7–8:30 p.m.
Male
No response
Bachelor's or undergraduate degree
Asian / Pacific Islander
Primarily a passenger
Both
Daily
Female
49
Some college
Asian / Pacific Islander
Primarily a passenger
Both
Daily
Female
27
Bachelor's or undergraduate degree
Hispanic / Latino
Primarily a driver
No response
Daily
Female
No response
No response
No response
Primarily a passenger
No response
No response
Male
No response
No response
Hispanic / Latino
Primarily a passenger
No response
No response
Male
No response
No response
No response
No response
To work
Daily
Female
No response
No response
Hispanic / Latino
Primarily a passenger
No response
No response
Male
No response
No response
No response
Primarily a passenger
No response
About twice a month
AMENDED June 3, 2013